World's biggest iceberg A68a tracked by RAF as it heads towards remote island | World News
An RAF reconnaissance aircraft has captured images of the world's largest iceberg as it heads towards the island of South Georgia.
The 4,200-sq-km block, known as A68a, is currently travelling through the Southern Antarctic Front.
The A400M captured details of the cracks and fissures within the main body of the iceberg as well as ice debris in the surrounding waters.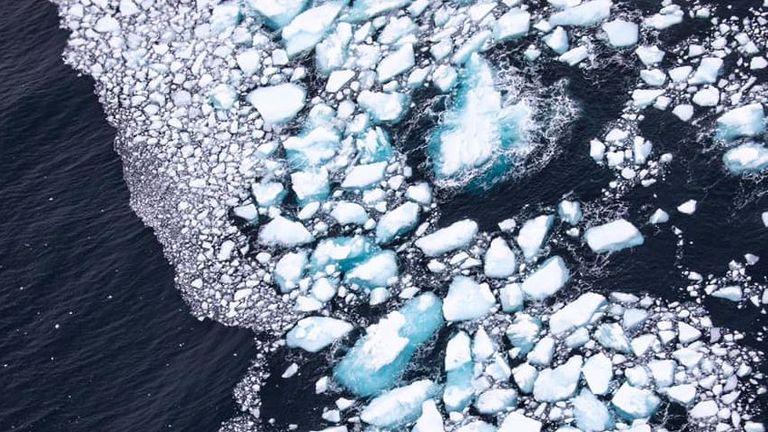 "I know I speak on behalf of all of the crew involved when I say this is certainly a unique and unforgettable task to be involved in," said Squadron Leader Michael Wilkinson.
The sheer size of A68a meant it was impossible to capture its entirety in one single shot from the A400M.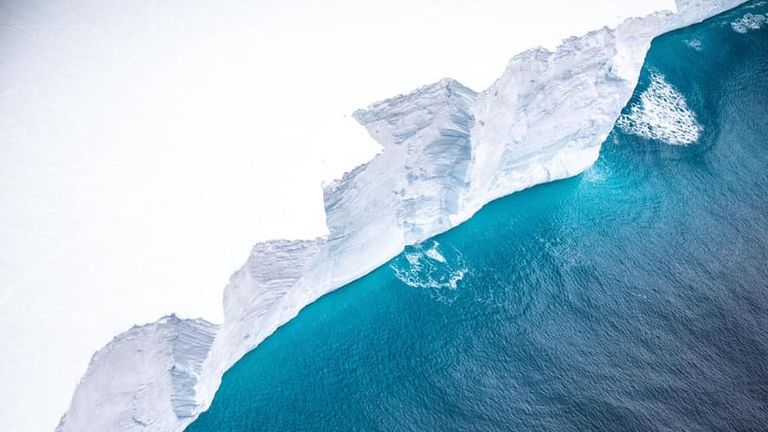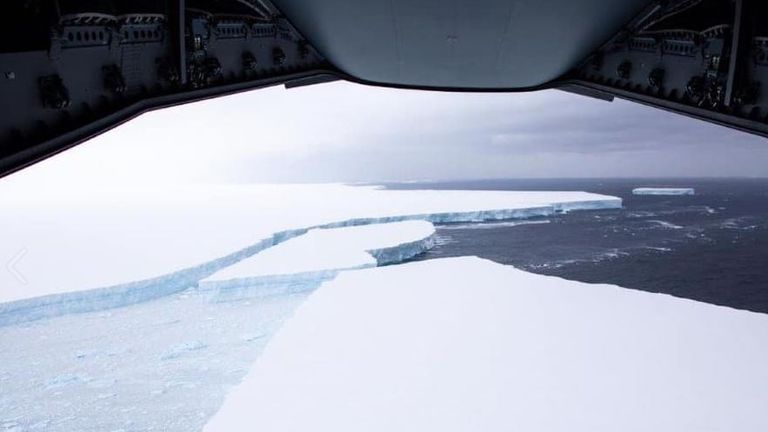 The imagery, video footage and visual observations will all assist in predicting the iceberg's future behaviour and working out the scale of the threat to the local area.
If A68a hits ground around South Georgia, it could cause considerable difficulties for the island's seals and penguins as they try to get out to sea to find fish and krill.
COVID-19: Second variant from Brazil 'likely' already in the UK, SAGE scientist says | World News
The second of two new coronavirus variants from Brazil is likely to already be in the UK despite the government imposing a travel ban, a leading epidemiologist has warned.
Eight cases of the first variant, which has a small number of mutations, have been identified in the UK.
The second, which has been detected in the Brazilian city of Manaus and in travellers arriving in Japan, has not been detected in the UK so far.
However, Professor John Edmunds has said he would it "unusual" if the second variant was not present here.
Profressor Edmunds, a member of the government's Scientific Advisory Group for Emergencies (SAGE), told BBC Radio 4's Today programme: "In terms of the South African one, we had imported cases already by the time we put in additional restrictions for South African travellers.
"For the Brazilian one… I don't think there is evidence that we've imported cases of the Manaus strain, as far as I'm aware at least, but it is likely that we probably have quite honestly.
"We are one of the most connected countries in the world so I would find it unusual if we hadn't imported some cases into the UK."
The government banned flights from South America, Portugal and Cape Verde on Thursday after the emergence of the new variants, having previously banned travel from South Africa because of a new coronavirus mutation.
In addition, all quarantine-free travel into the UK will be suspended on Monday in a bid to keep out other variants.
The new policy means arrivals from every destination will need to self-isolate for 10 days, or receive a negative result from a coronavirus test taken at least five days after they enter the UK.
Labour accused the government of "closing the door after the horse has bolted", saying the announcement was too late to have stopped the arrival of "worrying" strains.
Shadow home secretary Nick Thomas-Symonds told ministers to get a "comprehensive plan and to act in a proper, strategic way, not in the short-term chaotic way we've seen over the past twelve months".
But aviation minister Robert Courts insisted that the new action amounted to "toughening up already tough requirements".
Professor Andrew Pollard, director of the Oxford Vaccine Group, said there would be lots of new coronavirus variants this year but the current vaccines should protect against the strains circulating in the UK.
He said that new variants were being detected early, and stressed: "If indeed we do need to make new vaccines we will be able to stand those up really quickly."
More than 3.2 million people have now received a first dose of a coronavirus vaccine in the UK – around double the number compared to last week.
The government has set a target of vaccinating 15 million of the most vulnerable people in the UK by mid-February.
Po
Subscribe to the Daily podcast on Apple Podcasts, Google Podcasts, Spotify, Spreaker
But Prof Edmunds cautioned against removing coronavirus restrictions at that point, saying to do so would be a "disaster" that would place "enormous pressure" on the NHS.
He said: "I think it would be a disaster if we removed restrictions in, say, the end of February when we have gone through this first wave of the vaccination.
"First of all vaccines aren't ever 100% protective, and so even those that have been vaccinated would be still at some risk.
"Secondly, it is only a small fraction of the population who would have been vaccinated and if you look at the hospitalisations at the moment, about half of them are in the under 70s, and they are not in the first wave to be vaccinated.
"If we relaxed our restrictions we would immediately put the NHS under enormous pressure again."
In other developments:
The global death toll from COVID-19 has passed two million, according to a count from Johns Hopkins University in the US
Boris Johnson said 45% of the over-80s and almost 40% of care home residents have received at least one dose of a coronavirus vaccine.
Government scientists put the latest reproductive number – the R rate – for the UK at 1.2 to 1.3, for data examined up to 11 January
Elsewhere in the UK, toughened lockdown restrictions have come into force in Scotland – with new rules on takeaway food and drink, and the end of non-essential click-and-collect services.
In Wales, First Minister Mark Drakeford announced new measures for supermarkets due to "significant evidence" that coronavirus is spreading among customers and staff.
And in Northern Ireland, Stormont health minister Robin Swann said it was "highly unlikely" restrictions will be eased when their six-week lockdown ends.
Uganda presidential election: Incumbent Yoweri Museveni declared winner | World News
Yoweri Museveni has been declared the winner of the Uganda presidential election with 58.64% of the total votes, according to the country's electoral commission.
The incumbent will now serve a sixth term as president of the east African nation following some of the worst pre-election violence since the 76-year-old took office in 1986.
His man opposition, singer Bobi Wine, has alleged vote rigging throughout the process and had strong support in urban centres where frustration with unemployment and corruption remains high. He won 3.48 million votes, or 34.8% of the total, according to the commission.
Mr Wine and other opposition candidates were often harassed, and more than 50 people were killed when security forces halted riots in November after he was arrested.
Although Mr Museveni holds on to power, at least 15 of his cabinet ministers including the vice president were voted out, with many losing to candidate's from Mr Wine's party, according to local media.
Mr Wine, real name Kyagulanyi Ssentamu, claimed victory on Friday and said he had video evidence of vote-rigging and insisting "every legal option is on the table" to challenge the election results.
He was beaten up and arrested several times during the election campaign but was never convicted of any charge. He later wore a flak jacket and said he feared for his life.
On Saturday, Mr Wine said his home in the capital Kampala had been surrounded by soldiers and the military was now allowing him to leave.
The army's deputy spokesman, Deo Akiiki, told Reuters security officers were assessing threats to Mr Wine if left his home.
Monitoring of the elections has been hit by the arrest of independent observers and the denial of accreditation for members of the UN observer mission.
Tibor Nagy, the top US diplomat for Africa, tweeted on Saturday that "Uganda's electoral process has been fundamentally flawed", adding that the "US response hinges on what the Ugandan government does now".
Dustin Higgs: Trump administration carries out its 13th and final federal execution | UK News
The Trump administration has carried out its 13th federal execution since July – the most of any presidency in more than 100 years.
Dustin Higgs was convicted of murdering three women in a Maryland wildlife refuge in 1996.
The 48-year-old was the third inmate to receive a lethal injection at the federal prison in Terre Haute, Indiana, this week.
He was pronounced dead at 1.23am local time (6.23am UK time) on Saturday.
The justice department resumed federal executions last year following a 17-year hiatus.
No president in more than 120 years has overseen as many federal executions.
Not since the waning days of Grover Cleveland's presidency in the late 1800s has the US government executed federal inmates during a presidential transition, according to the Death Penalty Information Centre.
Mr Cleveland's presidency was also the last time in which the number of civilians executed federally was in double digits in one year, during his second term in 1896.
The number of federal death sentences carried out under Mr Trump since 2020 is more than in the previous 56 years combined, reducing the number of prisoners on federal death row by nearly a quarter.
It is likely none of the around 50 remaining men will be executed anytime soon, with Mr Biden signalling his intention to end federal executions.
Lisa Montgomery, the only woman on death row, was executed on Wednesday for killing a pregnant woman.
She had cut the baby out of the woman's womb and claimed it as her own.
Montgomery was the first woman executed in nearly 70 years.
Federal executions began as the coronavirus pandemic raged through prisons nationwide.
Higgs and former drug trafficker Corey Johnson, who was executed on Thursday, were among those to have contracted coronavirus last month.
Some members of the execution teams have also previously tested positive for the virus.
Higgs was convicted of first-degree murder and kidnapping in the killings of Tamika Black, 19; Mishann Chinn, 23; and Tanji Jackson, 21.
He was found guilty by a federal jury in Maryland in October 2000.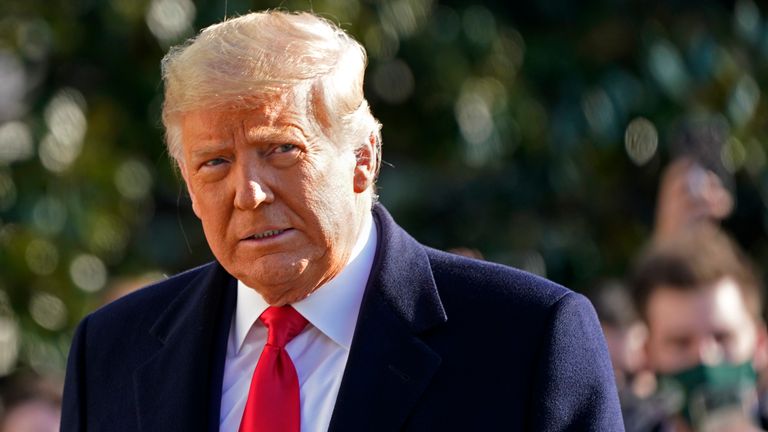 His death sentence was the first imposed in the modern era of the federal system in Maryland, which abolished the death penalty in 2013.
Higgs' lawyers argued it was "arbitrary and inequitable" to execute Higgs while Willis Haynes, the man who fired the shots that killed the women, was spared a death sentence.
The federal judge who presided over Higgs' trial two decades ago said he "merits little compassion".
US district judge Peter Messitte wrote in a 29 December ruling: "He received a fair trial and was convicted and sentenced to death by a unanimous jury for a despicable crime."
Subscribe to the Daily podcast on Apple Podcasts, Google Podcasts, Spotify, Spreaker
Shawn Nolan, Higgs' attorney, said in a statement after the execution that his client had spent decades on death row helping other inmates and "working tirelessly to fight his unjust convictions".
Mr Nolan said: "The government completed its unprecedented slaughter of 13 human beings tonight by killing Dustin Higgs, a black man who never killed anyone, on Martin Luther King's birthday.
"There was no reason to kill him, particularly during the pandemic and when he, himself, was sick with COVID that he contracted because of these irresponsible, super-spreader executions."
Higgs' 19 December petition for clemency argued he had been a model prisoner and dedicated father to a son born shortly after his arrest.
He had a traumatic childhood and lost his mother to cancer when he was 10, the petition said.
His attorneys wrote: "Mr. Higgs's difficult upbringing was not meaningfully presented to the jury at trial."