UK weather: 'Rapid freeze' warning for Scotland and northern England | UK News
Weather warnings have been issued for Scotland and most of northern England, with forecasters predicting snow and dangerous icy conditions.
The Met Office has said ice will become widespread over most of Scotland by late evening tonight, spreading to northeast and northwest England overnight.
Snow and heavy rain will clear leaving icy stretches on untreated roads and pavements as temperatures drop into early Tuesday.
The yellow ice warnings cover the whole of Scotland and most northern areas of England, moving down to the Midlands counties of Staffordshire and Derbyshire.
The ice warning reads: "Rain and snow will clear southwards later Monday and overnight into Tuesday, with a rapid freeze following.
"Some hilly areas will see a further cover of 1-3cm snow beforehand.
"Ice will become widespread over northern Scotland from around dusk, much of the rest of Scotland by late evening or the early hours, and across northern England later in the night."
The Met Office has said there is also a chance of heavy snow across Scotland on Wednesday, which could cause serious travel disruption.
The agency said: "Heavier snowfall is more likely above 150m, where 5-15cm of snow may accumulate, and possibly as much as 30cm of snow in a few locations.
"At lower levels 2-5cm may accumulate but there remains a possibility that milder air makes more inroads, with the snow turning back to rain more widely, in this case snowfall would largely be restricted to the highest ground.
"A brief period of freezing rain, which would bring areas of ice, is possible in the western, especially southwestern, part of the warning area on Wednesday morning."
The snow and ice warnings come as emergency crews in central Spain have cleared 500 roads and rescued more than 1,500 people stranded in vehicles as the country slowly shovels its way out of its worst snowstorm in recent memory.
After recording 20in of snow in the Spanish capital between Friday night and Saturday, Madrid and a large swathe of the country remained impassable, with roads, rail lines and air travel disrupted by Storm Filomena. The blizzard has been blamed for four deaths.
COVID-19: Nine police officers who had breakfast together inside cafe fined for breaching lockdown | UK News
Nine police officers who had breakfast together inside a cafe have been fined for breaching COVID lockdown rules on duty.
The officers, from the Metropolitan Police, were fined £200 each and told to "reflect on their choices."
They were spotted by IT manager Brian Jennings walking past the cafe near their base beside the River Thames at 9am earlier this month, a week into the latest lockdown.
Live COVID updates from UK and around the world
Mr Jennings, who reported the breach, told MailOnline: "We noticed in the first lockdown and again today that regularly, first thing in the morning, there will be half-a-dozen squad cards outside and every table full of police officers having breakfast in there.
"You read about people getting fined and it seems hypocritical as it looks like there is little social distancing in the cafe.
"I find the regular and continued flouting of social distancing and lockdown regulations by the police hypocritical and foolish at this time when the infection rates in Greenwich borough are among the highest in the UK."
Photographs of apparent uniformed officers sitting inside the Chef House Kitchen, with several marked police cars parked outside, were published by MailOnline.
Their bosses launched an investigation and chose to fine them without any other disciplinary action.
They may be the first on-duty emergency workers to be given fixed penalty notices since the first pandemic lockdown began in March last year.
Chief Superintendent Rob Atkin, South East Commander, said: "Police officers are tasked with enforcing the legislation that has been introduced to stop the spread of the virus and the public rightly expect that they will set an example through their own actions.
"It is disappointing that on this occasion, these officers have fallen short of that expectation. It is right that they will pay a financial penalty and that they will be asked to reflect on their choices."
The fines come after the force's commissioner, Dame Cressida Dick, launched a clampdown on COVID rule breakers.
Over the past weekend, the force handed out nearly £40,000 worth of fines for COVID breaches in east London alone.
It is not known if the cafe owner has been fined, which, according to police, is a matter for Greenwich Borough Council.
Sky News has approached the council for comment.
COVID-19: UK to look 'very carefully' at vaccine dosing after concerns raised over level of protection | Politics News
The UK will need to look "very carefully" at the protection provided by the first dose of the Pfizer/BioNTech vaccine, the government's chief scientific adviser has told Sky News, amid concerns its effectiveness is significantly lower than had been found in trials.
Sir Patrick Vallance said the government would "just need to keep measuring the numbers" as the vaccine is rolled out across the UK.
Live COVID news from UK and around the world
Answering questions from Sky News viewers, Sir Patrick was asked about an analysis from Israel, where the Pfizer jab has been rolled out the fastest.
That study suggested the effectiveness of the vaccine after a single dose was as low as 33% – rather than the 89% that had initially been thought.
The 89% figure – pointing to high short-term protection – was used to help justify the UK's decision to delay giving a second vaccine dose to people for up to 12 weeks, as part of a push to get as many people as possible in the UK vaccinated with an initial first dose.
Sir Patrick said: "We need to look at this very carefully, we just need to keep measuring the numbers."
He admitted that "in practice" the protection provided by one dose of a Pfizer vaccine probably won't be as high as 89%, but he pushed back against the suggestion it could be as low as 33%.
"What we know from a clinical study is… if you take everything from day zero, the moment you get the vaccine, to day 28 then the overall figure is something like 50% protection," Sir Patrick said.
"But, of course, you don't expect to get any protection in the first 10 days, because it hasn't had a chance for the immune system to build up.
"And some people may have been infected before they had the vaccine.
"So, if you take from day 10 up towards day 21 and beyond, then it looks much more like the 89% figure that the Joint Committee on Vaccination and Immunisation said.
"That's the clinical trial data and we also know that when you get into real world practice, things are seldom quite as good as clinical trial.
"So I think the 89% or so is the figure you see post-10 days, so that's the basis of the recommendation.
"It probably won't be as high as that in practice, but I don't think it will be as low as the figures you've just given."
Sir Patrick said the UK would get more "real world" data from both Israel's and the UK's vaccination programme over the coming weeks to "get a better handle on exactly how effective this is in the real world, rather than in the conditions of a clinical trial".
But he stressed it was "quite important not to assume this protects in the first 10 days, because it doesn't".
Scientists in Israel studied preliminary data from 200,000 vaccinated people.
Professor Ran Balicer, who works for the largest health care provider in Israel and who is an adviser to the World Health Organisation, told Sky News there was "no difference" between infections of vaccinated and unvaccinated people until 14 days after a Pfizer jab.
But he added that, on day 14 after vaccination, "a drop of 33% in positivity was witnessed in the vaccinated group and not in the unvaccinated".
Prof Balicer said the data did not show an 89% reduction in positivity rates, but said further data and analysis would be provided after being peer-reviewed.
Israel is providing a second dose of the Pfizer vaccine at three weeks, which Prof Balicer said means it is "impossible" for them to analyse the impact of not providing a second dose for a longer period of time.
Donald Trump issues flurry of pardons as he leaves office | US News
Former White House adviser Steve Bannon and rapper Lil Wayne are among the people being pardoned or granted clemency by Donald Trump in the final hours of his presidency.
The outgoing president granted clemency to 143 people on Wednesday.
Wayne pleaded guilty last month to possessing a loaded, gold-plated handgun on a private flight in 2019. He faces a sentence of up to 10 years in prison at a hearing next week.
Biden inauguration: Watch and follow events on Sky News from 1pm, with the ceremony starting at 4pm
The president met the rapper during his election campaign last year, with the artist later praising some of Mr Trump's policies such as proposed justice reforms.
Controversial former White House adviser Bannon, who was fired by Mr Trump, has also been granted clemency.
"Bannon has been an important leader in the conservative movement and is known for his political acumen," the White House said in a statement.
He was charged last year with swindling Trump supporters over an effort to raise private funds to build the US-Mexico border wall, and pleaded not guilty.
Bannon was appointed chief executive of Mr Trump's successful presidential campaign in 2016, leaving his role at conservative website Breitbart News.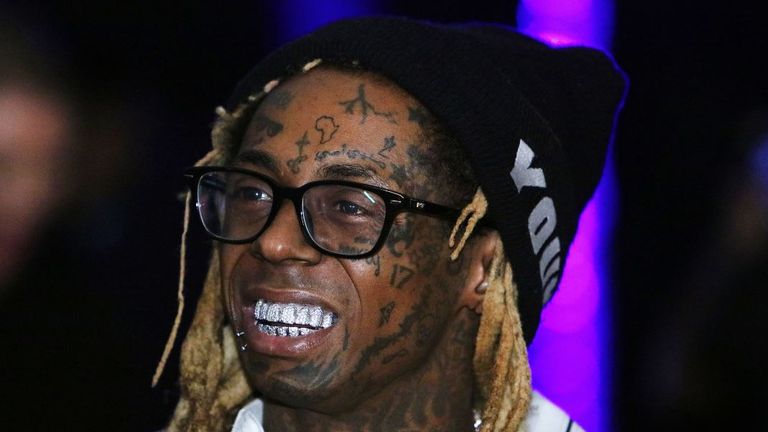 He became chief strategist for Mr Trump after his inauguration, but clashed with others in the White House and was pushed out in August 2017.
Bannon was recently banned from Twitter after he called for the beheading of top government doctor Anthony Fauci and FBI director Christopher Wray.
Others reportedly among the dozens of people being pardoned are Kodak Black – a rapper also sentenced over weapons charges, and former Detroit mayor Kwame Kilpatrick who is seven years into a 28-year sentence for corruption and racketeering.
Mr Trump has previously pardoned several of his closest confidantes such as Michael Flynn, the former national security adviser who lied to the FBI, and commuted the prison term for Roger Stone – who was convicted of lying to Congress during its probe into Russian interference in the 2016 election.