Trump supporter riots: Horn-wearing QAnon 'shaman' Jake Angeli arrested and charged | US News
A horn-wearing Donald Trump supporter whose photo during the US Capitol riots went viral has been arrested and charged.
Jacob Anthony Chansley, who calls himself Jake Angeli, is charged with knowingly entering or remaining in any restricted building or grounds without lawful authority, and with violent entry and disorderly conduct on Capitol grounds.
The self-styled QAnon "shaman" from Arizona was taken into custody today.
It is alleged that Chansley was identified as the man seen in media coverage who entered the Capitol building dressed in horns and a bearskin headdress. He was shirtless, with red, white and blue face paint.
He was carrying a six-foot spear with an American stars and stripes flag tied just below the blade.
His appearance led to the Jamiroquai hashtag trending on social media after comparisons between the protester and the 90s pop group.
Its frontman Jay Kay was forced to deny it was him taking part in the riots.
Police also arrested another man who achieved notoriety around the world after he was photographed carrying the US House Speaker's podium in the Capitol riots.
Adam Christian Johnson was taken to the Pinellas County jail in his home state of Florida on Friday.
The 36-year-old had been quickly identified on social media, and then his local newspaper, the Bradenton Herald, discovered he was from Parrish, a small community about 25 miles (40 km) south of the city of Tampa, where police officers found him.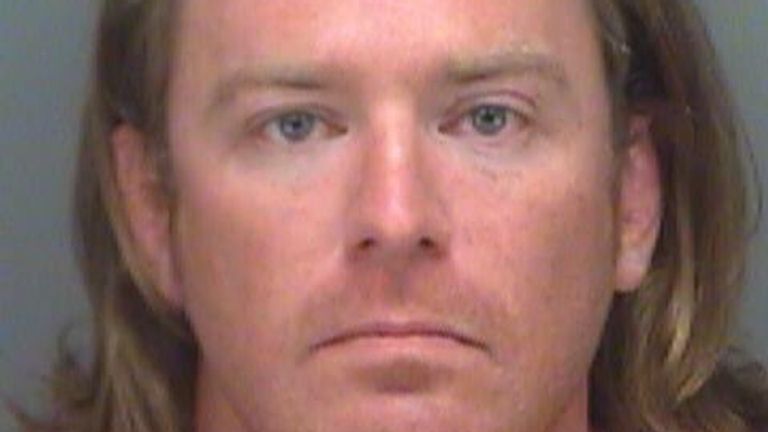 And Republican West Virginian politician Derrick Evans joined them.
The 35-year-old newly-elected member of West Virginia's House of Delegates, was livestreaming on Facebook as he and other protesters pushed their way into one of the Capitol's entrances carrying Trump flags and signs.
He was charged with one count of knowingly entering or remaining in any restricted building or grounds without lawful authority; and one count of violent entry and disorderly conduct on Capitol grounds.
He was taken into custody on Friday.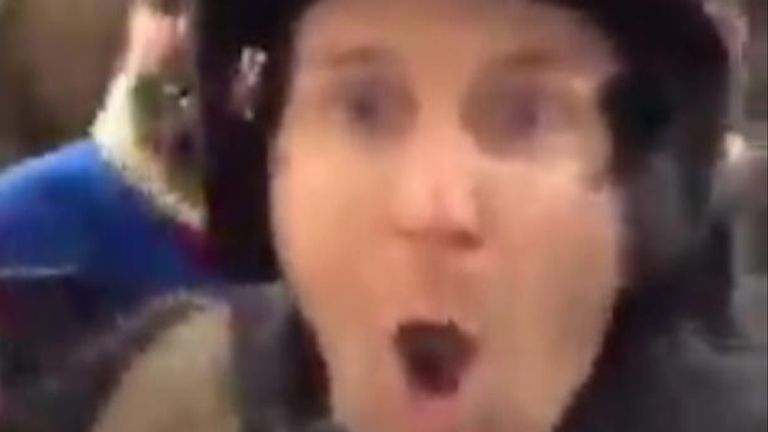 The FBI had been asking for the public's help in identifying rioters who stormed the Capitol – and for the people who planted pipe bombs nearby.
Some of the 68 people arrested after Wednesday's riot appeared in court on Thursday charged with unlawful entry, assaulting a police officer, resisting arrest or carrying an unregistered firearm.
But there are still some who have not yet been tracked down, so the FBI made a public appeal – and offered rewards for information about the missing suspects.
Five people died in the riot on Wednesday, including a Capitol Hill police officer.
<a href='https://news.sky.com/story/divided-states-podcast-insurrection-impeachment-inauguration-12189011' target='_blank'>Insurrection, impeachment, inauguration</a>
<a href='https://news.sky.com/story/divided-states-podcast-insurrection-impeachment-inauguration-12189011' target='_blank'>Insurrection, impeachment, inauguration</a>
COVID-19: Second variant from Brazil 'likely' already in the UK, SAGE scientist says | World News
The second of two new coronavirus variants from Brazil is likely to already be in the UK despite the government imposing a travel ban, a leading epidemiologist has warned.
Eight cases of the first variant, which has a small number of mutations, have been identified in the UK.
The second, which has been detected in the Brazilian city of Manaus and in travellers arriving in Japan, has not been detected in the UK so far.
However, Professor John Edmunds has said he would it "unusual" if the second variant was not present here.
Profressor Edmunds, a member of the government's Scientific Advisory Group for Emergencies (SAGE), told BBC Radio 4's Today programme: "In terms of the South African one, we had imported cases already by the time we put in additional restrictions for South African travellers.
"For the Brazilian one… I don't think there is evidence that we've imported cases of the Manaus strain, as far as I'm aware at least, but it is likely that we probably have quite honestly.
"We are one of the most connected countries in the world so I would find it unusual if we hadn't imported some cases into the UK."
The government banned flights from South America, Portugal and Cape Verde on Thursday after the emergence of the new variants, having previously banned travel from South Africa because of a new coronavirus mutation.
In addition, all quarantine-free travel into the UK will be suspended on Monday in a bid to keep out other variants.
The new policy means arrivals from every destination will need to self-isolate for 10 days, or receive a negative result from a coronavirus test taken at least five days after they enter the UK.
Labour accused the government of "closing the door after the horse has bolted", saying the announcement was too late to have stopped the arrival of "worrying" strains.
Shadow home secretary Nick Thomas-Symonds told ministers to get a "comprehensive plan and to act in a proper, strategic way, not in the short-term chaotic way we've seen over the past twelve months".
But aviation minister Robert Courts insisted that the new action amounted to "toughening up already tough requirements".
Professor Andrew Pollard, director of the Oxford Vaccine Group, said there would be lots of new coronavirus variants this year but the current vaccines should protect against the strains circulating in the UK.
He said that new variants were being detected early, and stressed: "If indeed we do need to make new vaccines we will be able to stand those up really quickly."
More than 3.2 million people have now received a first dose of a coronavirus vaccine in the UK – around double the number compared to last week.
The government has set a target of vaccinating 15 million of the most vulnerable people in the UK by mid-February.
Po
Subscribe to the Daily podcast on Apple Podcasts, Google Podcasts, Spotify, Spreaker
But Prof Edmunds cautioned against removing coronavirus restrictions at that point, saying to do so would be a "disaster" that would place "enormous pressure" on the NHS.
He said: "I think it would be a disaster if we removed restrictions in, say, the end of February when we have gone through this first wave of the vaccination.
"First of all vaccines aren't ever 100% protective, and so even those that have been vaccinated would be still at some risk.
"Secondly, it is only a small fraction of the population who would have been vaccinated and if you look at the hospitalisations at the moment, about half of them are in the under 70s, and they are not in the first wave to be vaccinated.
"If we relaxed our restrictions we would immediately put the NHS under enormous pressure again."
In other developments:
The global death toll from COVID-19 has passed two million, according to a count from Johns Hopkins University in the US
Boris Johnson said 45% of the over-80s and almost 40% of care home residents have received at least one dose of a coronavirus vaccine.
Government scientists put the latest reproductive number – the R rate – for the UK at 1.2 to 1.3, for data examined up to 11 January
Elsewhere in the UK, toughened lockdown restrictions have come into force in Scotland – with new rules on takeaway food and drink, and the end of non-essential click-and-collect services.
In Wales, First Minister Mark Drakeford announced new measures for supermarkets due to "significant evidence" that coronavirus is spreading among customers and staff.
And in Northern Ireland, Stormont health minister Robin Swann said it was "highly unlikely" restrictions will be eased when their six-week lockdown ends.
Uganda presidential election: Incumbent Yoweri Museveni declared winner | World News
Yoweri Museveni has been declared the winner of the Uganda presidential election with 58.64% of the total votes, according to the country's electoral commission.
The incumbent will now serve a sixth term as president of the east African nation following some of the worst pre-election violence since the 76-year-old took office in 1986.
His man opposition, singer Bobi Wine, has alleged vote rigging throughout the process and had strong support in urban centres where frustration with unemployment and corruption remains high. He won 3.48 million votes, or 34.8% of the total, according to the commission.
Mr Wine and other opposition candidates were often harassed, and more than 50 people were killed when security forces halted riots in November after he was arrested.
Although Mr Museveni holds on to power, at least 15 of his cabinet ministers including the vice president were voted out, with many losing to candidate's from Mr Wine's party, according to local media.
Mr Wine, real name Kyagulanyi Ssentamu, claimed victory on Friday and said he had video evidence of vote-rigging and insisting "every legal option is on the table" to challenge the election results.
He was beaten up and arrested several times during the election campaign but was never convicted of any charge. He later wore a flak jacket and said he feared for his life.
On Saturday, Mr Wine said his home in the capital Kampala had been surrounded by soldiers and the military was now allowing him to leave.
The army's deputy spokesman, Deo Akiiki, told Reuters security officers were assessing threats to Mr Wine if left his home.
Monitoring of the elections has been hit by the arrest of independent observers and the denial of accreditation for members of the UN observer mission.
Tibor Nagy, the top US diplomat for Africa, tweeted on Saturday that "Uganda's electoral process has been fundamentally flawed", adding that the "US response hinges on what the Ugandan government does now".