Tough times for property owners after lost 'golden quarter' | Business News
Apart from companies in the leisure and hospitality sector, along with the oil heavyweights, shares of commercial property companies were among the stock market's worst performers last year.
Not all of them, of course: Segro, which develops, owns and manages warehouses across Europe, enjoyed a very solid year as demand for its space was supported by the rapid expansion of online shopping.
But those exposed to the retail, hotel and office sectors had a rotten 2020.
Land Securities, which manages the Bluewater shopping centre in Kent and which owns 30% of the site, saw its share price fall by 32%.
British Land, which owns the Meadowhall shopping centre in Sheffield and the Drakes Circus centre in Plymouth, tumbled out of the FTSE 100 after its shares fell by 24%.
Hammerson, owner of Brent Cross in North London and the Bullring in Birmingham, fared even worse with a stomach-churning 82% share price fall for the year.
Trading updates from the sector during the last 48 hours, reporting on the extent to which rents were paid during the crucial December quarter, suggest things are still very grim.
This quarter is known in the retail trade as the "golden quarter" as it is usually when most retailers make their money.
Making the December rent payment – which covers the first three months of the following year – is generally the easiest one of the year for retailers because their coffers are bulging with money from Christmas shoppers.
This year, following the national lockdown in November and the strict tiering rules that effectively replicated the lockdown in many parts of the country forcing many retailers and hospitality businesses to close, that was emphatically not the case.
On Monday, British Land reported that, for the December payment, it collected less than half the rent it was due from retail clients – some 46% – although office clients were in a better position, with some 96% paying up.
The company, which owns the Broadgate estate in the City of London and the Paddington Central development in west London, revealed it is also still owed money from some retail tenants for previous quarters – with just 49% of March rent collected, 73% of June rent collected and 72% of September rent collected.
Today brought updates from other players in the sector.
Land Securities reported that it had collected 65% of the £112m it was owed in December, with regional retail clients paying just 36% of what they owed, while retail, leisure and hospitality tenants in London paid just 29% of what they owed.
It also noted that, following insolvencies of companies such as Peacocks and some Company Voluntary Arrangements (CVAs) among clients, the total amount of rent due had fallen by £15m while discounts and deferred payments agreed with tenants brought the total down by a further £29m.
That took the total amount due down from £553m to £509m – and, of that, some £408m had been collected.
Things were somewhat better at Derwent London, which specialises in office space, including sites such as the White Collar factory in Old Street and the Tea Building in Shoreditch, both on the northern and eastern fringes of the City.
One of the most highly-regarded players in the sector, boasting a number of tenants in the tech industry, it said today that it had collected 83% of London rents including 87% of office rents due to it.
But the picture overall is of a sector that remains under intense pressure.
Adding to its woes is the government's moratorium on evictions of businesses that fail to make their rental payments during the current COVID-19 crisis.
This had been due to finish at the end of September last year, was extended to the end of the year and then, last month, was extended to the end of March this year.
Commercial landlords have argued that the moratorium has been abused by profitable companies that could afford to pay their rents but have been deliberately not doing so.
John Cahill, analyst at stockbroker Stifel, said of the Land Securities update today: "None of this will come as a surprise to the market, given the difficult trading environment for its non-office tenants and the moratorium on evictions across the UK."
Even before COVID-19, shares of the likes of British Land and Land Securities were struggling to convince investors that retail was only one part of their business, putting their shares under pressure.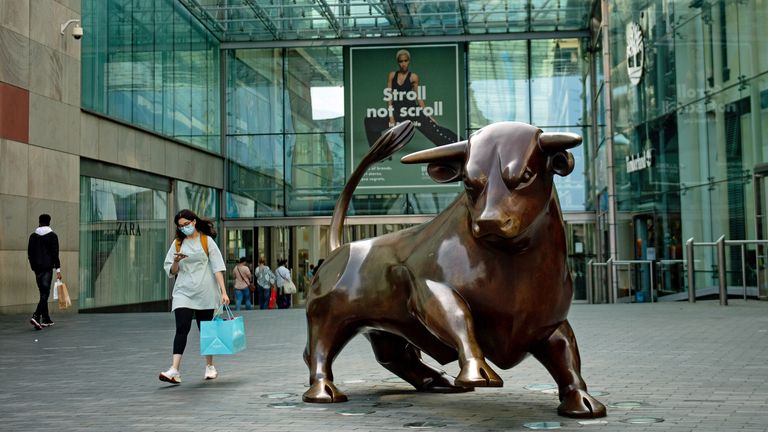 But Mr Cahill said he expected to see gradual improvement in rent collection rates over the coming few months, and assuming a successful vaccination programme, he said collection rates ought to increase "significantly" in the summer months.
He added: "Either way, Land Securities has sufficient liquidity to navigate through this difficult period with no real pressure brought to bear on its balance sheet."
Others may be less well-equipped to grind their way through the next few months and in the meantime, those commercial property companies with significant exposure to the retail sector will continue to worry about the risk of more collapses or CVAs, as will those exposed to the leisure and hospitality sectors.
As the anniversary of the first national lockdown looms, some owners of commercial properties will face with it the anniversary of their being unable to collect all of the rents owed on those properties.
Many of these companies now risk breaking borrowing agreements with their banks.
So the latter, too, will be facing calls to show forbearance and patience just as the property owners have themselves.
Asos emerges as surprise frontrunner to clinch TopShop crown | Business News
Asos, the online fashion retailer, has emerged as the surprise frontrunner to buy TopShop from the administrators to Sir Philip Green's former high street empire.
Sky News has learnt that Asos has moved into pole position to buy the brand for more than £250m, days after a consortium led by Next withdrew from the race.
If successful, it may renew fears for the future of most of TopShop's workforce, given Asos's status as a pure-play digital retailer.
Asos is not holding any talks about buying TopShop stores, according to insiders, although it is also keen to acquire Arcadia's Miss Selfridge brand alongside TopShop and TopMan.
A source close to Asos cautioned on Saturday night that a deal had not been struck and that there was no certainty that an agreement would be reached to acquire one of Britain's best-known clothing brands.
Asos is competing against rivals including Boohoo; the American retailer Authentic Brands Group, which is working in tandem with JD Sports Fashion; and Shein, a Chinese fashion group.
Asda, which is itself in the process of being taken over by the petrol stations giant EG Group and private equity firm TDR Capital, is also said to have been among the bidders during the process.
A deal could be struck by the end of the month, although a person close to another bidder warned that the situation remained "fluid" and could yet result in another outcome than an acquisition by Asos.
Other parties remain in talks with Deloitte, although none are said to have the logic that Asos possesses because of its existing wholesale relationship with TopShop and the strategic importance of its growing presence in the US market.
Earlier this week, Next and its partner, Davidson Kempner Capital Management, a US investment firm, pulled out of the sale process, citing the elevated price expectations of Arcadia Group's administrator, Deloitte.
A separate process is being run by Deloitte, which was appointed as administrator to Arcadia in November, for the group's other brands.
Up to 13,000 jobs are at risk from Arcadia's collapse, with brands including Evans, Wallis and Outfit seen as less likely to attract bidders.
The demise of Sir Philip's empire follows the failure of retailers such as Cath Kidston, Oasis and Warehouse and Debenhams as the coronavirus crisis has exacerbated the financial pain being experienced across the British high street.
It is Arcadia's appointment of administrators that is likely to emerge as the most enduring symbol of the pandemic's impact on the economy.
Sir Philip bought the high street group in 2002 for £850m, and just three years later paid what remains one of the largest-ever dividends – £1.2bn – to Arcadia's registered owner, Lady Christina.
For years, he was feted as a high street colossus, advising David Cameron on public sector waste during his period as prime minister.
In 2012, he sold a 25% stake in TopShop's immediate holding company to Leonard Green & Partners, a private equity firm, valuing the fashion chain at £2bn.
Sir Philip was later to buy it back for just $1.
Asos and Deloitte declined to comment on Saturday night.
London Stock Exchange chief hatches £300m 'COVID-lifeline' float | Business News
The London Stock Exchange is hatching plans to create a £300m listed vehicle aimed at bolstering the survival chances of companies hit hard by the coronavirus pandemic.
Sky News has learnt that David Schwimmer, the London Stock Exchange Group (LSEG) chief executive, has been spearheading talks with top City figures and the Treasury about establishing an investment trust called the UK Growth and Resilience Fund.
The scheme, which would principally invest in unquoted companies, is said to have been under discussion for months.
A fund management source said this weekend that BMO Financial Group, JP Morgan Asset Management and Octopus Ventures were being lined up to oversee three strands of investment, focused on private equity, listed small-cap companies and venture capital respectively.
LSEG would not be a direct investor in the new vehicle but would waive most of the fees typically paid by companies listed on its exchanges, according to the source.
It would initially aim to raise £300m but could be expanded to £1bn, the fund manager added.
One idea under discussion would involve seed capital for an initial public offering (IPO) being provided by coronavirus 'winners' or companies which have benefited from substantial government support, such as supermarkets, online retailers or direct-to-consumer investment platforms.
It was unclear this weekend whether any such companies had been approached about their willingness to support the initiative.
Simon Fraser, a former Barclays board member who chairs the Investor Forum, is understood to have been sounded out about becoming the UK Growth and Resilience Fund's chairman.
A City figure whose views were canvassed by Mr Schwimmer said the UK Growth and Resilience Fund described it as "potentially a once-in-a-generation opportunity to help with the government's levelling-up agenda while providing investors with attractive long-term returns".
"This could logically fit within the 'build back better' narrative that ministers are focused on," they said.
The source added that the "social impact potential" of the plan could deliver a big reputational benefit to Britain's financial sector during a period when insurance companies' row over business interruption claims has risked tarnishing the industry's name.
Insiders said, however, that there was no certainty that the plan conceived by Mr Schwimmer would come to fruition.
The multi-manager approach to the UK Growth and Resilience Fund is said to have added a layer of complexity to the discussions which could impair the plan's deliverability.
The proposed launch underlines concerns about the long-term scarring of the economy and certain industries which have been rocked by the ongoing impact of the coronavirus crisis.
While the government has provided hundreds of billions of pounds of emergency loans and guarantees, there remains deep anxiety about levels of corporate indebtedness resulting from the pandemic, and the impact of that on future investment activity.
The LSEG-inspired vehicle would be structured as an investment trust to enable institutional investors, wealth managers and retail investors to participate.
It would allow investment into unquoted companies which may otherwise struggle to raise equity as they seek to weather the pandemic.
Although there is not thought to be a specific list of companies that would be targeted for investment by the new vehicles, it would be expected to examine sectors such as healthcare and technology in particular.
Investment bankers at Barclays and Winterflood Securities, the market-maker, have been involved in talks about the project.
LSEG has been contacted for comment.
Eurostar: France vows financial support to 'maintain this strategic link' with UK | Business News
French authorities have said they are ready to give financial support to the struggling Eurostar.
The country's junior transport minister, Jean-Baptiste Djebbari, told a parliamentary hearing in Paris he was talking with the UK government about ensuring the cross-Channel train operator survives the coronavirus pandemic.
He said the French state would be "at Eurostar's side in order to maintain this strategic link between our two countries".
Support will be given "based on our involvement in Eurostar, so that we can financially sustain its business model", he added.
Eurostar is 55% owned by French state rail company SNCF and the UK government sold its 40% stake to private companies in 2015.
The train operator has suffered from COVID-19 restrictions and a fall in demand for travel, much like the aviation sector, yet its plight has not gained as much attention.
The number of passengers has fallen by 95% and it now runs just one daily train in each direction between London and Paris, and between London and Amsterdam via Brussels.
Before the pandemic its fleet of 27 trains ran more than 50 daily services.
In November Eurostar said it was "fighting for its survival" as it called for assistance similar to that given to airlines to help weather the coronavirus storm.
It said at the time: "Eurostar has been left fighting for its survival against a 95% drop in demand, whilst aviation has received over £1.8 billion in support through loans, tax deferrals and financing.
"We would ask this scheme to be extended to include international rail services, and more generally for the government to incorporate high-speed rail in its support for the travel sector, and in doing so help protect the green gateway to Europe."
On Wednesday, Commons Transport Select Committee chairman and Tory MP Huw Merriman urged the UK and French governments to support the business, adding: "We simply cannot afford to lose Eurostar (as it is) unique in offering an environmentally friendly, direct connection to mainland Europe".
The Department for Transport has said it has been in "engaging extensively with Eurostar on a regular basis".