Tiger Woods recovery update: Latest news on golfer after car crash
Four-time major winner Rory McIlroy said it best ahead of the 2021 Masters Tournament: "Any time Tiger Woods tees it up in a golf tournament, it's better."
Unfortunately for his fellow PGA Tour golfers and fans, Woods will not be able to participate in this year's Masters — or any other events for the foreseeable future — as he continues to recover from injuries he sustained in a February car crash. His absence will certainly be felt at Augusta National.
"He said it's kind of starting to set in," Justin Thomas said after speaking to Woods. "He's bummed he's not here playing practice rounds with us, and we hate it, too."
When will golf's biggest star be ready to hit the links again? Well, he's got a long road to recovery.
MORE: Masters tee times, TV coverage, live stream and more
Tiger Woods recovery update
Woods announced on March 16 that he had returned to his Florida home after undergoing surgery and treatment at Harbor-UCLA Medical Center and Cedars-Sinai Medical Center in California. He did not offer a recovery timeline, only noting that he is focused on "getting stronger every day."
Happy to report that I am back home and continuing my recovery. I am so grateful for the outpouring of support and encouragement that I have received over the past few weeks. Thank you to the incredible surgeons, doctors, nurses and staff at Harbor-UCLA Medical Center and Cedars-Sinai Medical Center. You have all taken such great care of me and I cannot thank you enough. I will be recovering at home and working on getting stronger every day.
What are Tiger Woods' injuries from car crash?
Dr. Anish Mahajan, the chief medical officer and interim CEO of Harbor-UCLA Medical Center, described Woods' injuries in a statement posted from Woods' official Twitter account on Feb. 24:
Mr. Woods suffered significant orthopaedic injuries to his right lower extremity that were treated during emergency surgery by orthopaedic trauma specialists at Harbor-UCLA Medical Center, a level-1 trauma center. Comminuted open fractures affecting both the upper and lower portions of the tibia and fibula bones were stabilized by inserting a rod into the tibia. Additional injuries to the bones of the foot and ankle were stabilized with a combination of screws and pins. Trauma to the muscle and soft-tissue of the leg required surgical release of the covering of the muscles to relieve pressure due to swelling.
What is a comminuted open fracture?
A comminuted fracture occurs when the bone is "broken into pieces, which may require surgery for complete healing." An open fracture, also known as a compound fracture, occurs when the broken bone has pierced through the skin. 
Dr. Joseph Patterson, an orthopedic trauma surgeon at Keck Medicine of USC in Los Angeles, told The Associated Press that there is a high risk of infection for patients dealing with open fractures.
"Tissue can be exposed to bacteria, dirt and clothing," Patterson said. "The outcomes can be a lot worse if that tissue gets infected."
Washington Football Team quarterback Alex Smith faced that exact problem after suffering a compound fracture in his right leg in 2018. His recovery was complicated by a bacterial infection after his initial surgery. At one point, medical professionals spoke with Smith about the possibility of amputating his leg.
Eventually, after several surgeries and a rigorous rehab process, Smith was able to complete a "miracle" comeback by returning to the field in 2020.
Will Tiger Woods play golf again?
It's simply too early to know whether Woods will be able to rejoin the PGA Tour in the future. Woods is likely looking at many months of recovery time based on the information currently available, but it's difficult to formulate an exact timeline.
"Can he come back from this? It's unclear at this point," Dr. Robert Glatter, an emergency physician at Lenox Hill Hospital in New York City, told USA Today. "We don't know. But it's going to be a long rehab period and it's going to be painful. We can assume that he's going to go through bumps and twists and turns.
"It's really unclear. But at least he has life right now."
Cause of Tiger Woods car crash revealed
Los Angeles County Sheriff Alex Villanueva told reporters at an April 7 news conference that Woods' crash was caused solely by excessive speed. No traffic citations will be issued.
"The primary causal factor for this traffic collision was driving at a speed unsafe for the road conditions and the inability to negotiate the curve of the roadway," Villanueva said (via The Associated Press).
Woods was driving 84 to 87 mph down a stretch of road that had a speed limit of 45 mph, and he hit a tree while going 75 mph, Villanueva said. There was no evidence that Woods tried to brake, and investigators believe Woods may have accidentally put his foot down on the accelerator instead of the brake pedal. Authorities have said there was no evidence of impairment or distracted driving.
In a statement posted from his Twitter account after the news conference, Woods said that he was aware the investigation had concluded.
In the last few days, I received word from the Los Angeles County Sheriff's Department that their investigation regarding my traffic accident back on February 23rd in Los Angeles has been completed and closed. I am so grateful to both of the good samaritans who came to assist me and called 911. I am also thankful to the LASD Deputies and LA Firefighter/Paramedics, especially LA Sheriff's Deputy Carlos Gonzalez and LAFD Engine Co. 106 Fire Paramedics Smith and Gimenez, for helping me so expertly at the scene and getting me safely to the hospital. I will continue to focus on my recovery and family, and thank everyone for the overwhelming support and encouragement I've received throughout this very difficult time.
'Messi must follow his heart' – Out-of-contract star backed to return glory to Barcelona
Lionel Messi should follow his heart and stay with Barcelona this summer in a bid to restore the Blaugrana to their former glories, according to his former Argentina team-mate Franco Di Santo.
Speculation around Messi's future continues to swirl, with the mercurial No.10's contract set to expire at the end of June following his public falling-out with the club's hierarchy in the summer of 2020.
That means that Saturday's meeting with Real Madrid at Estadio Alfredo di Stefano would be his last-ever Clasico if he does choose to leave Camp Nou behind.
Goal understands that the 33-year-old is completely ignoring the situation around his future until the end of the season as Manchester City, Paris Saint-Germain and Inter continue to be linked with his signature.
And former Chelsea striker Di Santo believes that while it would be interesting to see the six-time Ballon d'Or winner in a new setting, he would rather he remained in Catalunya.
What was said?
Speaking exclusively to Goal, Di Santo says: "He deserves respect at Barcelona for all he has won in the club. It is a team game but a big part of their recent history has been about him.
"I don't think they would have won as much without him. He is the key for everything at Barcelona. And the style of play. He deserves to be respected for what he has won in the last years.
"It would be great for whoever signs him in the Premier League or Italy. To see him in another context would be cool.
"However, I would like to see him stay in Barcelona to build his legacy.
"If I were him, I would ignore whatever people say and do what my heart says. I would do what's best for my family and me. Maybe that's to make Barcelona strong again."
Is Messi still the world's best player?
Despite a poor start to the season and the emergence of new stars such as Kylian Mbappe and Erling Haaland, Messi's recent form suggests he is not willing to give up his crown as the world's best player without a fight.
With 16 goals and seven assists in 13 league games since the turn of the year, Messi has led Barca back into the Spanish title race, with Ronald Koeman's side now just a point behind faltering leaders Atletico Madrid with nine matches still to play.
The Blaugrana have also reached the Copa del Rey final, which is scheduled for April 17 against Athletic Club.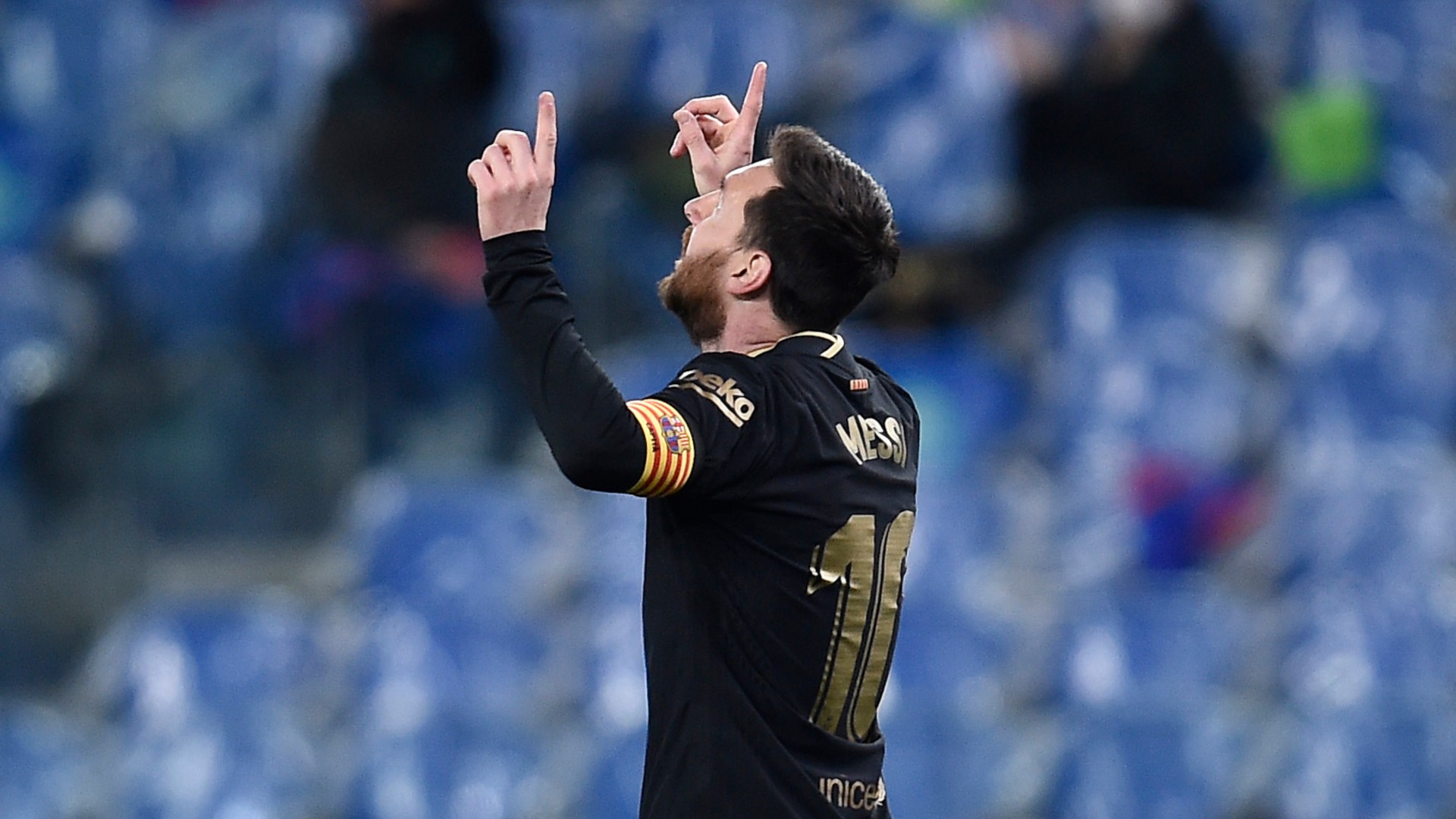 As such, a domestic double is within Messi's reach, and Di Santo believes that his recent form suggests he remains at the very top of the world game.
"Even just meeting Messi is amazing because he is our (Argentina's) other idol along with (Diego) Maradona," Di Santo adds. "I think with him they are the two best players in our history.
"We have produced so many good players but those two are the best that we have had.
"I think Messi is one of the best players, if not the best, right now. We are always happy to have him in our team. It will be really difficult to see another player like him in the future."
Further reading
The most recent no-hitter for all 30 MLB teams
The Padres finally have their no-hitter.
They recorded the first one in franchise history on April 9, 2021, as right-hander Joe Musgrove blanked the Rangers 3-0 in Arlington, Texas . Musgrove, a native of nearby El Cajon, Calif., ended the drought after 8,206 games. The franchise debuted in 1969 as a National League expansion club.
Musgrove was a hit batsman away from vying for a perfect game. He nicked Joey Gallo with a pitch in the fourth inning. He walked none and struck out 10 in his first career complete game.  
MORE: 10 single-season MLB feats we'll never see again
There have been more than 215,000 games in MLB history but there have been just over 300 no-hitters thrown, meaning the members of the no-hit club are among some pretty elite company.
No-hitters come in all shapes and sizes, with no two no-nos looking the same. Below you can see every team's most recent no-hitter, every perfect game and more.
No-hitter vs. perfect game
A perfect game only occurs when the pitcher doesn't allow a single baserunner in the game, as in 27 batters up and 27 batters down. In a no-hitter baserunners are allowed, by walk, hit by pitch, error and so forth. Every perfect game is a no-hitter, but not every no-hitter is a perfect game.
Postseason no-hitters
In baseball history, there have only been two no-hitters thrown in the postseason.
The first was Don Larsen's perfect game for the Yankees against the Dodgers on Oct. 8, 1956, in Game 5 of the World Series.
The late, great Hall of Famer Roy Halladay joined Larsen as the second man to throw a no-hitter in the postseason when he no-hit the Cincinnati Reds for the Philadelphia Phillies in the 2010 NLDS. 
Most recent no-hitters
Team
Pitcher
Date
Opponent
Arizona Diamondbacks
Edwin Jackson
June 25, 2010
Tampa Bay Rays
Atlanta Braves
Kent Mercker
April 8, 1994
Los Angeles Dodgers
Baltimore Orioles
Combined: Bob Milacki (6 IP)
Mike Flanagan (1 IP)
Mark Williamson (1 IP)
Gregg Olson (1 IP)
July 13, 1991
Oakland Athletics
Boston Red Sox
Jon Lester
May 19, 2008
Kansas City Royals
Chicago Cubs
Alec Mills
Sept. 13, 2020
Milwaukee Brewers
Chicago White Sox
Lucas Giolito
Aug. 25, 2020
Pittsburgh Pirates
Cincinnati Reds
Homer Bailey
July 3, 2013
San Francisco Giants
Cleveland Indians
Len Barker
May 15, 1981
Toronto Blue Jays
Colorado Rockies
Ubaldo Jimenez
April 17, 2010
Atlanta Braves
Detroit Tigers
Justin Verlander
May 7, 2011
Toronto Blue Jays
Houston Astros
Justin Verlander
Sept. 1, 2019
Toronto Blue Jays
Kansas City Royals
Brett Saberhagen
Aug. 26, 1991
Chicago White Sox
Los Angeles Angels
Combined: Taylor Cole (2 IP)
Félix Peña (7 IP)
July 12, 2019
Seattle Mariners
Los Angeles Dodgers
Combined: Walker Buehler (6 IP)
Tony Cingrani (1 IP)
Yimi Garcia (1 IP)
Adam Liberator (1 IP)
May 4, 2018
San Diego Padres
Miami Marlins
Edinson Volquez
June 3, 2017
Arizona Diamondbacks
Milwaukee Brewers
Juan Nieves
April 15, 1987
Baltimore Orioles
Minnesota Twins
Francisco Liriano
May 3, 2011
Chicago White Sox
New York Mets
Johan Santana
June 1, 2012
St. Louis Cardinals
New York Yankees
David Cone
July 18, 1999
Montreal Expos
Oakland Athletics
Mike Fiers
May 7, 2019
Cincinnati Reds
Philadelphia Phillies
Cole Hamels
July 25, 2015
Chicago Cubs
Pittsburgh Pirates
Combined: Francisco Cordova (9 IP)
Ricardo Rincón (1 IP)
July 12, 1997
Houston Astros
San Diego Padres
Joe Musgrove
April 9, 2021
Texas Rangers
San Francisco Giants
Chris Heston
June 9, 2015
New York Mets
Seattle Mariners
James Paxton
May 8, 2018
Toronto Blue Jays
St. Louis Cardinals
Bud Smith
Sept. 3, 2001
San Diego Padres
Tampa Bay Rays
Matt Garza
July 26, 2010
Detroit Tigers
Texas Rangers
Kenny Rogers
July 28, 1994
California Angels
Toronto Blue Jays
Dave Stieb
Sept. 2, 1990
Cleveland Indians
Washington Nationals
Max Scherzer
Oct. 3, 2015
New York Mets
Bold lettering denotes a perfect game.
List of perfect games
Since 1903 — the World Series era — there have been 21 perfect games. There have been 23 perfectos total when factoring in pre-modern era play.
| Pitcher | Date | Team | Opponent |
| --- | --- | --- | --- |
| Felix Hernandez | Aug. 15, 2012 | Seattle Mariners | Tampa Bay Rays |
| Matt Cain | June 13, 2012 | San Francisco Giants | Houston Astros |
| Philip Humber | Apr. 21, 2012 | Chicago White Sox | Seattle Mariners |
| Roy Halladay | May 29, 2010 | Philadelphia Phillies | Florida Marlins |
| Dallas Braden | May 9, 2010 | Oakland A's | Tampa Bay Rays |
| Mark Buehrle | July 23, 2009 | Chicago White Sox | Tampa Bay Rays |
| Randy Johnson | May 18, 2004 | Arizona Diamondbacks | Atlanta Braves |
| David Cone | July 18, 1999 | New York Yankees | Montreal Expos |
| David Wells | May 17, 1998 | New York Yankees | Minnesota Twins |
| Kenny Rogers | July 28, 1994 | Texas Rangers | California Angels |
| Dennis Martinez | July 28, 1991 | Montreal Expos | Los Angeles Dodgers |
| Tom Browning | Sept. 16, 1988 | Cincinnati Reds | Los Angeles Dodgers |
| Mike Witt | Sept. 30, 1984 | California Angels | Texas Rangers |
| Len Barker | May 15, 1981 | Cleveland Indians | Toronto Blue Jays |
| Catfish Hunter | May 8, 1968 | Oakland A's | Minnesota Twins |
| Sandy Koufax | Sept. 9, 1965 | Los Angeles Dodgers | Chicago Cubs |
| Jim Bunning | June 21, 1964 | Philadelphia Phillies | New York Mets |
| Don Larsen | Oct. 8, 1956 | New York Yankees | Brooklyn Dodgers |
| Charlie Robertson | April 30, 1922 | Chicago White Sox | Detroit Tigers |
| Addie Joss | Oct. 2, 1908 | Cleveland Naps | Chicago White Sox |
| Cy Young | May 5, 1904 | Boston Americans | Philadelphia A's |
| John Ward | June 17, 1880 | Providence Grays | Buffalo Bisons |
| Lee Richmond | June 12, 1880 | Worcester Ruby Legs | Cleveland Blues |
Don Larsen's perfect game remains the only perfect game in postseason history. 
No-hitters by team
| Team | Number of no-hitters |
| --- | --- |
| Los Angeles Dodgers | 26 |
| Chicago White Sox | 19 |
| Boston Red Sox | 18 |
| San Francisco Giants | 17 |
| Cincinnati Reds | 16 |
| Chicago Cubs | 16 |
| Atlanta Braves | 14 |
| Cleveland Indians | 14 |
| Philadelphia Phillies | 13 |
| Oakland Athletics | 13 |
| Houston Astros | 12 |
| New York Yankees | 11 |
| Los Angeles Angels | 11 |
| St. Louis Cardinals | 9 |
| Detroit Tigers | 7 |
| Washington Nationals | 7 |
| Pittsburgh Pirates | 6 |
| Miami Marlins | 6 |
| Seattle Mariners | 6 |
| Baltimore Orioles (modern) | 5 |
| Minnesota Twins | 5 |
| Texas Rangers | 5 |
| Kansas City Royals | 4 |
| Louisville Colonels | 4 |
| Philadelphia Athletics | 4 |
| Baltimore Orioles (old) | 3 |
| Arizona Diamondbacks | 2 |
| Buffalo Bisons | 2 |
| Columbus Buckeyes | 2 |
| Providence Grays | 2 |
| Brooklyn Tip-Tops | 1 |
| Chicago Chi-Feds/Whales | 1 |
| Cincinnati Outlaw Reds | 1 |
| Cleveland Blues | 1 |
| Cleveland Spiders | 1 |
| Colorado Rockies | 1 |
| Kansas City Cowboys | 1 |
| Kansas City Packers | 1 |
| Milwaukee Brewers (old) | 1 |
| Milwaukee Brewers (modern) | 1 |
| New York Mets | 1 |
| Pittsburgh Rebels | 1 |
| Rochester Broncos | 1 |
| San Diego Padres | 1 |
| Tampa Bay Rays | 1 |
| Toronto Blue Jays | 1 |
Italic lettering indicates defunct/moved franchises.
Joe Musgrove throws first no-hitter in Padres history
Joe Musgrove ended one of baseball's most famous droughts Friday night as he hurled the first no-hitter in Padres franchise history.
The right-hander blanked the Rangers 3-0 at Globe Life Field in Arlington, Texas. Musgrove faced just one batter over the minimum (he hit Joey Gallo with a pitch in the fourth inning) and leaned on a sharp breaking ball to rack up 10 strikeouts. 
MORE: Teams' most recent no-hitters
"The slider was the pitch that I felt I could put wherever I wanted today," he said in a postgame interview with Bally Sports San Diego. 
It appeared for a second late in the game that the drought might continue. Rangers catcher Jose Trevino lined sharply to right field with two outs in the bottom of the eighth, but Padres right fielder Wil Myers raced in and snagged the drive to end the frame.
Musgrove completed the historic no-no three outs later with his 112th pitch of the night. He got Isiah Kiner-Falefa to ground out to shortstop Ha-Seong Kim. It was the first complete game in Musgrove's career.
THE HOMETOWN KID!!!! HAS DONE IT!!! JOE MUSGROVE HAS THROWN THE FIRST NO-HITTER IN SAN DIEGO PADRES HISTORY!!!!!!!!!!!!!! pic.twitter.com/MuS5GFQKW5

— Bally Sports San Diego (@BallySportsSD) April 10, 2021
San Diego began play as a National League expansion club in 1969. The no-hitter came in the franchise's 8,206th game. The Padres became the lone big league team without a no-hitter when the Mets ended their drought in 2012 courtesy of Johan Santana. 
Musgrove, a native of nearby El Cajon, Calif., was making just his second start for the Padres after being acquired by the club in an offseason trade with the Pirates.
He said in the postgame interview that it was his first no-hitter ever.
"It's awesome to be able to have it be in a Padres uniform, and for it to be the first one for the franchise, I thought that's incredible," he said.
This article will be updated.