'This movement doesn't just go away': Trump supporters beaten but defiant | US News
Even if Donald Trump's White House journey is almost over, the 'Trump Train' is far from running out of steam.
The president talks of his support representing a movement unlike anything this country has ever seen before.
And, on a chilly midweek morning, in small-town Texas, the numbers who turned out to roar their support for the soon-to-ex-president was nothing short of staggering.
The caravan of cars and pick-ups, festooned with flags and honking their horns, streaming through the streets of McAllen was a boisterous show of allegiance.
They represented the full spectrum of Trump fans that we have seen across America for four years, from the hardcore loyalists, blind to any failings, to the moderates who simply feel he has kept his promises in office.
They also represented a truth America needs to reckon with: they are not going away.
Even those who now accept, grudgingly, that Trump lost the election still see a fight to be had, to preserve the momentum of a president who they see as re-shaping the country.
Robert de los Santos came with his wife and two children to see Trump arrive in McAllen. When the president visited two years ago, Robert was on the tarmac to snap a close-up picture.
"He will still be an influence because we want politicians who will follow what he started," Robert said.
It might be that it's another candidate, more palatable to the mainstream than Trump, Robert said, that could adopt his agenda and seize the Republican ticket in the 2024 presidential election. That would be fine with him.
"This movement doesn't just go away," said Robert's neighbour Victoria Oates. "We accept, dragging our feet, that he lost but all these people feel just as strongly as they ever have."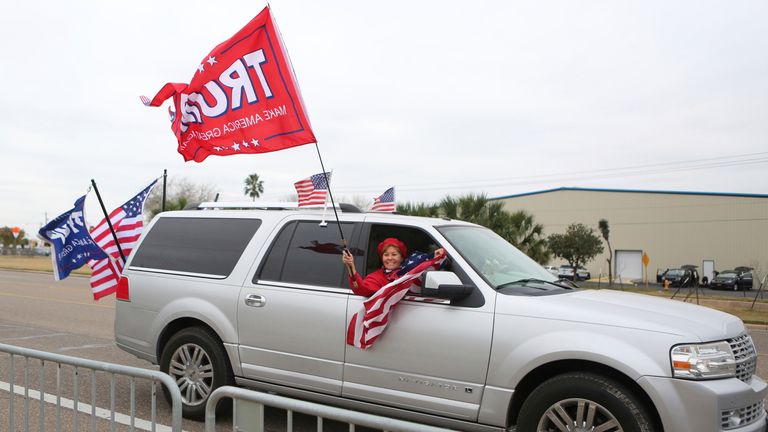 As Trump's motorcade rushed past, the two families jumped from their pink golf buggies to wave and cheer. A lone Joe Biden supporter chanted that the president had "blood on his hands" for last week's riots.
Every one of the 75 million people who voted for Trump of course had their own reasons.
For example, in this part of Texas his controversial border wall is extremely popular with many Republicans who will tell you that they live with the consequences of what they call an immigration crisis.
Rightly or wrongly, it is why they believe in Trump.
For others it will be tax cuts or the appointment of judges or cutting business regulation, the Trump accomplishments touted by the White House. There is plenty that still energises Trump voters to turn out and express their strong support.
Their president will be gone next week but they are determined to remain a fixture of American political life.
Is Trump's impeachment trial worth the trouble if it's likely to renew rancour and division? | US News
The starting gun for Donald Trump's second impeachment trial is fired today with the Article Of Impeachment sent to the US Senate.
Republicans and Democrats have agreed on the start date for the trial – 8 February – but not much else, it seems. The ground rules for the trial are still being discussed.
Democrats had hoped to run the trial concurrently with the opening legislative business of the Biden presidency, in a kind of split screen politics, but Republicans would not play ball. The Senate will need to have confirmation hearings for Biden cabinet appointees and the discussion of a $1.9trn COVID relief bill out of the way before the trial begins.
The key question now: How many Republicans are likely to join Democrats to convict the former president? A two-thirds majority is required for conviction. That would need all 50 Democrat senators and 17 Republicans to join them.
On the Sunday morning talk shows Mitt Romney was prepared to countenance the idea, saying: "No question that the article sent over by the House suggests impeachable conduct.
"I will do my best to apply justice on the merit of the argument."
But Senator Marco Rubio, no fan of Donald Trump, was not.
"The first chance I get to vote to end this trial I will, because it's a really bad move for the country. This is a political trial, it's not a criminal trial – it will continue to fuel divisions and has turned us into a country that hates each other."
Republican senators may be tempted to convict the ex-president because it would bar him from seeking re-election in 2024. But on the other hand they must weigh the damage he can do to their careers. Donald Trump still has a huge following and considerable political power which he can wield at will to undermine their chances of being selected and elected.
Outgoing Senate Majority leader Mitch McConnell is said to be pleased about Mr Trump's trial, hopeful it could make it easier for the former president to be purged from the Republican Party. A conviction is not out of the question, once all the evidence has been heard.
Subscribe to Divided States on Apple podcasts, Google Podcasts, Spotify, and Spreaker
On the streets of Washington DC, most were enthusiastic about Mr Trump being tried, hoping for a conviction. They also accept it could be very divisive for the country. Only a handful in this Democrat-controlled city opposed the idea, with some insisting the charges against Trump were "fake news".
The trial is guaranteed to overshadow the start of the Biden presidency and likely to renew the rancour and division of the last four years. For some, that is a price worth paying to hold Mr Trump to account and set an example to others. For others, it is time to move on.
Winter tightens its grip on the UK: More sub-zero temperatures and treacherous conditions | UK News
The icy weather is not over yet, with Britain warned to expect sub-zero temperatures and treacherous conditions in the early days of this week.
It comes after a Sunday during which much of the country was covered in snow, bringing some relief for Britons bored with the stay-at-home rules of the coronavirus pandemic.
The Met Office said parts of the Midlands should prepare for -10C (14F) going into Monday, with the rest of the country expected to see between -4C (24.8F) and -6C (21.2F).
An amber weather warning for snow is in place between Nottingham and Stoke On Trent, with the threat of power cuts, travel disruption and rural communities being cut off.
There are also five yellow warnings for snow and ice in the southern part of England, eastern Scotland and Northern Ireland.
The snow is likely to continue for parts of the Midlands, where up to 15cm could fall by the end of the day.
Even places without snow are likely to see widespread frost with icy roads and other wintry hazards.
Meteorologist Simon Partridge said: "The band of snow that came through overnight stalled over the Midlands and will then track its way back over southeast England.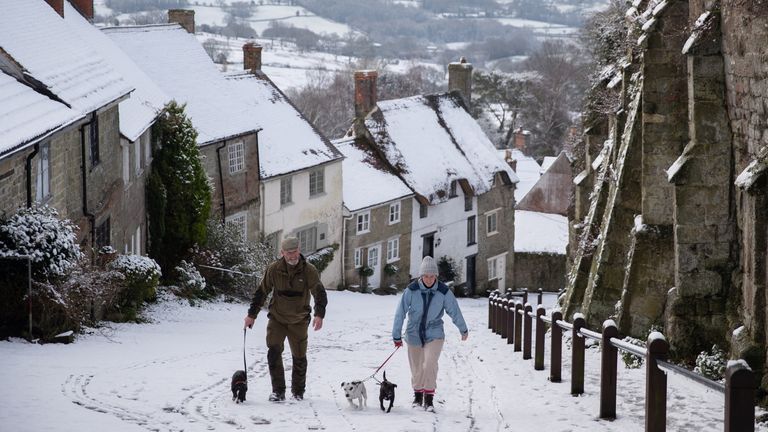 "Our main focus is that it is going to be a really cold night, particularly across central and southern parts of the UK – so the whole of Northern Ireland, all of Wales, most of the southern half of England from the Midlands and southwards."
On Sunday, the snow forced four vaccination centres in Wales to close and some centres in England needed specialist vehicles to clear access paths.
Temperatures are expected to be milder next week, however, with England's south likely to reach between 10C (50F) and 12C (53.6F).
Mr Partridge said: "It's a bit of a rollercoaster from cold and wintry conditions to wet and windy ones.
"We are keeping an eye on rainfall totals because there are some areas that are very sensitive to rainfall and there is further possible flooding as we go through the second half of the week."
COVID-19: Joe Biden to reimpose travel ban on UK and European Union – reports | US News
US President Joe Biden is set to reimpose a number of travel bans that were repealed by his predecessor, according to the Reuters news agency.
Mr Biden is also set to put a travel ban in place to arrivals from South Africa, apparently over fears of the new coronavirus variant discovered in the country.
Donald Trump lifted travel restrictions between the US and Brazil and Europe two days before he left office – a decision Joe Biden will imminently rescind through an executive order.
Speaking to the Reuters news agency, anonymous sources said the new president will announce the move on Monday, that will stop entry into the US from European Union countries, the UK, Brazil and South Africa.
The move has been confirmed to the news agency by the principal director of the Centre for Disease Control (CDC), Dr Anne Schuchat, who said: "We are adding South Africa to the restricted list because of the concerning variant present that has already spread beyond South Africa."
She added the agency was "putting in place this suite of measures to protect Americans and also to reduce the risk of these variants spreading and worsening the current pandemic".
The CDC is concerned that vaccines may be less effective against the COVID-19 variant discovered in South Africa, adding it is up to 50% more infectious than other versions of the virus.
Mr Biden has been seen as taking swift action on COVID-19 in the early days of office, and has already signed executive orders imposing mandatory mask wearing and social distancing on government properties across the US.
Subscribe to the Daily podcast on Apple Podcasts, Google Podcasts, Spotify, Spreaker
The UK has also been mulling the idea of full border closures as part of the current lockdown, in an effort to limit the introduction of further variants into the country.
At the moment, flights arriving in to the UK from South America and Portugal are banned, with all other arrivals required to quarantine for 10 days.