The Serpent: The story of the real-life hippie trail killer Charles Sobhraj | Ents & Arts News
Inspired by the true story of a fraudster and murderer who preyed on tourists travelling through Asia in the 1970s, The Serpent is the latest true crime drama being binged in lockdown.
Starring Tahar Rahim as killer Charles Sobhraj, and Jenna Coleman as his lover and accomplice Marie-Andree Leclerc, the eight-part drama is currently showing on BBC1 and BBC iPlayer.
"A hidden darkness on Asia's hippie trail – the twisting, real-life story of a murderer, thief and seductive master of disguise," is how the BBC bills it, and reviews have praised Rahim's performance as the "ice-cold" killer who became one of Interpol's most wanted men.
Here are the details behind the drama.
Who is Charles Sobhraj?
A French national who was born Hatchand Bhaonani Gurumukh Charles Sobhraj to an Indian father and Vietnamese mother in what was then known as Saigon (now Ho Chi Minh City), Sobhraj led a life of petty crime as a teenager which escalated to much darker deeds.
Evading authorities using false passports across Thailand, India and Nepal, on what was known as the hippie trail travellers' route, he would pose as a drug dealer or gem salesmen to impress and get to know tourists, before robbing them.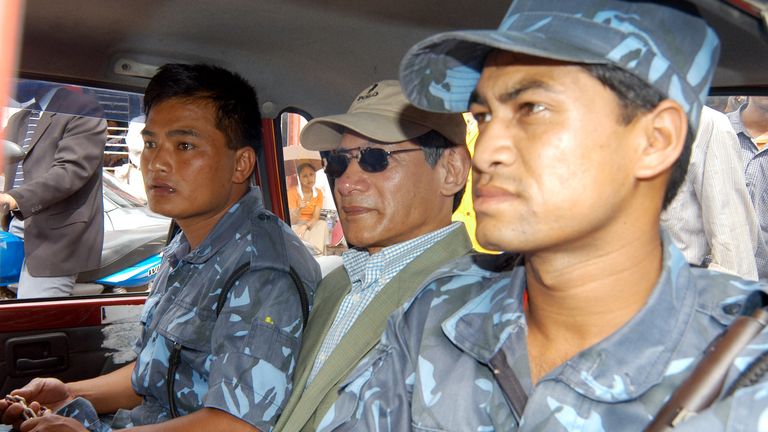 He was accused of the murders of several Western tourists, playing cat and mouse with the authorities for years – his ability to give police the slip and escape jail earned him his Serpent nickname, although he also became known as the Bikini Killer as the bodies of several female victims were found in swimwear.
In The Serpent, he is seen poisoning his victims, burning the bodies of some, and leaving others to drown.
Sobhraj was eventually jailed in India in 1976. Ten years later, as his sentence was due to end, he escaped prison – knowing a Thai arrest warrant against him, which would almost certainly have led to the death penalty, was still valid. His escape and subsequent recapture meant his jail term in India was extended – and so he avoided execution in Thailand.
He was eventually released in 1997 and returned to France. Seemingly enjoying his notoriety, he gave media interviews about his life.
But in 2003, having travelled to Nepal once again, he was captured by police there and a murder inquiry was reopened. Some accounts suggest he was hoping to be caught once again, craving the attention. By 2004, he had been jailed again and now aged 76, he remains in prison.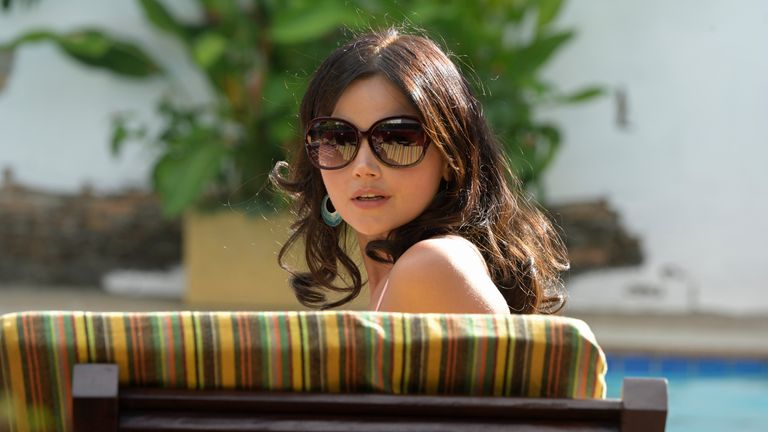 What happened to Marie-Andree Leclerc?
Sobhraj had several followers, with his lover, Marie Andree Leclerc, the most prominent in The Serpent. Seemingly blinded by love and infatuation, she went along with his crimes.
Born in Quebec, Canada, she met Sobhraj while travelling in India.
As his accomplice, she was also jailed for her part in his crimes. However, in 1983 she was allowed to return to Canada as she was suffering from cancer. She died in 1984, aged 38.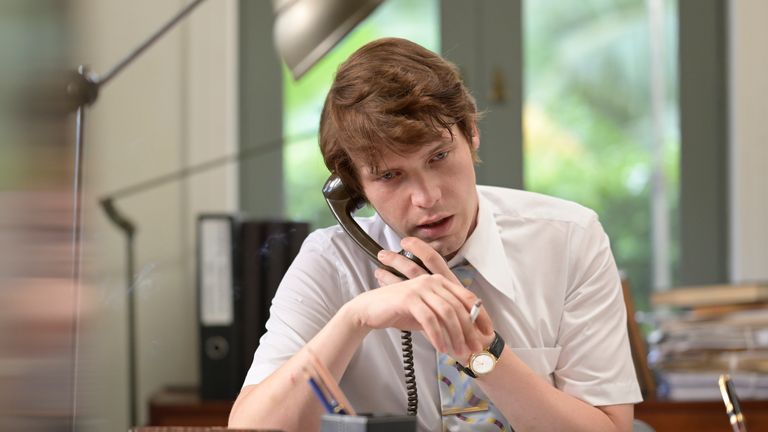 Who is Herman Knippenberg?
In The Serpent, the story focuses on the investigations made by Dutch diplomat Herman Knippenberg, played by Billy Howle. Working at the Dutch embassy in Thailand, he started looking into Sobhraj's crimes after coming across the case of two Dutch travellers who had gone missing.
Eventually linking the disappearance to other deaths, he was able to build a case against Sobhraj with the help of one of the criminal's neighbours.
Ahead of the launch of the series, Howle told the Radio Times that he spoke to the real Mr Knippenberg while researching the role.
"It's a sort of moral outrage that drives this fastidious investigation that he takes upon himself," he said. "It's so unlikely, really, a person in this position doing the job that he was doing, for this to land on his desk, I think it is the moral outrage at the reality of this, the gravity of it, that drives him forward to want to stop it."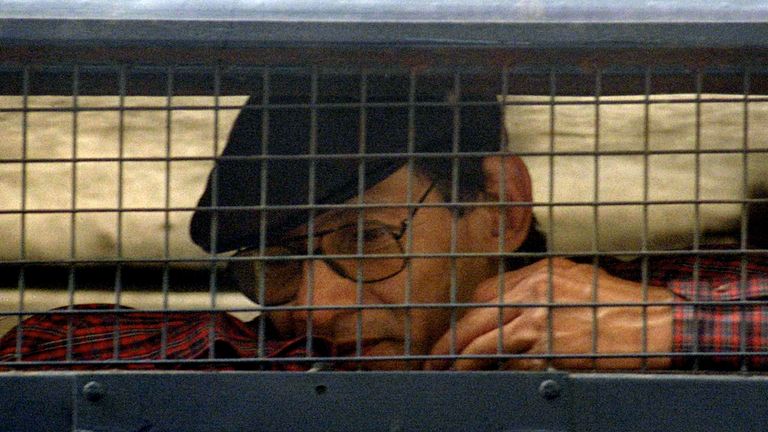 The victims
Sobhraj was convicted in Nepal over the deaths of Laurent Carriere, from Canada, and American Connie Bronzich, and in India of Frenchman Jean-Luc Solomon, however he is believed to have killed many more.
He has never been tried for crimes in Thailand. Other victims he is linked to include American Teresa Knowlton, Turk Vitali Hakim and his French girlfriend Charmayne Carrou, and Dutch students Henk Bintanja and Cornelia Hemker.
Some names have been changed in the drama out of respect for the victims and their families.
The series is dedicated "to all the young intrepids who set out with big dreams, but never made it home".
The Serpent is available to watch now on BBC iPlayer
COVID-19: England's COVID infection rate decreases slightly but remains high – ONS | World News
The percentage of people testing positive for COVID-19 in England has decreased slightly but remains high, according to latest figures from the Office for National Statistics (ONS).
Around 1 in 55 people who are not in care homes, hospitals or other institutional settings had the virus in the week ending 16 January.
In the last full infection survey published two weeks ago, 1 in 50 people had the virus – showing there has been a small decrease, although infection rates still remain high.
Worryingly, infection rates in Northern Ireland jumped from 1 in 200 in the previous survey to 1 in 60.
Rates in Scotland and Wales have levelled off, with 1 in 100 and 1 in 70 people infected respectively.
In England, London and the North East still have the highest infection rates, with about 1 in 35 people estimated to have the virus in the capital.
However, there was some good news as the percentage of people infected with the new variant has fallen in London, the South East and the East of England.
COVID-19: Holidays to Spain could be delayed 'until end of summer' | World News
Britons hoping to escape to Spain could have their holiday plans cancelled following reports the Spanish prime minister said the country would not welcome international tourists until the "end of summer".
Speaking at a meeting of the World Tourism Organisation, Pedro Sanchez reportedly said he did not expect holidaymakers to visit Spain until nearly all of the population has been vaccinated.
He said the country would "progressively" prepare to welcome international tourists once 70% of Spain's population had been vaccinated, which he expected to be by the end of this summer, local media sites including Euro Weekly News have reported.
It will be a blow for the tourism sector, which closed its worst year since the 1970s in 2020 with revenues falling by more than 75%.
Spain reported its highest daily number of coronavirus infections yet on Thursday, recording 44,357 cases.
A further 404 deaths were also reported, taking the country's total to 55,041 deaths and 2.5 million cases.
Spain is not the only popular holiday destination closing its doors to British tourists, as Portugal has said it will be suspending all flights to and from Britain from Saturday onwards.
Only repatriation flights will be allowed between the two countries, Prime Minister Antonio Costa told a news conference.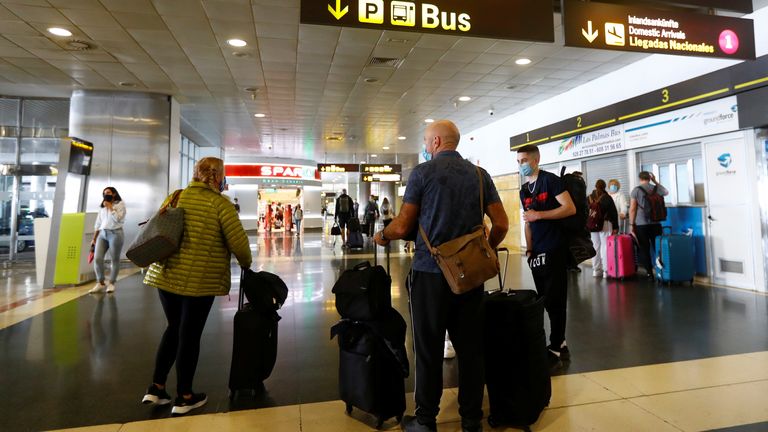 Meanwhile, the UK itself has "considered" a full closure of its borders.
Environment Secretary George Eustice told Sky News ministers were keeping the idea "under review" and "can't rule anything out for now" – although they believed the current restrictions were "sufficient".
Asked whether people should be booking foreign holidays for this summer, Home Secretary Priti Patel refused to give an answer and said it was "far too early" to speculate on restrictions.
But some Britons have already begun booking their breaks, with holiday firms saying they had seen a spike in bookings from older people planning trips following the vaccine roll-out.
The UK's largest tour operator TUI said half of bookings made so far have been made by over-50s.
Spain ranks among the most popular countries for people planning holidays this year.
A study by travel company Club Med showed it was the fifth most popular destination, behind the Maldives, Mexico, Thailand and Turkey.
Earlier, European Union leaders held an online summit to discuss potential coronavirus measures, including further border restrictions.
While a number of EU leaders said they would not rule out border closures, Spain and Greece backed an idea for a common approach to "vaccine passports".
The system would allow people to travel if they had received the vaccine, although EU diplomats said the measure was premature as it is not yet clear if vaccinated people could still pass on the virus to others.
Donald Trump was fooled into talking to prankster pretending to be Piers Morgan, TV presenter says | UK News
A prankster pretending to be Piers Morgan managed to fool Donald Trump into thinking he was speaking to the real TV presenter.
It happened in October while the former president and Apprentice star was on Air Force One, Morgan said.
Mr Trump, who left the White House for the final time earlier this week, only realised he had been scammed when he rang the genuine Morgan the following day while on his way to Florida, the presenter revealed.
Morgan told the BBC it was a "hilarious story", adding: "Somebody had called him pretending to be me the day before and got through to him on Air Force One and they had a conversation with Trump thinking he was talking to me."
It is not known who the prankster was.
The pair, who have known each other for more than a decade, fell out last year after Morgan, 55, criticised Mr Trump's handling of the coronavirus pandemic.
In 2008, Morgan won a series of Celebrity Apprentice hosted by the billionaire businessman.
He also interviewed him during his time in office for ITV's Good Morning Britain.
Taking about Mr Trump's time as US president, Morgan said the 74-year-old had been a "useless leader" because of his "character flaws – the chronic narcissism, the desire to make everything about himself".
But Mr Trump is not the only prominent person to have been fooled by a prankster.
In March last year, Prince Harry was reportedly tricked into speaking about his decision to quit the royal family by Russian hoaxers posing as the environmental activist Greta Thunberg.