The 'Ndrangheta: Italy's huge mafia trial begins – here's what you need to know | World News
Italy's biggest mafia trial in decades has begun, with more than 300 defendants linked to the powerful crime group, the 'Ndrangheta, to appear amid high security.
The prosecutor overseeing the case has been called a "dead man walking" by some members of the mafia – but insists he won't be intimidated.
Here's the lowdown on who's involved and why it's so important to Italy.
Who are the 'Ndrangheta?
The group is headquartered in Calabria in southern Italy – not far from Sicily – whose infamous mafia it has replaced as the country's most powerful crime group.
The 'Ndrangheta may be based in one of Italy's poorest regions but is now believed to be the world's richest crime syndicate.
Cocaine is the fuel that powers the organisation.
It is estimated to earn tens of billions of dollars every year from importing the drug to Europe and selling it on to other crime groups.
The 'Ndrangheta has "almost a monopoly" on European cocaine imports, according to chief prosecutor Nicola Gratteri.
Vast sums earned from the drugs trade has allowed it to extend across Europe and into places such as North and South America.
In 2007, a feud between two clans based in the German city of Duisburg made headlines when six people were shot dead in front of an Italian restaurant.
Like many mafia groups, it's also involved in activities such as forcing businesses to pay protection money, kidnapping, political corruption, murder and counterfeiting.
Its wealth has allowed it to buy legitimate businesses across Italy in which to launder its cash.
Historically, the word 'Ndrangheta comes from Greek and means courage or loyalty.
The organisation was formed when a group of Sicilians was banished to Calabria in the 1860s, where they started small criminal groups.
Today, it has a similar structure with around 100 "families" in the region running their own piece of territory.
What's the trial about and where is being held?
The "maxi-trial" started from an investigation into a dozen clans linked to convicted 'Ndrangheta boss Luigi Mancuso – who prosecutors say was in charge of one of its most powerful families.
Crimes being prosecuted include drugs and arms smuggling, extortion, and being a member of a mafia group.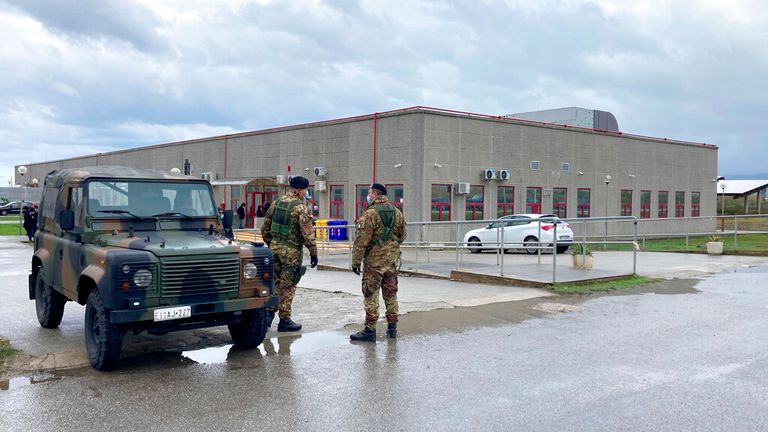 Local politicians, officials, businessmen and members of secret lodges are also charged with cooperating with the group.
Several dozen 'Ndrangheta informants have betrayed the organisation and its strict code of silence, including Mancuso's nephew, Emanuele Mancuso.
To work with police and become a "pentito" is extremely rare within the 'Ndrangheta considering the deep family blood ties that run through the organisation.
Members of the Sicilian mafia – perhaps keen to land a major blow on their rival – have also worked with authorities and could be called to testify.
Prosecutors also have thousands of wire-tapped conversations to help their case.
A "bunker" court room has been built on an industrial park in Lamezia Terme, in Calabria, to accommodate the huge number of people that will be involved.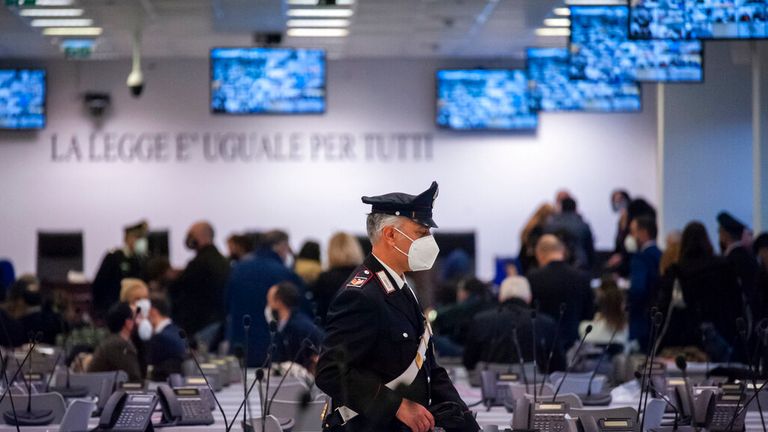 Some 350 defendants, about 700 lawyers and close to 1,000 witnesses are due to give evidence – and it could last up to two years.
The court is kitted out with cages to hold defendants, row upon row of chairs, and numerous video monitors.
Social-distancing means even more space is needed to guard against potential coronavirus spread.
'The Godfather'
The opening day of the trial took three hours to name all the defendants and lawyers, but the main man – and the closest to a 'Godfather' figure – is Luigi Mancuso.
Known as 'The Uncle', Mancuso has already spent nearly two decades in prison.
He's said to have led one of the 'Ndrangheta's key families, based in the small town of Vibo Valentia.
It's the Mancusos and their associates that the trial is focussing on – rather than taking on the whole sprawling organisation.
Other defendants in the case are said to be known by such names as "The Wolf", "Fatty", "Little Goat" and "The Wringer".
Why is the case so important to Italy?
Beside the sheer scale of the criminality involved, prosecutors hope it will deal a significant blow to the operations and morale of the 'Ndrangheta.
There's also a strong emotional pull in Italy when it comes to efforts to prosecute mafia groups.
In 1992, judges Giovanni Falcone and Paolo Borsellino were assassinated after years of trying to take down the Sicilian mafia, in a case that shocked the nation and caused outrage.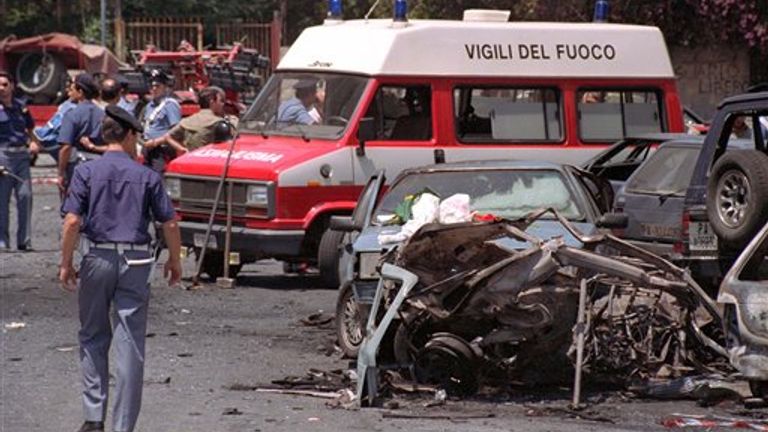 Falcone, his wife and three police officers were killed by a remote control bomb on a Sicilian highway.
Two months later, Borsellino and five police also died in a bombing on the island.
Both had helped pave the way for the high-profile 1986 "maxi-trial" in Palermo, which dealt a huge blow to the Cosa Nostra by securing more than 300 convictions, including life sentences for many of the group's top bosses.
Who's taking on the mafia this time?
Nicola Gratteri, Italy's most high-profile anti-mafia prosecutor, is overseeing the case.
He grew up in Calabria at a violent time when he says "dozens and dozens of people were killed".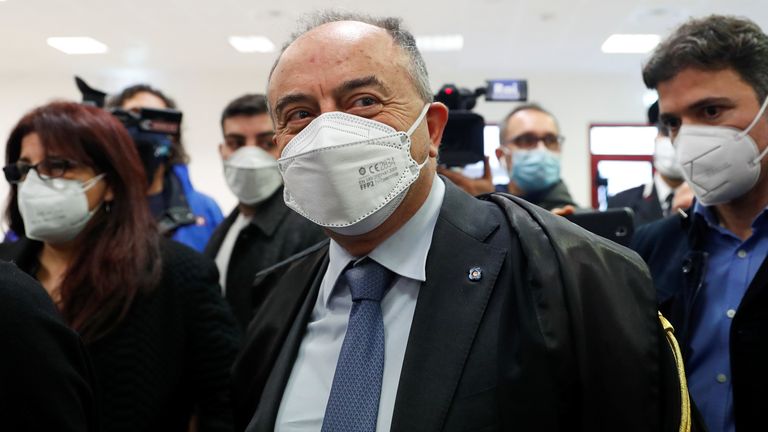 Mr Gratteri told Sky News he sometimes saw dead bodies as a child, which motivated him on to dedicate his life to fighting the group.
Taking the case has of course meant big risks – ones he is prepared to take.
"This means giving up everyday life, giving up the most trivial things, common things, any kind of freedom," said Mr Gratteri.
The 62-year-old adds: "It is always worth doing what you believe in.
"Sacrifices are made if you believe that you are on the right side and that you are doing something useful to the community."
Archie Lyndhurst: CBBC star died from brain haemorrhage, mother confirms | Ents & Arts News
Archie Lyndhurst, the son of Only Fools And Horses actor Nicholas Lyndhurst, died from a brain haemorrhage, his mother has confirmed.
The 19-year-old died in his sleep at his home in Fulham, west London, on 22 September.
Lucy Lyndhurst shared the results of her son's second post-mortem on Instagram, writing: "He died from an Intracerebral Haemorrhage caused by Acute Lymphoblastic Lymphoma/Leukaemia."
Calling the details of the report "harrowing", she said it was "not leukaemia as we know it" and that in medical terms, acute meant "rapid".
An intracerebral haemorrhage is caused by bleeding on the brain, causing a stroke.
She also explained that the doctor had found "numerous bleeds on the brain" and that "Archie wouldn't have been in any pain as it happened in his sleep".
As Archie had shown no signs of illness, and his death was due to natural causes, she said there was nothing that could have been done to prevent his death.
Early reports following his "unexplained" death said he had died following "a short illness".
His mother described the effect of Archie's death on the family as "catastrophic", calling him "an extraordinary magical human being", "an old soul" and "incredibly advanced for his years".
An only child, she said that she and Nicholas Lyndhurst were "grateful and privileged to have been chosen to be his parents".
Archie's father famously played Rodney Trotter, the hapless younger brother of Sir David Jason's Del Boy, in Only Fools and Horses.
Archie had been dating his So Awkward co-star Nethra Tilakumara, whom his mother called "the love of his life", and had celebrated her birthday with her just days before his death.
Lucy also shared a series of photos of Archie, showing him as a child, and later as a successful actor, as well as relaxing with his girlfriend.
Calling life "fragile, precious and sometimes incredibly cruel", his mother said "to lose a child is every parent's nightmare", adding that she "wouldn't wish this pain on anyone".
She signed off her post: "Our darling boy, we love you forever and ever and thank you every day, for every beautiful memory we have. We will celebrate you always. All our love. Mama and O.M."
Subscribe to the Backstage podcast on Apple Podcasts, Google Podcasts, Spotify, Spreaker
Archie's funeral took place in a "tiny chapel" in November, his mother confirmed in an earlier message.
Archie trained at the Sylvia Young theatre school, and was best known for playing Ollie Coulton in CBBC comedy So Awkward.
He had also appeared in hospital drama Casualty and in Jack Whitehall comedy Bad Education.
COVID-19: Town's rapid coronavirus testing centres close as snow sweeps across parts of England | UK News
All three rapid COVID testing centres in Luton have been shut because of snow in the area, the council has said, while other parts of England have also woken up to snowfall.
Confirming the decision on Twitter, the council said it would be closing the centres "for the safety of the public and our staff".
But social media users have complained of a lack of snow, with some branding the council's move "utterly embarrassing".
"Just been to the shop….more 'snow' in a snow globe!!!" wrote one Twitter user, while others said closing the testing sites was a "bizarre decision".
Luton had a rate of new COVID cases in the seven days to 11 January of 808.3, according to Public Health England data. That was down from 961.7 on the previous week.
It comes after the Met Office warned that parts of southeast England and East Anglia will continue to see further snow on Saturday, with between 2cm and 4cm falling over the coming hours.
An amber snow alert was put in place for the east of England until 2pm, with yellow snow warnings for the South East until 8pm.
A further yellow snow and ice warning has been issued in a band stretching from the Midlands to the top of Scotland until 6pm on Saturday.
The Met Office said there was a likelihood of "delays or cancellations to rail and air travel, possible travel delays on roads stranding some vehicles and passengers".
TikTok video showing car parked across live railway line investigated by police | UK News
Police are appealing for information after a video posted on TikTok showed a car parked across a live railway track for a photoshoot.
The short clip shows the vehicle across the tracks in Bolton, Greater Manchester, with the caption: "Would you take the risk to get the shot no one else would?"
Network Rail's North West route director has condemned the behaviour as "sheer stupidity at a staggering level".
British Transport Police is investigating the footage.
Inspector Becky Warren from the force said: "No picture or video is worth risking your life for.
"There is simply no excuse for not following safety procedures at level crossings. The behaviour shown by the individuals in this video is incredibly dangerous and reckless."
The video showed the car across tracks at The Oaks level crossing, at Bromley Cross near Bolton.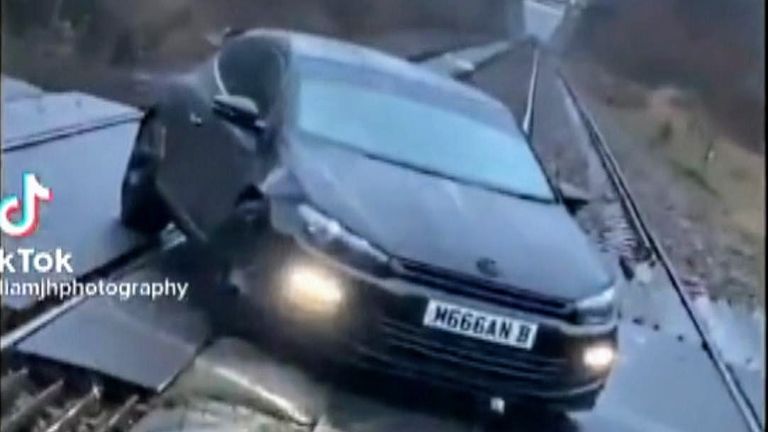 Phil James, Network Rail's North West route director, said: "The danger this person has put themselves and passengers in is sheer stupidity at a staggering level.
"Trespassing on the railway is a crime, as is endangering the lives of rail users.
"No-one should ever trespass onto the railway – so for it to be used as a backdrop for a photo shoot beggars belief.
"Lives could so easily have been lost by this reckless behaviour and we will be working closely with British Transport Police to make sure the person responsible for the video is brought to justice."
Anyone with information is asked to contact the British Transport Police on 61016 quoting the reference number 122 of 14/01/21.