Students could still face 'externally set papers' despite axing of GCSE and A-level exams | Politics News
Students could yet be given "externally set tasks or papers" despite the cancellation of formal GCSE and A-level exams.
Education Secretary Gavin Williamson has set out how he wants exams regulator Ofqual to jointly consult with his department on "alternative arrangements" for the awarding of qualifications this year.
In a letter to Ofqual chief regulator Simon Lebus, Mr Williamson said grades should be awarded "based on teacher assessment" using a "breadth of evidence".
And the education secretary told Mr Lebus he would "like to explore the possibility of providing externally set tasks or papers, in order that teachers can draw on this resource to support their assessments of students".
Mr Williamson added: "It is my view that the consultation should set out proposals which allow students to be assessed based on what they have learnt, rather than against content they have not had a chance to study."
Last summer, Mr Williamson was forced into a major U-turn over the awarding of GCSE and A-level grades and ditched a much-criticised algorithm for "moderating" students' results.
In his letter on Wednesday, Mr Williamson reiterated that, this year, "we will not use an algorithm to set or automatically standardise anyone's grade".
"Schools and colleges should undertake quality assurance of their teachers' assessments and provide reassurance to the exam boards. We should provide training and guidance to support that, and there should also be external checks in place to support fairness and consistency between different institutions and to avoid schools and colleges proposing anomalous grades," he writes.
But he added: "Changes should only be made if those grades cannot be justified, rather than as a result of marginal differences of opinion.
"Any changes should be based on human decisions, not by an automatic process or algorithm."
GCSEs and A-level exams were cancelled for a second year in a row following the closure of schools and colleges to the majority of pupils this month, as part of England's third national coronavirus lockdown.
Mr Williamson has told an education select committee hearing he was "absolutely disgusted" after seeing pictures of food parcels delivered to families by food service provider Chartwells.
"As a dad myself I thought how could a family in receipt of that really be expected to deliver five nutritious meals as is required, it's just not acceptable," he said.
Mr Williamson said it had been made clear to Chartwells as well as the entire sector that such behaviour "will not be tolerated" and that action would be taken against companies that did not maintain the proper standards.
"We will not live with that," he said.
He also told the committee he will fight "tooth and nail" to get teachers and support staff moved up the priority list for the vaccines.
While agreeing with the government decision to vaccinate the most vulnerable first, Mr Williamson said he wants school staff to be protected at the "earliest moment".
Meanwhile, a team of experts has warned that the testing strategy for schools could actually increase cases of COVID-19.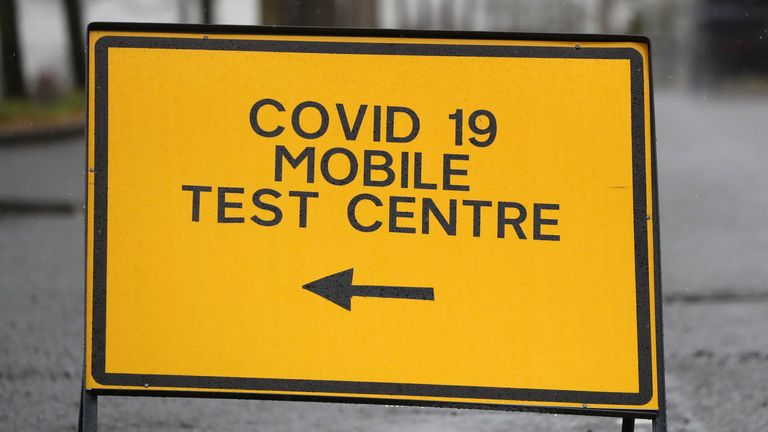 A "serial testing" scheme means pupils and staff will be tested if they come into contact with a positive case.
This approach, also known as "daily contact testing", will allow those who are in close contact with someone who has tested positive to return to school or college if they agree to be tested for seven days following last contact with a positive case and that test is negative.
Writing in The BMJ, experts said using testing to manage classroom outbreaks, without isolating close contacts, risks increasing disease spread.
The article, written by a number of experts including Jon Deeks, professor of biostatistics at the University of Birmingham, states: "Scientists have particular concerns that negative Innova (lateral flow tests) results are too inaccurate to rule out COVID."
They said the serial testing of close contacts "may increase rather than decrease COVID cases in schools".
COVID-19: Michael Gove says Tory MP 'out of order' to tell anti-vaxxers to 'persist' against restrictions | Politics News
A Tory MP who urged anti-vaccination campaigners to keep going with their fight against coronavirus restrictions and told them NHS capacity figures were being "manipulated" is "wrong" and "completely out of order", a senior minister has said.
Michael Gove told Sky News that Sir Desmond Swayne should apologise and retract his comments.
However, the Cabinet Office minister would not be drawn on whether he should lose the Conservative whip.
Sky News revealed Sir Desmond's comments in an exclusive story on Wednesday.
Sir Desmond told Sky News he would not apologise for telling a group – who say vaccines are dangerous – to "persist" with their campaign against COVID-19 restrictions.
During an interview in November with Save our Rights UK, obtained by Sky News, he said: "It seems to be a manageable risk, particularly as figures have been manipulated… We're told there is a deathly, deadly pandemic proceeding at the moment.
"That is difficult to reconcile with ICUs (intensive care units) actually operating at typical occupation levels for the time of year and us bouncing round at the typical level of deaths for the time of year."
He also told the group, which has previously advanced false claims about COVID vaccines, in the interview: "As the last (House of Commons) Speaker used to say, (John) Bercow, he'd say 'Persist! Persist!' That's my advice – persist.
"And I'll persist too."
There is no evidence of data being manipulated, and at the time of the MP's comments, deaths were 14% above the five-year average – according to the Office for National Statistics.
Over three nights Sky News will host a series of special programmes examining the UK's response to the pandemic.
Watch COVID Crisis: Learning the Lessons at 8pm on 9, 10 and 11 February
COVID-19: WHO team leaves quarantine in Wuhan to begin coronavirus origins study | World News
A World Health Organisation-led team investigating the origins of the COVID-19 pandemic is due to begin fieldwork in Wuhan after completing two weeks of quarantine.
The virus first emerged in the Chinese city in late 2019 and the United States has accused China of hiding the extent of the outbreak.
The mission has been plagued by delays, concerns over access and bickering between China and the US, which has criticised the terms of the visit, under which Chinese experts conducted the first phase of research.
Live updates on coronavirus from the UK and around the world
Sky's Tom Cheshire, in Wuhan, said investigations were due to start properly on Friday.
He explained the WHO has said it was unlikely it would find an origin of the disease on this trip but that it was a "crucial starting point" and "the best place to look".
He said the team was facing some restrictions though, adding: "We don't know if they're going to have the freedom to move around. We don't know if they'll visit the Institute of Virology, for instance.
"A lot depends on what Chinese scientists will be telling them because they have been doing their own investigations. Will they share that data? How useful will that data be?"
Cheshire said the WHO team had a "tough" job trying to work with Chinese authorities "who may not want to show them everything".
The team were seen leaving their quarantine hotel to be transported by bus to another hotel where they will remain for the investigation.
A relative of a coronavirus victim in China is demanding to meet the WHO team, saying it should speak with affected families who allege they are being muffled by the Chinese government.
Zhang Hai's father died of COVID-19 in February 2020. He has been organising relatives of victims to demand accountability from officials.
Mr Zhang says he is worried the WHO probe might be used to provide cover for alleged Chinese mistakes in the early days of the outbreak.
The WHO says the visit is a scientific mission to investigate the origins of the virus, not an effort to assign blame.
On Monday, Dr Anthony Fauci, the top infectious disease official in the US, told the World Economic Forum the origins of the virus were still unknown, "a big black box, which is awful".
Keiji Fukuda, a public health expert at the University of Hong Kong and a former WHO official said "it all comes down to what will the team have access to. Will they really be able to ask the questions that they want to ask?".
Analysis from Sky's Asia correspondent Tom Cheshire, in Wuhan:
It was a two week wait for the WHO experts to clear quarantine – but the world has been waiting much longer than that for the investigation into the origins of COVID-19 to begin.
The question is: what will they find in Wuhan? Or, rather, what will they be allowed to find?
The WHO team will visit hospitals and the market linked to the first cluster of cases. More than a year on from the outbreak of COVID-19, those locations will offer no useful physical evidence.
Instead, the WHO will have to rely on interviews with doctors and Chinese scientists. They have been conducting their own investigations. The success of the WHO mission will depend on how full and frank that information sharing is.
Given the fact that COVID research has become a sensitive topic in China, with government approval required, that will be difficult. And the WHO have warned it is extremely unlikely that this trip alone will produce concrete results. Instead, it may set the terms for other points of inquiry.
But if things are difficult for the WHO on the ground, they are also not easy for China.
The government certainly wants to make the impression it is acting transparently by letting the WHO into China.
But if the experts are just given a Potemkin tour – perhaps even taken around the giant exhibition centre here in Wuhan that lauds the virus beating achievements of the Chinese Communist Party – the government will lose yet more credibility. And so will the WHO, accused by critics of being beholden to China.
To avoid that, they will have to produce substance, not just impression, in the end
Over three nights Sky News will host a series of special programmes examining the UK's response to the pandemic.
Watch COVID Crisis: Learning the Lessons at 8pm on 9, 10 and 11 February
COVID-19: CCTV at Rita Ora's lockdown party was switched off, police say | Ents & Arts News
CCTV cameras had been switched off at the Notting Hill restaurant where singer Rita Ora held her lockdown birthday party to avoid her celebrity guests being filmed, police say.
Ora has previously apologised for her "spur of the moment" decision to throw a 30th birthday bash on 28 November – while the UK was in the midst of another coronavirus lockdown.
At the request of security staff, CCTV cameras at Casa Cruz in London had been switched off on the day of the party, according to the police.
Work is ongoing in trying to get the venue's licence revoked as a result of the event ahead of a hearing on Thursday, with details of the party emerging in a licence review report.
In a statement to the council and police on 1 December, Scottie Bhattarai, a staff member at the venue, said he had given the event the green light.
Mr Bhattarai added that Ora's team called him on his personal mobile phone at around 5.30pm on the day of the party, saying they wanted to use the venue for "drinks and nibbles".
He said that the venue was offered £5,000 to host the bash and that because most staff had been furloughed, he went to Casa Cruz to "facilitate the event." He apologised for being "greedy," his witness statement said.
Mr Bhattarai added that the group arrived at 7pm with around seven or eight guests, but by 9pm there were roughly 17 people at the gathering.
Model Cara Delevingne and her sister Poppy were among those at the party, according to police.
"Security for the entourage" wanted no footage of them arriving, Mr Bhattarai told police, adding he turned off the CCTV between 6pm and 6.30pm.
Later, Mr Bhattarai said the camera system was faulty and had been scheduled for repair. No payment had been taken in relation to the event at the time of his statement, he added.
Subscribe to the Backstage podcast on Apple Podcasts, Google Podcasts, Spotify, Spreaker
Police say that the CCTV hard drives had been reformatted on 30 November, meaning no footage was available for the previous month.
Mr Bhattarai did not disclose any details of the party's organiser to police, the report says.
PC James Larner said in a statement that he was on duty when he and a colleague answered a call about a potential breach of the lockdown rules.
Arriving shortly after 11.30pm, they could hear music playing – but the windows of the venue had been blacked out to prevent them from seeing in, the statement said.
PC Larner added that by using small gaps, they could see two maskless women sitting at a table, a man by the bar, and three other women sitting at a separate table, with glasses visible in the room.
The officers knocked on the door which then caused the music to stop and those inside disappeared from view – with no response from the occupants.
He said that the music stopping and the attendees leaving meant "it was likely that COVID regulations were being knowingly breached as the occupants did not wish to engage with officers".
Apologising at the time, Ora said: "I feel particularly embarrassed knowing first-hand how hard people have worked to combat this terrible illness and being fully aware of the sacrifices that people and businesses have made to help keep us all safe.
"Even though this won't make it right, I want to sincerely apologise."
A representative for Cara Delevingne has been contacted for comment.