Spain snowstorm: Four dead as heaviest snowfall in decades causes travel chaos | World News
At least four people have been killed in Spain as freak blizzard conditions brought the heaviest snowfall in decades, with troops deployed to rescue trapped motorists amid travel chaos in the capital Madrid.
Thousands have also been stranded at railway stations and airports, with services cancelled due to the wintry conditions.
In Madrid, authorities activated a red alert for the first time since the system was introduced four decades ago and the authorities sent the military to assist 1,500 people stuck in vehicles on everything from small roads to major routes.
More than 50cm (20in) of snow fell in the capital – the highest recorded over a 24-hour period since 1971, according to the national AEMET weather agency.
It was in Madrid that a 54-year-old man was found dead under a pile of snow, said the interior ministry.
Police also reported a homeless man died of hypothermia in the northern city of Zaragoza.
Meanwhile, a man and woman drowned after their car was washed away when a river burst its banks near Malaga in southern Spain.
Responding to the deaths, King Felipe VI and Queen Letizia tweeted: "The royal family would like to express their sorrow for victims of the storm… and ask for extreme caution against the risks of accumulation of ice and snow."
Interior minister Fernando Grande-Marlaska urged Spaniards to avoid all but essential travel.
"We are facing the most intense storm in the last 50 years," he said.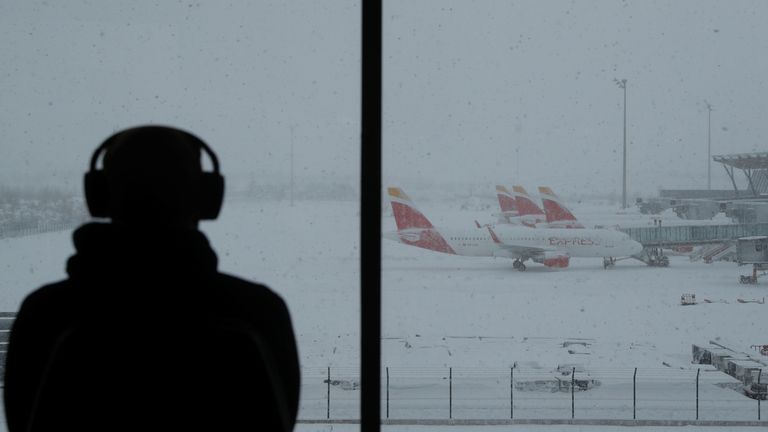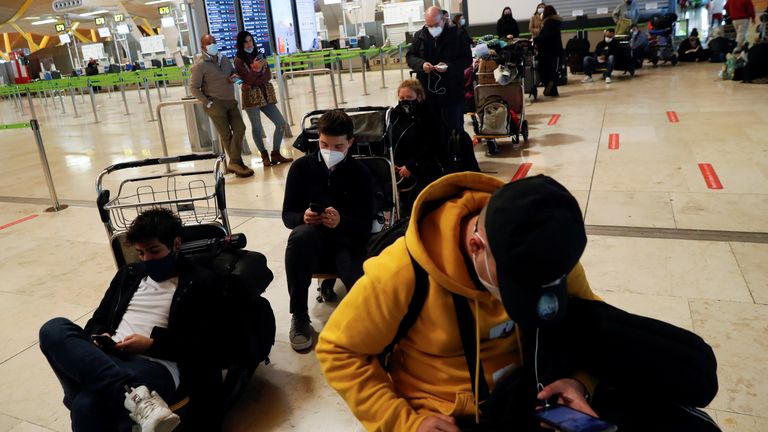 AEMET had warned some regions would be receiving more than 24 hours of continuous snowfall due to the unusual combination of a stagnant cold air mass over the Iberian Peninsula and the arrival of the warmer Storm Filomena from the south.
The storm is expected to move northeast throughout Saturday, but it is expected to be followed by a cold snap, the agency said.
Transport minster Jose Luis Abalos warned that "snow is going to turn into ice and we will enter a situation perhaps more dangerous than what we have at the moment".
"The storm has exceeded the most pessimistic forecasts we had," Mr Abalos added.
Carlos Novillo, head of the Madrid emergency agency, described it as a "critical situation" and added: "We ask all those who remain trapped to be patient, we will get to you."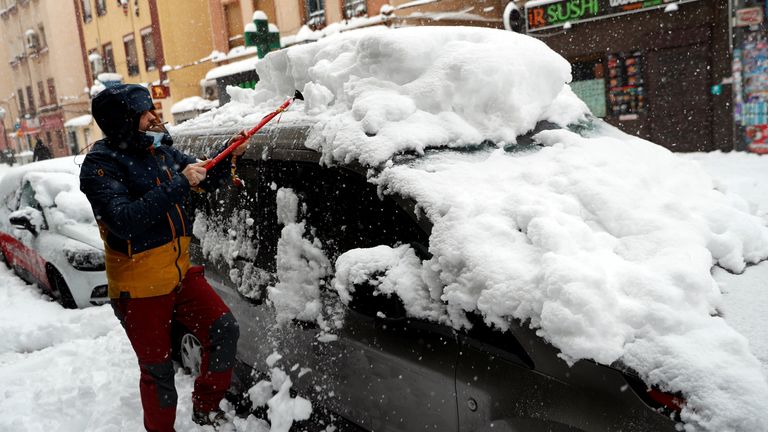 Airport operator AENA said Adolfo Suarez Madrid-Barajas International Airport, the main gateway in and out of the country, would remain closed throughout the day.
All trains in and out of Madrid and routes between the south and the northeast of the country were suspended, railway operator Renfe said.
The storm caused serious disruption on – or had closed – more than 650 roads by Saturday morning, according to Spain's transit authorities, which urged people to stay indoors and avoid all non-essential travel.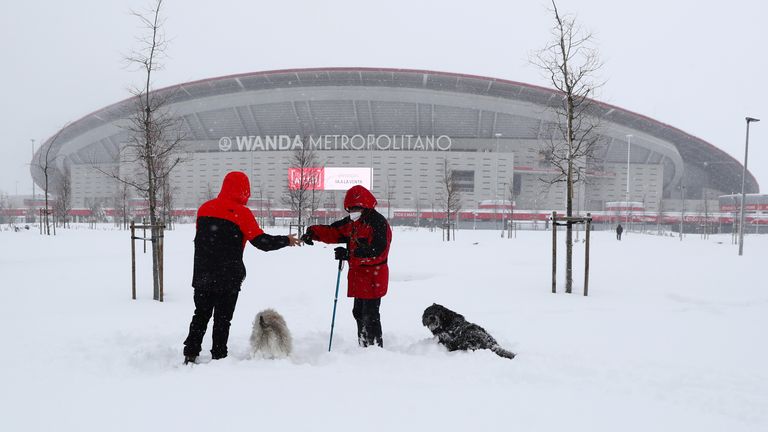 The wintry weather even halted the country's football league, with some teams unable to travel for games.
A flight to Madrid carrying players with league leaders Athletic Bilbao had to return to Bilbao airport, while second-placed Real Madrid were unable to take off for their match against Osasuna.
The regions of Castilla La Mancha and Madrid, home to 8.6 million people altogether, announced that schools would be closed at least on Monday and Tuesday.
Dog owner 'completely broken' as pet who helped him cope with depression is stolen during attack | UK News
Dog walkers are increasingly being targeted by violent criminals intent on stealing their high value pets to sell on for profit.
Demand for dogs has soared during the pandemic and police saw thefts increase by two thirds in the first lockdown.
But it is the increasingly violent nature of some of these crimes that is causing added concern.
Mike Jasper was walking his sprocker spaniel Ted when he was approached by a man who started questioning him about the animal.
He was then assaulted and his beloved pet was stolen.
Mr Jasper's daughter Lucinda told Sky News: "Another man came up behind him and attacked him and punched him in the back, shoved him to the ground and stood on his hand so he had to let go of the lead."
Ted had been bought by the family to help Mr Jasper cope with depression and anxiety.
"Since Ted's been taken dad has just been completely broken," his daughter added.
"He can't leave the house. He's suffering really badly from depression and as a family, it's really upsetting to see because he had made such good progress with his mental health."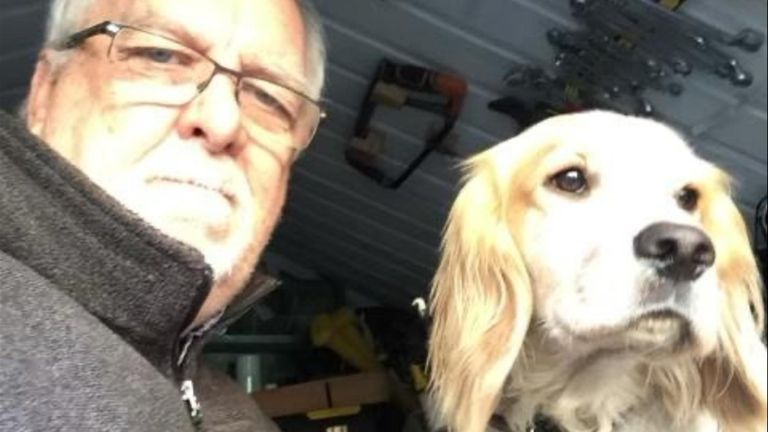 The charity DogLost has seen reports of thefts rise from 172 dogs in 2019 to 465 last year, an increase of 170%.
Karen Harding, a DogLost co-ordinator, said she is concerned about the lengths criminals will go to and warned that some dogs are selling for as much as £3,500.
"There's big money to be made," she said.
"Criminals and organised crime see an opportunity to make money from dognapping like they never have before."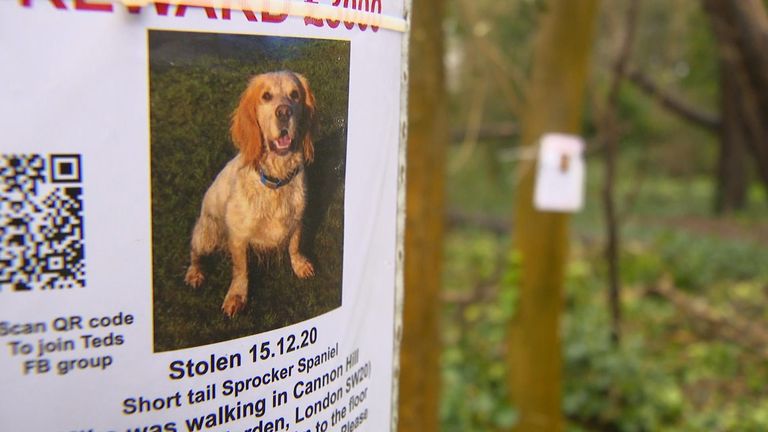 Every day, dozens of calls and messages are being received by Lucinda and her sister-in-law Emma from those wanting to help.
A month on, they are still putting up posters.
The attack on Ted's owner has changed the behaviour of walkers on Cannon Hill Common, south London, where he was taken.
Clifford Bottomley is extra careful when he is walking Scooby.
"I would let him run off and disappear but now I tend to make sure he is near me all the time," he said.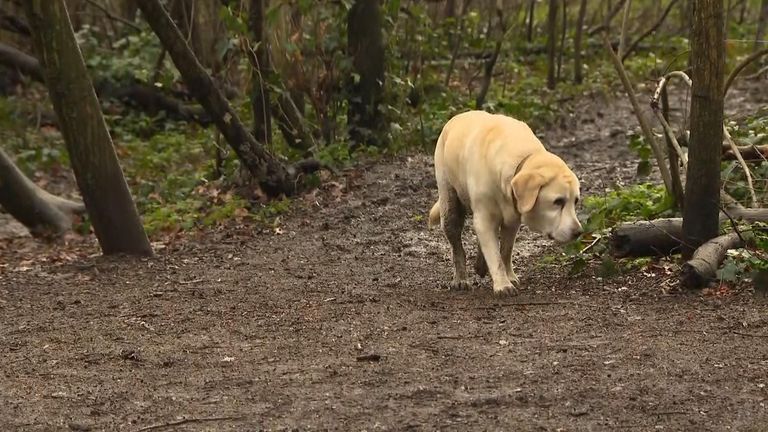 And Jo Leighton, who was walking her dog Star, said she has noticed that more people are putting dogs on leads.
"It's just abysmal you can't take your dog for a walk and feel safe," she said.
"My mum walks our dog up here as well and she feels okay but she bought herself an alarm to go on her bag and is certainly more aware of the dangers."
For Mr Jasper, Ted is worth so much more than any possession and the reward for his safe return has been increased to £5,000.
COVID-19: Medics call for emergency law to protect them from 'unlawful killing' cases | UK News
Medics are calling for emergency legislation to protect them from "inappropriate" legal action over COVID-19 treatment decisions made under pressure of the pandemic.
A group of health organisations has written to the government urging it to update the law to ensure medical workers do not feel "vulnerable to the risk of prosecution for unlawful killing" when treating COVID-19 patients "in circumstances beyond their control".
Hospitals in all NHS regions in England are already at, or near, the 92% bed capacity that NHS Improvement deems as being the safety threshold, and hospital admissions are rising in many areas.
The medics have argued there is no legal protection for COVID-related issues such as when there are "surges in demand for resources that temporarily exceed supply".
The letter is addressed to Health Secretary Matt Hancock and was co-ordinated by the Medical Protection Society (MPS), and signed by the British Medical Association, Doctors' Association UK, the Hospital Consultants and Specialists Association, the Royal College of Surgeons of Edinburgh, the British Association of Physicians of Indian Origin and Medical Defence Shield.
Prime Minister Boris Johnson warned this week there was a "very substantial" risk of hospital intensive care units being overwhelmed as more people are admitted than during the latest wave of coronavirus cases.
The medics' letter says Mr Johnson warned in November of a "medical and moral disaster" if the NHS was overwhelmed and "doctors and nurses could be forced to choose which patients to treat, who would live and who would die".
The health groups wrote: "With the chief medical officers now determining that there is a material risk of the NHS being overwhelmed within weeks, our members are worried that not only do they face being put in this position but also that they could subsequently be vulnerable to a criminal investigation by the police."
They said current guidance covering decisions on whether to administer or withdraw treatment "neither provides nor claims to provide legal protection".
"It also does not consider COVID-19-specific factors such as if and when there are surges in demand for resources that temporarily exceed supply," the letter adds.
"There is no national guidance, backed up by a clear statement of law, on when life sustaining treatment can be lawfully withheld or withdrawn from a patient in order for it to benefit a different patient, and if so under what conditions.
"The first concern of a doctor is their patients and providing the highest standard of care at all times.
"We do not believe it is right that healthcare professionals should suffer from the moral injury and long-term psychological damage that could result from having to make decisions on how limited resources are allocated, while at the same time being left vulnerable to the risk of prosecution for unlawful killing."
The groups acknowledged that no healthcare professional should be "above the law" and emergency legislation should only apply to decisions "made in good faith" and "in circumstances beyond their control and in compliance with relevant guidance".
They agreed the emergency law should be temporary and apply retrospectively from the start of the pandemic.
Many medics have been working outside their usual practice as hospitals struggle to cope with rising numbers of patients.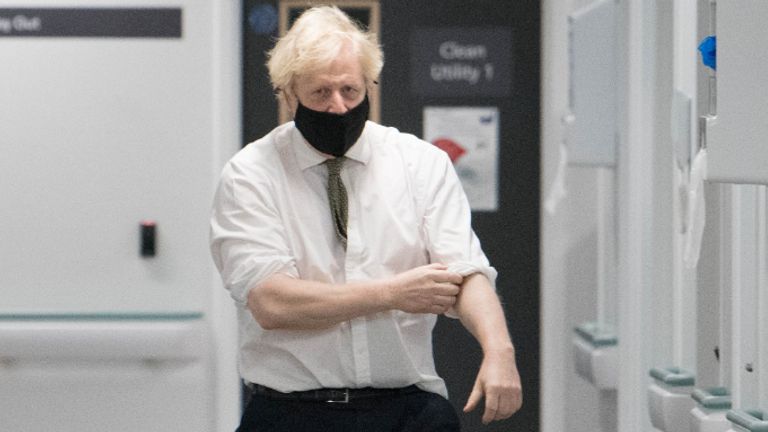 In November, the UK's four chief medical officers, the NHS, the General Medical Council (GMC) and medical royal colleges wrote to doctors saying regulators would "take into account" the environment doctors are working in, while "due consideration" would be given to difficult circumstances" they might face.
A survey of 2,420 MPS members between 8 and 12 January found 61% were concerned about facing an investigation as a result of a clinical decision made in a high pressured environment.
And 36% were specifically concerned about following a decision to "withdraw or withhold life prolonging treatment due to capacity and resource constraints during the pandemic".
A Department of Health and Social Care spokesman said: "Dedicated frontline NHS staff should be able to focus on treating patients and saving lives during the pandemic without fear of legal action.
"We have reassured NHS staff that existing indemnity arrangements will rightly continue to cover the vast majority of liabilities which may arise, and we have made specific arrangements so any member of staff not covered by existing indemnity schemes will be protected under the Coronavirus Act.
"Health and care professional regulators have issued a joint statement making clear any concerns raised will be considered in the context of the challenging circumstances staff are operating in."
Felicity-May Harvey: Family pay tribute to baby girl after murder arrest | UK News
The family of a two-week-old girl who died in hospital say she "melted the hearts of everyone who met her" after a man was arrested on suspicion of her murder.
Felicity-May Harvey, from Heywood, Greater Manchester, died in hospital on 11 January.
Three days earlier, medics at the hospital called police to report their concern for her.
A 24-year-old man was arrested on suspicion of murder and has since been released on bail pending further inquiries, Greater Manchester Police said.
In a tribute released on Saturday, the little girl's family said: "Our hearts are broken after losing our precious baby girl, Felicity-May.
"She was a gorgeous baby and always so alert, looking around with her big blue eyes.
"She was absolutely beautiful and incredibly brave and she melted the hearts of everyone who met her.
"What made her extra special was her cleft lip and palate and despite the challenges of this she was the most happy and content little girl.
"She was and always will be loved by her mum, sisters and family and there is a huge void in all our hearts and lives now that she has been taken from us.
"She was our special star, and it is not fair that she shone brightly for only a short time. When we look up at the sky, we will look through the clouds and know that the brightest star shining is our Felicity-May.
"Rest in peace baby girl. Sleep tight. Until we meet again, our precious angel."