Siegfried & Roy: Magician Siegfried Fischbacher dies aged 81 | Ents & Arts News
Magician Siegfried Fischbacher, who entertained millions as one half of the Las Vegas act Siegfried & Roy, has died at the age of 81, his publicist has confirmed.
The illusionist died at his home in the Nevada city on Wednesday, after suffering with pancreatic cancer, Dave Kirvin of Kirvin Doak Communications said.
His death comes less than a year after that of his showbusiness partner Roy Horn, who suffered complications from COVID-19 in 2020.
German news agency DPA reported Fischbacher's sister, a nun who lives in Munich, said she had talked to her brother on the phone before he died and that they had prayed together.
"I could pray with him and tell him that I will always be with him in my heart," she said.
Fischbacher and his illusionist partner Horn, who were both born in Germany, co-founded their stage act after meeting on a cruise ship in the late 1950s.
They took the show to Las Vegas in 1967 and went on to perform for the next four decades, becoming a Vegas institution, famed for their act built around white tigers and lions.
Their $10m compound was home to dozens of rare animals over the years, with the white lions and white tigers the result of a preservation programme that began in the 1980s.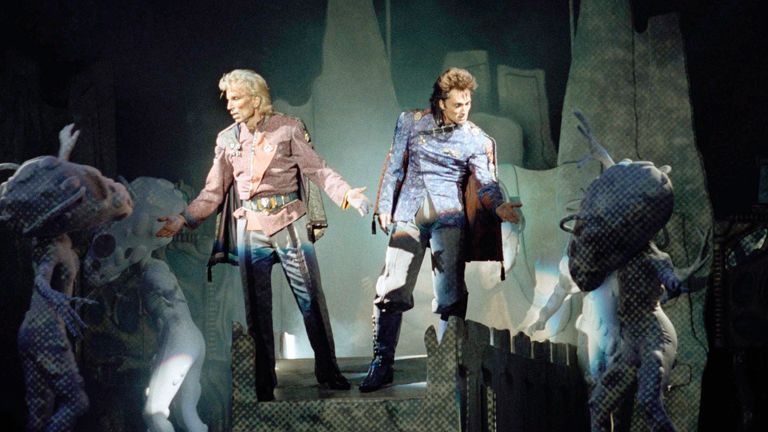 Horn was critically injured on his 59th birthday in 2003, when he was mauled by a tiger during a performance at the Mirage hotel, putting an end to the duo's regular shows. However, they continued to make public appearances.
After Horn's death in Las Vegas in May 2020, at the age of 75, Fischbacher said: "From the moment we met, I knew Roy and I, together, would change the world.
"There could be no Siegfried without Roy, and no Roy without Siegfried."
He later told Germany's weekly Bild am Sonntag newspaper that his best friend would always stay by his side.
Grime artist Solo 45 has sentence increased to 30 years for raping and imprisoning women | Ents & Arts News
A grime artist who was serving 24 years in jail for imprisoning and repeatedly raping four women has had his sentence increased by six years.
Solo 45, whose real name is Andy Anokye, was found guilty of 21 rapes, five counts of false imprisonment, two counts of assault by penetration and two of actual bodily harm at Bristol Crown Court last July.
However, following a hearing the Court of Appeal have ruled that his initial sentence was "unduly lenient", and he will now spend 30 years in jail for the 30 charges which took place over a two-year period.
He also was also handed a five years additional licence to reflect the seriousness of his crimes.
Speaking after the ruling which was made by three senior judges, Solicitor General Michael Ellis QC called Anokye's offences "truly shocking".
Mr Ellis said the court's decision to increase the sentence recognised "the severity of the abuse [Anokye] inflicted upon his victims and the danger he poses to the public".
Calls for Anokye to be given a life sentence were rejected.
During his trial, the jury heard that the musician derived sexual pleasure from torturing women by waterboarding, interrogating, assaulting and raping them.
The court heard that Anokye forced one woman to lie in a bath of freezing cold water, held a shotgun to the head of another, held a cloth covered in bleach to women's faces, and forced a mobile phone down a woman's throat.
Graphic footage filmed by Anokye on his mobile phone showing him abusing multiple women was also shown to the jury as evidence.
The 33-year-old had claimed it was consensual role play, or a game he played called "catch me, rape me". He said he had told the women that he would "terrorise" them.
Anokye, who is from London but had a harbourside apartment in Bristol, told the court during evidence that he had dacryphilia – sexual arousal from tears and sobbing.
Anokye was part of grime collective Boy Better Know signed to record label Island Records, and had collaborated with the likes of Stormzy, JME and Wiley.
When passing his original sentence last summer, judge William Hart, told Anokye he had "no sexual boundaries or empathy for those concerned".
He said the rapper – who had a background of gang associations and criminal violence – "become addicted" to the "perverted pleasure" he gained from abusing his victims and that none of his fellow musicians knew about his "dark side".
He said Anokye's conviction had deprived him of a "flourishing career", but he had only himself to blame.
Avon and Somerset Police first began investigating him in 2017, after a woman reported being raped by him.
Following the discovery of the video footage on Anokye's phone, three further woman came forward to police.
A fifth woman also gave evidence against him, but her allegation could not be prosecuted as it happened abroad.
Anokye will only be released from prison after serving at least 20 years of his 30-year jail term behind bars and when the Parole Board is satisfied he no longer poses a danger to the public.
Dustin Diamond: Saved By The Bell star diagnosed with cancer | Ents & Arts News
Saved By The Bell star Dustin Diamond has been diagnosed with cancer and is receiving treatment in hospital, his team have confirmed.
The 44-year-old actor, who is best known for his role of Screech in the 90s US sitcom, is understood to have fallen ill last week.
A post on his official Facebook page read: "At this time we can confirm that Dustin does have cancer. Dustin will disclose more information once it is available and a plan moving forward is made."
They also supplied an address for fans to send cards and letters, adding that "positivity and prayers are appreciated".
Diamond's agent, Roger Paul, also confirmed his diagnosis, and told the PA news agency: "We will know the severity of it when the tests are done."
He says he expects an update next week.
Celebrity website TMZ said the actor had first discovered a lump in his throat, leading to the diagnosis.
Diamond played nerdy sidekick Samuel 'Screech' Powers in the original Saved By The Bell across four seasons, from 1989 to 1993.
He also appeared in 1992 TV movie Saved By The Bell: Hawaiian Style, and revivals The New Class and The College Years.
However, Diamond did not appear in the most recent 2020 revival series which starred several of the show's original stars.
:: Subscribe to the Backstage podcast on Apple Podcasts, Google Podcasts, Spotify, Spreaker
Following his early TV fame, the actor controversially released a self-directed sex tape in 2006.
In 2009 he wrote a tell-all book about his time in the teen sitcom, later saying many of the salacious details were exaggerated by his ghost-writer.
Diamond later appeared on the UK's 12th series of Celebrity Big Brother but was evicted in the third week.
In 2015 he spent three months in jail after being convicted of disorderly conduct and carrying a concealed weapon following a bar fight in Wisconsin.
Backstage podcast: Servant, Stardust and Blithe Spirit | Ents & Arts News
This week on Backstage – Bethany Minelle, Stevie Wong and Amy Hitchcock unpack Netflix's ambitious new slate for programming in 2021.
In other news, we celebrate the return of Sex And The City, but are they missing a cast member?
:: Listen to the Backstage podcast on Apple Podcasts, Google Podcasts, Spotify, Spreaker
We also look at the David Bowie biopic, Stardust, and get down and dirty with a new documentary on civil rights leader Martin Luther King Jr.
Rupert Grint tells us what it's like being a new dad while starring in Apple TV's season 2 of Servant, and Dan Stevens spills the beans on whether his Blithe Spirit co-star Dame Judi Dench has a potty mouth on set.
Enjoy! Please do subscribe if you like what you hear and do get in touch using [email protected] – we love emails!