Reforms to Mental Health Act will offer 'greater choice and autonomy', government promises | Politics News
Sweeping reforms to the Mental Health Act will give those in a mental health crisis a "greater choice and autonomy" over their care, the government has promised.
The Department of Health and Social Care (DHSC) has unveiled plans to make sure powers contained in the 40-year-old legislation are used in the least restrictive way, as well as ensuring parity between mental and physical health services.
It also wants to ensure the Act better meets the needs of people with learning disabilities and autism, along with prisoners who have a serious mental illness.
Health Secretary Matt Hancock said the reforms, contained in a white paper published on Wednesday, would "rightly see people not just as patients, but as individuals, with rights, preferences, and expertise".
And he expressed hope that the changes would usher in a system that "supports them and only intervenes proportionately, and which has their health and wellbeing as its centre".
He added: "This is a significant moment in how we support those with serious mental health issues, which will give people more autonomy over their care and will tackle disparities for all who access services, in particular for people from minority ethnic backgrounds."
Under the reforms, "advance choice documents" will allow people to express their care preferences before they fall ill, with patients being given the right to nominate a person to look after their interests.
A key focus of the plans is tackling inequalities in mental health provision, including the disproportionate detention of those from black, Asian and minority ethnic (BAME) backgrounds.
Given that black people are more than four times more likely to be detained under the Act and more than 10 times more likely to receive a Community Treatment Order, the DHSC said decisive action against racial disparities was needed.
A "Patient and Carers Race Equality Framework" will help NHS Mental Health Trusts better understand what is required in order to improve outcomes for patients of different ethnicities.
There will also be a consultation on trialling culturally appropriate advocacy services in areas that could benefit.
Another area of focus is addressing concerns about people with autism and learning difficulties being detained in mental health hospitals.
The government said these conditions should not be considered as justification for detaining someone under the legislation, with people only being detained if they have a co-occuring mental illness.
Reforms have been proposed because a mental health inpatient setting is often not the best place to meet the needs of these people, ministers said.
In a bid to prevent avoidable detentions, the DHSC will also consult on how to improve access to community-based mental health support.
And a time limit of 28 days is being proposed to speed up the transfer of prisoners with serious mental health illnesses to hospital in order for them to get timely and appropriate care.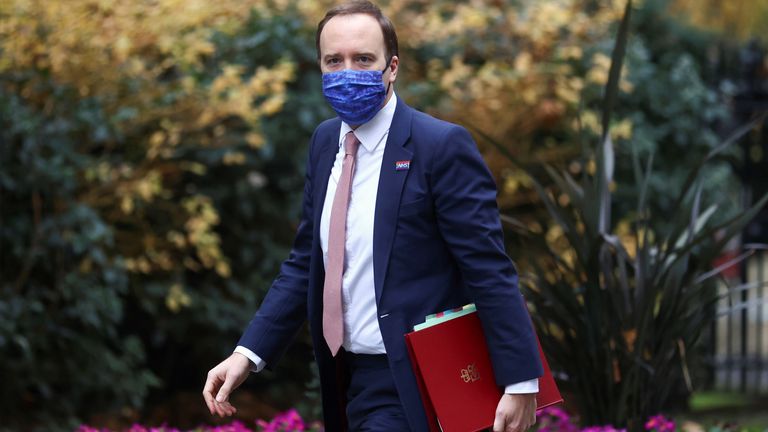 Ministers also want to bring an end to the "outdated practice" of using prisons as "places of safety" for defendants, with judges instead working with medical professionals to make sure they go to a healthcare setting from court.
The reforms set out by the government build on recommendations made by an independent review of the Mental Health Act carried out in 2018 by Sir Simon Wessely.
Consultations on changes that require legislation will run until early spring, with a draft Mental Health Bill published next year.
Claire Murdoch, mental health director for NHS England, said the plans were a "welcome step towards ensuring that people with mental health needs, a learning disability or autism, remain at the centre of decisions about their care, and that longstanding inequalities in experience and outcomes are addressed".
Sarah Hughes, chief executive at the Centre for Mental Health, said it "could not be clearer" that the Act needed to be updated.
"Every year, the number of people who are sectioned grows. While we know this can save lives, the use of coercion can also cause lasting trauma and distress," she said.
"And we have known for too long that black people are subjected to much higher levels of coercion at every stage of the system. It is time for this to change."
Sophie Corlett, director of external relations at Mind, said ministers have to consult with people from BAME groups if it is to tackle "underlying and systemic racism that results in disproportionate detentions and use of force".
COVID-19: England's COVID infection rate decreases slightly but remains high – ONS | World News
The percentage of people testing positive for COVID-19 in England has decreased slightly but remains high, according to latest figures from the Office for National Statistics (ONS).
Around 1 in 55 people who are not in care homes, hospitals or other institutional settings had the virus in the week ending 16 January.
In the last full infection survey published two weeks ago, 1 in 50 people had the virus – showing there has been a small decrease, although infection rates still remain high.
Worryingly, infection rates in Northern Ireland jumped from 1 in 200 in the previous survey to 1 in 60.
Rates in Scotland and Wales have levelled off, with 1 in 100 and 1 in 70 people infected respectively.
In England, London and the North East still have the highest infection rates, with about 1 in 35 people estimated to have the virus in the capital.
However, there was some good news as the percentage of people infected with the new variant has fallen in London, the South East and the East of England.
COVID-19: Holidays to Spain could be delayed 'until end of summer' | World News
Britons hoping to escape to Spain could have their holiday plans cancelled following reports the Spanish prime minister said the country would not welcome international tourists until the "end of summer".
Speaking at a meeting of the World Tourism Organisation, Pedro Sanchez reportedly said he did not expect holidaymakers to visit Spain until nearly all of the population has been vaccinated.
He said the country would "progressively" prepare to welcome international tourists once 70% of Spain's population had been vaccinated, which he expected to be by the end of this summer, local media sites including Euro Weekly News have reported.
It will be a blow for the tourism sector, which closed its worst year since the 1970s in 2020 with revenues falling by more than 75%.
Spain reported its highest daily number of coronavirus infections yet on Thursday, recording 44,357 cases.
A further 404 deaths were also reported, taking the country's total to 55,041 deaths and 2.5 million cases.
Spain is not the only popular holiday destination closing its doors to British tourists, as Portugal has said it will be suspending all flights to and from Britain from Saturday onwards.
Only repatriation flights will be allowed between the two countries, Prime Minister Antonio Costa told a news conference.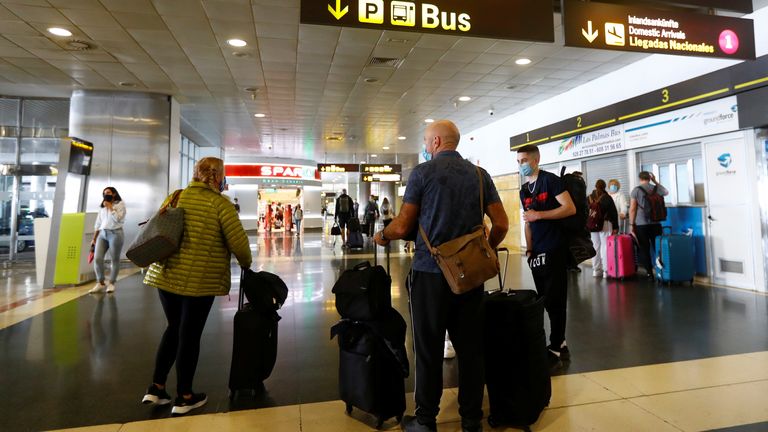 Meanwhile, the UK itself has "considered" a full closure of its borders.
Environment Secretary George Eustice told Sky News ministers were keeping the idea "under review" and "can't rule anything out for now" – although they believed the current restrictions were "sufficient".
Asked whether people should be booking foreign holidays for this summer, Home Secretary Priti Patel refused to give an answer and said it was "far too early" to speculate on restrictions.
But some Britons have already begun booking their breaks, with holiday firms saying they had seen a spike in bookings from older people planning trips following the vaccine roll-out.
The UK's largest tour operator TUI said half of bookings made so far have been made by over-50s.
Spain ranks among the most popular countries for people planning holidays this year.
A study by travel company Club Med showed it was the fifth most popular destination, behind the Maldives, Mexico, Thailand and Turkey.
Earlier, European Union leaders held an online summit to discuss potential coronavirus measures, including further border restrictions.
While a number of EU leaders said they would not rule out border closures, Spain and Greece backed an idea for a common approach to "vaccine passports".
The system would allow people to travel if they had received the vaccine, although EU diplomats said the measure was premature as it is not yet clear if vaccinated people could still pass on the virus to others.
Donald Trump was fooled into talking to prankster pretending to be Piers Morgan, TV presenter says | UK News
A prankster pretending to be Piers Morgan managed to fool Donald Trump into thinking he was speaking to the real TV presenter.
It happened in October while the former president and Apprentice star was on Air Force One, Morgan said.
Mr Trump, who left the White House for the final time earlier this week, only realised he had been scammed when he rang the genuine Morgan the following day while on his way to Florida, the presenter revealed.
Morgan told the BBC it was a "hilarious story", adding: "Somebody had called him pretending to be me the day before and got through to him on Air Force One and they had a conversation with Trump thinking he was talking to me."
It is not known who the prankster was.
The pair, who have known each other for more than a decade, fell out last year after Morgan, 55, criticised Mr Trump's handling of the coronavirus pandemic.
In 2008, Morgan won a series of Celebrity Apprentice hosted by the billionaire businessman.
He also interviewed him during his time in office for ITV's Good Morning Britain.
Taking about Mr Trump's time as US president, Morgan said the 74-year-old had been a "useless leader" because of his "character flaws – the chronic narcissism, the desire to make everything about himself".
But Mr Trump is not the only prominent person to have been fooled by a prankster.
In March last year, Prince Harry was reportedly tricked into speaking about his decision to quit the royal family by Russian hoaxers posing as the environmental activist Greta Thunberg.