Rapinoe to the rescue as streaks fall for subpar USWNT at Sweden
The U.S. women's national team entered Saturday's match at Sweden on a 37-game unbeaten streak. Head coach Vlatko Andonovski had won all 16 of his matches in charge, while the team hadn't conceded a goal in 2021. 
Two of those streaks came to an end at Friends Arena in Stockholm, but a questionable late penalty call bailed the USWNT out in a 1-1 draw against a game Sweden outfit. 
The USWNT didn't deserve much from the game, but they did extend their unbeaten run to 38 after Megan Rapinoe netted from the spot in the 87th minute. 
Regardless of the result, Andonovski will be happy to see his team tested the way they were, and he'll certainly have learned plenty about some of his players on the Olympic roster bubble
USWNT gets the test it needed
The U.S. scheduled friendlies against Sweden and France – two teams ranked in FIFA's top five – for a reason. They are a team that is often not tested and heading into the Olympics, they needed that to change. 
The Swedes, playing in a 3-4-3 formation, gave the U.S. exactly what they were looking for in that regard.
"It's something that was very good for us," Andonovski said after the game. "That's why we came here. We came here to play good teams, we came here to get exposed to different tactics, high-level tactics, organized teams and to try to overcome all of that."
When Lina Hurtig scored for the home side in the 38th minute, it was the first time the USWNT had trailed in a match since October 2019, and the first goal they had conceded in six games in 2021. 
The USWNT will often overwhelm teams with their fitness as matches draw on, but that was not the case against a Sweden side featuring players from several top European sides near the end of their season.
Though Andonovski was happy to see his team tested, he wasn't necessarily pleased with how they responded to the challenge Sweden presented.
"If we play the way we played today, it's not good enough," he added. "And I know that. Nobody has to tell me that. It's just a good learning opportunity for us to get better."
Lloyd makes history with Olympic spot still up in the air
Prior to Saturday's game, there were only two players in the history of international soccer, men's or women's, to reach 300 caps. When Carli Llloyd started for the USWNT, wearing the captain's armband, she made it three.
The 38-year-old joined former teammates Kristine Lilly (354) and Christie Pearce Rampone (311) in an exclusive club against the Swedes, looking lively in her 65 minutes on the pitch. 
"Getting 300 caps is an unbelievable accomplishment and obviously something that is just so rare," Sam Mewis said ahead of the game. "She's someone who could never be replaced or replicated in any way.
"She's really one of a kind and so deserving of this feat. She's been a great role model for all of us."
Playing as a No.9, Lloyd held up play well and connected with her teammates effectively but, as she has many times in 2021, she failed to find the back of the net despite having several good opportunities to score. 
On most teams, Lloyd would be a lock for the Olympic roster but on a team as stacked as the USWNT, she is firmly on the bubble. As she moves past 300 caps, Lloyd will hope to show more finishing ability to boost her chances of playing in Tokyo.
Naeher shows her good and bad side
Alyssa Naeher has solidified her status as the team's unquestioned starting goalkeeper in recent years, coming up huge at the 2019 World Cup in particular.
However, the Chicago Red Stars shot-stopper has always been capable of errors and she showed that again on Sweden's opener.
Naher came off her line on a corner kick but got nowhere near the onrushing Hurtig, who headed into an open net.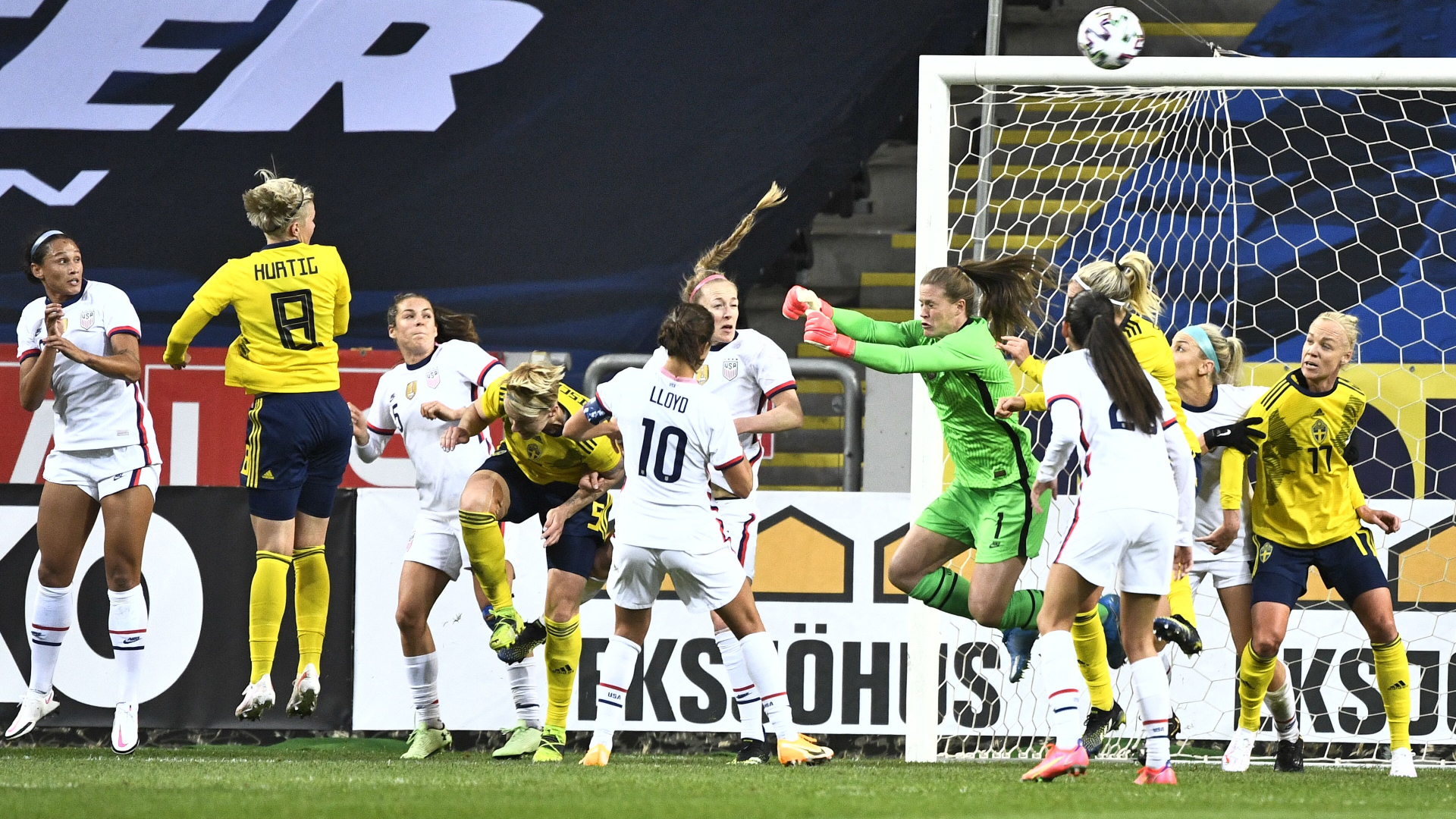 Though she wasn't the only player to blame (the team's zonal marking setup did her no favors in that regard), Naeher still can't come off the line like she did if she's not going to even come particularly close to the ball. 
But just minutes later, Naeher showed why she won't be in any danger of losing her starting role when she made a crucial save on Fridolina Rolfo, who was in alone and nearly doubled her side's advantage. 
Why did the Rangers fire John Davidson and Jeff Gorton? Production may be reason behind shocking move
Ladies and gentlemen: JD and the Straight Fired. 
The Rangers have fired general manager Jeff Gorton and team president John Davidson, per reports, in a shocking move that no one in the NHL saw coming.
Gorton had been employed by the Rangers since 2015, acting as the team's GM in that span. During that time, the team acquired Artemi Panarin and navigated a rebuild on the fly, developing a core of young, talented players in the process.
MORE: NHL seeding scenarios, breakdown for final 2021 playoff spots
Davidson, though, is the more surprising firing: The long-time Ranger fan favorite and front-office exec got the ax, as well, despite being in the role for less than two years. He was hired on May 17, 2019.
Chris Drury, former Ranger, gets the nod to assume both GM and president roles:
The Rangers are coming off a disappointing 26-21-6 season, missing out on the Stanley Cup playoffs again under head coach David Quinn.
Here's why both Gorton and Davidson got the ax.
Why did the Rangers fire Jeff Gorton and John Davidson?
There are conflicting reports on the exact reason why both front office executives are heading to the unemployment line.
The predominant reports indicate that team owner James Dolan was simply unhappy with the team's production in 2020-21, missing out on the Stanley Cup playoffs with just three games left.
Others say that Davidson and Gorton distancing themselves from the Rangers' controversial statement on Tuesday, calling for the head of NHL Player Safety George Parros' resignation, ultimately led to the firing.
Some reports have said that the firing is purely coincidental. 
Still, the Rangers seem to be ahead of the timeline they set for themselves a few years ago, when a letter to fans addressed the team's intentions to undergo a rebuild. 
Since then, the team has drafted Kaapo Kakko, Alexis Lafreniere, Filip Chytil and K'Andre Miller, who have made their marks as members of the core. They've also acquired Adam Fox, Jacob Trouba and Artemi Panerin either via trade or free agency.
Chris Drury will assume GM and president duties. 
Raiders declined trade-down offer in NFL Draft to avoid losing Alex Leatherwood
No team has been more criticized for its 2021 NFL Draft haul than the Raiders. And none of the Raiders' picks was more scrutinized than their top overall pick: Alabama offensive tackle Alex Leatherwood at No. 17 overall.
Most mock drafts, including Sporting News', considered Leatherwood a Day 2 selection. That Raiders GM Mike Mayock and coach Jon Gruden took him in the first round was considered a massive reach, especially when most assumed that he would be available in the second. That they took him over several, more highly rated offensive tackles — SN rated six available tackles higher, including four with first-round grades — only added to the controversy of the pick.
But Mayock has defended the choice, saying he, Gruden, offensive line coach Tom Cable and Raiders scouts all highly valued Leatherwood. Las Vegas was so enamored with the big-name tackle that it even declined an offer to trade down in the 2021 NFL Draft for risk of losing him.
MORE: Worst value picks in the 2021 NFL Draft
"Just when we got on the clock a team did call us and inquired about moving up, but they gave us a very poor trade offer and it was a team that needed a tackle," Mayock said (via ESPN). "So the combination of the poor offer and their need kind of pushed us away from that.
"There's a risk/reward scenario and, in this case, we didn't feel that it was worth it."
Ultimately, the Vikings were the only other team to draft a tackle in the first round, selecting Virginia Tech tackle Christian Darrisaw with the 23rd overall pick. Only two more offensive tackles went in Round 2 before the Raiders drafted again at 43: Oklahoma State's Teven Jenkens to Chicago, at 39, and Notre Dame's Liam Eichenberg to Miami, at 42.
This isn't the first time Mayock's draft choices have been scrutinized. His previous drafts have included an inordinate number of players from big-name schools, especially in the early rounds. Those include Clemson's Clelin Ferrell, Alabama's Josh Jacobs and Henry Ruggs III, Ohio State's Damon Arnette and more.
That said, It's a virtual certainty that NFL teams' draft boards aren't the same as outlets' mock drafts. And if the Raiders saw something they liked in Leatherwood — enough to warrant their first-round pick — then that's their prerogative.
Only time will tell whether he was worth the high selection.
Aaron Rodgers' attempt to throw insults at Packers GM Brian Gutekunst is mostly bull
Of the 13 seasons Aaron Rodgers has spent as a starting quarterback in the NFL, nine ended in the Pro Bowl and three with him named the league's Most Valuable Player. He's so good that you could call him the "Michael Jordan of quarterbacks," if you wished, and not be far off in your assessment.
Not far at all, it turns out.
Bob McGinn, a veteran journalist who has covered the Packers for four decades, reported in The Athletic that Rodgers' relationship with general manager Brian Gutekunst has become so fractured that Rodgers referred to the GM as "Jerry Krause" in group chats with his teammates.
MORE: Where are Packers in SN's latest NFL Power Rankings?
Rodgers is angry with Gutekunst about several personnel moves over the past few seasons, enough so that McGinn's reporting confirmed the player's intent not to return to the Packers as long as Gutekunst remains in charge of personnel.
Among Rodgers' gripes is the obvious: the decision to trade for an earlier selection in the 2020 NFL Draft that was used to select a quarterback who presumably will be the successor at that position. Rodgers was embarrassed by the team's decision to cut receiver Jake Kumerow — the day after Rodgers had said during a show he hosts on Sirius XM Radio that he thought Kumerow was a valuable member of the team.
If it seems petty for Rodgers to be so aggravated by his organization over a receiver who has caught 21 passes — combined — in three NFL seasons, well, that's where the Jordan/Rodgers comparison truly coalesces.
Jordan spent much of his later years with the Bulls degrading himself with public insults aimed at Krause's weight and stature, even though Krause, at the time, was earning a position in the Naismith Memorial Hall of Fame with his shrewd drafting, trading, hiring and management of the Bulls' rosters that won six NBA championships in the 1990s.
Jordan was the centerpiece of those teams, and he was drafted before Krause was hired as Bulls GM, but every other essential member of the teams that won from 1991 to 1993 and from 1996 to 1998 was added by Krause, including Hall of Famers Scottie Pippen, Dennis Rodman and head coach Phil Jackson.
Gutekunst has done little to warrant the comparison to Krause.
He has been GM since 2018, and the Packers delivered 13-3 records in his second and third seasons but fell short of the Super Bowl each time. Their defenses allowed an average of 34 points in the 2019 and 2020 NFC Championship games.
Rodgers almost certainly drew his inspiration for the use of Krause as a front-office insult from "The Last Dance," the ESPN documentary that chose to portray him as a villain despite that he'd built the championship team whose impending dissolution Jordan was lamenting. Rodgers should study basketball history better; there surely are GMs who would serve as a fitting standard of ineptitude.
Krause is not the guy. He won six championship rings in his position as Bulls GM.
Rodgers still has just the one, earned 11 seasons ago.