QB-only NFL mock draft 2021: Projecting where Mac Jones, Justin Fields & 10 other quarterbacks will go
The 2021 NFL Draft will be defined by quarterbacks going off the board early and often. For the eighth time since 1967, QBs are set to go 1-2 to start the selection process. San Francisco is expected to make it three in a row and there's a chance either Atlanta (or another team trading up) take a fourth consecutive QB to open the night.
There's little mystery on who will go right off the top, with the Jaguars locked into their pick and Jets just as set. But from the 49ers on, it gets a lot harder to figure out where every QB will land. There's also quantity with that quality, as there's a chance as many as 12 quarterbacks in all get drafted over seven rounds.
Here are Sporting News' projections for those dozen QB selections:
MORE NFL DRAFT: Complete 7-round mock | Top 100 big board
NFL QB mock draft 2021
Trevor Lawrence, Clemson
Jaguars, No. 1 overall, first round
Jacksonville's league-worst record won it the lottery for new coach Urban Meyer. Lawrence already has endeared himself to his new fan base, who are excited to see his rare arm talent, athleticism and championship pedigree go to work as a pro. The Jaguars may have left this door ajar a few months ago, but now the case is slammed shut. They should be thrilled about his high floor and endless ceiling.
Zach Wilson, BYU
Jets, No. 2 overall, first round
Wilson is also close to a sure thing for the Jets, short of a 100 percent guarantee. There was speculation New York would try to make it work with Sam Darnold using a new coaching staff, scheme and personnel, but his trade to Carolina confirmed the team's love for Wilson's blend of accuracy, arm and character. There's a miniscule chance the Jets change to another QB and Wilson falls a pick later to the 49ers.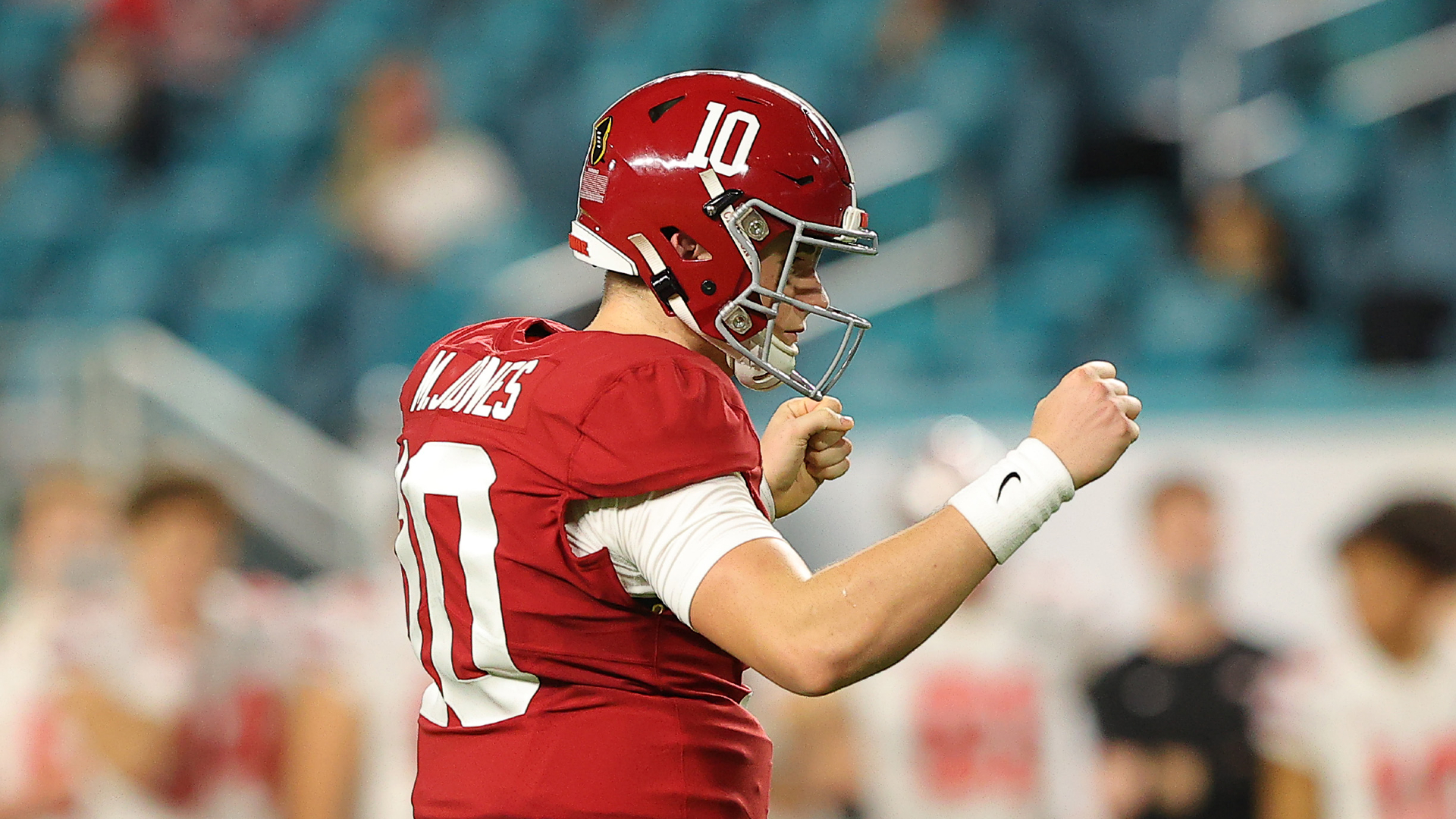 Mac Jones, Alabama
49ers, No. 3 overall, first round
The 49ers' quarterback choice has been hard to figure out ever since they made the aggressive move up with the Dolphins. The reason is that Kyle Shanahan's offense can set up any QB to succeed in different ways with a passing-friendly baseline. Jones falls more in line with early prized pupils Kirk Cousins and Matt Ryan, with the dash of underrated athleticism Jimmy Garoppolo has.
But Shanahan may also see a chance to bring in addditional rushing element on top of quick, accurate passing with Ohio State's Justin Fields or North Dakota State's Trey Lance. Jones' high floor and San Francisco's antsy feeling to upgrade from Garoppolo right away suggests he's the preferred choice over the boom-or-bust Fields and the more developmental Lance.
Trey Lance, North Dakota State
Falcons, No. 4 overall, first round
The Falcons are enamored with two luxury picks who aren't immediate needs in Lance and Florida tight end Kyle Pitts. Lance would be a nice young stash, groomed to suceed Matt Ryan in a season or two. Pitts would give Ryan a more dangerous receiving corps with Julio Jones and Calvin Ridley.  Atlanta should think about trading down to attract another team to trade up for Lance or Fields. The Patriots and Washington should be Lance-leaning; put the Broncos and Bears more in the Fields camp. In some way, there's a solid chance a QB goes here to some team.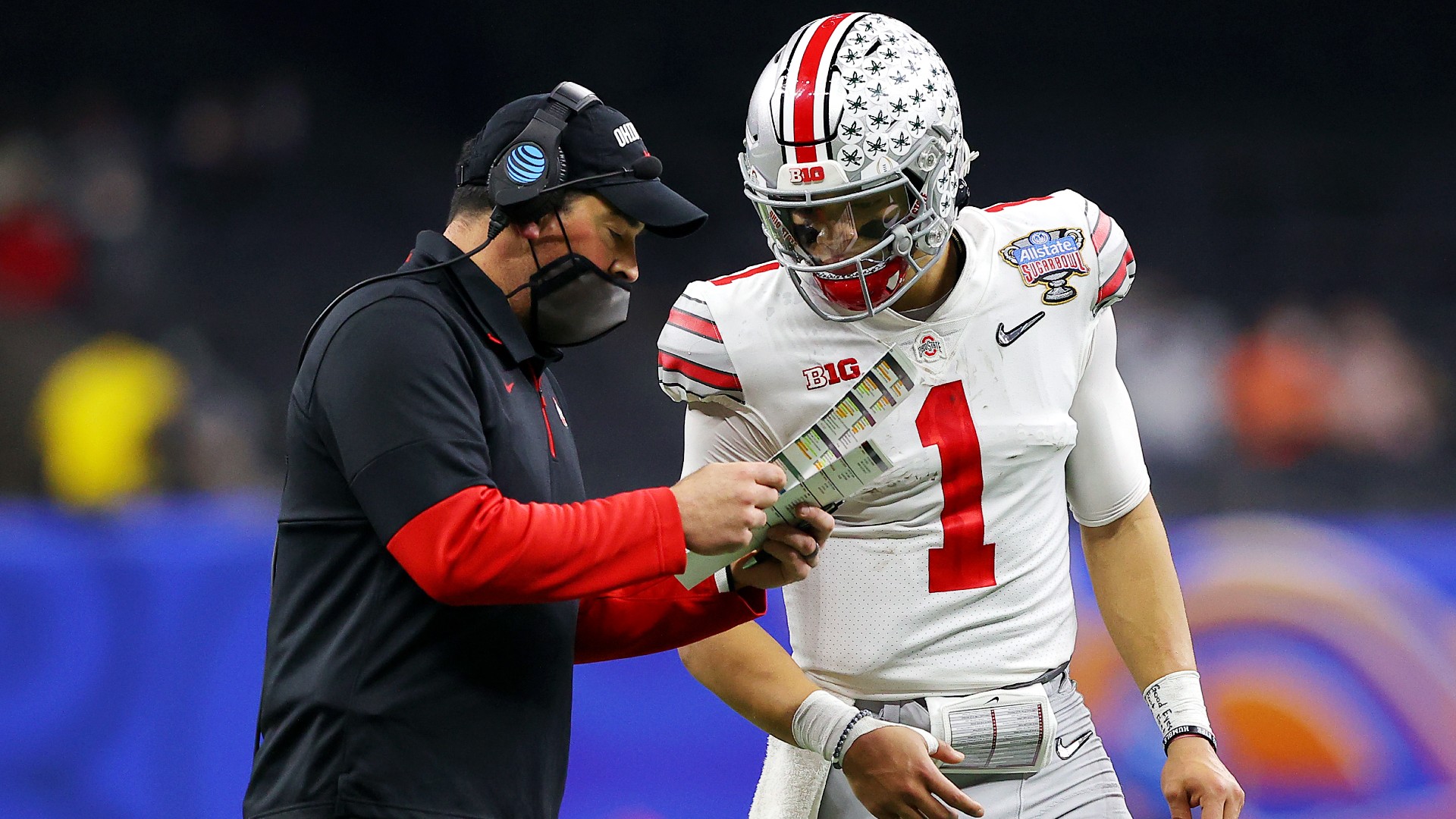 Justin Fields, Ohio State
Broncos, No. 9 overall, first round
The Broncos need to watch how things develop after Lawrence and Wilson go to know whether to jump up and assure they will have their remaining choice of the five first-round quarterbacks. As they need more an immediate upgrade of a young starter over Drew Lock, Fields makes more sense than Lance, assuming Jones goes to the 49ers. Fields also fits with the current structure and scheme of Denver's offense under Pat Shurmur.
MORE: SN's 2021 mock draft with trades
Kyle Trask, Florida
Washington Football Team, No. 51 overall, second round
There are some who think Trask will sneak into the bottom of Round 1 as the sixth QB taken. Others think he's a borderline second-rounder with one or two prospects ahead of him. Another group thinks he's a Day 3 guy. Trask's knock, much like Jones, is the lack of dynamic athleticism, but he's a confident, strong pocket passer who maximized premium weapons, led by Pitts and wide receiver Kadarius Toney. Trask can develop well for Scott Turner with Ryan Fitzpatrick serving as the ideal bridge mentor. The Bears, who pick one spot later, should also be interested in Trask after missing out on the first-round run.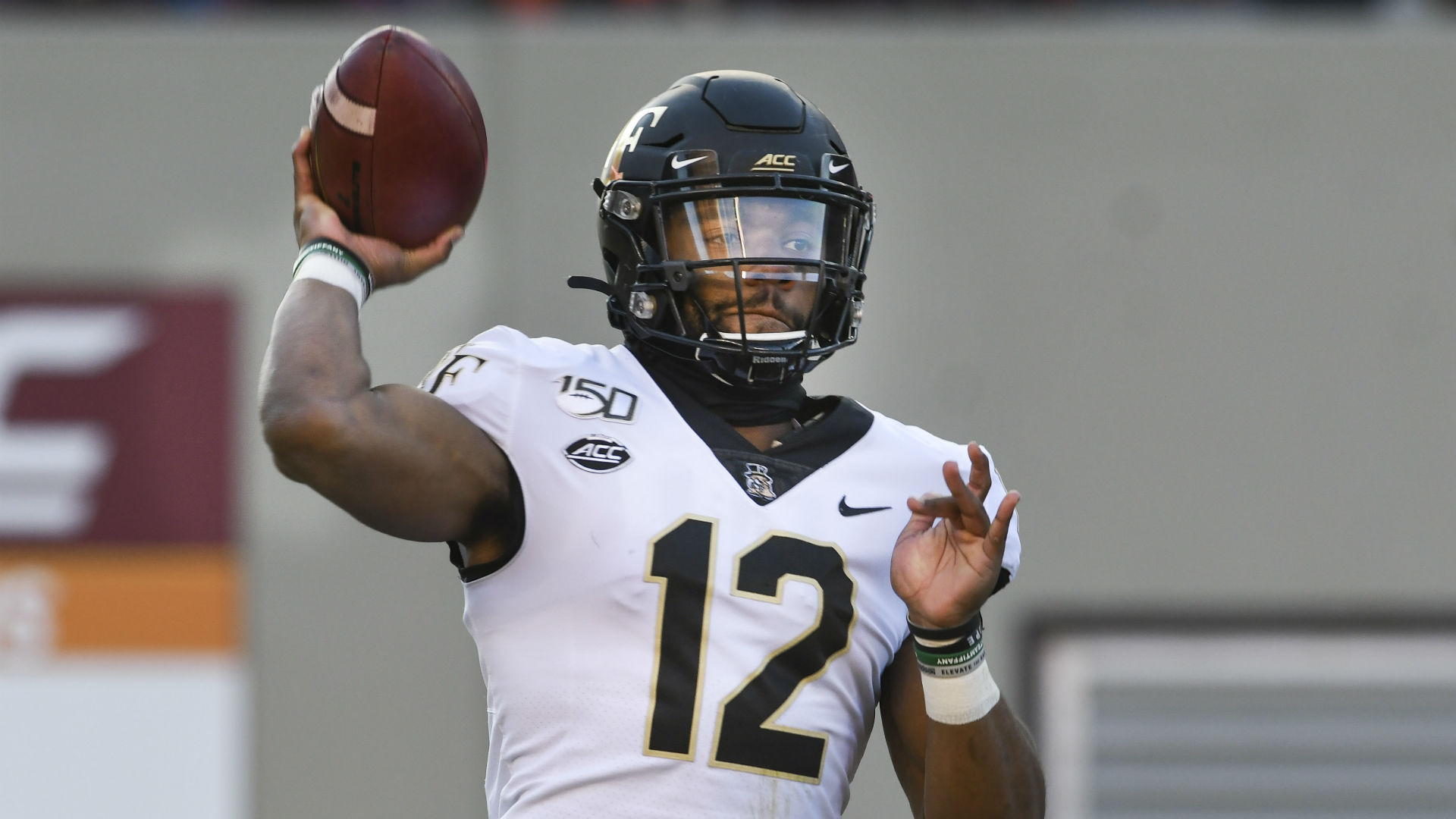 Jamie Newman, Georgia
Vikings, No. 143 overall, fourth round
With Newman and some of the sleeper quarterbacks to follow on this list, all it takes is one team liking their developmental upside enough to take a round or two or three earlier. Minnesota also has picks at Nos. 78, 90, 119, 125 and 134 to consider this stash behind Kirk Cousins transitioning between Days 2 and 3. Newman once was thought to have first-round potential before, but with him not playing another year after his Wake Forest transfer, he couldn't boost his stock. He can go this high because of an intriguing size, strength and athleticism mix, but he needs plenty of work to be trusted in an expanded passing capacity.
Kellen Mond, Texas A&M
Patriots, No. 177 overall, fifth round
Mond is an experienced college starter with a good baseline of accuracy and efficiency. He also is good enough of a runner to be a dual threat in the NFL. He just needs to develop his throwing motion and arm strength to have a chance at developing into a starter. Should the Patriots not get a QB in Round 1, he would be the ideal mid-to-late round target based on their adjusted slyle of offense with Cam Newton.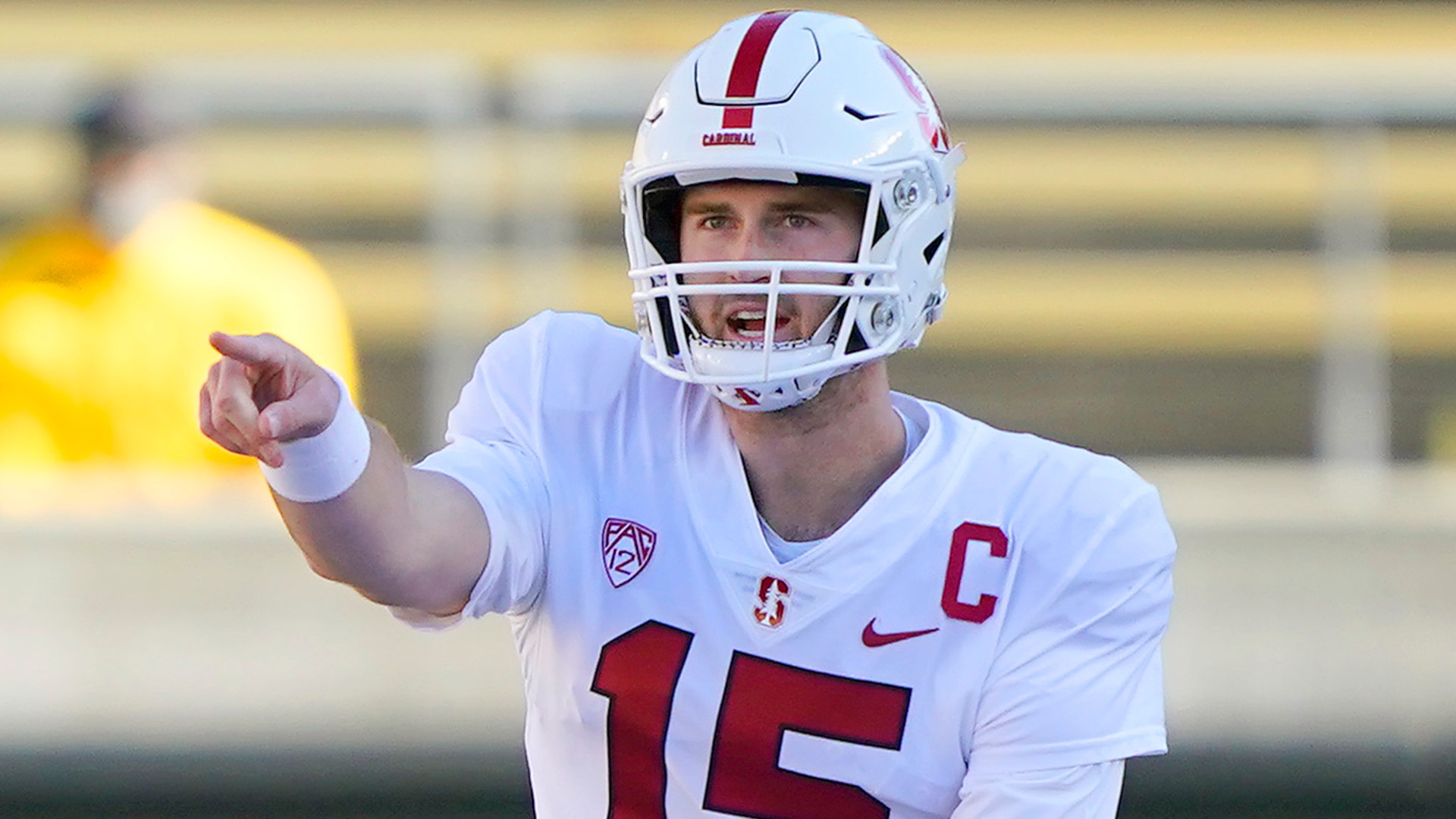 Davis Mills, Stanford
Buccaneers, No. 217 overall, sixth round
Mills has seen a meteoric late rise on some boards, to the point some think he's worthy of a late first-rounder to mid second-rounder. The Buccaneers have flexibility in the draft and it wouldn't be surprising if they stashed his upside behind Tom Brady in Round 3 (No. 95) or Round 4 (No. 137). Mills is built like Brady and looks the part of a confident pocket passer. MIlls is short on playing experience coming off injury, however, and needs time to develop the mental aspects of his game to match his physical tools, including an arm with which he can make all the throws.
Feleipe Franks, Arkansas 
Bears, No. 221 overall, sixth round
Franks, a big and tall passer, flashed again for another SEC program after losing the starting job to Trask at Florida. Franks has a strong arm and knows when to put zip or touch on the ball. He can also extend pass plays as a mobile QB and run well, too. Franks needs to sharpen his decision-making and settle better when seeing the field. The physical skills are there to merit consideration for a team such as Chicago that misses out on QBs earlier.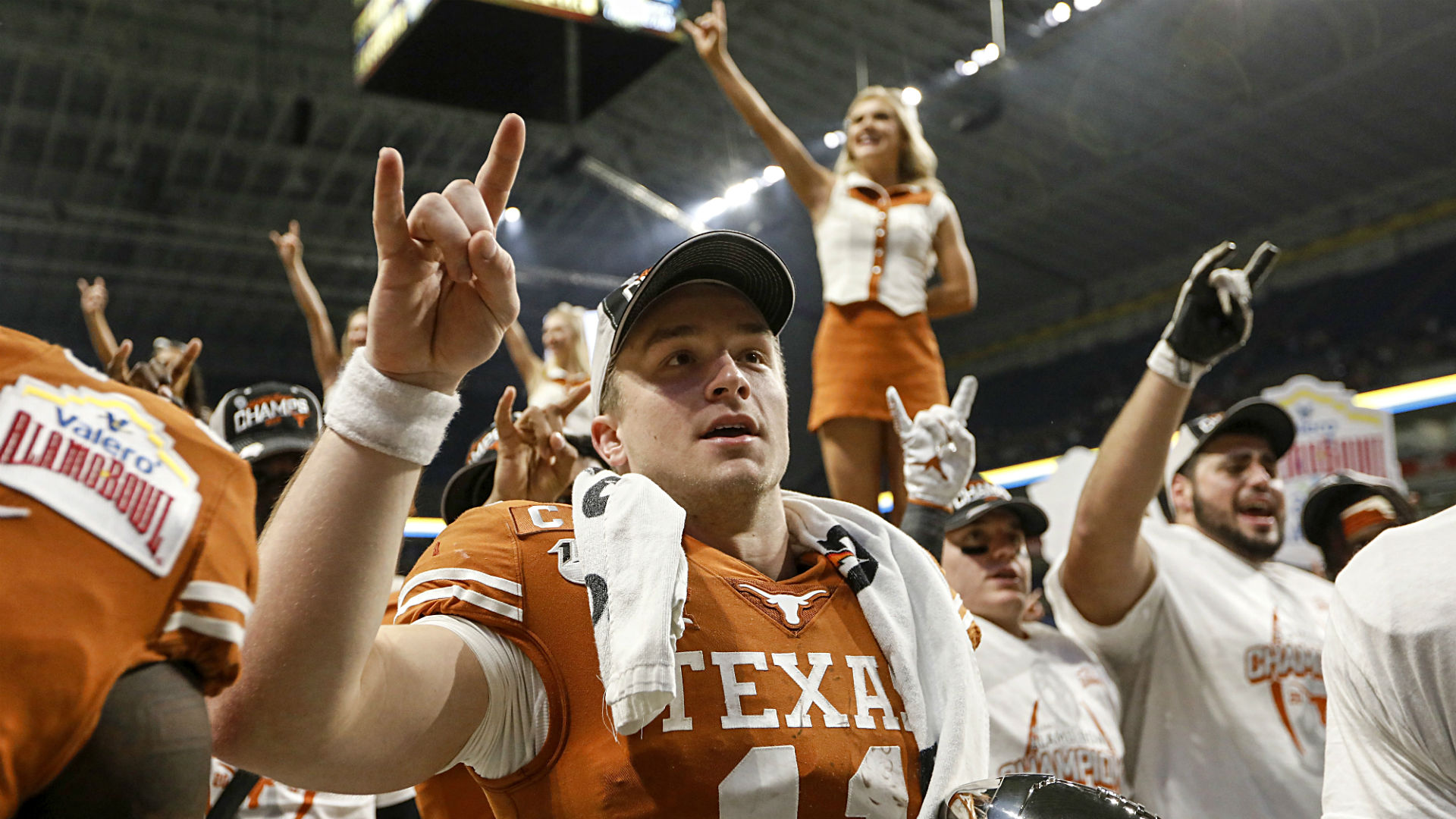 Sam Ehlinger, Texas
Cowboys, No. 238 overall, seventh round
Dallas should be in the market to develop a new QB behind Dak Prescott after seeing the limitations of Cooper Rush, Ben DiNucci and Garrett Gilbert behind him, especially with Andy Dalton gone to the Bears. Ehlinger was an experienced and productive starter in Austin, using his toughness, quickness and smarts to efficiently make plays as a passer and runner. He needs find balance of knowing when to check down but also improving as a deep passer in the NFL.
Shane Buechele, SMU
Steelers, No. 254 overall, seventh round
Buechele, the son of former MLB third baseman Steve, who played for the Rangers, was Ehlinger's teammate at Texas before losing the starting job and looking for signficiant playing time elsewhere in the Lone Star State. The Steelers need to think about a QB stash, but they can wait until later for a developmental backup with Ben Roethlisberger hoping to play a couple more seasons. Buechele doesn't have Big Ben size and doesn't stand out in one area, but he does many little things well as a pocket passer with his smarts in reading defenses.
What channel is UFC 262 on tonight? How to watch, buy Oliveira vs. Chandler on pay-per-view
It's strap season for Michael Chandler and Charles Oliveira.
After spending the majority of his career with Bellator MMA, the three-time lightweight champ has an opportunity to capture the vacant UFC lightweight championship on Saturday against Oliveira.
MORE: Sign up to watch the UFC 262 PPV, exclusively on ESPN+
Chandler has a hungry and ready opponent in the No. 3-ranked Oliveira: Looking for his first UFC title, the veteran enters this fight on an eight-fight win streak, his last bout a unanimous decision win over Tony Ferguson at UFC 256.
Here's what you need to know about Saturday night's UFC event.
What channel is UFC 262?
Early prelims: UFC Fight Pass
Prelims: ESPN/WatchESPN
Main card: ESPN+ (pay-per-view)
The main card of UFC 262 will air exclusively on ESPN+, with early prelims kicking off the show on UFC Fight Pass, moving to ESPN for the prelims.
As with all UFC PPVs and ESPN, the show will air exclusively on ESPN+ at a PPV cost.
What time does Charles Oliveira vs. Michael Chandler start?
Early prelims: 6 p.m. ET
Prelims: 8 p.m. ET
Main card: 10 p.m. ET
The early prelims and preliminaries are expected to start at 6 p.m. and 8 p.m. ET, respectively. The main card starts at 10 p.m. ET. Oliveira and Chandler are expected to make their ring walks around midnight. 
How much does UFC 262 cost on PPV?
Date: Saturday, May 15
Network: ESPN+
The main card will be broadcast exclusively on ESPN+, meaning you need an ESPN+ subscription to catch the fight. On top of the subscription, there is a price for the event:
For current yearly subscribers, the price is $69.99 on the ESPN+ app.
Current monthly subscribers can get UFC 262 and an upgraded bundle at a discounted rate of $84.99. They can also purchase the event itself for $69.99.
New subscribers will be able to pick up a yearly recurring subscription and the PPV for $89.98, which is a savings of more than 30 percent.
Click here to learn about the different pricing and bundling options with the ESPN+ platform.
UFC 262 fight card
Early prelims
Gina Mazany vs. Priscila Cachoeira, women's flyweights
Kevin Aguilar vs. Tucker Lutz, featherweights
Christos Giagos vs. Sean Soriano, lightweights
Prelims
​Lando Vannata vs. Mike Grundy, featherweights
Andrea Lee vs. Antonina Shevchenko, women's flyweights
Jordan Wright vs. Jamie Pickett, middleweight
Ronaldo Souza vs. André Muniz, middleweights
Main card
Charles Oliveira vs. Michael Chandler for vacant UFC lightweight championship
Matt Schnell vs. Rogério Bontorin, bantamweights
Tony Ferguson vs. Beneil Dariush, lightweights
Katlyn Chookagian vs. Viviane Araújo, women's flyweights
Shane Burgos vs. Edson Barboza, featherweights
What time is UFC 262 today? PPV schedule, main card start time for Oliveira vs. Chandler
Khabib Nurmagomedov's retirement from UFC has left a massive void in the UFC's lightweight division — one that Charles Oliveira and Michael Chandler will seek to fill on Saturday.
The division's Nos. 3- and 4-ranked fighters, respectively, will face off at the Toyota Center in Houston to become just the third non-interim lightweight champion since Conor McGregor took it from Eddie Alvarez at UFC 205 in 2016.
Both Oliveira (30-8-1, eight KOs) and Chandler (22-5, 10 KOs) are coming off multiple wins, setting up a new era-establishing fight for the lightweight division. Will Oliveira earn the belt 11 years after first fighting under the UFC banner? Or will Chandler, fighting for only the second time under UFC since transferring from Bellator, take it?
We can't wait to find out. With that, here's everything you need to know to watch UFC 262, including the expected start time for the main event.
MORE: Sign up to watch the UFC 262 PPV, exclusively on ESPN+
What time does UFC 262 start today?
Early prelims: 6:30 p.m. ET / 3:30 p.m. PT
Prelims: 8 p.m. ET / 5 p.m. PT
PPV main card: 10 p.m. ET / 7 p.m. PT
Oliveira vs. Chandler: 12:15 a.m. ET (approx.) / 9:15 p.m. PT (approx.)
The main card for UFC 262 is projected to start at 10 p.m. ET. Depending on how long the four prior fights on the card last, Oliveira and Chandler will make their ring walks at roughly 12:15 a.m. ET.
What channel is UFC 262 on?
The early preliminaries and first half of the prelims will stream on ESPN+; the second half of the preliminaries will move to ESPN. After that, the main card can only be watched via PPV on ESPN+.
Click here to learn more about ESPN+ pricing and bundling options.
UFC 262 card
Main card
Charles Oliveira vs. Michael Chandler (lightweight championship)
Tony Ferguson vs. Beneil Dariush (lightweight)
Katlyn Chookagian vs. Viviane Araujo (women's flyweight)
Shane Burgos vs. Edson Barboza (featherweight)
Matt Schnell vs. Rogerio Bontorin (bantamweight)
Prelims
Jacare Souza vs. Andre Muniz (middleweight)
Lando Vannata vs. Mike Grundy (featherweight)
Andrea Lee vs. Antonina Shevchenko (women's flyweight)
Jordan Wright vs. Jamie Pickett (middleweight)
Early prelims
Gina Mazany vs. Priscila Cachoeira (women's flyweight)
Kevin Aguilar vs. Tucker Lutz (featherweight)
Christos Giacos vs. Sean Soriano (flyweight)
What time is the Preakness today? Post time, TV channel, horses & more to watch 2021 race
The second jewel of the Triple Crown is up for grabs on Saturday.
The 2021 Preakness Stakes, which will run at the Pimlico Race Course in Baltimore, will help determine whether Medina Spirit can become the first horse since Justify in 2018 to win the Triple Crown. Even if the horse does win Saturday's race, however, that lofty accomplishment might not be guaranteed.
LIVE: Follow for updates from the 2021 Preakness Stakes
That's because Medina Spirit returned a test positive for 21 picograms of betamethasone after its win at the 2021 Kentucky Derby. Pimlico decided to let the horse race on Saturday but, if a second test confirms the first, then Churchill Downs will invalidate Medina Spirit's Derby win and grant runner-up Mandaloun the retroactive victory. The retesting results aren't expected for several weeks.
Mandaloun is not part of Saturday's race at the Preakness Stakes.
Just another tantalizing tidbit for bettors and sports fans alike ahead of Saturday's race, which will include 10 horses and jockeys — including prohibitive morning-line favorite Medina Spirit (9/5 odds).
With that, here's everything you need to know about the 2021 Preakness Stakes, including the post time and how to watch the event.
MORE: Watch the Preakness Stakes live with fuboTV (7-day free trial)
What time is the Preakness Stakes today?
Date: Saturday, May 15
Post time: 6:50 p.m. ET
TV coverage: NBC
NBC Sports will cover the Preakness Stakes starting at 2 p.m. ET and transfer coverage to NBC at 5 p.m. The race has a scheduled post time of 6:50 p.m. ET at the Pimlico Race Course in Baltimore.
What channel is the Preakness Stakes on?
NBC has full broadcast rights for each of the Triple Crown races, including the Preakness Stakes. Viewers can also stream the race on NBC via fuboTV, which offers a seven-day free trial.
PREAKNESS STAKES: Full draw and odds for 2021 race
Preakness Stakes horses 2021
| | | |
| --- | --- | --- |
| Post position | Horse | Odds |
| 1 | Ram | 30/1 |
| 2 | Keepmeinmind | 15/1 |
| 3 | Medina Spirit | 9/5 |
| 4 | Crowded Trade | 10/1 |
| 5 | Midnight Bourbon | 5/1 |
| 6 | Rombauer | 12/1 |
| 7 | France Go De Ina | 20/1 |
| 8 | Unbridled Honor | 15/1 |
| 9 | Risk Taking | 15/1 |
| 10 | Concert Tour | 5/2 |