Pound struggles but stock markets stage fight back over Brexit hopes | Business News
The pound ended down again as the UK faced isolation over a mutant coronavirus strain, although hopes of progress in Brexit talks helped take some pressure off the currency.
At markets close, sterling had fallen 0.76% against the dollar to $1.336 and 0.26% against the euro to €1.097.
However, this was still far from the 10-day low of $1.319 touched on Monday.
Latest coronavirus updates from the UK and around the world
The lifting of the French travel ban, which has caused transport chaos in Kent, came after the end of trading.
Jane Foley, head of FX strategy at Rabobank, said the pound found some support from reports the UK and Brussels "could be closing in on a compromise regarding fisheries" – one of the sticking points in the Brexit negotiations.
European Union chief negotiator Michel Barnier said the bloc is giving a "final push" to reach a deal on future
trading ties with Britain.
Meanwhile, the stock markets that had also been spooked at the start of the week, fared better seeing a rebound as investor jitters faded.
The London-based FTSE 100 index closed up 36.84 points, or 0.6%, at 6,453.16, having previously lost 112.86 points, or 1.7%, on Monday.
The FTSE 250, which is mainly made up of UK-focused businesses, had an even better day, closing up 258.61 points, or 1.3%, at 19,950.72.
In Paris the CAC 40 ended up 1.4%, while the DAX 30 in Frankfurt rose 1.3%.
Josh Mahony, market analyst at IG Group, said: "UK markets are in recovery mode today, with yesterday's sharp slump in domestically-focused assets being partially reversed over the course of the day.
"Volatility seems to be a foregone conclusion as we head towards the year-end, with the COVID-led economic isolation of the UK serving to provide a heavy dose of reality of the kind of disruption that could come if negotiators fail to agree a deal by year-end.
"However, Brexit failure is not a certainty, and market sentiment over the coming week is going to be heavily dictated by the ability to find compromise on the remaining issues."
In company news, shareholders in DFS Furniture welcomed the news that online sales soared by more than three-quarters over the 24 weeks to 13 December to help overall sales rise 19% compared with last year – offsetting the falls from closures due to COVID-19 restrictions.
Shares closed up 22p, or 10.5%, at 232p.
Budget airline easyJet said it has agreed a deal with Airbus to defer the delivery of new aircraft due between 2022 to 2024 until 2027 and 2028, as it suffers the fallout from the coronavirus crisis.
The company will still buy 22 aircraft as previously planned. Shares closed up 775p at 17.8p.
Welcome Break owner Applegreen said it will be taken private after a €718m (£654m) takeover deal by a consortium involving its founders and private equity giant Blackstone.
Hambro Perks swoops for tech bargains in £150m Invesco deal | Business News
A leading early-stage investor has struck a £150m bargain to buy stakes in more than a dozen technology companies from one of Britain's biggest asset managers.
Sky News understands that Hambro Perks will announce the purchase of principally biotech and energy company stakes from Invesco early next week.
City sources said that the deal would take place at a "very substantial" discount to earlier valuations placed on the holdings by Invesco.
Some of the positions were accumulated by Neil Woodford, the fallen star fund manager whose empire exploded in 2019, and managed by his successor, the now-departed Mark Barnett.
The portfolio includes stakes in First Light Fusion, an Oxford University energy generation spin-out, and Gelesis, which develops therapies for treating gastrointestinal diseases.
In total, Hambro Perks is acquiring 17 private holdings, which include assets in the digital media sector.
The deal is being financed by its Special Opportunities Fund.
It is the second such transaction engineered by the firm's co-founder, Dominic Perks, in as many months.
In December, it acquired Ombu, a portfolio of seven early-stage companies which had previously been part of Mr Woodford's empire.
Hambro Perks drafted in Sir John Rose, the former boss of Rolls Royce Holdings, to oversee the vehicle in which those positions sit.
The firm also counts prominent start-ups such as By Miles, a motor insurance app, the fintech Tide and PrimaryBid, which aggregates retail orders for share trades, among promising British tech companies it has backed.
Invesco has been trying to dispose of its illiquid portfolio for nearly a year following a slump in the size of some of its biggest funds.
A wave of investor redemptions and weak performance led to Mr Barnett's exit last year.
Invesco initially came close to a deal with Goldman Sachs to buy the illiquid holdings, but those talks fell apart some time ago.
Invesco said last March that it was continuing to "explore the realisation of the unquoted assets in the portfolio".
"Once realised this capital will be reallocated to publicly listed equities which in our view have been heavily discounted due to the fall in equity markets as a result of the current COVID-19 outbreak.
Neither Hambro Perks nor Invesco could be reached for comment on Saturday.
COVID-19: Some airports could close temporarily as they reach 'near-complete shutdown', industry warns | UK News
The travel industry is pleading for more support as the latest coronavirus restrictions left the UK's airports at "near-complete shutdown", with warnings they may have to close temporarily. 
All travellers entering the UK from Monday will have to self-isolate for 10 days – or receive a negative COVID-19 test result at least five days after arriving – ending the travel corridor system which allowed quarantine-free travel from countries with low case rates.
In addition, all flights from South America, Portugal and Cape Verde have been banned in response to the emergence of a new coronavirus variant.
While the new restrictions have been largely welcomed, the UK's travel industry has warned it needs more support to keep businesses running.
"The closure of travel corridors is understandable from a public health perspective but this adds to the current near-complete shutdown of the UK's airports, which are vital for our post-pandemic prosperity," said Airport Operators Association chief executive Karen Dee.
"Airports are currently keeping their infrastructure open to support vital and critical services, such as post, freight, emergency services, military and Coastguard flights, as well as to help keep the lights in the UK on through supporting flights to offshore oil, gas and wind operations.
"Airports are doing so while running on empty – there is only so long they can run on fumes before having to close temporarily to preserve their business for the future."
The current UK lockdowns ban most international travel, meaning few people are booking travel abroad, but the latest measures will be a further blow.
Emma Brennan, a spokesperson for the ABTA, told Sky News there needs to be more "recognition that the travel industry is suffering".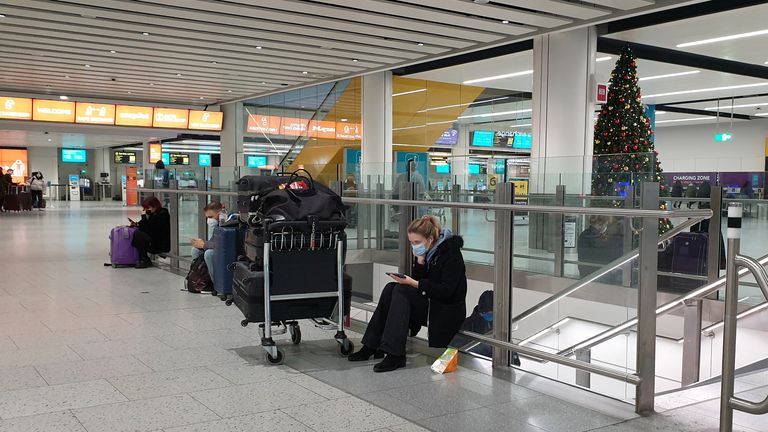 "Since the very start of the pandemic, we haven't had an opportunity to recover and there hasn't been the tailored financial support for the sector that there has been for other sectors, such as hospitality and the arts," she said.
Those in the travel industry say measures that could help include relief from regulatory, policing and air traffic control costs.
COVID-19: Councils losing tens of millions of pounds supporting businesses through pandemic | Business News
Local authorities are losing tens of millions of pounds supporting struggling business tenants through the pandemic which could have dire and long-lasting consequences for local services, Sky News has found.
Freedom of Information requests reveal English councils have already written off at least £19.7m associated with measures to support local businesses, including rent relief, rent renegotiations, payment holidays or business tenants going into administration.
A further £5.8m was lost as a result of Company Voluntary Arrangements (CVAs). These are arrangements where companies on the brink of insolvency negotiate debt repayments with their creditors in order to stay afloat – in this case, rent and rates paid to the council.
Lost income from business tenants is just one factor currently wreaking havoc with local authority budgets. Following 10 years of austerity and cuts, many fear it will amount to a crisis for local services.
Of the 272 councils who responded to Sky News, 124 – or 46% – confirmed they had lost income as a result of their own business support measures, such as rent holidays or having rent withheld since March.
Between 100 councils, £19.7m had been lost as a result of business measures. Barnsley was the worst affected, having written off £2m by mid-November.
In Barnsley town centre it is easy to see why as whole streets are now shuttered, with businesses reliant on support packages to survive.
Carl Esberger, who runs BigWicks homeware shop, sums it up:
"As long as I can keep a high street presence I will, but I think if there were no grants available for the high street, then I would be closed – like many have," he said.
The pressure also comes at a time when many councils can ill afford it.
Austerity hit local government hard. Barnsley council's budget is already roughly 45% of what it was a decade ago, which has meant fewer libraries, family centres and street services.
"Over the last 10 years we've made about £120m worth of cuts," said Sir Stephen Houghton, leader of Barnsley Council.
"Next year, we have to find another £7m. So just when we thought we were getting out of austerity, things were beginning to bottom out, COVID's come along and given us some more.
"You've got this income gap that maybe is not temporary but permanent. And how are we going to deal with that?"
The only way, he says, is by cutting local services. The impact will be felt in communities.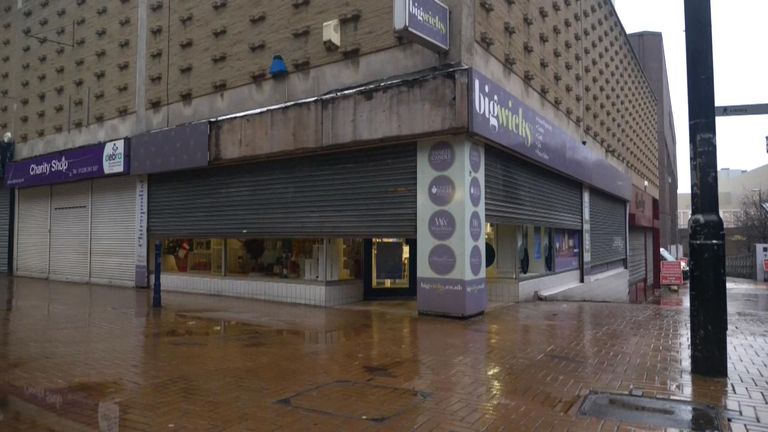 In Barnsley, as elsewhere, most social and children's services are protected but many fear the impact will still be felt acutely by the most disadvantaged.
Charlotte Williams runs The Station House Association charity that provides early years care for vulnerable families and, although it is independent, it does receive some funding from the council.
"The most important work that we do with the council is the preventative stuff, and that's always the stuff that seems to get cut," she said.
"On a really practical basis for our families, there's a need for lots of little bits of help and support.
"If you take any one bit away, it's a bit like playing Jenga – you can take a few bits away and families survive, but if you take enough of those little slivers of support, it collapses and we go back to a time where unemployment is normalised, we go back to a time where people are solely reliant on benefits, we go back to a time where people are living in poverty."
She said she worries about the coming years.
"We are pretty resilient people in Barnsley, you know we've been through quite a lot, but you can only chip away so much," she added.
Nationwide, CVAs were responsible for a further £5.8m hit to councils, with a number of household name businesses availing of them.
Travelodge has CVAs in place that affects 15 councils. Mansfield District Council alone has lost £1.1m as a result of Travelodge's CVA.
The company, whose shareholders include Wall Street giant Goldman Sachs, was forced to amend its restructuring offer to landlords last year after it faced backlash.
New Look, which has also received criticism for its use of CVAs, was responsible for hundreds of thousands of pounds in losses for 10 council landlords as well.
CVAs are supposed to be the last resort for companies looking to renegotiate debts on the brink of insolvency, but some believe they are now being used unnecessarily.
Melanie Leech, chief executive of the British Property Federation, said: "What we're seeing is an increasing use, misuse of CVAs, cynically being used by owners who have taken value out in the good times, not prepared to invest back in the bad times.
"They are taking advantage of the legislation and the way it's currently framed in order to write tear up leases, walk away from obligations freely entered into at our expense."
The companies insist the CVAs were necessary.
A New Look spokesman said: "We launched our CVA in August last year out of absolute necessity, to safeguard the company, our employees and our suppliers.
"It was a measure we were forced to take as a result of COVID-19 changing the retail environment beyond recognition."
Steve Bennett, Travelodge property director, said: "The COVID-19 situation has created unprecedented challenges for the whole UK hospitality industry, we have worked closely with our landlords to try to find the best possible path forward."
Sky News' FOI also confirmed Boots has withheld hundreds of thousands of pounds from councils.
The company was widely criticised last year for aggressive rent renegotiation during the pandemic, withholding service charges and rent due from its landlords.
Sky News' figures reveal one council was owed as much as £143,000 in rent by Boots by the beginning of December.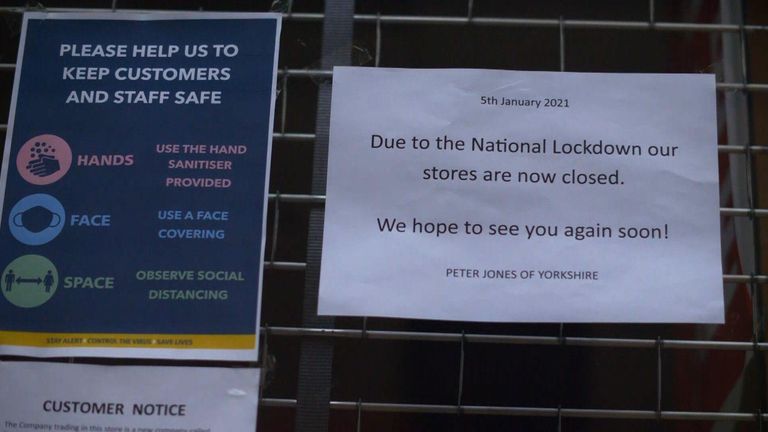 Boots' managing director Seb James said: "We just don't think it's fair, at a time when we were really suffering, that all of the burden of that suffering should fall on the tenant and none on the landlord.
"I'm pleased to say that the vast majority of our landlords we've now come to an agreement with and we're now paying our rent as normal and I think that's the way we want to be, but I just didn't think it was fair that we should carry the whole burden."
The December 2020 Local Government Finance Settlement does set out an increase in core funding for English councils of up to £2.2bn and highlighted £3bn of additional support for COVID-19 costs.
However, of the £2.2bn increase in core funding, £1.9bn is expected to come from increases in council tax bills of up to 5%. It assumes councils make full use of the allowable increases.