Player Ratings: Takeaways and grades from the USA vs. Mexico Nations League final
There's nothing quite like USA vs. Mexico when there's something on the line. It can bring out the best (and worst) of the players and coaches who are involved. We saw that happen in the USA's dramatic 3-2 win on Sunday in multiple ways.
1) McKennie, Reyna and Pulisic finally take charge: Together with Tyler Adams, they are the best players on the U.S. team and this final was the occasion in which they finally put their stamp on this team. McKennie had the best game, Pulisic made the biggest play (as captain), and Reyna experienced the most notable improvement over the three games of the camp. It's their USMNT moving forward in the good times and bad with a little over a year to a World Cup.
2) USA discovers recipe for success: When it comes to national teams, it's not realistic to expect squads that gather every three months to play flowing, attacking soccer. Success on the international level invariably comes down to having world-class players who can make big plays and commit as few big errors as possible, while giving maximum effort. The USA did all those things better than Mexico on the night. It always helps when you're dominating virtually every set piece.
3) Mexico needs a forward (and some younger players): It's clear that if Mexico had a true reference point in attack who could (a) occupy defenders and (b) provide passing options and (c) make runs that open up space, their world-class attacking talent (Chucky Lozano, Tecatito Corona and Diego Lainez) could be so much more effective. Henry Martin and false nines are not the answer.
They also need to emulate the USA and hasten the generational changeover in key positions with a World Cup looming: Hector Moreno (33 yrs), Hector Herrera (31 yrs) and Andres Guardado (34 yrs) are no longer the players they once were. We probably would've seen it happen in the Nations League matches if an Olympic (Under-23) camp wasn't happening at the same time.
MORE: Re-live the best moments from USA vs. Mexico
Player Ratings: USA vs. Mexico
USA
Zack Steffen: 6
Before he came off the field due to a knee injury, he made a handful of key saves. Not much he could do to stop the opening Mexico goal.
Sergino Dest: 4.5
He was never able to get into the game, let alone leave a mark on it. Very uncharacteristic performance for him. No surprise he was subbed off at the hour mark.
Tim Ream: 5.5
It was a bit of a head-scratcher that he was named to start a match at left center back (and later at left back) against a trio of speedy Mexican attackers. His lack of speed was exposed on several plays. Despite the challenges, he remained generally composed on the night.
John Brooks: 6
It's a lot of good with some bad from Brooks. He's an aggressive defender and he picked up a 10th minute yellow card. But he did well to manage the situation without losing the bite to his game.
Mark McKenzie: 5.5
His error led to Mexico's 2nd-minute goal and his hand ball triggered a late Mexico penalty kick. But he rebounded from the early mistake and acquitted himself well despite needing to chase Tecatito Corona and Chucky Lozano all night. It wasn't an easy assignment.
DeAndre Yedlin: 6
With the license given to Dest on the left, Yedlin was more of a stay-at-home right back in this game. He had his hands full all night with Corona first, and then Lozano.
Kellyn Acosta: 6.5
U.S. fans would love a central midfield that dictates play through passing. But not every game works out that way and Acosta took what this game gave him and made the best of it, including filling in at left back during a crucial period of the final.
Weston McKennie: 7.5
He was the force and presence that the USMNT desperately needs him to be, and he exuded composure, confidence and swagger. McKennie was tireless in midfield and a ball magnet on attacking set pieces, scoring the second equalizer when it looked like Mexico had the victory locked up. Best U.S. field player on the night and Nations League MVP.
Christian Pulisic: 6
Despite wearing the captain's armband, he was invisible for most of the night except for a through ball he served in the box. But he turned up in the big pressure moment, drawing a penalty kick and expertly converting it. It could be a USMNT career-defining moment.
Josh Sargent: 5
The U.S. attacks down the flanks rarely reached Sargent, who was limited to hoping for loose balls in the box during his 68 minutes of action. One early shot from distance was it for him.
Gio Reyna: 6.5
He seemed to rise to the occasion, taking the initiative and leaving his mark on the game, including showing a solid defensive workrate. The goal he scored should serve as a confidence booster that the team is reliant on him to be a difference-maker.
MORE: Why everyone's still talking about USA vs. Mexico
Substitutes
Ethan Horvath: 8
What else to say about the backup goalkeeper (below) coming into the game with 20 minutes left and making a series of clutch saves, including a dramatic penalty kick stop that preserved the result? If he had any nerves, he sure didn't show them.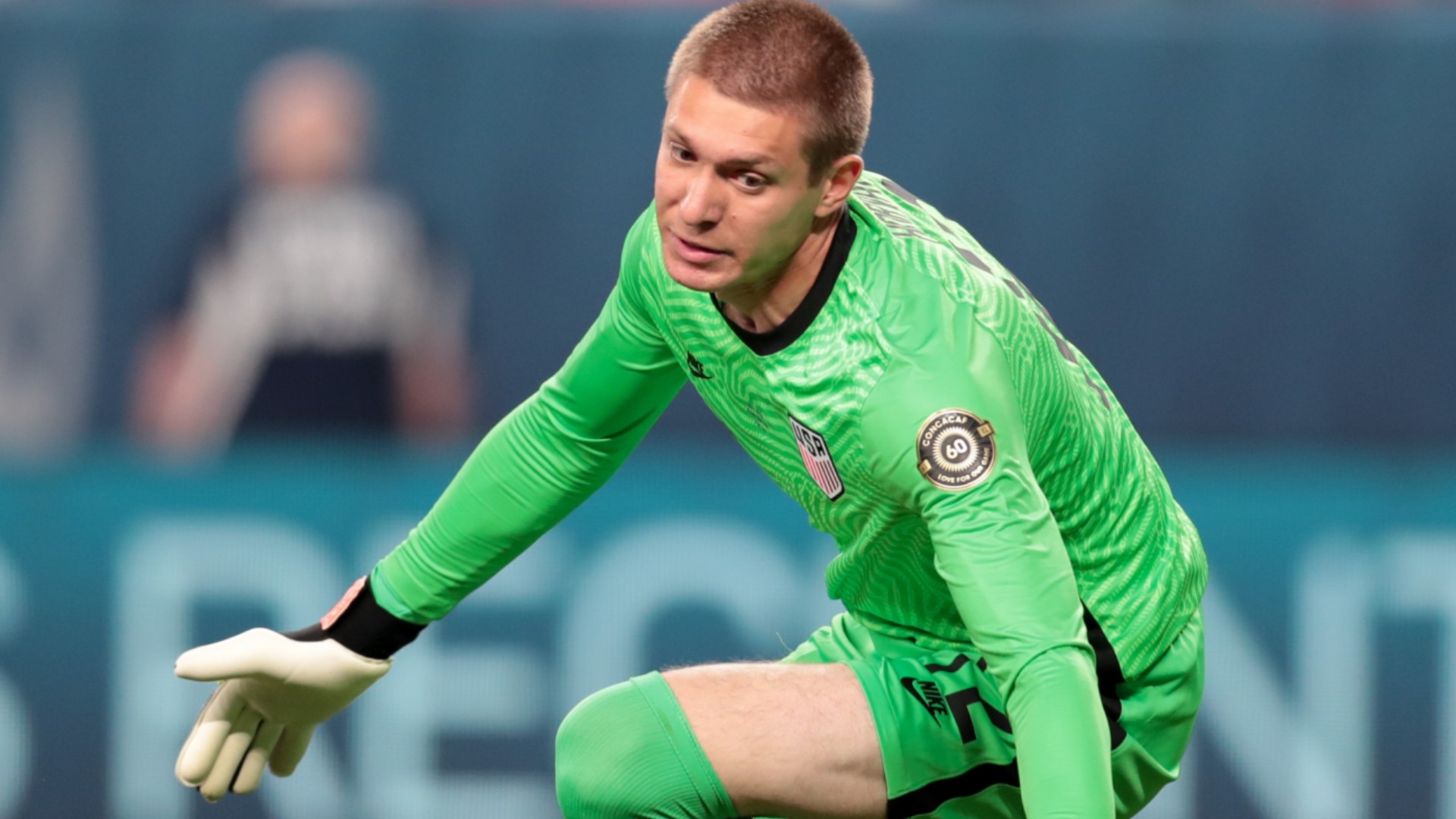 Reggie Cannon: N/A
Filled in at right back for DeAndre Yedlin for the second extra time period.
Tyler Adams: 6
His energy and effort in midfield had been sorely missed by the USMNT. He was coming off an injury, but didn't show any wear. He was popping up all over the field to make challenges, as he's known to do.
Tim Weah: 6
When he had the ball at his feet, you had the distinct impression he was capable of making a game-breaking play. The problem is he didn't get many touches in good areas.
Sebastian Lletget: 6
Typical solid contribution in midfield from Lletget, who started the play that led to the Pulisic penalty kick. As a starter or off the bench, he's Mr. Dependable.
Jordan Siebatcheu: 5.5
Similar story to Sargent's. He didn't factor into the match in any important way during his nearly one hour of action.
MEXICO
Guillermo Ochoa: 6
He made some big saves at key moments, but when your team plays as poorly on set pieces as Mexico did, it wasn't enough.
Jesus Gallardo: 5
Gallardo wasn't a meaningful contributor on either end of the field and was beaten badly by Weston McKennie on the equalizer when his team was eight minutes away from a win.
Hector Moreno: 5.5
Average performance. The veteran wasn't tested as much during the run of play, but he was exposed on set pieces. He was beaten on the corner kick header that resulted in the first U.S. goal. The goal he scored that was scratched for offside in the first half was a key turning point in the match.
Nestor Araujo: 6
The best of the Mexican defenders on the night, but he wasn't called upon to do anything extraordinary.
Luis "Chaka" Rodriguez: 5
Helped keep Pulisic and Dest in check, probably a big reason he didn't offer his usual contributions in attack. His flub of an easy ball in the second half led to the corner kick that spurred McKennie's 2-2 equalizer.
Hector Herrera: 5
Should've been sent off for a second yellow and the chokehold on McKennie. Mexico needed him to be more involved in the attack and not just dish the ball to the forwards and watch them dribble. McKennie was a nightmare for him to deal with.
Edson Alvarez: 6
The most influential of the Mexico midfielders on both sides of the ball. Alvarez gave everything he had and covered a lot of ground. He was visibly gassed late in the match and it was a surprise he wasn't subbed out sooner.
Charly Rodriguez: 5
He wasn't mobile or speedy enough on the day to get into helpful positions for the attackers to play off him. He hovered, but never truly participated.
Jesus "Tecatito" Corona: 6.5
"Tecatito" was electric early on in the game and scored. He gave DeAndre Yedlin and Mark McKenzie fits in the first half before fading in the second.
Hirving "Chucky" Lozano: 7.5
Chucky was the best player on the field for Mexico. He held onto the ball way too much, but Mexico's gameplan in attack is to feed him the ball and let him create. He often did so dangerously and he drew several fouls.
Uriel Antuna: 6
He was generally dangerous on the run, but he lacked substance in and around the box. That's his player profile in a nutshell: He'll get you to the penalty area, but doesn't always know what to do with it.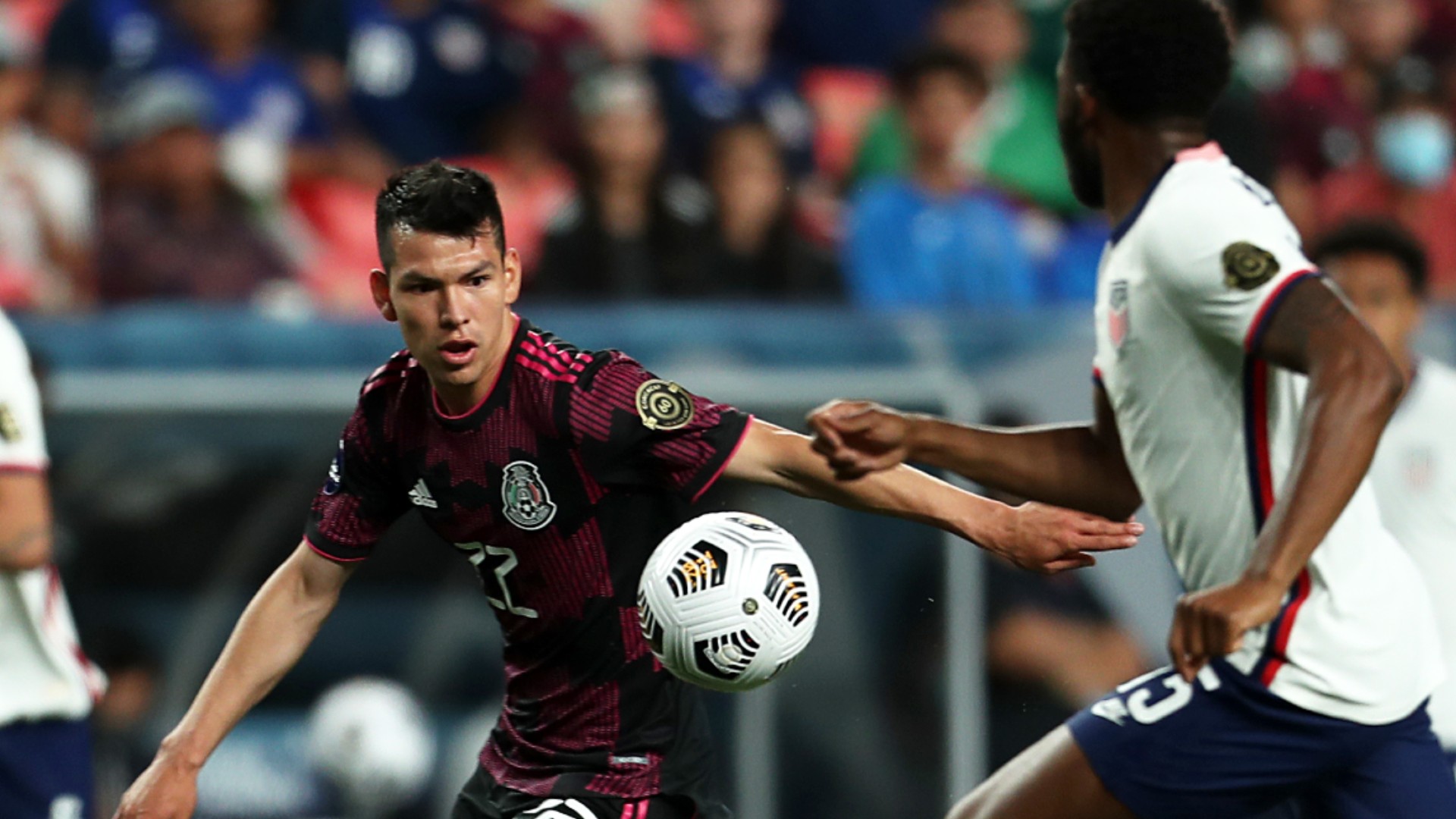 Substitutes
Carlos Salcedo: 5.5
Is it a surprise he didn't start either Nations League game for Mexico? He brings a lot of positives to the center back position (aggressiveness, athleticism, aerial ability), but he's also a liability around the box as he showed on the penalty kick he gave away to the USA in extra time.
Luis Romo: 6
A solid player coming off the bench for Mexico. He did more in his 44 minutes than Charly Rodriguez did before him. He was regularly a willing participant in the attack, pushing deep into the attack.
Orbelin Pineda: N/A
Came in as fresh legs for the final few minutes.
Andres Guardado: 4.5
Entering the match with 20 minutes left, he had one job: Execute set pieces and dish accurate passes. But Guardado missed on converting the most important of the set pieces, failing to score what would've been a match-saving penalty.
Diego Lainez: 6.5
A sparkplug off the bench. He immediately injected life into the Mexican attack and scored what looked to be the potential game-winner at 2-1. Whenever he got on the ball, he was wreaking havoc.
Henry Martin: 5.5
Nothing remarkable in his 50+ minutes on the field. The cries for Chicharito Hernandez and Raul Jimenez won't be stopping any time soon, whether or not Tata Martino thinks they are disrespectful to the players in camp like Martin.
How long is Kyrie Irving out? Nets guard ruled out of Game 5; no timeline for return vs. Bucks
Kyrie Irving's return to the court is up in the air.
The Nets lost James Harden to a hamstring injury earlier in the series, and now Brooklyn may be without Irving for some time, with the star guard out for at least Tuesday's Game 5 and perhaps beyond.
In the second quarter of Sunday's Game 4, Irving landed awkwardly on Giannis Antetokounmpo's foot, and he would remain on the floor for the next possession. Irving would walk off gingerly, but under his own power after the injury.
MORE: NBA playoff schedule 2021: Full bracket, dates, times, TV channels
The Nets would lose Irving for the remainder of the game — and they would lose the game itself, with the series vs. the Bucks evening at 2-2.
ESPN's Rachel Nichols reported that Irving was spotted with crutches and a walking boot after the game.
I'm told Kyrie was in a walking boot and using crutches after spraining his ankle during today's Nets-Bucks Game 4. Steve Nash says that x-rays on the ankle were negative and that Kyrie will undergo further testing/evaluation tomorrow.

— Rachel Nichols (@Rachel__Nichols) June 13, 2021
Here's what we know about Irving's timeline to return to the court.
How long is Kyrie Irving out?
Further testing on Monday led to the Nets guard being ruled out for Tuesday's Game 5 vs. the Bucks. Nets coach Steve Nash says he has "no idea" whether Irving will be able to return in the series.
Kyrie Irving will miss Game 5 on Tuesday with a sprained right ankle, Steve Nash says. Irving had an MRI. Nash adds he has "no idea" whether or not he will be able to return in this series vs. Milwaukee.

— Malika Andrews (@malika_andrews) June 14, 2021
After Game 4, Nets coach Steve Nash shared some positive news regarding the ankle injury: The x-rays on Irving's ankle came back negative, meaning it's likely some degree of sprain.
The X-Rays on Kyrie Irving's ankle were negative, Steve Nash says. He will undergo further testing and treatment.

— Malika Andrews (@malika_andrews) June 13, 2021
Depending on the severity of the sprain, Irving may miss the remainder of the series and beyond. Ankle sprains for NBA players tend to linger and can take two weeks or longer to fully heal.
USWNT legend Carli Lloyd defying Father Time in quest for soccer Olympics gold at age 39
Had the Tokyo Olympics been contested in 2020, as scheduled, Carli Lloyd would have been a whole year younger. She'd have turned 38 immediately in advance of the Games, rather than 39 – which, to be frank, still is uncommonly old for a professional soccer player. So maybe those extra 12 months really don't mean so much.
Or maybe they've made Lloyd even better at the sport in which she already is a legend.
"I actually feel better," she told Sporting News, after the U.S. Women's National team completed a 4-0 friendly victory Sunday night over Jamaica. "And I don't think that, if it was played in 2020, a number of different things wouldn't have happened.
"My family wouldn't have been a part of it. I wouldn't have had knee surgery. I changed up my strength program, started working with a guy back home. I have a new trainer that I do ball work with. So I feel like I went from thinking that I'm continuing to get better to just like a whole 'nother level. I've never been this fit, fast, explosive."
If it seems unlikely there could be another level beyond excellence for an athlete encountering middle age, you have not been paying attention to the sporting world in 2021. Tom Brady, already the owner of six Super Bowl rings, won his seventh as a 43-year-old quarterback. Golfer Phil Mickelson earned a sixth major title with a PGA Championship triumph at age 50. Helio Castroneves, essentially discarded by his race team as he entered his mid-40s, won a fourth Indianapolis 500 at age 46.
Lloyd may not appear to belong in this age group at first glance, but understand the nature of the sport and the constant, year-round grind tends to age soccer players more rapidly. Mia Hamm played her last game for the USWNT at 32. Abby Wambach was done at 35. Landon Donovan, the greatest USMNT player, was cut from the 2014 World Cup team at age 32. Zinedine Zidane ended his career with a World Cup triumph shortly after turning 34.
Lloyd will reach her 39th birthday July 16, and it'll be a full celebration if that occurs in Japan while preparing to open the Games five days later against nemesis Sweden. She has won two World Cups and two Olympic gold medals. She has earned 303 caps, third in world soccer history, and scored 125 international goals, which ranks sixth. Against Jamaica, she became the oldest player ever to score for the USWNT, and she bagged that goal 23 seconds into the match, as though it were essential to get it done before time caught up with her (video below).
It still might. Had the COVID-19 pandemic not postponed the Olympics into this summer, making the U.S. squad might have been a slightly less brutal challenge. Veteran striker Alex Morgan would have been only two months past the birth of her daughter, Charlie, and Lloyd had excelled in the position while Morgan was absent. Lynn Williams had only just returned to the national team, although she performed well and scored the game-winner in the CONCACAF Olympic qualifying final against Canada. Promising Midge Purce had barely a cap to her name.
Unlike the World Cup, which allows teams to bring 23 players to what can become a seven-game tournament for the winner and runner-up, the Olympics only accommodates 18 players per team for the six games required to claim a gold medal. For his first tournament as USWNT head coach, Vlatko Andonovski will have to make some excruciating decisions because of the abundance of talented players. He must balance any desire to get essential international tournament experience for younger players with the understanding the primary goal is to field the team most likely to claim the gold medal.
"It is extremely difficult, but at the same time, the closer we get, I think, the easier it gets," Andonovski told Sporting News. "It gets clearer with the analysis we're able to do, and the evaluation. If we had 23, it was going to be difficult to cut players number 24, 25 and 26. It is always difficult.
"We have a very deep roster … regardless of what the number is, it will always be difficult."
Perhaps because there was not a national team schedule to consume her, Lloyd took the opportunity to make some massive changes in her life during 2020. She parted ways with her longtime trainer, James Galanis, who had become a sort of personal "guru" for the player who scored the winning goals at the 2008 and 2012 Olympic Games and won the 2015 FIFA World Player of the Year award.
The work with Galanis had been a factor in Lloyd's enduring rift with her family, which lasted more than a decade. Upon ending that affiliation, Lloyd called her parents and began working to repair that relationship.
She now hopes to win one last gold medal, insisting her desire to experience life beyond professional sports – not her advancing age – will end her career. The only concession to competing in such proximity to her 40th birthday has been the transition to center forward, a position that typically does not require covering as much ground as midfielder.
As is typical of Lloyd, though, she has worked ferociously to master the position, including film study of the game's best strikers to learn their tricks and techniques. She had made the transition in advance of the USWNT's triumph at the 2019 World Cup, appearing in all seven games and scoring three goals for coach Jill Ellis, but the arrival of Andonovski meant relearning how to play as a center forward.
"The way the No. 9 position was played was a bit different with Jill," Lloyd said. "We didn't high press, we didn't do certain things. I feel like the way that Vlatko wants our team to play kind of just fits me. I love high pressing. I love putting the defenders and opponents under pressure. From the time that Vlatko came on board to now, I've literally just been a sponge trying to continuously get better and evolve my game."
Lloyd is famous for the personal slights she seized upon for motivation, starting with her benching in advance of the 2012 Olympics that ended with her scoring twice in the gold-medal match. Before the 2019 World Cup, she bristled at the suggestion she had embraced the role of "super-sub", emphasizing to SN she still was fighting for a starting spot every day.
In the early hours Monday, Lloyd made sure to tell The Philadelphia Inquirer's excellent soccer writer, Jonathan Tannenwald, she was bothered to have him predict she would not make the Olympic roster, and that she was particularly annoyed because the Inquirer was essentially a hometown paper for someone who grew up 14 miles away in Delran, N.J. Tannenwald, though, only had suggested Lloyd was "on the bubble", as they say, for selection.
"I don't think if I'll be able to answer directly about any player, not just Carli, any player on this team until I really have to," Andonovski told Tannenwald. "I will say that I was happy with her performance: comes in, scores the goal, sets the pace for the team and does well overall, not just in this game but in the previous games and in training. So I think she's in a really good place."
With 12-team playoff, college coaches on hot seat may have higher survival rate
A College Football Playoff subcommittee revealed a proposal for 12-team expansion last week, a move that became the leading topic of the offseason. 
Soon enough, we will be back to the hot-seat coaches. That chatter never goes away. 
While that expansion won't impact the futures of head coaches for the next few seasons, the potential ripple effects on the coaching carousel will be intriguing. Just wait until the 12-team playoff and hot-seat talk mix. 
MORE: How a 12-team College Football Playoff works 
That will lead to some interesting questions about the definition of coaching success. 
Is it a trip to the 12-team CFP? Would winning a Playoff game save a coach's job — similar to a Sweet 16 run in the NCAA tournament? Which coaches would have different temperatures now if the 12-team Playoff started in 2014? Will fewer coaches be fired as a result?
Those are legitimate questions when you consider past results. Here is a look at the schools that would have multiple CFP appearances if the 12-team format started in 2014:
If CFP had 12 teams since 2014 … 
| | |
| --- | --- |
| SCHOOL | PLAYOFF APP. |
| Ohio State | 7 |
| Alabama | 6 |
| Clemson | 6 |
| Oklahoma | 6 |
| Georgia | 4 |
| Notre Dame | 4 |
| Penn State | 4 |
| Florida | 3 |
| Florida State | 3 |
| Washington | 3 |
| Wisconsin | 3 |
| Baylor | 2 |
| LSU | 2 |
| Michigan | 2 |
| Michigan State | 2 |
| Oregon | 2 |
| TCU | 2 |
| UCF | 2 |
| USC | 2 |
Now, here is how it would have changed the outlook on some programs and coaches in that time frame: 
Which programs would have benefitted with 12 teams?
Penn State, Georgia and TCU stand out.
The Nittany Lions have yet to make a Playoff appearance, and James Franklin is coming off a miserable 4-5 season in 2020. Franklin is on shakier ground than usual heading into 2021, but it would be a different story in a 12-team setup. 
Penn State would have made four at-large appearances from 2016-19. Imagine the impact that would have had on recruiting and how that would have helped make up ground with Ohio State — the only school that would have made the CFP all seven seasons. Over time, that would make the Big Ten East race more compelling than it is in the present day.  
Sound familiar, Georgia? The Bulldogs would have made the CFP each of the last four seasons, which is better than the one appearance Georgia has under Kirby Smart. Georgia has recruited at an elite level under Smart, but the program continues to chase its first national championship since 1980. For all the success, the Bulldogs are still operating in Alabama's shadow. 
Perhaps in one of those seasons the Bulldogs would have made that run, but Smart's success in Athens — and even Mark Richt before him — would be perceived with more appreciation.
Imagine what back-to-back Playoff appearances in 2014-15 would have done for Gary Patterson at TCU in the Big 12. Those misses stalled the program's momentum. Patterson is one of the longest-tenured coaches in the FBS and has enjoyed steady success, but the Horned Frogs are 18-17 the last three seasons.
Which coaches would have cooler seats now?
Clay Helton and Jim Harbaugh have been on the hot seat the past few seasons. Those two coaches are talked about more than anybody else on any given offseason.
Helton would have led the Trojans to back-to-back CFP appearances in 2016-17 with Sam Darnold, and perhaps that would have helped the program avoid a two-year decline from 2018-19. Helton bounced back with a Pac-12 South championship in 2020, but USC might be further along on that road to true national championship contention.
Harbaugh is 0-5 against Ohio State and has failed to break through to a Big Ten championship game since his arrival in 2015. Yet Michigan would have two CFP appearances under this setup, including that 2016 team that lost the double-overtime thriller to the Buckeyes on "The Spot." The 2018 team also was Harbaugh's last true Big Ten contender.
Perhaps those teams win a Playoff game or two. The Ohio State question still looms, but it isn't the only talking point with Harbaugh. 
Which coaches might have stayed put? 
Chris Peterson retired after the 2019 season, but the Huskies would have been a three-time Playoff team in a 12-team setup from 2016-18. Would that have attracted the necessary talent for Peterson to make that national championship run?
Would Scott Frost still be at UCF? It's worth asking knowing the Knights would have been a playoff team in 2017 and 2018. The Group of 5 inclusion might prompt more coaches to stay put (think Tom Herman at Houston). Frost is 12-20 the last three seasons at Nebraska.
Will there be fewer coaching changes?
Frost is a good launching point for that discussion. Consider that UCF coach Josh Heupel is at Tennessee now, and former Auburn coach Gus Malzhan is now at UCF. 
Auburn would have made the CFP only one time under this format, and Malzahn was formerly a coach that was on the hot seat every year like Harbaugh and Helton. Maybe that changes Malzahn's status. Maybe it doesn't. 
There were 17 coaching changes in the FBS this offseason. That was the first time in the CFP era that the number was under 20. Perhaps the 12-15 number becomes the norm in the 12-team era knowing that the definition of success slides with more includied in the Playoff.
Here is betting that will happen, and it will be a welcome change. 
Hot seat talk will never stop, but we're looking forward to see how those conversations change.