Paul Gascoigne: TV historian David Olusoga thanks Gazza for helping out after racist attack at school | UK News
TV historian David Olusoga has thanked former England footballer and schoolmate "tough kid" Paul Gascoigne for stepping in to help when he was subjected to racist abuse as a child.
Born in his father's home country of Nigeria, Olusoga moved to his mother's home of Gateshead, in Tyne and Wear, when he was a young boy.
His family was targeted by the National Front, who subjected them to horrific abuse and, in one terrifying incident, drove them from their home after smashing the windows with bricks in the middle of the night.
Olusoga was also bullied at school, and says he remembers Gascoigne helping him out.
During an appearance on Desert Island Discs, he said: "My older sister, Yinka, was three years ahead of me and in her class was Paul Gascoigne. I have one memory of Paul, one strong memory.
"Which is of lying on my back having been pushed over and hit in the playground and this kid with light-coloured hair and very bright blue eyes leaned over, he was beside my sister and he gave me his hand and he pulled me up.
"He must have been maybe nine, I must've been maybe six or seven, something like that. He was one of the tough kids, you won't be surprised to learn. It wasn't really in his interest to be looking after this couple of black kids. And I'm very grateful for that."
In an interview last year, Gazza, 53, said he remembered helping his younger schoolmate out.
"I was only young but I do remember," he told the Mirror. "I hated bullies and I did not like what was happening."
Olusoga, who presents the BBC documentary series A House Through Time, told presenter Lauren Laverne that racism was "just the background hum of life" when he was growing up.
One of his teachers had a coffee mug bearing a National Front slogan and another attacked him during a school trip, he said.
Talking about the night his family home was attacked, Olusoga said racist messages were strapped to bricks before they were smashed though the windows.
"I think it says something quite remarkable about the power of the idea of race," he said. "Because these guys were probably not much older than me and my siblings.
"They went to the same shops and the same cinemas, they supported the same football team. And they decided that the right thing to do was to get up in the middle of the night and throw bricks through the glass windows of bedrooms in which children were sleeping."
Olusoga, who lives in Bristol, also spoke on the show of his support for protesters who toppled the statue of 17th century slave trader Edward Colston in the city.
"It was always something that bothered me about Bristol and I think Bristol is a better place without it," he said.
Appeal after 'gentle soul' road safety officer Allan is 'kidnapped' | UK News
Road safety officer Allan has been "kidnapped" from his post and residents of Braemar are appealing for his return.
The mannequin has been stationed on the A93 in Aberdeenshire for two months reminding drivers to slow down for the village's 30mph speed limit.
Geva Blackett, councillor for Aboyne, Upper Deeside and Donside, said Allan was last seen at 1.30pm on Saturday before disappearing "not of his own volition".
In a Facebook post, she wrote: "Allan took great pride in his role of reminding people driving into Braemar from Glenshee on the A93 that they were in a 30mph speed limit.
"Children, elderly folk and red squirrels are all at risk if people forget. Now he has gone – and not of his own volition.
"Someone has taken him!
"Have you seen Allan?
"Whoever kidnapped him, please give him back – he was last seen at 1.30 this afternoon (Saturday) and is a gentle soul, never offends anyone and well liked here in Braemar."
Ms Blackett said she had initially asked the local police inspector if a cut-out police officer could be placed at the roadside to warn the speedsters.
But there were none spare, so Allan was drafted in.
There is no word on a replacement during Allan's unplanned absence.
Biden-Johnson call: The 'special relationship' is off to a good start | US News
The state of the special relationship between Britain and America under a Biden presidency has been the focus of intense speculation.
Joe Biden and Boris Johnson are not political bedfellows. Mr Biden has referred to Mr Johnson as the physical and emotional clone of Donald Trump and is no fan of Brexit.
But Saturday's phone call and its timing will be encouraging news for Downing Street.
President Biden did contact Mexico's President Andrés Manuel López Obrador and Canadian Prime Minister Justin Trudeau on Friday and only got round to Mr Johnson the following evening but American presidents always contact their immediate neighbours first.
The fact the prime minister is the first world leader outside of North America to be called by President Biden suggests the so-called special relationship is in better shape than some had feared.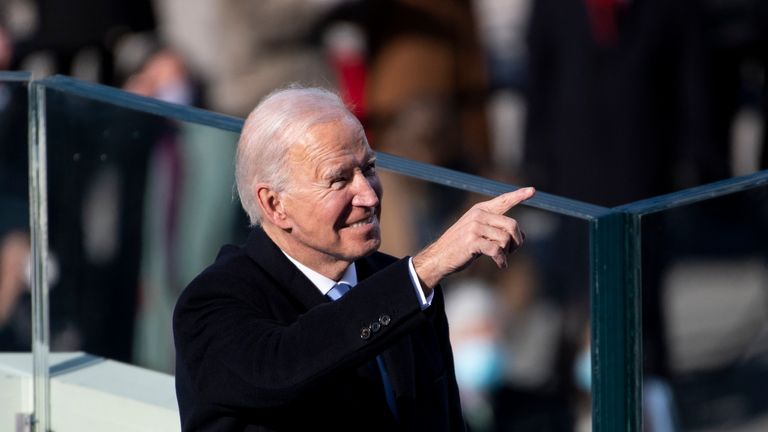 It was a wide-ranging call and focussed on what the two leaders can agree on, primarily tackling COVID-19 and climate change. Both leaders have made it clear they regard the two crises of paramount importance.
In a statement after the call, the White House said: "The president conveyed his intention to strengthen the special relationship between our countries and revitalise transatlantic ties, underscoring the critical role of NATO to our collective defence and shared values."
And it stressed the need for co-operation on shared challenges including "combatting climate change, containing COVID-19 and ensuring global health security".
Notably absent from the White House readout was any mention of discussion of a free trade deal.
A Downing Street spokesman put the emphasis on COVID-19, saying the leaders "noted the significant challenges facing the world during the pandemic, but also the unparalleled opportunities to build back better and greener together".
"The prime minister warmly welcomed the president's decision to re-join the Paris Agreement on climate change, as well as the World Health Organisation and the COVAX programme to ensure equitable access for vaccines."
Security, defence, human rights and protecting democracy were also discussed, we are told.
In contrast with the White House readout, Downing Street says the two men talked about "the benefits of a potential free trade deal between our two countries, and the prime minister reiterated his intention to resolve existing trade deals as soon as possible".
Subscribe to Divided States on Apple podcasts, Google Podcasts, Spotify, and Spreaker
Mr Johnson is hoping for a free trade deal in the wake of Brexit – something he had pursued with president Donald Trump. Both White House press secretary Jen Psaki and Treasury Secretary Janet Yellen have in the last week poured cold water on hopes for a free trade deal, saying the administration would be too busy dealing with COVID-19 to make it a priority.
Fears of tensions in the special relationship may have been exaggerated, however.
Those who know President Biden well say he is not a vindictive man and is keen to start afresh with allies at the outset of his administration. Mr Johnson may have more to worry about with the people around Mr Biden who resent his description of president Barack Obama as part-Kenyan in a newspaper article.
The omens from this call are good. The two leaders have decided to focus on what they can agree on. The world is in too parlous a state to let minor differences get in the way. The two men can continue developing their own special relationship when they meet at the G7 summit in June.
'Incredibly selfish' people attending parties during COVID lockdown | UK News
Police have criticised party-goers for making "incredibly selfish" decisions during the coronavirus lockdown.
Superintendent Michael Walsh, of the Met's Central West Basic Command Unit, was speaking after a series of late-night parties in the London borough of Kensington and Chelsea.
On Sunday, 17 January police found more than 200 people at an illegal gathering in Knightsbridge.
When told to go home, the attendees became hostile and pushed past officers in an attempt to avoid being fined, police said.
Two officers were injured, around 30 fixed penalty notices were issued, and a three-month closure order is being prepared for the establishment, which had already been fined for a previous breach of COVID legislation.
On Saturday, 16 January more than 30 people were found socialising in a venue in Ladbroke Grove, police said.
The venue's owner is being considered for a fixed penalty notice amounting to £10,000 and those who attended were told to go home.
Last month, an illegal gathering at a commercial property in Knightsbridge resulted in the venue being closed for three months, following previous breaches of COVID legislation.
Superintendent Michael Walsh, of the Met's Central West Basic Command Unit, said the incidents showed "flagrant breaches of COVID legislation and could potentially have put multiple people at risk of contracting or spreading the virus".
He added: "Attending or organising such parties during this critical period is an incredibly selfish decision to make and we will continue to take action against those who flout the rules.
"My officers continue to work incredibly hard to uphold COVID legislation in order to keep people safe. While the majority of breaches have been resolved without incident, it deeply saddens me that some individuals have chosen to assault police officers who are simply doing their part in the collective battle against this deadly virus.
"We will absolutely not tolerate assaults on police officers. It goes without saying that anyone who harms an emergency worker will face the full force of the law."