NXT TakeOver: Stand & Deliver Night One results and match grades
NXT had their first two-night TakeOver event and kicked things off with a pair of title matches for Night One on USA Network before the event shifts to the WWE's new home on Peacock for Night Two. 
Night One was a solid display of action as two new champions were crowned and we found out who Johnny Gargano would defend his NXT North American title against on Night Two.
Here's how it all went down. 
Pete Dunne def. Kushida
There was no reason for this match to happen but nobody needs to care about that. Wrestling is what NXT does really well and there aren't too many more intriguing options than having Kushida and Dunne give us a wrestling clinic. In the early going, it was Pete Dunne who was out-Kushida-ing (yes, I made that up) Kushida by stringing together submissions and out grappling the former NJPW standout. It has to be said just how incredible Dunne has looked since the pandemic. He's slimmed down considerably and looks every bit of the ring tactician that he's made himself out to be. As for Kushida, he's always been great but he feels sort of stuck in the middle of a very loaded roster. 
Nevertheless, Kushida worked his way back into a match and sank in a beautiful hoverboard lock off the top rope that Dunne barely managed to escape from. But Dunne eventually broke Kushida down with his finger manipulation, stomped the hell out of Kushida's hands, landed his Bitter End finish and got the pin. It wasn't a classic but it was a fantastic opener to warm the crowd up. 
Grade: B
Bronson Reed wins Gauntlet Eliminator for an NXT North American Championship opportunity
It's hard to be invested in a match to see who will challenge Johnny Gargano when nobody outside of Dexter Lumis has had an angle. For whatever reason, they decided to go with Bronson Reed, who has no history with Gargano in NXT's biggest show of the year. 
The match itself was fine but never really gave us the all-out action that we've come to expect with NXT. And once Lumis was eliminated, it was a struggle for anyone to be invested in the winner.
Swerve Scott and Leon Ruff had some great exchanges early until Bronson Reed entered and used his size to bully his opponents. Reed showcased his strength but pulling off a German suplex simultaneously on Scott and Ruff. Cameron Grimes and his fantastic millionaire gimmick entered next. He attempted to pay off Scott to work together in an effort to eliminate Reed and Ruff. Ruff would end up being eliminated by Scott as Dexter Lumis entered next followed by LA Knight. Surprisingly, LA Knight and Grimes joined forces to eliminate Lumis. Reed then got rid of LA Knight. Reed, Grimes and Scott had a nice sequence until Scott eliminated Grimes. With Reed and Scott left, we had a decent sequence with an almost nauseating series of near falls until Reed hit the big splash off the top rope to finish the job. 
Unfortunately, this match felt like filler for an unnecessary two-night show. Reed and Gargano could certainly deliver but it just doesn't feel like a match built for the biggest TakeOver of the year.
Grade: C
WALTER def. Tommaso Ciampa to retain NXT United Kingdom Champion
This was a difficult match to get invested in considering that Ciampa gets a title shot with little momentum against one of the most dominant champions in WWE. 
These two worked hard but Ciampa got in a significant amount of offense. Maybe too much. 
The story here was WALTER injuring his right hand and being unable to use his debilitating chops to take out Ciampa. It led to a competitive match where WALTER was hampered by the injured hand. The work was solid but the finish was never in doubt. It was kind of inexplicable to see Ciampa no sell WALTER during spots in the match considering that the champion has been a dominant force for nearly two years. But if we are to think that we're getting the Ciampa from a few years ago when he was the NXT champion, maybe it makes more sense. 
Once WALTER kicked out of the Widow's Bell the match hit another gear. Another near fall from an Air Raid off the second rope produced another near fall. Some brutal chops from Ciampa followed but WALTER used his left hand to chop his opponent. A pair of powerbombs from WALTER couldn't seal the deal as Ciampa continued to kick out. It wasn't until a sleeper suplex was followed by a chop that WALTER got the job done. 
This one is tough to grade because nobody thought Ciampa had a chance to win. The work was solid but we just didn't get an angle where we could think that the NXT UK championship would change hands. It would be great to see WALTER in there against one of the best talents in NXT and hopefully, that will happen sooner than later. 
Grade: B-
MSK def. Grizzled Young Veterans & Legado del Fantasma for the NXT Tag Team Championship
We knew that this match was going to be fun the moment it was booked. MSK, Legado del Fantasma and Grizzled Young Veterans are the perfect teams to reboot a division that has been a little stagnant over the past few months. 
The action was fast and furious from the opening bell with everyone getting their time to shine. Trying to run down the action would do the match a disservice. Just know that the pacing was absurd with more than a few breathtaking moves.
Like this…
And this…
After Legado del Fantasma was taken out, MSK and Grizzled Young Veterans battled it out in a revisit of their Dusty Rhodes Classic finale. MSK got the upper hand and landed their finisher to be crowned as the new NXT tag team champions. Go out of your way to watch this match.
Grade: B+
Raquel González def. Io Shirai for the NXT Women's Championship
It's the dawn of a new era in the NXT women's division. 
Raquel González took everything that Io Shirai had, including an absolutely bonkers dive from the top of the stage, to pick up the victory in what was easily the best match of Gonzalez's career. 
It's also a testament to just how phenomenal Shirai has been. One has to wonder if she is now moved to Raw or SmackDown, which feels a bit crowded at the moment. 
It was the athleticism of Shirai vs. the power of González and the two played off each other brilliantly. González isn't nearly as experienced as Shirai but her power made everything seem believable as Shirai did her best to avoid her. It was an excellent display of violent ballet by Shirai as she found ways to outmaneuver her powerhouse opponent and gain the upper hand.
But this was all about the crowning of González and Shirai gave her everything she needed to start her journey as champion. 
One particular sequence saw Shirai hit the moonsault to González on the outside and crush her with a running knee strike. Shirai then climbed to the top of the stage and dived onto González that drew an audible gasp from the crowd as the two hit the ground hard.
Shirai would hit her trademark moonsault back in the ring but González kicked out. It was the first time that any of Shirai's opponents have kicked out of the moonsault. 
González then nailed Shirai with the powerbomb on the outside, rolled her back in and crushed her with a lariat. Another one-armed powerbomb followed and González pinned Shirai to become the new NXT women's champion.  
Nobody is sure if González can hold this division down. But the same could be said for Shayna Baszler, who had a dominant reign and won people over with a similar style that relied heavily on violence. One thing to pay attention to is how Dakota Kai settles into González's shadow. 
Grade: A-
Kelechi Iheanacho is Leicester's key man as club targets historic FA Cup final
Kelechi Iheanacho is possibly looking forward to Sunday's FA Cup semifinal against Southampton even more than his Leicester City teammates.
Usually, the FA Cup provides some level of distraction for wobbling sides who tend to welcome the interruption to their league malaise, but this is not just any game for the Foxes.
MORE: How to watch FA Cup in USA
Ask any local fan and you're likely to hear the same thing: the supporters being delighted at the prospect of making it to their first final at the sport's oldest cup competition in a couple of generations.
Having failed to play in the last four since 1982, Iheanacho's heroics in the last stage against Manchester United meant Brendan Rodgers got more joy at this round after suffering defeat at the hands of Chelsea last year.
The Nigeria front man netted twice and set up another in the Foxes' deserved 3-1 victory over a pitiful Red Devils side, carrying the 2016 Premier League champions into the final four.
Their last appearance in a final was in 1969, and the gap of 52 years is truly staggering.
They are the only PL champions to never win the FA Cup, and Iheanacho's form means Leicester is now two wins away from glory. While nothing will ever beat their 2016 league success, supporters will cherish victory in the competition and the club's return to Wembley this year has to elicit excitement in the fan base.
While it leaves no room for complacency, the Foxes were probably pleased by their semifinal draw which pits them with a Southampton side that hasn't been itself since the turn of the year. Compared to Manchester or Chelsea, this was the last-four encounter Leicester would have have desired after beating United . . . and the same could be said for Saints.
"[Southampton] are a strong side; they have quality individual players and they play as a team as well," Iheanacho told LCFC TV in the build-up to Sunday's match. "We need to do more than them, we need to fight and hurt them first in the first half, so we don't need to go behind.
"We always have that hunger and desire to win trophies, of course, other teams are preparing as well. We need to sacrifice so many things and give our best shot.
"That's what we need to do. In training and on the game, we need to do what we can, work extra and give extra than what we do, I think we are getting ready to do that."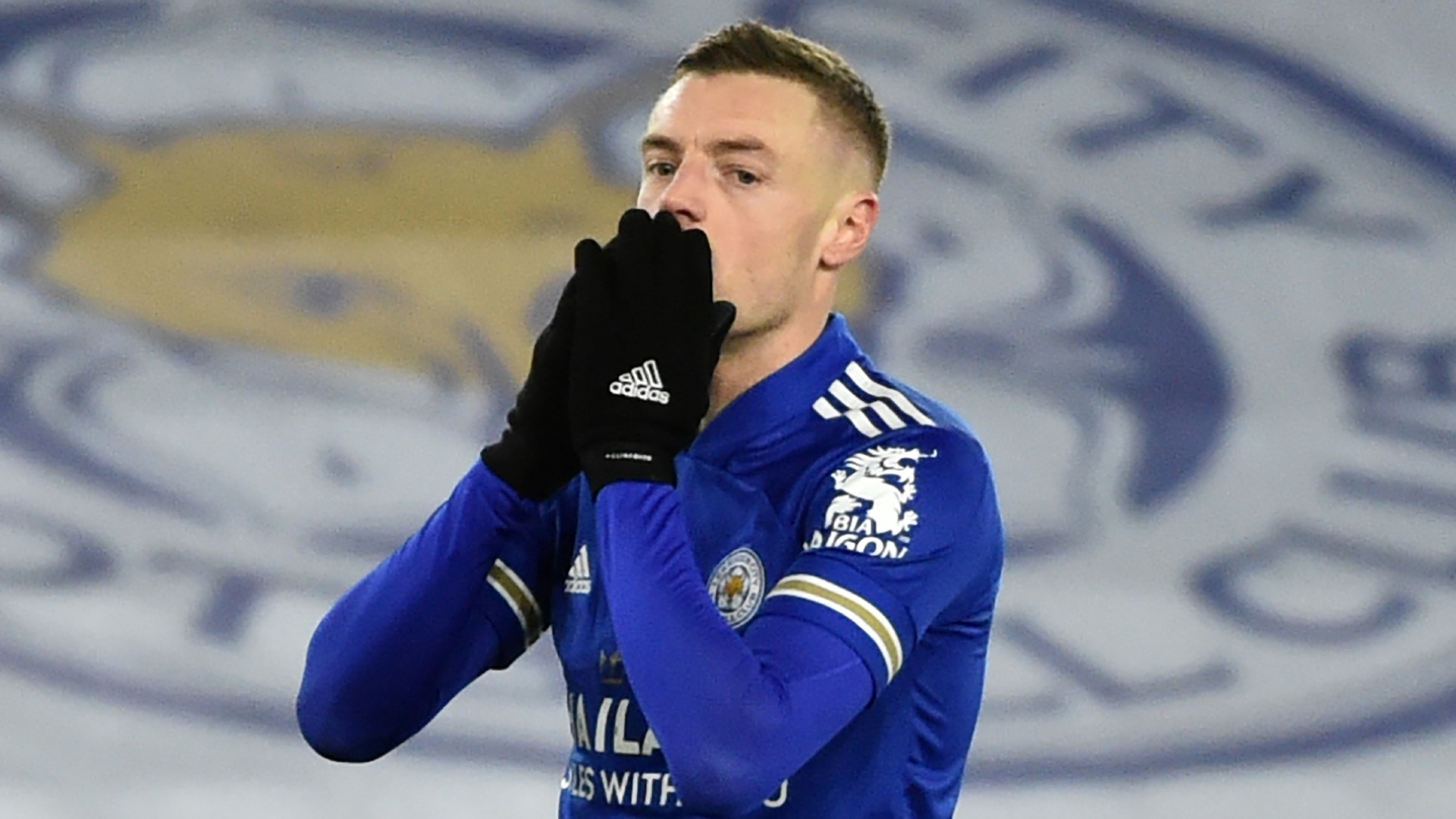 Given the dramatic decline of Jamie Vardy since the turn of the year, a counterargument is unlikely to be presented if anyone earmarks the West African as the Foxes' key man going into the game.
It was the ex-Man City player who thrived against West Ham United last time out when the Englishman toiled without success at the London Stadium as Rodgers' men rallied late on but lost 3-2 to put next year's Champions League participation in jeopardy.
Frankly, it's been that way for a few months now with Leicester's top striker a shadow of his usual self in the attacking third, scoring only once and assisting three in 16 games in 2021. In his opening 17 appearances in all competitions this term, Vardy was involved in 17 goals. The drop-off since January is jarring.
Even though CL qualification is still in the club's hand, this weekend isn't for worrying over its place among Europe's elite in 2021-22. Rather, the East Midlands club ought to be focused on being back at the Home of Football, featuring in its first FA Cup semi in 39 years and looking to take part in its first final in a half-century.
Iheanacho's three goals in the competition this season makes him Leicester's top scorer and the in-form front man who overtook Chelsea's Didier Drogba for FA Cup goals after his quarterfinal brace wasn't keen to dwell on supplanting the Blues legend's 12 strikes.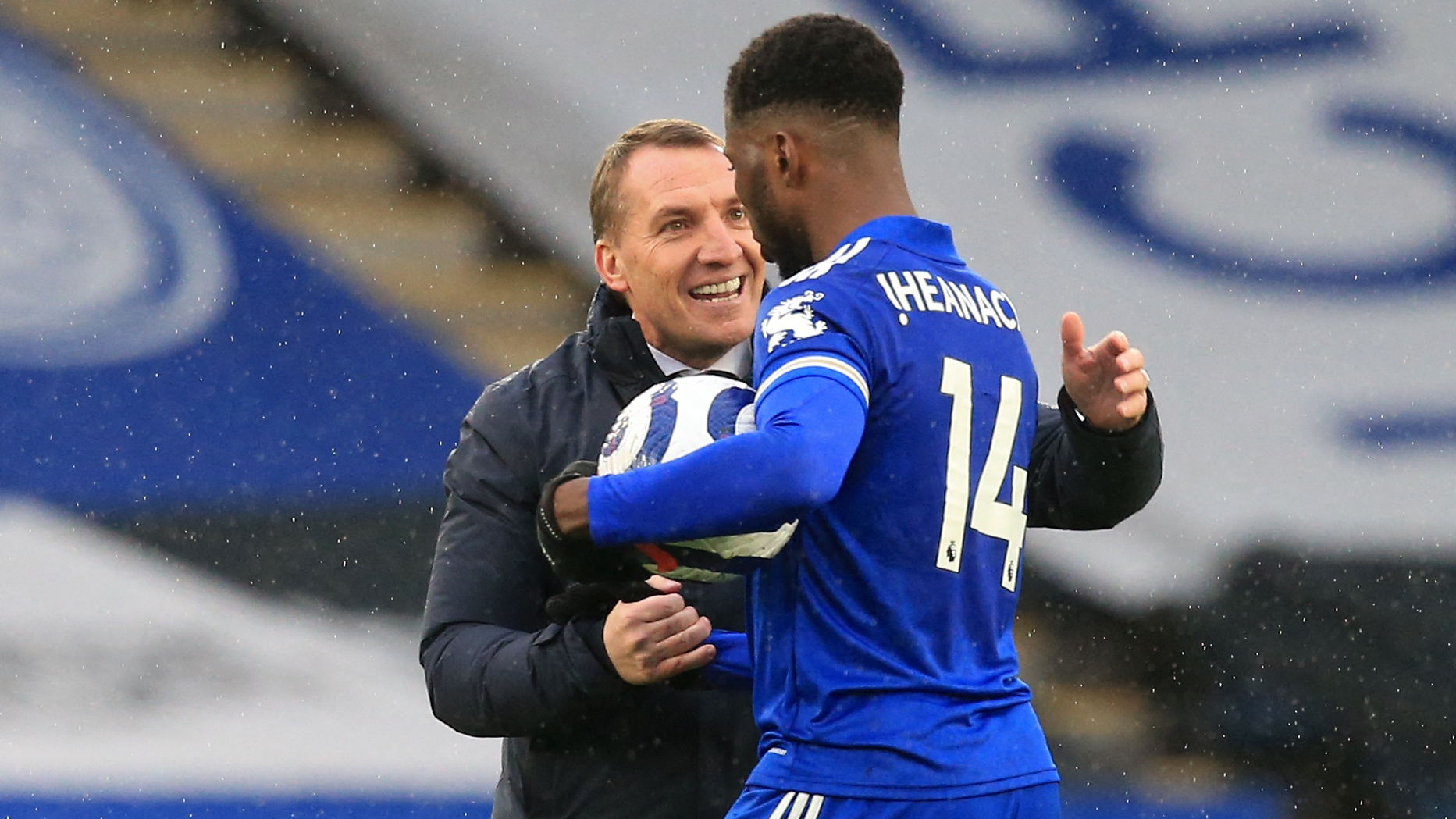 "Personally, I'm proud of it but I don't want to think about it, I don't want to lose my focus on the game," the Nigerian stated. "After the season, I will start thinking about it because we have big weeks in the FA Cup and the Premier League. We need that concentration and determination to win games and get to where we want.
"I'm in a good place at the moment, I just need to keep helping my team. I need to put in the hard work every day, the form is coming now and I just need to keep going."
Drogba, who by and large made Wembley his playground, was the West London side's man for the big occasions, a responsibility which made him feared in the competition's closing stages. Usurping the Ivory Coast icon is no mean feat, but the job is far from done.
Despite making history and ending nearly four decades of pain for Leicester fans, Iheanacho now has to carry the can to take Rodgers' side into their first FA Cup decider in over 50 years. Given his current form, you wouldn't bet against him.  
Mookie Betts' diving catch preserves another tense Dodgers win over Padres
The Dodgers-Padres rivalry jumped up another notch Saturday night courtesy of Mookie Betts.
Betts made a diving catch in center field to rob the Padres' Tommy Pham of a game-tying hit in the bottom of the ninth inning and seal a 2-0 Los Angeles victory. Betts caught Pham's line drive in the palm of his glove and then held onto the ball with both hands before it could drop to the turf. The catch withstood a video review.
Statcast pegged the catch probability at 10 percent.
"I just kind of blacked out," Betts told reporters, per MLB.com. "I just knew when the ball went up in the air, I had to catch it."
MORE: Cody Bellinger injury timeline
The play ended another tense affair between the top two teams in the National League West. Emotions were running hot for much of Saturday after Dodgers ace Clayton Kershaw and Padres utility man Jurickson Profar shouted profanities at each other in the fourth inning. Kershaw was upset that Profar hit catcher Austin Barnes' mitt with a late swing and drew a catcher's interference call.
The benches emptied in Friday night's series opener after Dodgers reliever Dennis Santana hit the Padres' Jorge Mateo with a pitch in the 10th inning. LA went on to win that game 11-6 in 12.
Kershaw wound up outdueling the Padres' Yu Darvish over six innings in Game 2, and he also drove in the Dodgers' first run with a bases-loaded walk. Justin Turner added insurance with a solo home run in the ninth inning. 
These teams will wrap up the series Sunday at Petco Park. Another high-level pitching matchup is on tap: Trevor Bauer for the Dodgers and Blake Snell for the Padres.
Lakers will not visit White House while in Washington, report says
The defending NBA champion Lakers will be in Washington, D.C., in late April to play the Wizards. Their trip reportedly will not include an excursion to the White House.
A source told ESPN's Dave McMenamin on Saturday that the Lakers will forgo meeting with President Joe Biden because of a tight travel schedule and COVID-19 protocols. The team has not ruled out a future meeting with Biden, however, the source added.
MORE: LeBron James injury timeline
The Lakers are scheduled to play at the Wizards on April 28 but will have April 27 open after arriving in Washington from Orlando, where they're scheduled to play the Magic on April 26. The team will return home to Los Angeles after the Wizards game and then play April 30 at Staples Center against the Kings.
Yahoo Sports reported Jan. 7, after Congress certified Biden's Electoral College victory over Donald Trump, that Lakers players wanted to visit Biden at the White House but needed to see whether Biden's schedule would allow for a meeting and what the White House's COVID-19 protocols would be in late April.
No reigning NBA champion has visited the White House since LeBron James and the Cavaliers met with former President Barack Obama in November 2016.