NFL mock draft 2021: Cowboys, Eagles opt for defense in top 10; 49ers, Steelers find QBs of future
With a little more than a month left in the 2020 NFL regular season, it's another good time for a new 2021 NFL mock draft.
The college football season has shaken up the stock of propsects across the board, because of both who's playing and who's not. There's also a better indication of what teams will be locked into high selections for next April.
Here's how we see the picks from 1-32 playing out now. The top 18 picks are based on the current draft order, according to Tankathon. The bottom 14 is based on SN's projected finish of the current playoff teams through Super Bowl 55.
MORE: NFL playoff picture after Week 12
NFL mock draft 2021
1. New York Jets (0-11)
Trevor Lawrence, QB, Clemson (6-6, 220 pounds)
With Sam Darnold breaking down and not living up to his first-round promise, even with limited help, the Jets will find it hard to pass on this generational talent, a can't-miss QB prospect in the echelon of Andrew Luck and Joe Burrow. Lawrence isn't just a great passer and athlete; he's an accomplished leader and winner, just like those other two. Lawrence will be coming out despite some rumors to the contrary. The Jets would make that easier by replacing Adam Gase as head coach.
MORE: The 10 best fits for Trevor Lawrence in the NFL
2. Jacksonville Jaguars (1-10)
Justin Fields, QB, Ohio State (6-3, 233 pounds)
Fields is getting his desired second college starting season, albeit abbreviated, to help build his stock and push Lawrence, confirming the dynamic dual threat has his eyes on the draft. Between an injured Gardner Minshew and elevated backups Jake Luton and Mike Glennon, Jacksonville needs to clean up the mess with likely a new coach. Fields finds a good fit with the Jaguars' solid skill players, led by undrafted rookie feature back James Robinson.
3. Cincinnati Bengals (2-8-1)
Penei Sewell, OT, Oregon (6-5, 325 pounds)
The Bengals have made some investments in their offensive, line including first-round tackle Jonah Williams from 2019, but they need to better protect franchise quarterback Joe Burrow when he can come back from his big knee injury. Sewell's strong, sturdy presence would be a great fit in front of Burrow and also help their running game.
4. Dallas Cowboys (3-8)
Caleb Farley, CB, Virginia Tech (6-2, 207 pounds)
Farley was one of the first top prospects to opt out for his final college season. He has great size and solid all-around coverage skills for the position.  The Cowboys' secondary has been awful without Byron Jones and Farley would be a good complement to Trevon Diggs. Jerry Jones needs to focus on shoring up the back end first.
5. Los Angeles Chargers (3-8)
Patrick Surtain II, CB, Alabama (6-2, 203 pounds)
Chris Harris Jr. and Casey Heyward are breaking down with injuries as older cornerbacks, and Desmond King was traded to the Titans. Surtain, with his pedigree, size and ball-hawking skills, has the potential to be a true shutdown player. 
MORE: The biggest busts in NFL Draft history
6. Philadelphia Eagles (3-7-1)
Micah Parsons, ILB, Penn State (6-3, 245 pounds)
The Eagles have had some of the worst linebacker play in the NFL and they can stay in-state to address their greatest need if they stay up here in the draft order without a playoff berth. Parsons is a rangy, hard-tackling and well-covering cleanup man in the Luke Kuechly mold. Ahead of his opt-out from conference play, he had 109 total tackles, including 5 sacks, last season for the Nittany Lions.
7. Carolina Panthers (4-8)
Zach Wilson, QB, BYU (6-3, 210 pounds)
Wilson has had an exceptional season with his accuracy and downfield passing to quickly emerge as a threat to be the third QB off the board after Lawrence and Fields. Teddy Bridgewater has fared pretty well as the bridge QB in Carolina, but there's also an indication they have a limited ceiling with him and should think about replacing him by 2022 with a longer-term solution. Wilson would be a strong, cerebral fit for Joe Brady's offense.
8. Washington Football Team (4-7)
Trey Lance, QB, North Dakota State (6-4, 226 pounds)
Washington seems to be done with Dwayne Haskins after less than two seasons, and neither Kyle Allen nor Alex Smith are long-term answers. Despite Lance's one-game showcase for the Bison not going as planned in 2020, one cannot ignore the impressive physical and athletic skills he displayed in his first full season of action (2,786 yards passing, 28 TDs, zero INTs, 1,100 yards rushing, 14 more TDs). His name is only a few letters different from Trevor Lawrence and he carries an extremely high ceiling.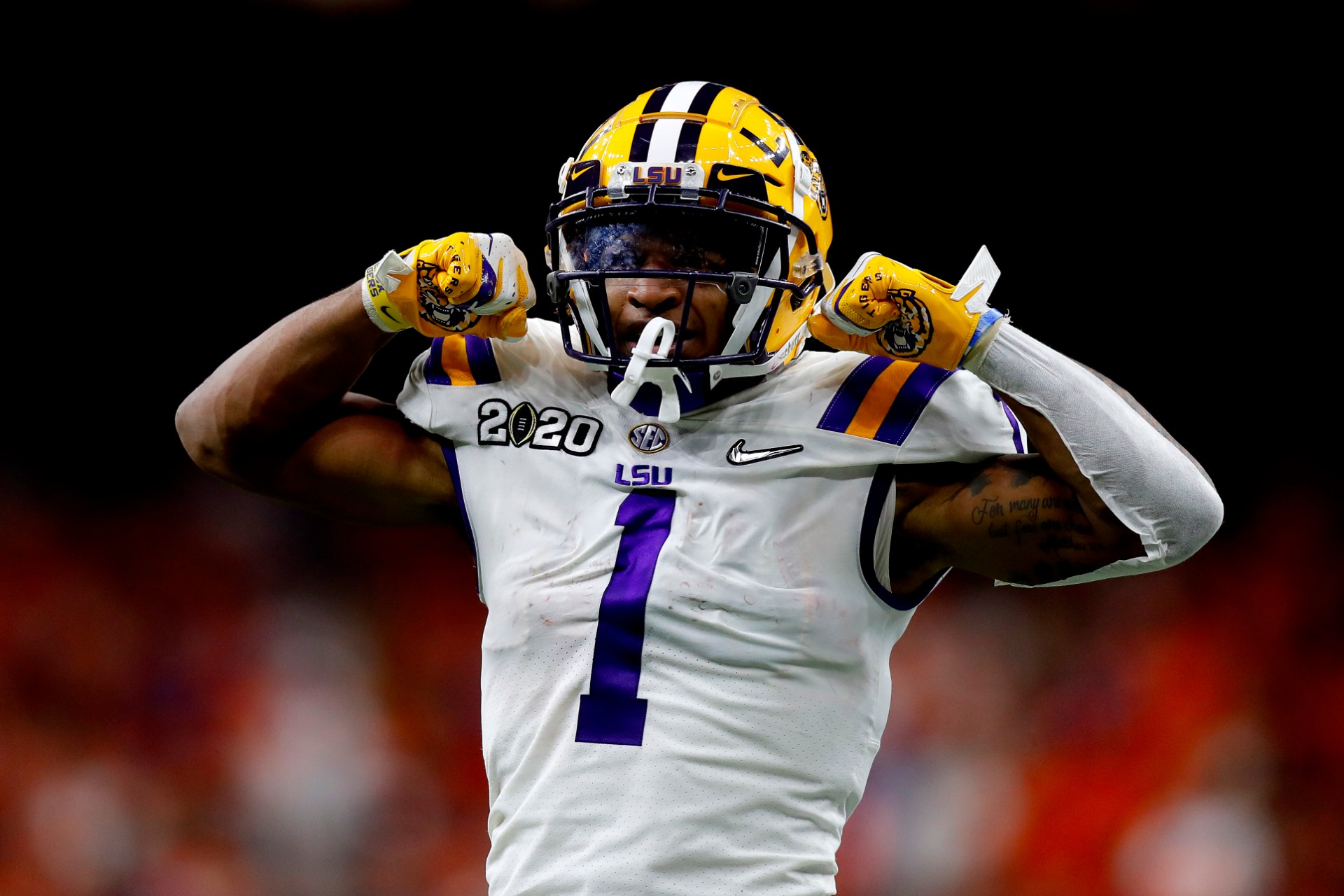 9. Detroit Lions (4-7)
Ja'Marr Chase, WR, LSU (6-1, 208 pounds)
The Lions will need to replenish at wide receiver opposite Kenny Golladay with Marvin Jones Jr. heading into free agency for his age 31 season. Chase, opting out of LSU's season, is coming off a big final season with Burrow (84 catches, 1,780 yards, 20 TDs) and would be an excellent additional big playmaker to pair with Matthew Stafford.
10. Atlanta Falcons (4-7)
Gregory Rousseau, EDGE, Miami (6-6, 260 pounds)
With the demise of Matt Ryan greatly exaggerated, the Falcons do the smarter thing for the short term and try to fix their defense again. They keep having issues rushing the passer so they should want an upgrade for whoever is coaching them in 2021. The ACC and the Hurricanes are playing, but Rousseau, who opted out, didn't really need to play to boost his stock after posting 15.5 sacks and 19.5 tackles for loss in his lone significant and final season under defensive-minded head coach Manny Diaz.
11. Miami Dolphins (from Texans for Laremy Tunsil)
DeVonta Smith, WR, Alabama (6-1, 175 pounds)
The Dolphins need a home-run hitting playmaking to further complement DeVante Parker. Smith has picked up from he left off last season, posting 68 catches for 1,256 yards and 14 TDs, making his big share of big plays all over the field in another loaded receiving corps. He has 72 catches for 1,074 yards and 12 more TDs in eight games this season.
12. Denver Broncos (4-7)
Jaycee Horn, CB, South Carolina (6-1, 205 pounds)
Offensive tackle is no longer a pressing need with Garret Bolles playing very well (finally) and earning his extension. The Broncos might think about a Drew Lock replacement, but cornerback is a big defensive area to address.  Horn, the son of former NFL wide receiver Joe Horn, is getting the due he deserves as a big-time corner. His big two-interception game against Auburn fueled an upset as he was the best player on the field in that game. Horn has good size, length, athleticism and physicality. 
MORE: The biggest steals in NFL Draft history
13. Chicago Bears (5-6)
Rondale Moore, WR, Purdue (5-9, 180 pounds)
The Bears may or may not bring back Allen Robinson, but regardless of who their QB is in 2020, they need more dynamic playmakers everywhere. Moore, who opted back in to make more big plays for the Boilermakers in 2020, is a versatile athlete and an explosive catch or carry waiting to happen.
14. Minnesota Vikings (5-6)
Wyatt Davis, G, Ohio State (6-4, 315 pounds)
The Vikings have been hurting at guard next to first-round center Garrett Bradbury without Pat Elflein, who's also a free agent in 2021. Davis can be an elite NFL interior blocker and already has showed plenty in the way of paving the way for the Buckeyes' prolific rushing attack before deciding to opt in back into the season.
15. New England Patriots (5-6)
Kyle Pitts, TE, Florida (6-6, 246 pounds)
The Patriots should be in the market for a quarterback early, but they could also go for the best player available, a real difference-making tight end a la Rob Gronkowski to help whomever is passing for them in 2021. Pitts is dominating SEC play this season with 29 catches for 513 yards and 11 TDs in only 6 games.
​16. San Francisco 49ers (5-6)
Mac Jones, QB, Alabama (6-3, 214 pounds)
Jones is having himself a big season replacing Tagovailoa in Tuscaloosa. He has been the complete package in leading the Tide, having a Burrow-style breakout with his accuracy, big arm and downfield production, racking up jaw-dropping passing totals in the process. His strong pocket passing should have great appeal as an upgrade to Jimmy Garoppolo.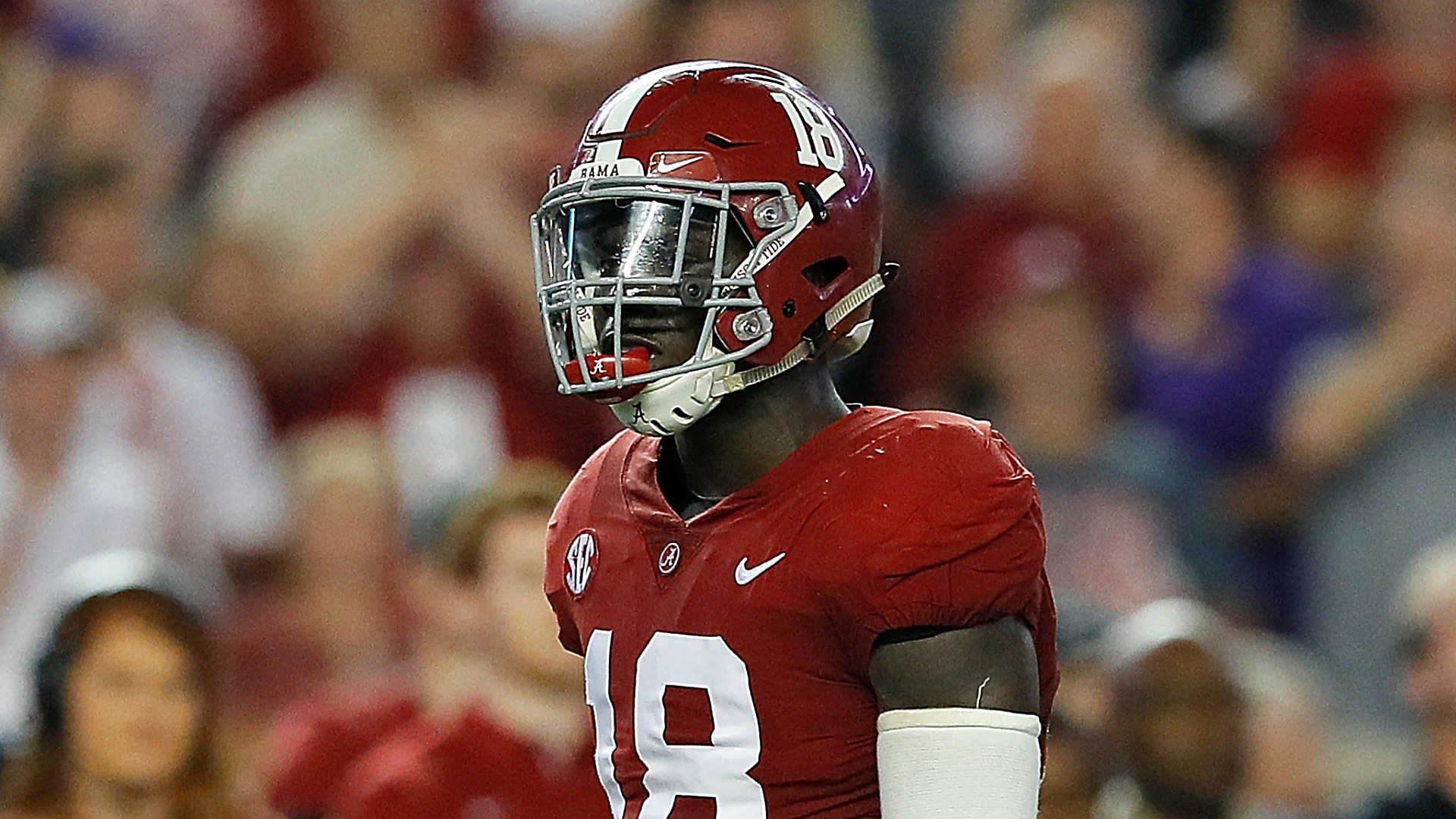 17. Las Vegas Raiders (6-5)
Dylan Moses, OLB, Alabama (6-3, 240 pounds)
The Raiders need to keep investing in the second level after landing Nick Kwiatkoski and Cory Littleton in free agency. Moses, rangy, instinctive and ideal for Paul Guenther's defense, easily would have gone in the 2020 first round without the knee injury that wiped out his entire 2019 season in Tuscaloosa. This season, Moses has picked up where he left off in 2019 with 56 tackles, 1.5 sacks and an interception in seven games.
18. Baltimore Ravens (6-4)
Rashod Bateman, WR, Minnesota (6-2, 210 pounds)
The Ravens have too many speedy deep threats and not one consistent, reliable route-running go-to guy all over the field. Marquise Brown needs a better complement. Bateman, who opted back in for a while in 2020, put up 60 catches for 1,201 yards and 11 TDs working opposite Buccaneers draft pick Tyler Johnson in 2019. Without Johnson, he finished with 36 catches for 472 yards and 2 TDs in five games this season.
19. New York Giants (4-7)
Jaylen Waddle, WR, Alabama (5-10, 182 pounds)
Waddle played only four games before his season-ending ankle injury and he still posted 25 catches for 557 yards and 4 TDs. The Giants have had a rough time with veteran Golden Tate and could use a little more reliable young playmaking with Darius Slayton and Sterling Shepard for Daniel Jones.
20. Arizona Cardinals (6-5)
Kwity Paye, EDGE, Michigan (6-4, 272 pounds)
Paye tapped into pass-rushing upside with two sacks in four games this season before being curbed by a lower-body injury. The Cardinals need a little more punch in getting to the quarterback to complement Chandler Jones, who will be 31 in 2021 coming off a biceps injury in the final season of his contract.
MORE: Most painful NFL Draft slides of last 20 years
21. Miami Dolphins (7-4)
Trevon Moehrig, S, TCU (6-1, 208 pounds)
The Dolphins have invested a ton at cornerback and linebacker but need a rangy centerfielder in Brian Flores' secondary. Moehrig has been rising up boards standing out from several close rospects at his position.
22. Tampa Bay Buccaneers (7-5)
Travis Etienne, RB, Clemson (5-10, 205 pounds)
The Bucs tried their best to solve running back woes in the passing game by adding Leonard Fournette, Ke'Shawn Vaughn and LeSean McCoy behind Ronald Jones, but Tom Brady really could use a more versatile weapon in the James White mold for his second year with the Buccaneers. Etienne, who surprised by returning to Clemson, has racked up 1,203 scrimmage yards and 14 TDs in nine games, adding to his dazzling career numbers with the Tigers. He's a special back for the modern NFL offense, with some of both Alvin Kamara and Dalvin Cook in his game.
23. Indianpolis Colts (7-4)
Samuel Cosmi, OT, Texas (6-7, 300 pounds)
The Colts need to think about a replacement for 32-year-dold potential retiree Anthony Castonzo, who's now battling a knee injury that will cause him to miss time. Cosmi is a massive prospect for the position with nimble feet to match.
24. Jacksonville Jaguars (from Rams for Jalen Ramsey)
Liam Eichenberg, OT, Notre Dame (6-6, 305 pounds)
Cam Robinson is heading into free agency after a shaky season of pass protection. The Jaguars should look to address left tackle, too, with this second first-rounder to help Fields. Eichenberger is a strong, smooth player with good technique who can keep Fields upright and also keep Robinson rolling downhill.
25. Cleveland Browns (8-3)
Jeremiah Owusu-Koramoah, OLB, Notre Dame (6-2, 216 pounds)
The Browns need to healthier, more active and versatile on the second level to help their defense all-around. He covers like a defensive back and has room to grow into a physical run stopper.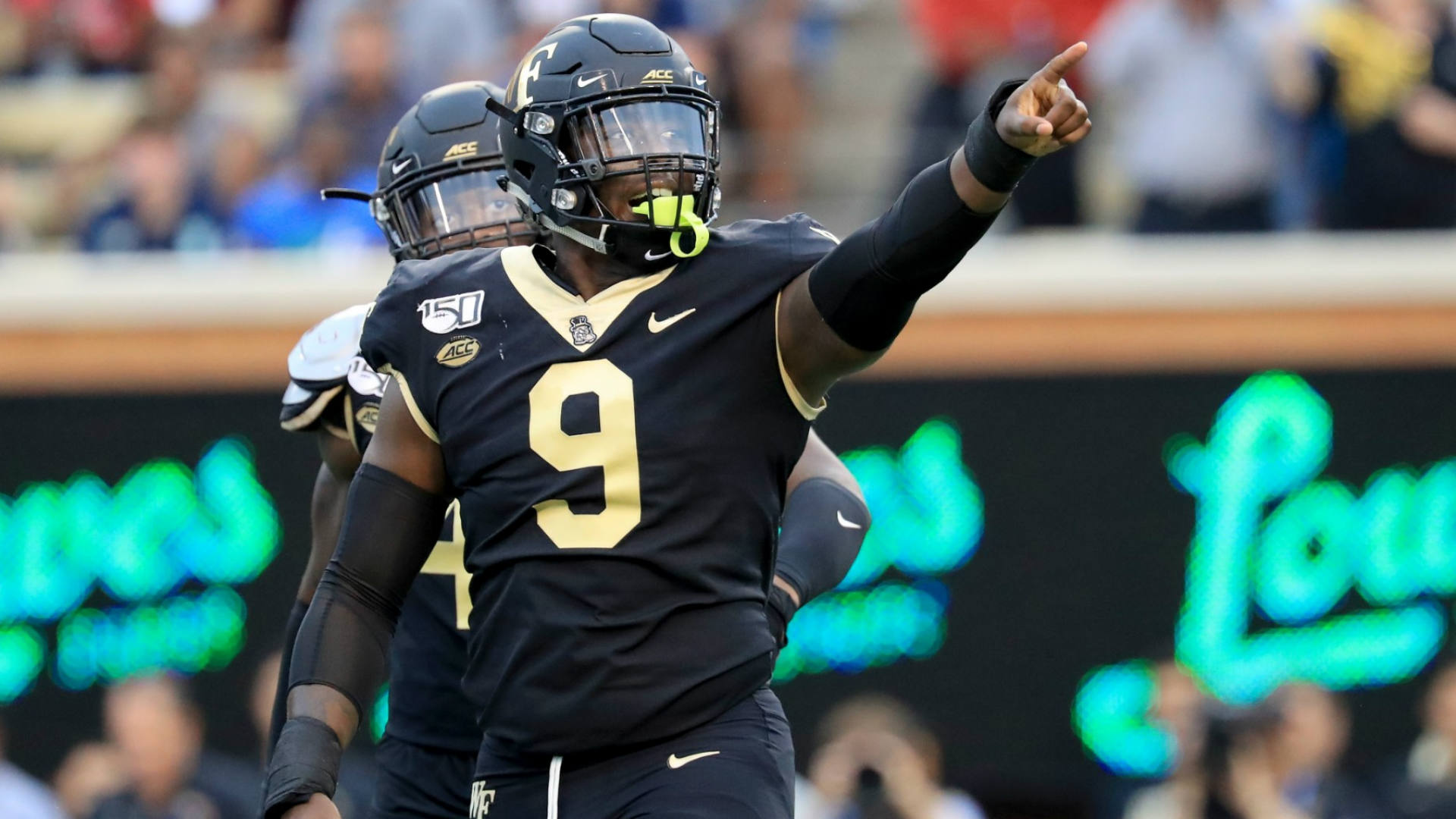 26. Buffalo Bills (8-3)
Carlos Basham Jr., EDGE, Wake Forest (6-5, 285 pounds)
The Bills need to replenish their pass rush for Sean McDermott with some youthful juice. The explosive Basham has built on his 10 sacks and 18 tackles for loss for the Demon Deacons last season with 5 sacks in the first six games this season.
27. Green Bay Packers (8-3)
Marvin Wilson, DT, Florida State (6-5, 311 pounds)
The Packers need to get beefier in their front three with their continued struggles against the run. Wilson easily could have come out and gone in the first round this year coming off a highly disruptive 5-sack season for the Seminoles. He had one sack and 17 tackles in six games before a season-ending leg injury.
28. Tennessee Titans (8-3)
Shaun Wade, CB, Ohio State (6-1, 194 pounds)
Wade has had some struggles in his presumed final season in Columbus in giving up big plays, but he still has big potential despite his first-round slip of late. Wade has nice size and like former Buckeyes teammate Jeffrey Okudah, is active and instinctive in coverage.
29. New York Jets (from Seahawks for Jamal Adams)
Pat Freiermuth, TE, Penn State (6-5, 258 pounds)
The Jets can pair Lawrence with an unique go-to guy at the position. This is a strong class for receiving tight ends with Pitts, Freiermuth and Miami's Brevin Jordan. Freiermuth decided to return to school until the 2020 season went awry and produced 23 catches for 310 yards and a TD in his four games. He's got ideal size and strength and can also be a powerful in-line presence in the running game.
BIGGEST NFL DRAFT STEALS:
Round 4 | Round 5 | Round 6 | Round 7
30. Pittsburgh Steelers (10-0)
Kyle Trask, QB, Florida (6-5, 230 pounds)
Trask has been up to the task leading a sizzling Gators passing game confidently with his arm, accuracy and athleticism to get into the first-round conversation. He's raised his efficiency and looks like a great fit in the Steelers' offense as Ben Roethlisberger's successor.
31. New Orleans Saints (9-2)
Jevon Holland, S, Oregon (6-1, 196 pounds)
The Saints will need to think about replacing Marcus Williams to boost their secondary in between their veteran cornerbacks and someone who can also help in nickel coverage. Holland is coming off a very impressive season where he had 4.5 tackles for loss and four interceptions. He has nice size and a well-rounded skill set to play either spot.
32. Kansas City Chiefs (10-1)
With Sammy Watkins and Demarcus Robinson hitting free agency in 2021, this would a coup for Patrick Mahomes. LSU keeps churning out the big-time NFL wide receivers, with Chase going earlier and Justin Jefferson being an instant first-round hit for the Vikings. Marshall has a great combination of size and speed and can line up anywhere as a big-time complementary route runner to Tyreek Hill. With Chase not playing, Marshall has boosted his stock with 48 catches for 731 yards and 10 TDs in only seven games.
Sean McVay vs. Matt LaFleur: Inside the battle of NFL's two most successful young coaches
Sean McVay and Matt LaFleur are two of the most successful coaches in the NFL. They also happen to be two of the youngest.
Their paths cross when the Rams face the Packers at 3:30 p.m. ET Saturday on Fox. McVay and LaFleur have a coaching tie that dates back to their time together on the Rams' staff. It is a testament to the successful youth movement among NFL coaches.  
Sporting News takes a closer look at McVay, LaFleur and a coaching matchup that could be a part of the NFC playoff picture for years to come.  
MORE: The highest-paid NFL coaches in 2020
Who is the youngest coach in the NFL?  
McVay, 34, is the youngest active coach in the NFL. There are nine coaches in the NFL who are 42 years old or younger. LaFleur, 41, is the sixth-youngest coach in the league as of Jan. 16, 2021. Here is a closer look at the youngest coaches in the NFL: 
| | | |
| --- | --- | --- |
| NAME | BIRTHDATE | AGE |
| Sean McVay, Rams | 1/24/86 | 34 |
| Zac Taylor, Bengals | 5/10/83 | 37 |
| Kevin Stefanski, Browns | 5/8/82 | 38 |
| Brian Flores, Dolphins  | 2/24/81 | 39 |
| Joe Judge, Giants | 12/31/81 | 39 |
| Matt LaFleur, Packers  | 11/3/79 | 41 |
| Kyle Shanahan, 49ers  | 12/14/79 | 41 |
| Kliff Kingsbury, Cardinals | 8/9/79 | 41 |
| Matt Nagy, Bears | 4/24/78 | 42 |
Sean McVay's coaching record  
McVay took over the Rams in 2017. In four seasons, he has compiled a 43-21 record in the regular season and a 3-2 record in the postseason. Los Angeles has the fifth-best record in the NFL in that stretch behind New Orleans (52-18), Kansas City (52-18), New England (48-23) and Baltimore (45-22).  
In 2018, McVay led the Rams to a berth in Super Bowl XLIII, where Los Angeles lost 13-3 to New England.  
The Rams missed the playoffs last season, but they finished 10-6 this year behind the league's top-ranked defense. Los Angeles beat Seattle 30-20 in the NFC Wild Card round. Aaron Donald is a candidate for NFL Defensive Player of the Year honors.  
Matt LaFleur's coaching record  
LaFleur took over the Packers in 2019. In two seasons, has a 26-6 record in the regular season and a 1-1 record in the playoffs. Green Bay has the second-best record in the NFL in that stretch behind Kansas City (29-6).  
The Packers made the NFC championship game last season before losing 37-20 to the San Francisco 49ers.  
Green Bay had the best record in the NFC this season at 13-3. The Packers are the top seed in the conference, and quarterback Aaron Rodgers is a leading candidate for the NFL MVP award.  
LaFleur was an assistant for McVay  
LaFleur served as the offensive coordinator for the Rams under McVay in 2017. The Rams finished 10-6 that season before losing 26-13 to Atlanta in the NFC wild-card round.  
The Rams led the NFL with 29.9 points per game and finished 10th at 361.5 yards per game that season. LaFleur left to become the offensive coordinator for Tennessee for one season before taking the head-coaching job with Green Bay.  
Strength-on-strength matchup  
LaFleur and McVay meet head-to-head for the first time in a strength-on-strength matchup.  
The Packers lead the NFL with 31.8 points per game, and Rodgers has benefited from a second year in LaFleur's offensive system. Rodgers finished with 4,299 passing yards, 48 TDs and five interceptions. Davante Adams added 115 catches for 1,374 yards and 18 TDs.  
The Rams led the NFL with a defense that allowed just 18.5 points per game. Donald had 13.5 sacks this season, and Jalen Ramsey is one of the best cornerbacks in the NFL. McVay said that Jared Goff, who underwent thumb surgery after a loss to Seattle in Week 16, will remain the starting quarterback.  
NFL playoff schedule: What games are on today? TV channels, times, scores for 2021 divisional round
The 2020 NFL playoffs are down to the "Elite Eight."
Last week's wild-card round was full of upsets with four lower-seeded teams emerging victorious, including wins by the Browns and Rams, the No. 6 seeds in the AFC and NFC brackets. Will the underdogs prevail yet again? Or will the top contenders reign supreme?
Here's everything you need to know about the NFL divisional round games, including a full schedule with TV channels and start times.
MORE: Watch today's NFL games live with fuboTV (7-day free trial)
NFL playoff schedule: What games are on today?
Saturday, Jan. 16
(All times Eastern)
| Game | Time | Channel |
| --- | --- | --- |
| Rams vs. Packers | 4:35 p.m. | Fox |
| Ravens vs. Bills | 8:15 p.m. | NBC |
Sunday, Jan. 17
(All times Eastern)
| Game | Time | Channel |
| --- | --- | --- |
| Browns vs. Chiefs | 3:05 p.m. | CBS |
| Buccaneers vs. Saints | 6:40 p.m. | Fox |
NFL PLAYOFF PICKS: Straight up | Against the spread
NFL playoff game TV channels, live stream
Rams vs. Packers
Key storyline: Jared Goff leading the offense
There is no quarterback controversy. John Wolford has been ruled out with a neck injury, so Goff will be the starter against the Packers. Despite dealing with a thumb issue, Goff did enough to push the Rams past the Seahawks (9 of 19 for 155 yards and one touchdown). He has to be much better if Los Angeles wants to take down the NFC's top squad.
Ravens vs. Bills
Key storyline: Limiting Lamar Jackson
The 2019 NFL MVP racked up 179 yards passing and 136 yards rushing in a 20-13 win over the Titans. If Jackson gets outside of the pocket and makes big plays, the Ravens have a chance. If the Bills can contain him, they should advance to the AFC championship game.
Browns vs. Chiefs
Key storyline: Browns playing keep away
The best defense against Chiefs star Patrick Mahomes might be an offense that doesn't let him see the field. Baker Mayfield will obviously play a huge role here, but Browns running backs Nick Chubb and Kareem Hunt (124 rushing yards, 82 receiving yards, three touchdowns combined vs. Steelers) can help Cleveland control the clock by consistently breaking tackles and moving the chains.
Buccaneers vs. Saints
Key storyline: Putting the pressure on Tom Brady
In two regular season matchups against Brady, the Saints defense totaled five interceptions and six sacks. New Orleans must force Brady into mistakes again in order to defeat Tampa Bay for a third time.
NFL scores for divisional games
You can keep up with live scores and stats with SN's live scoreboard.
Saturday, Jan. 16
Game
Rams vs. Packers
Ravens vs. Bills
Sunday, Jan. 17
Game
Browns vs. Chiefs
Buccaneers vs. Saints
Divisional Round Betting Guide: Spread, moneyline, over/under picks for first round of NFL Playoffs
After an interesting (and very busy) wild card weekend, the NFL playoff field has been trimmed down to eight remaining teams. The divisional round slate offers many angles for bettors, whether against the spread, on the moneyline, or on the over/under.
Every week, this column provides a detailed breakdown of our favorite bets, weaving in a preview of exclusive data from BetQL. This compilation serves as a mere sneak preview of all that BetQL offers. Check us out now to reveal our full betting predictions for every game of the divisional round, including projections and best bet ratings from our NFL Best Bet Model.
All data presented is as of Friday morning. You can track all NFL line movement on BetQL's Line Movement Dashboard.
Divisional Round Betting Picks: Spread pick of the week
Los Angeles Rams (+6.5) at Green Bay Packers
When will people stop doubting the Rams? These guys just keep defying the odds in front of our eyes, and yet Vegas gives them a touchdown this weekend? Sign me up.
Los Angeles has the best defense in the league, led by one of the best pass-rushers in NFL history in Aaron Donald and elite cornerback Jalen Ramsey. The Rams D can dominate every level of the field and make the life of an opposing quarterback a living nightmare.
Last I checked, Aaron Rodgers has a pretty poor track record in the playoffs against elite defensive units. That's not to take away from his insanely impressive regular season, for which he will likely win AP Most Valuable Player honors. For the second time in his career, he finished the regular season with over 40 touchdowns and at least a 115.0 passer rating. Only three other QBs have done that, and all received MVPs during those seasons. According to NFL.com, he's also the first QB in 10 years to lead the league in both metrics (48 passing TDs, 121.5 QB rating).
But as Rodgers knows all too well, regular season accolades don't always translate into playoff success. Crazy things happen in the playoffs, and great game plans and defensive execution start to play larger parts in wins. He and Matt LaFleur are obviously jelling, but no D can stop a team dead in its tracks like the Rams.   
Just look at what the Rams did against the Seahawks last week. Twelve days after starting QB Jared Goff had thumb surgery, coach Sean McVay made the difficult decision to start backup John Wolford in the first round of the NFL playoffs. This guy had "Finance" listed as his LinkedIn industry before the previous week! Well, Wolford started and got knocked out of the game with a scary hit to the head and neck. Goff came in — throwing thumb still recovering — and did just enough to get LA the win, shouldered mostly by rookie back Cam Akers (28-131-1) and the aforementioned dominance of his defense.
Wolford checked back out of the hospital that same night after being given the thumbs-up (I had to) by doctors to celebrate the big win with his team. He will be watching from the sideline in Green Bay this weekend, as Goff returns to his role as the Rams' starting QB. Goff, who disagreed with McVay's decision to start Wolford over him last weekend, said he's good to go.
In his lone career meeting with the Packers, Goff threw for 295 yards and three touchdowns and posted a 111.0 QB rating. If he duplicates that kind of success this week, this game could be an instant classic. He will need another strong performance from Akers, as well as the veteran receiver tandem of Robert Woods and Cooper Kupp. Rodgers has a pair of tremendous playmakers in receiver Davante Adams and running back Aaron Jones, and both have a nose for finding the end zone.
Ultimately, I think the Packers win this game, and Rodgers ultimately squares off against Patrick Mahomes in a Super Bowl that StateFarm could not have scripted better. But I don't see the Packers running away with it, especially in a cold-weather stadium against one of the more elite defenses this league has ever seen. If Goff can lead the Rams to a 30-20 playoff victory over Russell Wilson and the Seahawks, he can lose by less than a touchdown to Rodgers in the playoffs.
Divisional Round Betting Picks: Moneyline pick of the week
Buffalo Bills (-145) vs. Baltimore Ravens
If you simply need a lock for this week, I would be more apt to go with the Packers over the Rams, or the Chiefs over the Browns, but you will find literally no value whatsoever in those moneylines. Green Bay's ML is -320. Kansas City's? A whopping -510. Thus, my moneyline pick of the week is a Bills team that's favored by the fewest points of any this weekend (-2.5).
Oddsmakers seem to be giving reigning MVP Lamar Jackson too much credit while giving 2020 MVP candidate Josh Allen too little. What gives? Jackson has struggled with accuracy and decision-making at times this season, while Allen just continues to get better as the campaign progresses.
Jackson threw for just 179 yards last week in Baltimore's 20-13 win over the defensively-challenged Titans. He had no passing touchdowns and threw one interception. Much like many of his games in 2019, the damage he inflicted primarily came on the ground, as he finished with 136 rushing yards and a touchdown. Rookie JK Dobbins, bruising back Gus Edwards, and wideout Marquise Brown combined to add another 100 yards rushing (Brown also had seven catches for 109 yards).
There's no doubting Jackson's penchant for making big plays, and "Hollywood" Brown sure seems to be shining at the right time. But, plain and simple, Buffalo has been the better team all season and has shown no signs of slowing down for anyone.
On wild card weekend, Allen led Buffalo to a tough 27-24 win over veteran Philip Rivers and the Colts, who featured one of the better defenses in the league this season. The Bills finished with 397 total yards, 301 of which came through the air.
That was Buffalo's seventh consecutive victory, and 10th win in 11 games. Its only loss since Oct. 19 came in Week 10 in Arizona, on a last-second, game-winning Hail Mary from Kyler Murray to DeAndre Hopkins. If not for that play, the Bills might have had a shot at the No. 1 seed and a first-round bye.
But this team was meant to keep rolling and probably benefited from having to play last week. It has a lot of fight and a hell of a lot of talent on both sides of the football. Allen's chemistry with Stefon Diggs has likely guided the veteran receiver to his first All-Pro selection. Diggs led the NFL this season with 127 catches and 1,535 yards, and he put up a line of 6-128-1 last week. He had eight touchdowns this season, one more than breakout rookie receiver Gabriel Davis.
Diggs and Davis join veteran slot receiver Cole Beasley, as well as veteran speedster John Brown, to form an electric foursome of playmakers. Allen has no problem spreading the ball around to whoever finds separation. He has developed an Aaron Rodgers-like level of field vision and pocket awareness, and he's lockstep with Brian Daboll and his offensive playbook. When defenses sell out to cover the pass, he often burns them with his legs. Case in point: He ran 11 times for 54 yards and a score last week against Indy.
Baltimore has been one of the better defenses in the NFL this season, and Jackson continues to be one of the more entertaining QBs in the game today. The Ravens clearly got a lot of love from Las Vegas after going 7-2 in road contests this season and getting hot late in the year. But there's a reason they got bounced from the playoffs last year after a 14-2 regular season and a reason they only went 1-1 straight up as a road underdog this season. They do not have a reliable passing game. Baltimore finished the season ranked dead last in yards through the air.
Meanwhile, Leslie Frazier's Bills defense has made vast improvements down the stretch. The Bills finished the regular season with the second-best turnover percentage (15.3 percent) and the third-most takeaways (26). Linebacker Tremaine Edmunds (119 tackles) and cornerback Tre'Davious White (three INT, 11 PD), both Pro Bowlers, lead a gritty, proud unit.
This Buffalo team feels destined to get to the AFC Championship (and maybe beyond). It finished tied for the second-most wins in the league this season, yet it sits as the only favorite with under -150 odds to advance to the next round. The Bills have shown time and time again that if others don't give them respect, they will go out and get it themselves. Buffalo wins 27-23.
Divisional Round Betting Picks: Over/under pick of the week
Kansas City Chiefs vs. Cleveland Browns: UNDER 57
It's easy to see why 80 percent of money and 97 percent of tickets are on the OVER for this game. The Browns offense has been scorching hot, and Kansas City has somehow managed to improve upon its Super Bowl-winning system. But we at BetQL like the value presented by the UNDER, which our Best Bet Model backs with a five-star confidence rating.
The betting public may have fallen victim to recency bias. The Browns are coming off a 48-37 barnburner win over the division-rival Steelers on wild-card weekend. They scored a defensive touchdown on the first play from scrimmage after Pittsburgh sailed its first snap into its own end zone and Cleveland safety Karl Joseph fell on it. The Browns had a 28-0 lead at the end of the first quarter, which set the tone for sloppy, frenetic play the rest of the game. Steelers QB Ben Roethlisberger finished the first half with three interceptions, but somehow racked up 500 passing yards and four TDs by the end of the game.
Once you catch your breath from that busy recap, consider a couple facts from that contest. Browns head coach Kevin Stefanski, who deserves Coach of the Year consideration, was watching the game from back home in Cleveland after testing positive for COVID-19. Top cornerback Denzel Ward suffered the same fate, a fate dozens of Browns players have met throughout the course of the season.
Without its head coach and its second-best defender, the Browns defense packed it in too early with a big lead. It lost its focus and got gashed for big plays throughout the second half. But the Browns still prevailed with their first postseason win since 1995 and first playoff win on the road since 1969.
Stefanski and Ward are back in action this week, so we at BetQL expect a much different picture than the 87 points we saw in Pittsburgh. After all, Cleveland's three previous games averaged a total of 37 points.
The Chiefs have a formidable offensive attack, which probably plays a huge part in everyone and their mom pounding the OVER here. But consider a few factors before jumping on the bandwagon:
1.     Kansas City averaged 25.3 points over the course of its final six games this season.
2.     The Chiefs committed eight turnovers in their last four contests.
3.     Defending Super Bowl MVP Patrick Mahomes has not played an NFL game in weeks. He rested during KC's inconsequential Week 17 tilt with the Chargers, and then enjoyed a first-round playoff bye.
4.     The Chiefs defense has drastically improved in its first year under coordinator Steve Spagnuolo. KC ranked 10th in points surrendered this season.
By all means, go for the OVER if you enjoy rooting for high-scoring theatrics. But 57 points seems way too high for our liking, especially considering the UNDER has hit in four of the seven home games in which KC served as the favorite this season. Our Model projects the first-half total at 27 points and end-game total at 54 points. I personally like the Chiefs to win 30-23.  
For more betting analysis and information, head over to BetQL and check out our model's best bets, sharp data, and much more for every playoff game! You can find all updated NFL lines, spreads, and odds at BetQL!