NFL Draft prospects 2022: Big board of top 50 players overall, position rankings
It's never too early to look at the 2022 NFL Draft, no matter what the mock draft detractors say.  
Sporting News built its first Top 50 Big Board for next season, and that list is heavy on quarterbacks and receivers. A total of six quarterbacks and seven receivers cracked the top 50, a nod to the importance of those two positions on the last two national championship teams at Alabama and LSU.  
North Carolina quarterback Sam Howell is the top player on the board for now, but the competition for that top QB spot will be more competitive now that Clemson's Trevor Lawrence is in the pro game.  
MORE: Ranking the top 10 QBs in the 2022 NFL Draft
Ohio State and Alabama – which played in last year's CFP championship game — have the most players on this list with six apiece.  
Here is a look at the best 50 best players available in the 2021 NFL Draft regardless of position, and how high each might be selected based on team needs, position scarcity and other factors.   
NFL Draft prospects 2022: Big board of top 50 players  
1. Sam Howell*, QB, North Carolina  
Howell piled up 7,224 yards, 68 TDs and 14 interceptions at North Carolina as part of a program-wide makeover with Mack Brown, and he has put up nine games with at least 300 yards passing. Howell is 6-1, 225 pounds, dimensions that are close to Cleveland Browns quarterback Baker Mayfield. Howell is the top quarterback prospect on the board for 2022, and QBs have been taken with the first pick in four of the last five drafts.  
2. Derek Stingley Jr.*, CB, LSU  
Stingley Jr. endured a sophomore slump for LSU after a superb freshman season in 2019, so there is a prove-it factor at work for one of the most-gifted players in the FBS. He has all the measurables to be an All-Pro cornerback at the next level. There is work to do with new defensive coordinator Daronte Jones. Just keep in mind a defensive back has not been selected with the No. 1 pick since 1956.  
3. Evan Neal*, T, Alabama  
Neal has made 26 starts, and the versatility between guard and tackle makes him an even more-attractive first-round pick. He played right tackle as a sophomore opposite Alex Leatherwood for one of the greatest offenses in FBS history. He allowed 1.5 sacks in 2020.  
4. Kayvon Thibodeaux*, DE/LB, Oregon  
Thibodeaux has 23.5 tackles for loss and 12 sacks in 20 games the last two seasons, and he has the most upside of the edge rushers in this class. The former five-star recruit continues to live up to expectations. He should challenge for double-digits sacks as a junior, which would ensure his top-five status.  
5. Spencer Rattler*, QB, Oklahoma  
Rattler endured some growing pains as a redshirt freshman, but he passed for 18 TDs and three interceptions in eight straight wins to end last season. Rattler has the advantage of a third year in Lincoln Riley's system, and his game will translate well in the NFL. Can he follow in the footsteps of  Mayfield and Kyler Murray and be a Heisman Trophy winner and No. 1 pick? It's possible.  
6. Kyle Hamilton*, S, Notre Dame  
Hamilton is the most-talented safety in the FBS. He averages more than 50 tackles per season the last two seasons, an he's totaled 5.5 tackles for loss and five interceptions in that stretch. The Irish have been creative in moving Hamilton around the field, and that should continue with new defensive coordinator Marcus Freeman.  
7. Christian Harris*, LB, Alabama 
Harris has played ahead of the curve at Alabama the last two seasons. He averages 70 tackles and seven tackles for loss, and he improved in pass coverage as a sophomore. As far as safe picks go, Harris projects as one of those in the top 10.  
8. Kedon Slovis*, QB, USC  
Slovis will be a polarizing quarterback prospect. He is another classic passer from the USC lineage – and that has been good for a 70 percent completion percentage, 47 TDs and 16 interceptions the last two seasons. Sam Darnold, Mark Sanchez and Matt Leinart are USC's last three first-round quarterbacks. Slovis should follow in that line, but he will have to elevate his game to be a top-five pick.  
9. DeMarvin Leal*, DT, Texas A&M  
Leal is one of the most athletic defensive linemen in the country, and the 6-4, 290-pound defensive tackle anchored the middle of an improved Aggies' defense in 2020. He's a consistent run stopper – and he will get a handful of sacks with that straight-forward interior pressure.  
10. Drake Jackson*, DE/LB, USC  
Jackson is a top-10 pick across most early mocks, and the potential as a dominant hybrid pass rusher is there. He started every game as a freshman at USC, and he finished with two sacks and 5.5 tackles for loss in six games last season. The 6-4, 255-pounder needs to build on that success.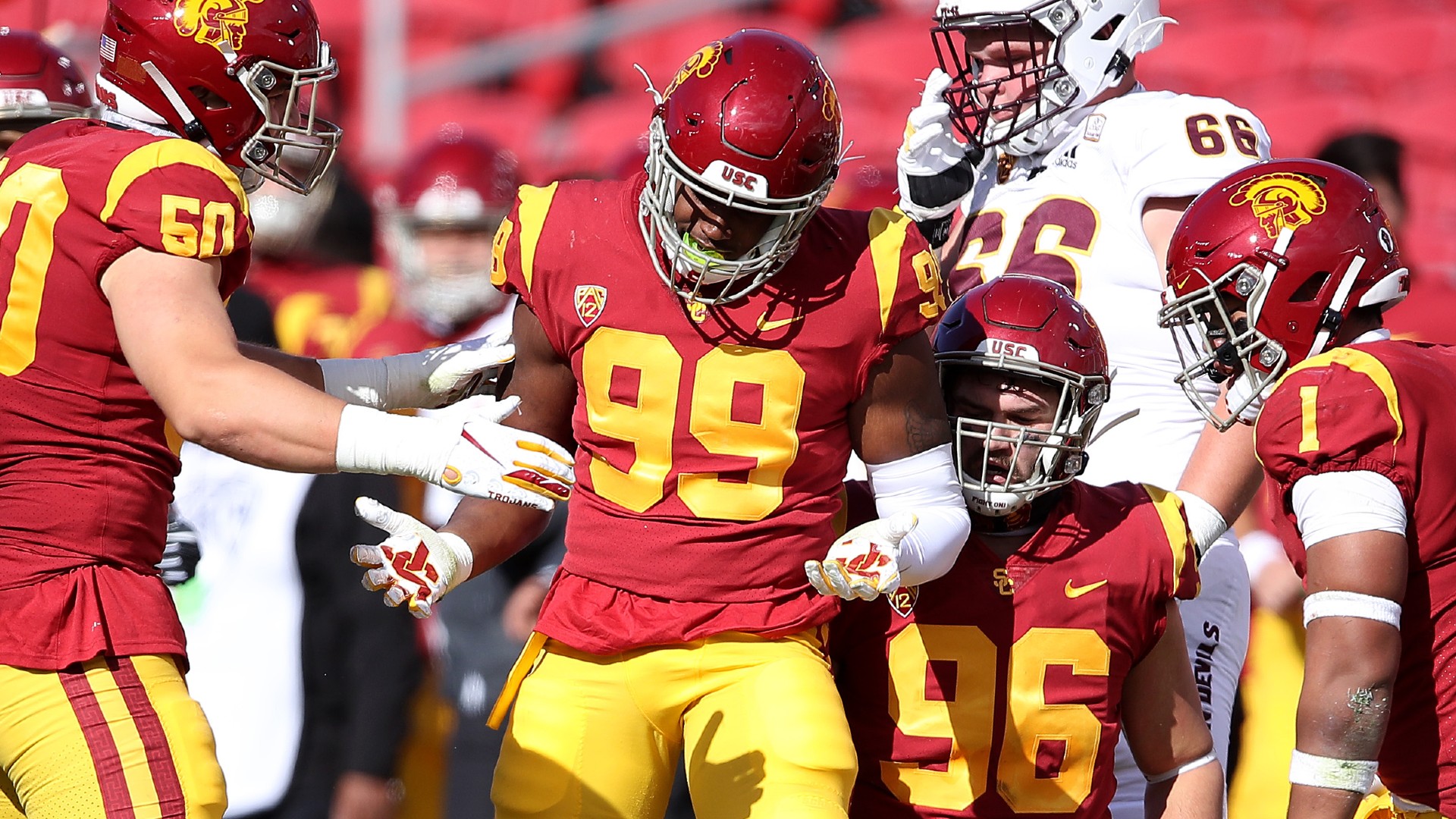 11. Zion Nelson*, T, Miami  
Nelson, a 6-5, 316-pound left tackle, has been a consistent force for the Hurricanes the last two seasons. Nelson bounced back from a tough freshman year to emerge as a dominant pass blocker, and he will challenge to be the first offensive lineman taken if that trend continues.  
12. Justyn Ross*, WR, Clemson  
Ross missed all of last season with after season-ending spinal injury, and those medical concerns could cause him to slip down a few team's boards in 2022. Ross, however, averaged 16.7 yards per catch with 17 TDs the previous two seasons and would have been a first-round pick this year if not for that surgery. That talent will be on display again this season, and that is why we have him as the top receiver for now.  
13. Garrett Wilson*, WR, Ohio State 
Wilson, a former five-star recruit, is known for the highlight-reel catch. The 6-foot, 193-pound junior enjoyed four 100-yard games to start last season before the production dipped in the second half of the season. Look for a more consistent playmaker to emerge as a junior.  
14. Chris Olave, WR, Ohio State  
Olave and Wilson are interchangeable in those two spots, but both Ohio State targets figure to be first-round picks. Olave, returned for his senior season, averages 16.1 yards per catch with 22 TDs for his career. He had five 100-yard games for Ohio State last season.  
15. Kaiir Elam*, CB, Florida  
Elam averages two interceptions and 7.5 pass breakups over the past two seasons. He has All-American potential as one of the top cornerbacks in the SEC. The Gators have produced five first-round picks in the secondary since 2010. Elam is next in line.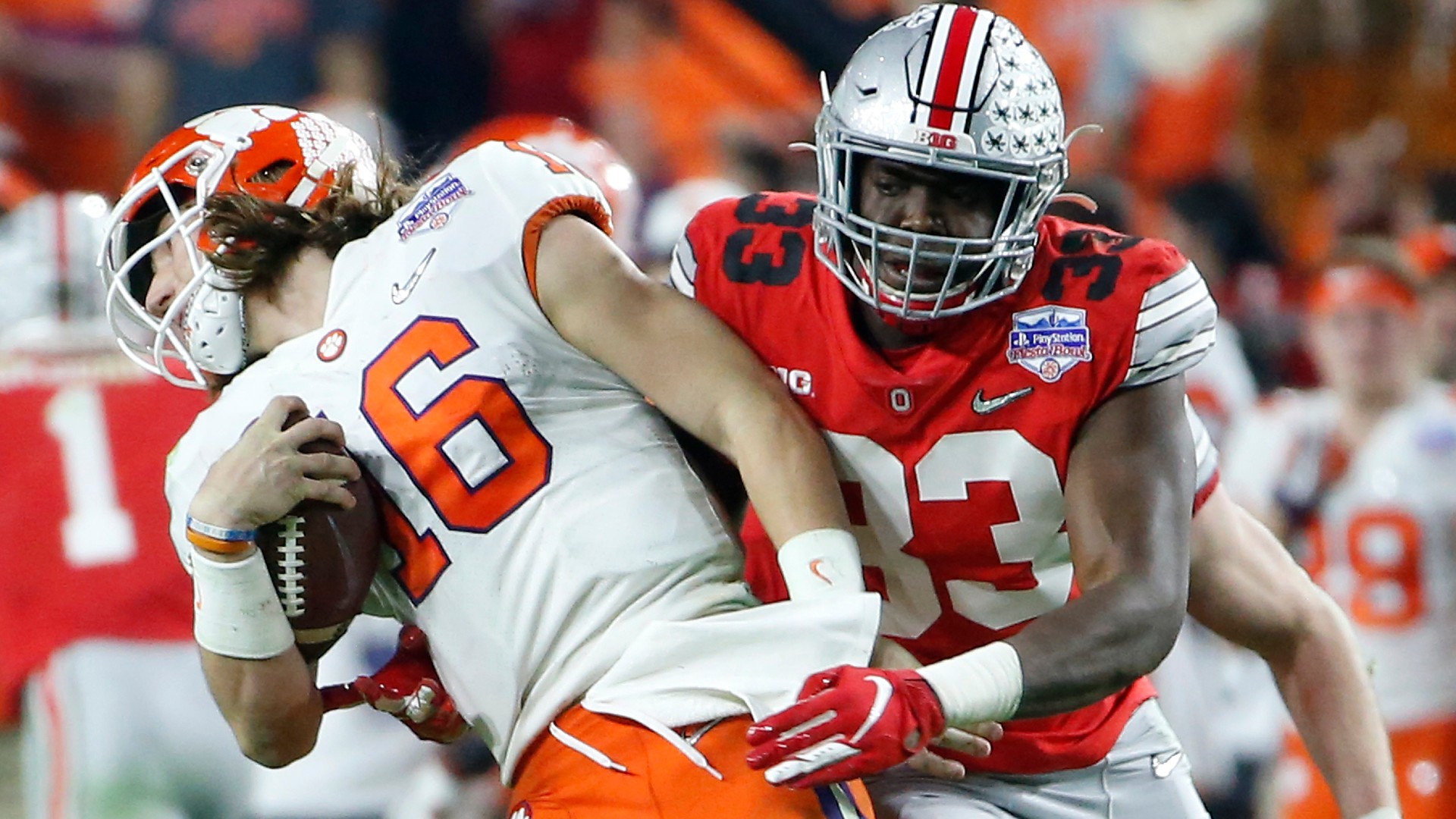 16. Zach Harrison*, DE, Ohio State  
Harrison is among the first-round prospects with the most to gain this season. He's put up 5.5 sacks the last two seasons, and this is his third season working with defensive line coach Larry Johnson. That generally leads to first-round billing, and Harrison has that opportunity with the Buckeyes this season. If he takes advantage, then he could land in the top five.  
17. Desmond Ridder, QB, Cincinnati  
Ridder is one of the most-experienced quarterbacks in this class. He's been a reliable passer at Cincinnati with 57 TDs and 20 interceptions, but he also averaged 6.0 yards per carry with 12 TDs on the ground. He's one of the top dual-threat QBs in this class, and that mobility could push him up the board.  
18. Ventrell Miller, LB, Florida  
Miller is one of the more well-rounded inside linebackers, and he returned to Florida for his senior season. He averaged 70 tackles the last two seasons, but he also had five pass breakups.  
19. George Pickens*, WR, Georgia  
This is tough because Pickens likely would be the first receiver off the board if not for a torn ACL suffered in spring practice. He averaged 14.6 yards per reception with 14 TDs the last two seasons with the Bulldogs. He's still a first-round receiver, but we would like to see him back on the field first.   
20. Perrion Winfrey*, DT, Oklahoma  
The Sooners have improved on the interior line, and Winfrey is a big reason why. The 297-pound defensive tackle had 5.5 tackles for loss. Winfrey is a junior college transfer, and a second season in Oklahoma's defense should produce similar results.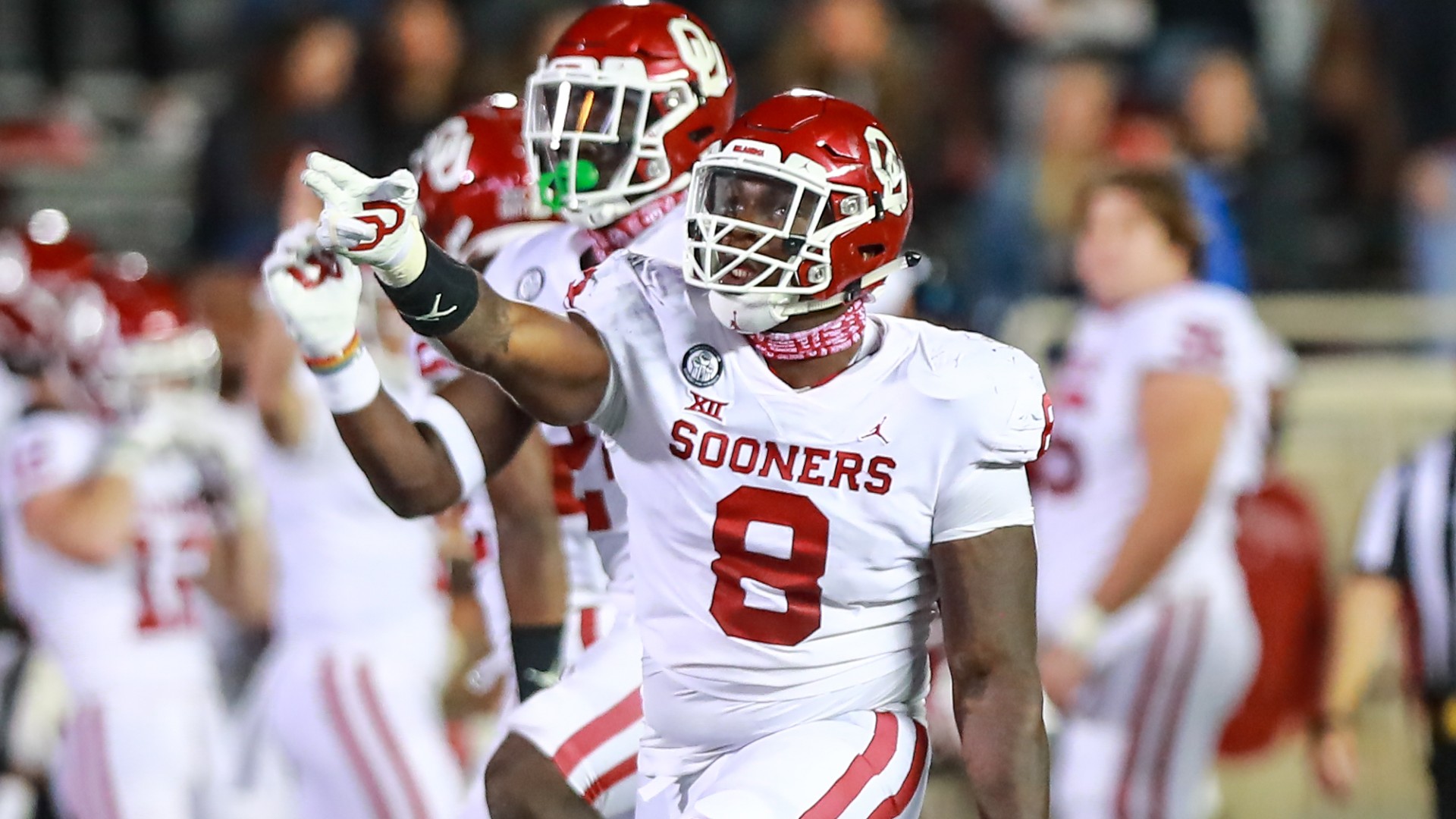 21. Brenton Cox, LB, Florida  
Cox, a former five-star recruit who transferred from Georgia to Florida, has always had the talent. It started to resurface in 2020 in a season in which he had 10 tackles for loss. The 6-3, 250-pound linebacker should be even more disruptive in 2021.   
22. Charles Cross*, T, Mississippi State  
The 6-5, 305-pound left tackle ranked fourth in pass-blocking snaps with 528, according to Pro Football Focus. Cross will be a redshirt sophomore, and that reputation should enhance with another year in Mike Leach's pass-happy offense. If Cross bolts for the NFL, then he will be in the first-round discussion.   
23. Sevyn Banks, CB, Ohio State  
Banks is the next first-round cornerback from Ohio State, and he will fill the lead role in the Buckeyes' secondary left by Shaun Wade. This is banking on a true breakout season from the 6-1, 200-pound cornerback. The talent is there.   
24. Bubba Bolden*, S, Miami  
Bolden – a 6-3, 200-pound strong safety, returned for his senior season after leading Miami with 74 total tackles in 2020. He is an all-around talent who forced four fumbles and had 6.5 tackles for loss.   
25. John Metchie*, WR, Alabama   
Metchie would be the fifth Alabama receiver taken in the first round in the last three drafts at that point. Metchie steps into the WR1 role at Alabama this season, and he should have the production to match. The 6-0, 195-pounder fits the Crimson Tide prototype at the position.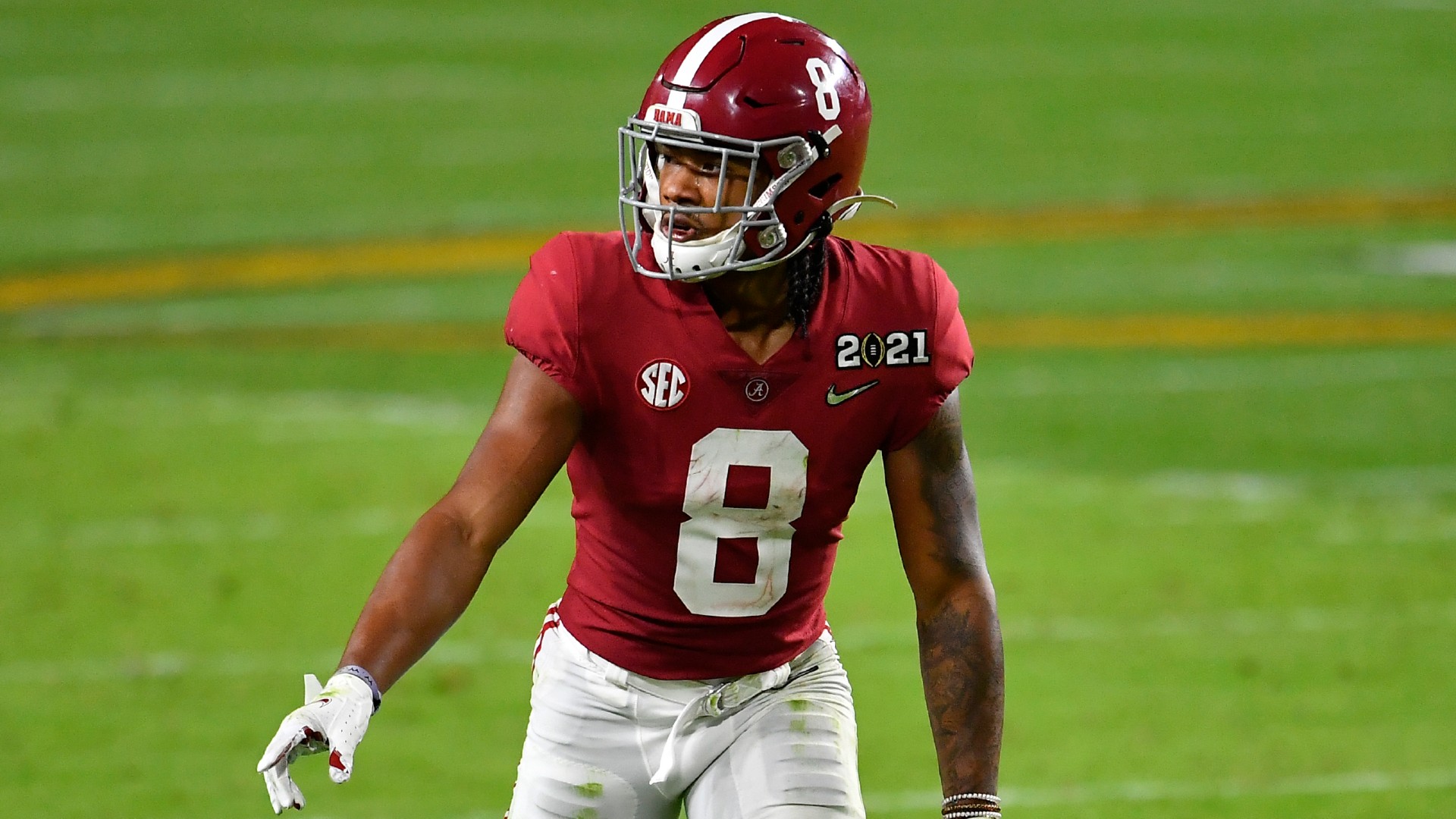 26. George Karlafitis*, DE, Purdue  
27. Rasheed Walker*, T, Penn State  
28. Aidan Hutchinson, DE, Michigan  
29. Josh Jobe, CB, Alabama  
30. Breece Hall*, RB, Iowa State  
31. Jalen Wydermyer*, TE, Texas A&M  
32. Cade Mays, G/C, Tennessee  
33. Kenyon Green*, G, Texas A&M  
34. Tyler Shough*, QB, Texas Tech  
35. Thayer Mumford, T, Ohio State  
36. Jordan Battle*, S, Alabama  
37. Merlin Robertson, DE, Arizona State  
38. Xavier Thomas*, DE, Clemson  
39. Tyler Davis*, DT, Clemson  
40. Isaiah Spiller*, RB, Texas A&M  
41. Charlie Kolar, TE, Iowa State  
42. Tyler Linderbaum*, C, Iowa  
43. Jeremy Ruckert, TE, Ohio State  
44. Frank Ladson*, WR, Clemson  
45. Ty Fryfogle, WR, Indiana  
46. JT Daniels*, QB, Georgia   
47. Nik Bonitto*, LB, Oklahoma  
48. Ahmad Gardner*, CB, Cincinnati  
49. Devin Lloyd, LB, Utah  
50. Brian Robinson, RB, Alabama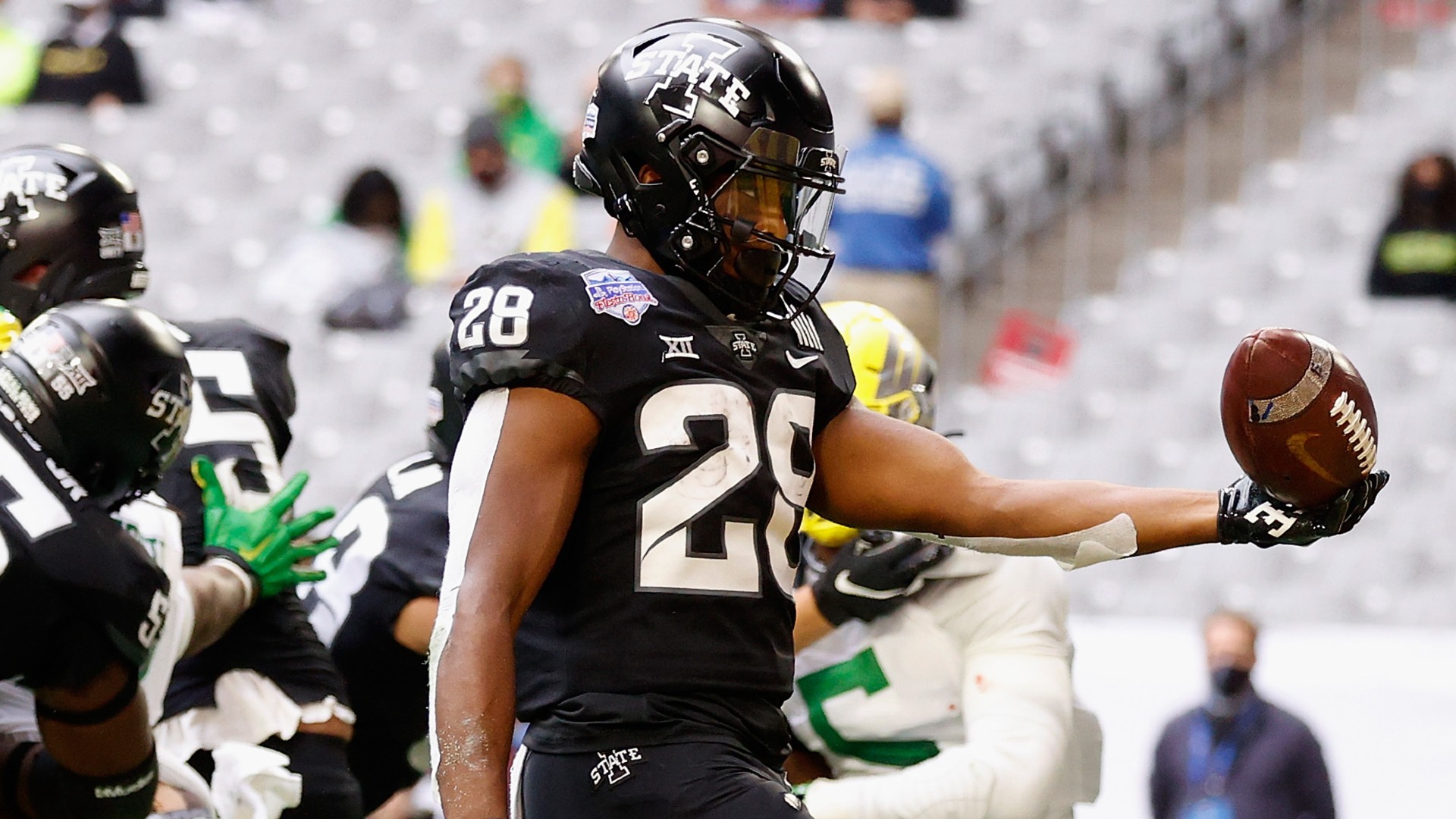 NFL Draft prospect rankings by position  
Quarterback   
1. Sam Howell, North Carolina (1)  
2. Spencer Rattler, Oklahoma (5)   
3. Kedon Slovis, USC (8)   
4. Desmond Ridder, Cincinnati (17)   
5. Tyler Shough, Texas Tech (34)   
6. JT Daniels, Georgia (46)   
Running back   
1. Breece Hall, Iowa State (30)   
2. Isaiah Spiller, Texas A&M (40)  
3. Brian Robinson, Alabama (50)    
Wide receiver   
1. Justyn Ross, Clemson (12)   
2. Chris Olave, Ohio State (13)  
3. Garrett Wilson, Ohio State (14)    
4. George Pickens, Georgia (19)   
5. Jon Metchie, Alabama (25)   
6. Frank Ladson, Clemson (44)   
7. Ty Fryfogle, Indiana (45)   
Tight end   
1. Jalen Wydermyer, Texas A&M (31)   
2. Charlie Kolar, Iowa State (41)   
3. Jeremy Ruckert, Ohio State (43)   
Offensive line   
1. Evan Neal, Alabama (3)   
2. Zion Nelson, Miami (11)   
3. Charles Cross, Mississippi State (22)   
4. Rasheed Walker, Penn State (27)   
5. Cade Mays, Tennessee (32)   
6. Kenyon Green, Texas A&M (33)   
7. Thayer Mumford, Ohio State (35)   
8. Tyler Linderbaum, Iowa (42)   
Defensive end/Edge  
1. Kayvon Thibodeaux, Oregon (4)   
2. Drake Jackson, USC (10)   
3. Zach Harrison, Ohio State (16)   
4. George Karlafitis, Purdue (26)   
5. Aidan Hutchinson, Michigan (28)   
6. Merlin Robertson, Arizona State (37)   
7. Xavier Thomas, Clemson (38)   
Defensive tackle   
1. DeMarvin Leal, Texas A&M (9)  
2. Perrion Winfrey, Oklahoma (20)    
3. Tyler Davis, Clemson (39)   
Linebacker    
1. Christian Harris, Alabama (7)   
2. Ventrell Miller, Florida (18)   
3. Brenton Cox, Florida (21)   
4. Nik Bonitto, LB, Oklahoma (47)  
5. Devin Lloyd, LB, Utah (49)   
Cornerback  
1. Derek Stingley, Jr., LSU (2)   
2. Kaiir Elam, Florida (15)   
3. Sevyn Banks, Ohio State (23)   
4. Josh Jobe, Alabama (29)  
5. Ahmad Gardner, Cincinnati (48)   
Safety   
1. Kyle Hamilton, Notre Dame (6)   
2. Bubba Bolden, Miami (24)   
3. Jordan Battle, Alabama (36) 
Connor McDavid hits 'impressive' 100-point mark in Oilers' 53rd game
Entering Saturday night's "Hockey Night in Canada" showdown with the Canucks, Connor McDavid had been downplaying how important scoring 100 points this season was to him.
"It's a number," McDavid said when he was sitting on 93 points; he had 96 Saturday morning. "If I get there, great. If not, it's not the end of the world, either. The most important thing is our team is gearing up for the playoffs and making sure we're firing on all cylinders in Game 1."
Well, while he may not have been thinking about it, the smile on his face when he notched point 100 in the second period — his fourth point (goal, three assists) of the night — told a different story. The historic moment came in the Oilers' 53rd game of the season as he assisted on Leon Draisaitl's game-winning power-play goal.
"Honestly, it's just impressive," said Draisaitl, who hit his own career milestone of 500 (and 501) NHL points in the game. "I don't think my English is good enough to find another word for it right now, but it's incredible. I mean, I don't know, we've played 50-some games, he's at 100 points. It's just very impressive and just, you know, fun to be a part of."
"I think what it does, it just solidifies he's one of the top players to ever play the game," said head coach Dave Tippett. "The level that he's played at this year, and just what he's accomplished, it's one of those years that you look at Wayne [Gretzky] or you look at Mario [Lemiuex], it's one of those years where he's taken his talents to another level that is just elite for the league."
McDavid, who has 32 goals and 68 assists, became just the ninth player in NHL history to hit the century mark in 53 games, joining the likes of Gretzky and Phil Esposito. The last players to do it were Lemieux and Jaromir Jagr with the Penguins in 1995-96. 
"It's special to be part of a group like that, obviously. Those are the game's best players of all time so it's special to be mentioned in the same breath as those guys," McDavid said postgame.
"Four-point nights aren't something that come regularly, I think. I was just trying to come in and play a good game, play like I can," he said later, adding that he spoke to his parents and was surprised his mom was awake to see it. "My legs felt pretty good. I was able to get on the board on the first shift, that always helps. I think after the first one, it kind of crosses your mind, and I was fortunate to feel pretty good throughout the night and a couple of great shots from my teammates."
After the Edmonton captain hit the mark, Twitter not only praised him but was also in awe of the moment.
Blue Jackets, John Tortorella reportedly parting ways; five landing spots for the veteran coach
John Tortorella's contract with the Blue Jackets expires this summer and The Athletic's Adam Portzline is reporting that the veteran coach will not be re-signing with the team. The Blue Jackets' season ended Saturday with a 5-4 overtime win over the Red Wings.
"People talk about a shelf life. I don't think there's a shelf life for a coach, but what I believe in is, is it the right fit?" Tortorella said postgame on Zoom when asked if he'd like to return next season. "I think the fit of the coach and the players and personnel, I think that's the most important thing and that's something (Jackets GM) Jarmo (Kekalainen) and I have discussed very honestly. Very honestly. I get it. Am I the right fit? These are the things Jarmo and I have talked about.
"I think this will come to a solution very quickly here."
Tortorella joined the club after it started the 2016-17 season 0-7-0 under Todd Richards.
"John Tortorella is an experienced National Hockey League coach with a proven track record of success," Kekalainen said at the time of the hire. "He is a Stanley Cup winner, and we believe the right person to lead our team at this time."
While he didn't lead the Blue Jackets to a Stanley Cup, he did steer the team to four straight Stanley Cup playoff appearances beginning in 2016-17. The team also had one of the greatest postseason performances in NHL history when it swept the Presidents' Trophy-winning Lightning in the first round of the 2019 playoffs.
This season, the club finished last in the Central Division with an 18-26-12 record. It marked the first full season in which the club finished under .500 with him at the helm. It didn't help that the year started shakily with disgruntled forward Pierre-Luc Dubois wanting out of Columbus. He was soon sent packing, but the player for whom he was swapped, Patrik Laine, also seemed to struggle under Tortorella.
Tortorella will leave with a 227-166-54 record for Columbus. Across four teams (Lightning, Blue Jackets, Rangers and Canucks) he has posted an overall record of 672-541-37-132 record and holds the record for most wins among U.S.-born coaches.
While he noted that he joined the Blue Jackets as an older coach, it doesn't sound as if the 62-year-old wants to hang up his whistle just yet. With that, here's a quick rundown of five possible landing spots for the colorful coach:
New York Rangers
If David Quinn is shown the door, then could there be a return to Broadway for Tortorella? He did post an impressive 171-118-1-29 record and led the team to four postseason appearances — including a conference final in 2012. Oh, and guess who was captain for him during some of his tenure . . . the guy who was just named the team's GM and president, Chris Drury.
Vancouver Canucks
Like Tortorella, Travis Green is not signed beyond this season and there could be a vacancy in the Pacific Northwest. The Canucks and Tortorella also have some history — one 82-game season that was, well, interesting, to say the least. Maybe the duo are due for a re-do?
Arizona Coyotes
Bench boss Rick Tocchet is also unsigned beyond this season and he could be shown the door after four seasons in the desert. Tortorella could fit here with the team's mix of young and veteran players.
Seattle Kraken
All signs are pointing to Gerard Gallant heading to the NHL's newest club but Tortorella could land here if GM Ron Francis wants to veer off course.
Dallas Stars
Could the Stars part ways with Rick Bowness after the team followed up their trip to the 2020 Stanley Cup Final by missing the postseason? Maybe. Tortorella does have some history with players like Joe Pavelski (Team USA).
Canelo Alvarez vs. Billy Joe Saunders live fight updates, results, highlights from 2021 boxing card
One fighter will get closer to the first undisputed super middleweight championship in boxing history when WBC, WBA (Super) and The Ring champion Saul "Canelo" Alvarez faces off against WBO titleholder Billy Joe Saunders at AT&T Stadium in Arlington, Texas on Saturday.
The massive 168-pound showdown will take place in front of a live crowd of more than 70,000, breaking the attendance record for an indoor boxing event in the United States. And who better than Alvarez, boxing's current pound-for-pound king, to be in the main event?
Alvarez (55-1-2, 37 KOs) has pursued the undisputed championship since beating Callum Smith for the WBA (Super) and vacant WBC crown in December. He followed that performance with a third-round stoppage of mandatory challenger Avni Yildirim in February before turning right back around in hopes of collecting another title against Saunders on Saturday night.
Saunders (30-0, 14 KOs) is a two-division world champion who claimed the WBO title in May 2019 by defeating Shefat Isufi via unanimous decision. He has made two consecutive title defenses, but his opponent in Texas will be his toughest test by far.
There has been some bad blood between the two heading into the fight; Canelo promised a knockout, while Saunders aims to befuddle the Mexican superstar with his technical prowess.
Who will come out on top? Stay tuned as Sporting News will have live coverage of tonight's fight card.
MORE: Watch Canelo vs. Saunders live on DAZN
Canelo Alvarez vs. Billy Joe Saunders live updates, highlights
Sporting News' live coverage of Canelo-Saunders will begin at 9 p.m. ET.
Canelo vs. Saunders start time
Main card: 8 p.m. ET
Canelo-Saunders main event: 11 p.m. ET (approximate)
The Canelo Alvarez vs. Billy Joe Saunders main card launches at 8 p.m. ET on Saturday night, with the champions expected to make their ring walks at approximately 10:30 p.m. or 11 p.m. ET, depending on the length of the earlier fights.
How to watch Canelo vs. Saunders
Subscription: $19.99/month or $99.99/year
The Canelo vs. Saunders fight will stream live globally on DAZN, to more than 200 countries and territories, including the U.S. and Canada.
Those interested in watching the fight can find DAZN on a number of different systems, including, but not limited to, Amazon Fire TV/stick, Android, Apple TV, Google Chromecast, iPhone and iPad, Playstation 4, Playstation 5, Xbox One, Xbox Series X/S and Roku. The DAZN app is also available on LG, Samsung and Vizio smart TVs, as well as Xfinity X1 and Flex.
Viewers can also find it on DAZN.com using browsers like Chrome, Firefox, Internet Explorer and Safari.
Click here to learn more about DAZN.
Canelo vs. Saunders fight card
Saul Canelo Alvarez vs. Billy Joe Saunders for the Canelo's WBA, WBC and Ring Magazine super-middleweight titles, and Saunders' WBO title
Marc Castro vs. Irving Castillo
Frank Sanchez vs. Nagy Aguilera
Edwin Soto vs. Katsunari Takayama for Soto's WBO light-flyweight title
Kieron Conway vs. Souleymane Cissokho for Conway's WBA Intercontinental super-welterweight title
Keyshawn Davis vs. Jose Antonia Meza
Kelvin Davis vs. Jan Maslaek