NFL Draft prospects 2021: The top 10 tight ends, ranked from Kyle Pitts to Quintin Morris
If you've followed any of the 2021 NFL Draft coverage, then you know the love affair seemingly everyone has with Florida tight end Kyle Pitts. A potential top-five pick, Pitts is really the only tight end getting any attention. While there's no doubt he's the star of this year's TE class, there are several other players at this position worthy of attention.
Tight end is always a difficult position for the average fan to assess. Not only do you have to weigh blocking vs. pass-catching, but you also have to account for the fact many college teams don't feature TEs in their offenses. That leaves us focusing solely on pro day measurements or even single highlights when trying to evaluate many of these players. 
We'll do our best to cut through the noise and break down Sporting News' top-10 TEs for the 2021 NFL Draft. 
MORE NFL DRAFT: Complete 7-round mock | Top 100 big board
NFL Draft 2021 tight end rankings
1. Kyle Pitts, Florida
Pitts had a very good sophomore season (54 catches, 649 yards, five TDs), but he was an absolute monster as junior, catching 43 passes for 770 yards and 12 TDs in just eight games. He continued his dominance during his pro day, when he measured in at almost 6-6, 245 pounds and ran a 4.44 40-yard dash. Clearly, Pitts is a unique offensive weapon in the vein of Travis Kelce or George Kittle, and while he doesn't have the blocking prowess of the latter, it might not matter. Pitts is going to be a top-10 pick — possibly top five — and likely star from Day 1.
2. Pat Freiermuth, Penn State
Freiermuth was a TD machine his first two years at Penn State, scoring eight times as a freshman and seven times as a sophomore, but a shoulder injury limited him to just four games and one score last year. The 6-5, 251-pound TE is known a solid blocker and reliable pass-catcher, and while he doesn't have blazing speed (reportedly a 40 time in the 4.72 range), he should still be able to get open at a reasonable clip in the NFL. He figures to be a second-round pick, but the upside is there for him to outperform his draft position.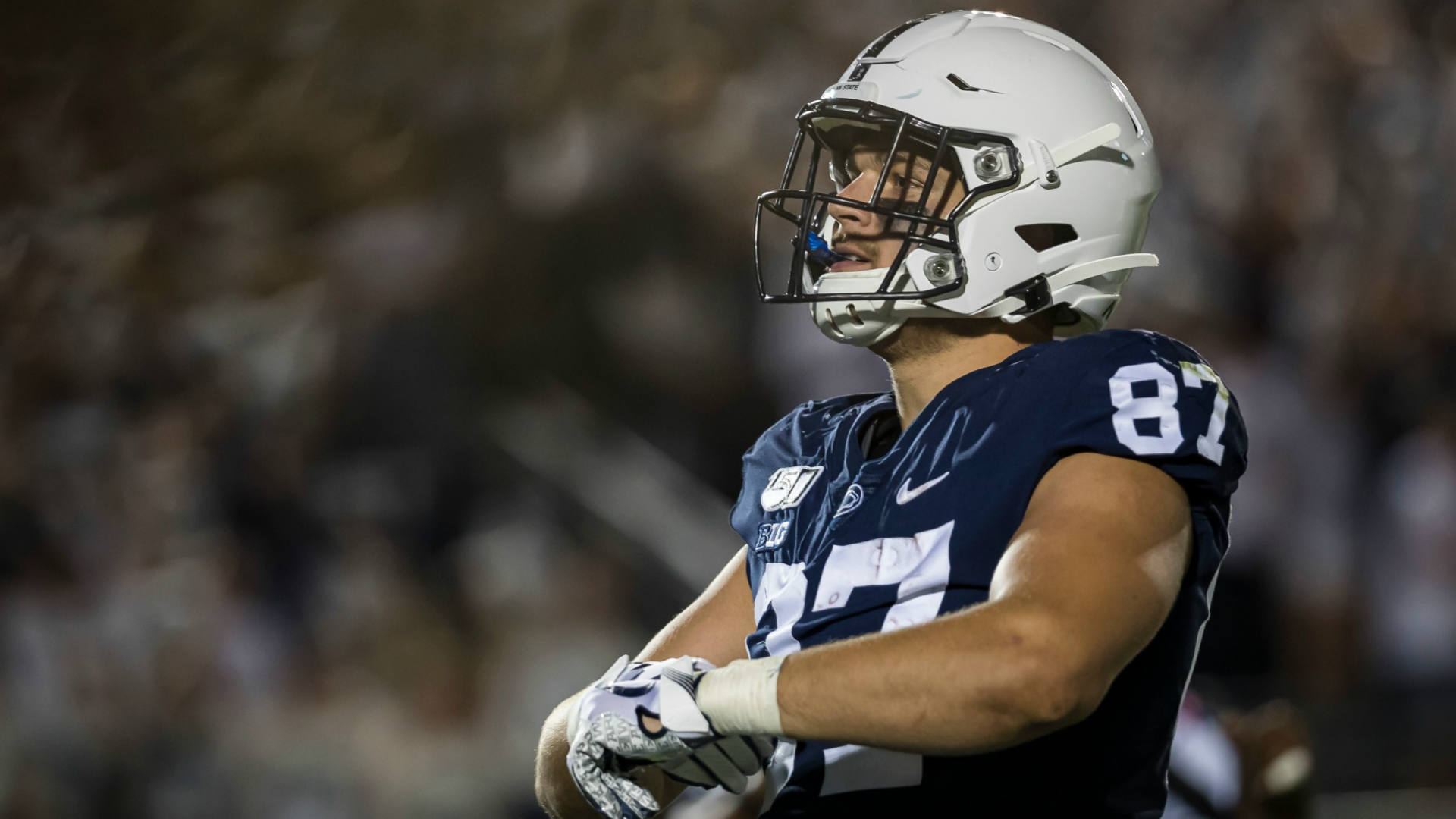 3. Brevin Jordan, Miami
Miami has a history of producing NFL tight ends, and Jordan seems to be next in line after a breakout 2020 that saw him catch 38 passes for 576 yards and seven TDs. His pro-day performance wasn't overly impressive, as he measured in at under 6-3, 247 pounds and ran a 4.69 40-yard dash, but his versatility and blocking upside could still see him land in the second round. In time, he should develop into a solid all-around contributor. 
4. Hunter Long, Boston College
Long was a big-play specialist in his first two seasons when he averaged 25.8 yards per catch (on just four receptions) and 18.2 yards per catch (28 catches), respectively. He became much more of a consistent target last year, when he caught 57 balls for 685 yards and five TDs. At just over 6-5, 254 pounds, Long has great size, and his 4.63 40-yard dash is decent enough, so if he can continue to develop his already solid blocking skills, Long could carve out a nice career. Expect him to go in the second or third round.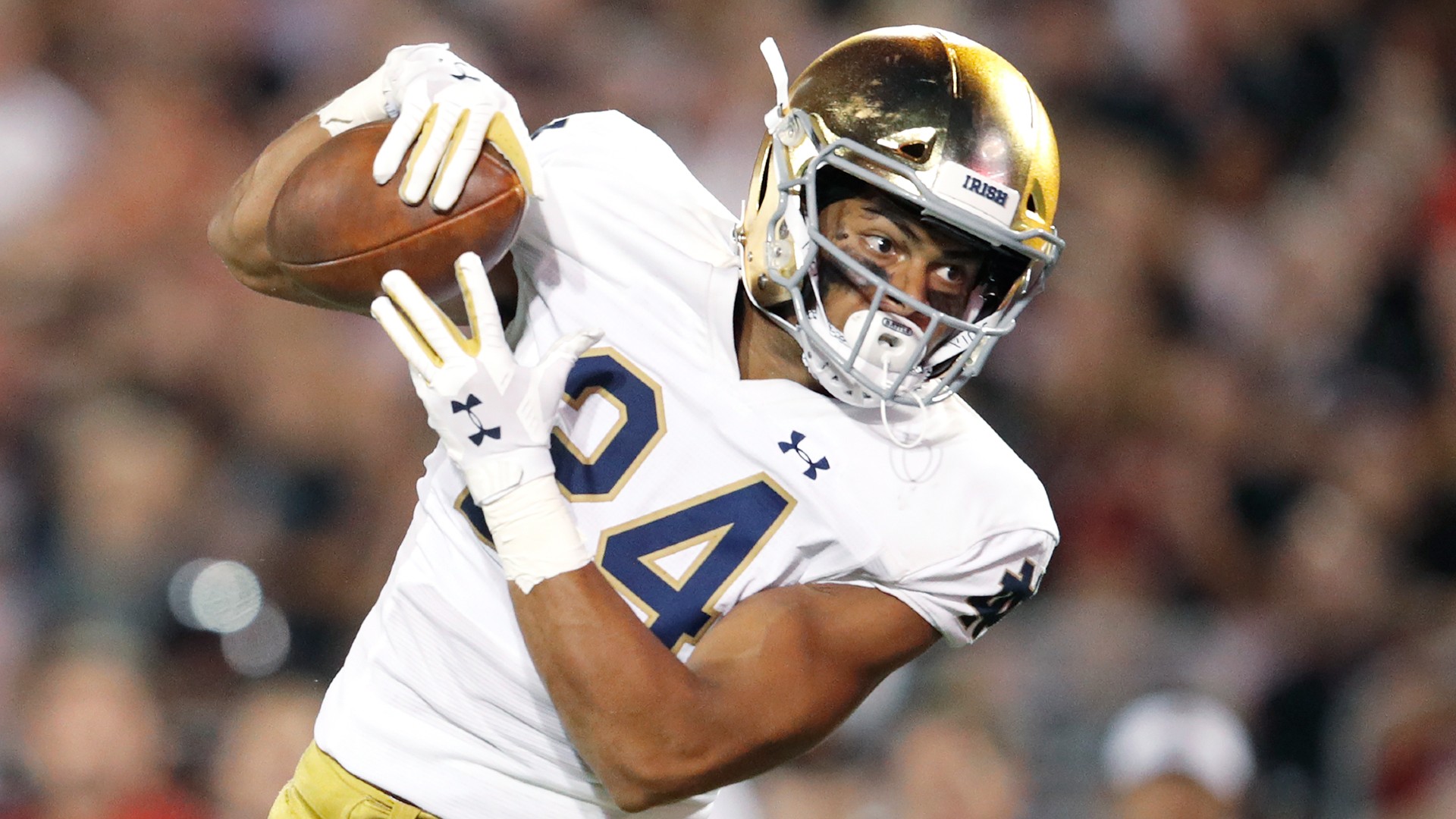 5. Tommy Tremble, Notre Dame
Tremble is more of a blocking TE, which you could probably tell from his 2020 stats (19 catches, 218 yards, no TDs), but after running a 4.59 40 during his pro day, there are some who believe Tremble has major upside in the NFL, be it as a traditional tight end or more of an H-back. The almost 6-4, 241 pounder has decent size and quickness and will be an intriguing third- or fourth-round prospect whose impact likely won't be reflected in the box score.
6. Tre' McKitty, Georgia
McKitty did little at Florida State (three seasons) and UGA (one season) in terms of stats (56 catches, 628 yards, three TDs in his 24 career games), but he was limited to just four games his senior year because of a knee injury. At a little over 6-4, 246 pounds, McKitty has good size, and with a 40 time in the 4.7-range, he has adequate speed. He's a developmental prospect who will likely go in the mid-to-late rounds, but he has a chance to make an impact in a couple years.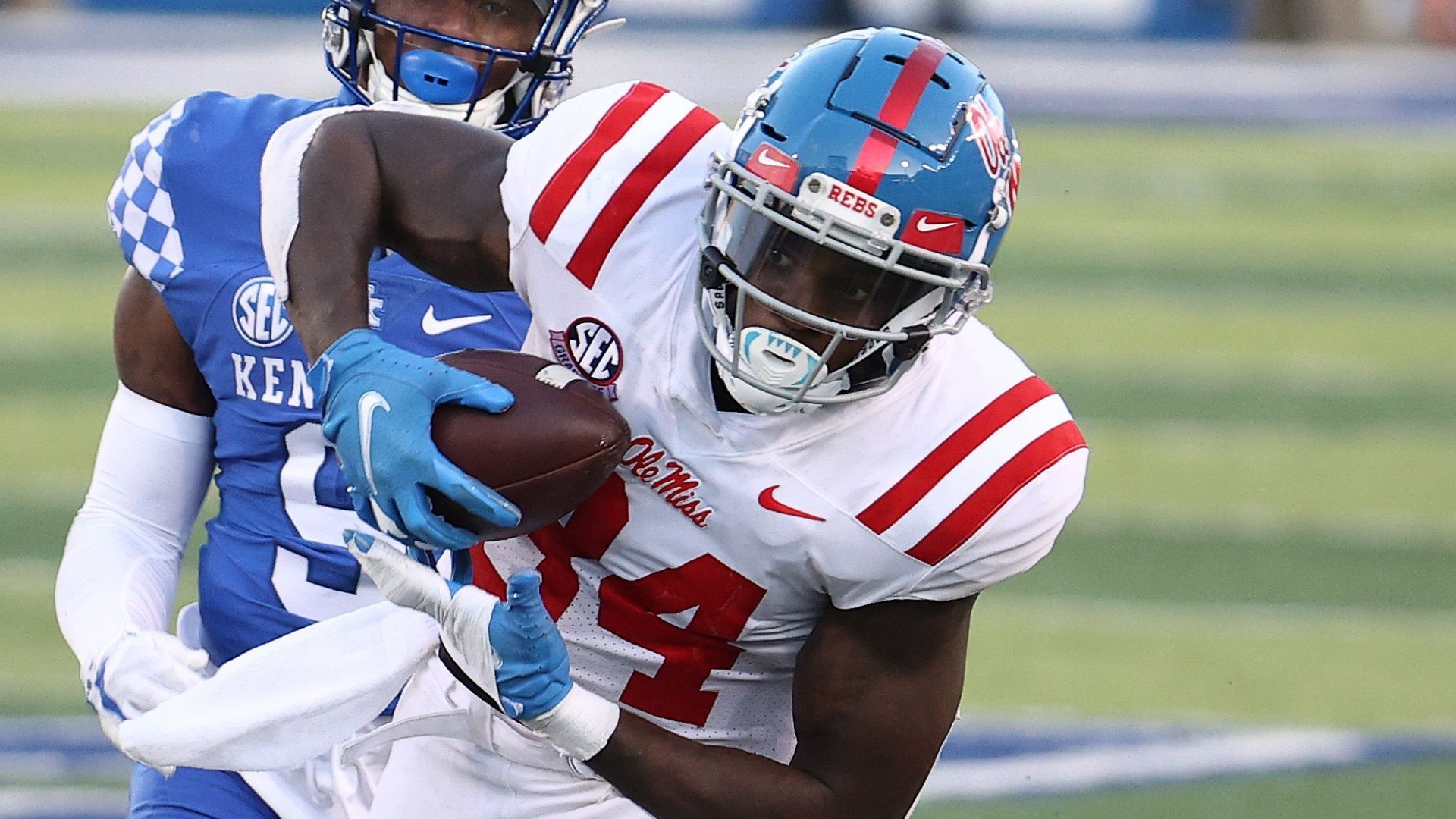 7. Kenny Yeboah, Ole Miss
After four mostly nondescript seasons at Temple, Yeboah transferred to Ole Miss and broke out with 27 catches, 524 yards, and six TDs. That kind of big-play potential is sure to have scouts interested in the 6-4, 250-pound pass-catcher. His blocking still needs work, but  Yeboah profiles as a mid-to-late-round prospect with a lot of upside.
8. Nick Eubanks, Michigan
Eubanks is another TE with little college production but plenty of physical tools. At 6-4, 245 pounds, Eubanks ran a 4.59 40 and showed decent blocking ability, so he'll be another late-round project who could develop into a solid starter in the right situation. 
9. Miller Forristall, Alabama
Yet another big, athletic TE who didn't produce much (23 catches, 253 yards, TD last season), Forristall ran a 4.79 40-yard dash and measured in at 6-5, 241 pounds. He's expected to be more of a blocking TE in the NFL, and he'll likely be a late-round pick.
10. Quintin Morris, Bowling Green
A converted wide receiver, Morris measured in at just over 6-2, 251 pounds and ran a 4.58 40-yard dash. As you might imagine, blocking is an issue, but Morris is a great route runner with good hands, and he's the type of player who could go at any point after Day 1 depending on which team thinks they can turn him into a matchup nightmare as a secondary tight end.
UFC 262 PPV price: How much does it cost to watch Oliveira vs. Chandler?
The UFC lightweight title is up for grabs Saturday night.
The belt, which was vacated after the retirement of Khabib Nurmagomedov, is on the line as No. 3-ranked Charles Oliveira and No. 4 ranked Michael Chandler at UFC 262.
MORE: Sign up to watch the UFC 262 PPV, exclusively on ESPN+
Chandler is just in his second bout under the UFC banner after spending the majority of his in-ring career with Bellator. His last bout, a first-round TKO over Dan Hooker at UFC 257 in January, earned him Performance of the Night honors.
Oliveira, the UFC vet, is looking to strap on gold for the first time in his MMA career, and it couldn't have come at a better time: Oliveira enters this weekend's fight red hot, riding an eight-fight win streak, whether by knockout or tap-out.
The lightweight belt will find a new waist this Saturday night. Here's what you need to know.
UFC 262 price: How much does Oliveira vs. Chandler cost?
The main card for UFC 262 is available in the U.S. on the ESPN+ subscription service for $69.99 or $89.99. That portion of the event begins at about 10 p.m. ET.
Earlier fights on the undercard are viewable live on ESPN, ESPN+ and UFC Fight Pass.
Current yearly subscribers can get UFC for $69.99.
Current monthly subscribers can get UFC 262 and an upgraded bundle at a discounted rate of $84.99. They can also purchase the event itself for $69.99.
New subscribers can get UFC 262 and a yearly subscription for $89.98, which is a savings of more than 30 percent.
Click here to learn about the different pricing and bundling options with the ESPN+ platform.
What channel is UFC 262 on?
Early prelims: UFC Fight Pass
Prelims: ESPN/ESPN+
Main card: ESPN+ (pay-per-view)
Fans will be able to watch the main card of UFC 262 only on ESPN+ PPV with an ESPN+ subscription.
The night is split into three events, per usual: The early preliminaries on UFC Fight Pass, the prelims on ESPN/ESPN+ and the main card on ESPN+ PPV.
What time does Oliveira vs. Chandler start?
Early prelims: 6 p.m. ET
Prelims: 8 p.m. ET
Main card: 10 p.m. ET
The night gets underway at 6 p.m. ET on UFC Fight Pass, with the show switching over to ESPN at 8 p.m. ET for the prelims. 
The main card gets underway at 10 p.m. ET, with the fighters expected to make their ring walks around midnight ET, depending on the length of undercard fights.
UFC 262 fight card
Early prelims
Gina Mazany vs. Priscila Cachoeira, women's flyweights
Kevin Aguilar vs. Tucker Lutz, featherweights
Christos Giagos vs. Sean Soriano, lightweights
Prelims
​Lando Vannata vs. Mike Grundy, featherweights
Andrea Lee vs. Antonina Shevchenko, women's flyweights
Jordan Wright vs. Jamie Pickett, middleweight
Ronaldo Souza vs. André Muniz, middleweights
Main card
Charles Oliveira vs. Michael Chandler for vacant UFC lightweight championship
Matt Schnell vs. Rogério Bontorin, bantamweights
Tony Ferguson vs. Beneil Dariush, lightweights
Katlyn Chookagian vs. Viviane Araújo, women's flyweights
Shane Burgos vs. Edson Barboza, featherweights
Marlins' Jesus Aguilar quite literally tries to steal signs from D-backs' Carson Kelly
Caught red-handed.
We know that batters can sometimes take a peek at catcher's signs to try to get as much information as they can. It's just part of baseball, after all. But Jesús Aguilar took it to the next level Thursday.
With Diamondbacks catcher Carson Kelly reaching first base, Aguilar decided to take a peak at the catcher's signs — by lifting up Kelly's wrist cheat-sheet.
MORE: Padres fan starts brawl after knocking out Rockies fan
Kelly responds with an incredulous, "What are you doing, man?"
Kelly's disapproval to Aguilar taking a peek results in a hilarious reaction from Aguilar, looking like a kid who was caught with his hand in the cookie jar before breakfast.
Aguilar is one of baseball's more fun personalities, so there's nothing to read into here. But it's not the first time that Aguilar has tried to steal signs. About a month ago, Aguilar stole an index card straight out of Dom Smith's back pocket during a game against the Mets — presumably a defensive positioning card that players carry with them on the field.
The Marlins would go on to win the game 5-1.
If Aguilar keeps this up, he might be able to score a role in an "Ocean's 11" reboot. 
NASCAR lineup at Dover: Starting order, pole for Sunday's race without qualifying
The starting lineup for Sunday's NASCAR Cup Series race at Dover International Speedway was set by applying the statistical formula NASCAR is using for the majority of the series' races in 2021.
Drivers' starting positions for the Drydene 400 (2 p.m. ET; FS1, TSN, MRN, SiriusXM NASCAR Radio) were based on four factors:
Driver's finishing position from the previous race (25 percent)
Car owner's finishing position from the previous race (25 percent)
Team owner points ranking (35 percent)
Fastest lap from the previous race (15 percent)
NASCAR is conducting qualifying and practice for just eight Cup Series races in the 2021 season. The next qualifying session will take place prior to the May 23 event at Circuit of the Americas, a road course outside Austin, Texas.
Below is the starting lineup, which was set without qualifying, for Sunday's NASCAR Cup Series race on Dover's 1-mile oval.
MORE: Watch Sunday's NASCAR race live with fuboTV (free 7-day trial)
Who won the pole for the NASCAR race at Dover?
Martin Truex Jr. was tabbed to lead the field to green for the Drydene 400 based on the mathematical formula. Truex is coming off his third win of the season, a dominating performance at Darlington last Sunday. He is the only driver to win more than once in the Cup Series in 2021.
Truex also gained the No. 1 pit stall, which is a valuable piece of real estate at Dover because track position is highly important on the Monster Mile.
The Joe Gibbs Racing driver is second in the series point standings to teammate Denny Hamlin, who will start in the second position Sunday. William Byron, Kyle Larson, Kevin Harvick, Kyle Busch, Ryan Blaney, Chase Elliott, Joey Logano and Chris Buescher received the other top-10 lineup spots.
NASCAR starting lineup at Dover
NASCAR used a mathematical formula to set the starting lineup for Sunday's race at Dover International Speedway, the Drydene 400, without qualifying.
| | | | |
| --- | --- | --- | --- |
| Start pos. | Driver | Car No. | Team |
| 1 | Martin Truex Jr. | 19 | Joe Gibbs Racing |
| 2 | Denny Hamlin | 11 | Joe Gibbs Racing |
| 3 | William Byron | 24 | Hendrick Motorsports |
| 4 | Kyle Larson | 5 | Hendrick Motorsports |
| 5 | Kevin Harvick | 4 | Stewart-Haas Racing |
| 6 | Kyle Busch | 18 | Joe Gibbs Racing |
| 7 | Ryan Blaney | 12 | Team Penske |
| 8 | Chase Elliott | 9 | Hendrick Motorsports |
| 9 | Joey Logano | 22 | Team Penske |
| 10 | Chris Buescher | 17 | Roush Fenway Racing |
| 11 | Christopher Bell | 20 | Joe Gibbs Racing |
| 12 | Tyler Reddick | 8 | Richard Childress Racing |
| 13 | Ryan Newman | 6 | Roush Fenway Racing |
| 14 | Austin Dillon | 3 | Richard Childress Racing |
| 15 | Brad Keselowski | 2 | Team Penske |
| 16 | Alex Bowman | 48 | Hendrick Motorsports |
| 17 | Chase Briscoe | 14 | Stewart-Haas Racing |
| 18 | Matt DiBenedetto | 21 | Wood Brothers Racing |
| 19 | Ross Chastain | 42 | Chip Ganassi Racing |
| 20 | Ricky Stenhouse Jr. | 47 | JTG Daugherty Racing |
| 21 | Michael McDowell | 34 | Front Row Motorsports |
| 22 | Bubba Wallace | 23 | 23XI Racing |
| 23 | Erik Jones | 43 | Richard Petty Motorsports |
| 24 | Daniel Suarez | 99 | Trackhouse Racing Team |
| 25 | Ryan Preece | 37 | JTG Daugherty Racing |
| 26 | Corey LaJoie | 7 | Spire Motorsports |
| 27 | Anthony Alfredo | 38 | Front Row Motorsports |
| 28 | Kurt Busch | 1 | Chip Ganassi Racing |
| 29 | Justin Haley | 77 | Spire Motorsports |
| 30 | Cole Custer | 41 | Stewart-Haas Racing |
| 31 | BJ McLeod | 78 | Live Fast Motorsports |
| 32 | Aric Almirola | 10 | Stewart-Haas Racing |
| 33 | James Davison | 15 | Rick Ware Racing |
| 34 | Cody Ware | 51 | Petty Ware Racing |
| 35 | Quin Houff | 00 | StarCom Racing |
| 36 | Garrett Smithley | 53 | Rick Ware Racing |
| 37 | Josh Bilicki | 52 | Rick Ware Racing |