NFL Draft prospects 2021: The top 10 running backs, ranked from Najee Harris to Trey Sermon
There might not be a position with a bigger disconnect in terms of how fans think about it and how NFL teams approach it in the draft than running back. Because of fantasy football and general workload, many still view RB as a glamour position, but fewer RBs are going early in drafts. The 2021 NFL Draft figures to follow that pattern, as there might be just one or two backs taken in the first round (Najee Harris, Travis Etienne) — if there are any at all. 
Of course, just because there aren't many backs taken during the draft's opening night doesn't mean there won't be several impact RBs selected in 2021. Running back has proven to be a position at which you can find value in the middle and late rounds, and rookies of any stature can make immediate impacts. 
With that in mind, let's take a closer look at Sporting News' top-10 RBs for the 2021 NFL Draft.
MORE NFL DRAFT: Complete 7-round mock | Top 100 big board
NFL Draft 2021 running back rankings
1. Najee Harris, Alabama
Harris averaged 6.0 yards per carry during his four-year career at Alabama, and he really shined during his senior season, posting 1,891 total yards (1,466 rushing, 425 rushing) and 30 total TDs on 294 touches. At 6-2, 230 pounds, Harris is somewhat reminiscent of Derrick Henry, and while he lacks Henry's elite power-running ability, he far exceeds the former 'Bama back in receiving ability. Harris might not get drafted until the late first round, but he has the potential to be a three-down star. 
2. Travis Etienne, Clemson
Etienne took a step back as a runner during his final year at Clemson, going from 107.6 rushing yards per game and 7.8 yards per carry as a junior (and even slightly better numbers as a sophomore) to 76.2 yards per came and 5.4 yards per carry as a senior. However, he improved as a pass-catcher, hauling in 48 passes for 588 yards in just 12 games. That versatility will play well in the NFL, as will his 4.45 40-yard dash time. At 5-10, 215 pounds, Etienne is big enough to survive as an every-down back and will likely start or see a prominent time-share role even if he isn't drafted in the first round.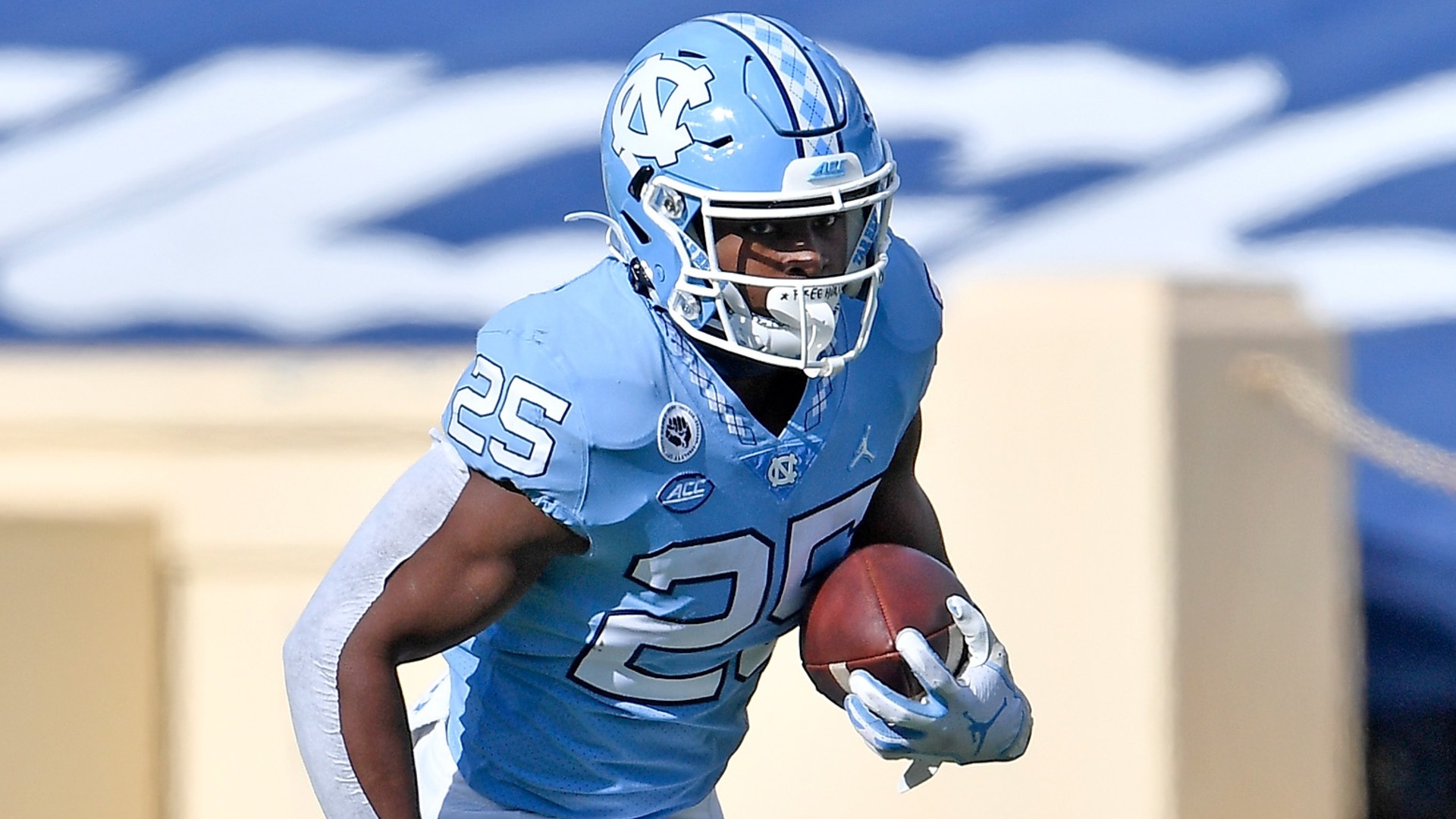 3. Javonte Williams, North Carolina
Williams steadily improved during his three-year career at UNC, posting 1,140 rushing yards (7.3 yards per carry), 19 rushing TDs, 305 receiving yards, and three receiving TDs during his final season. At nearly 5-10, 212 pounds, Williams ran a 4.55 40-yard dash at his pro day, and the rest of his speed, strength, and agility numbers were well above average. He operated in a timeshare with Michael Carter while at UNC, so Williams shouldn't have a problem adapting to that role in the NFL. As a likely second-round pick, Williams is the type of power back who should make waves early in his career.  
4. Michael Carter, North Carolina
Carter had remarkably similar stats to his teammate Williams during his final season at UNC, putting up 1,245 rushing yards (8.0 yards per carry), nine rushing TDs, 267 receiving yards, and two receiving TDs. The difference between the two is a couple inches in height and about 20 pounds, which is why Carter figures to be more of a "change-of-pace" back in the NFL. Even though he doesn't figure to see the lion's share of the backfield touches wherever he winds up as a rookie, Carter has plenty of upside and will be a worthwhile contributor thanks to his shiftiness and 4.5 speed.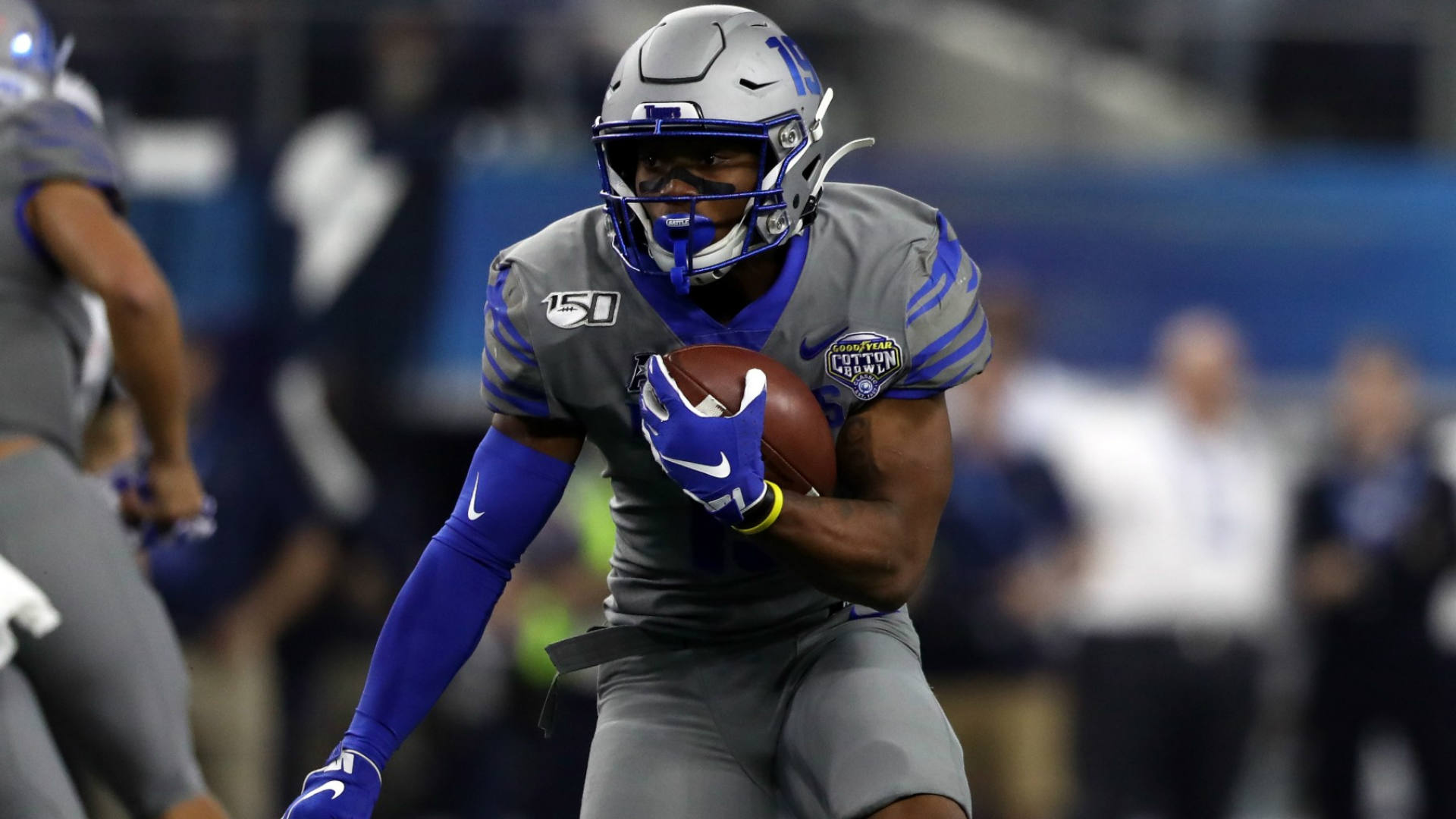 5. Kenneth Gainwell, Memphis
Gainwell played only one full season at Memphis (2019), but he impressed with 1,459 rushing yards (6.3 yards per carry), 13 rushing TDs, 51 receptions, 610 receiving yards, and three receiving TDs. Despite being undersized in college (5-11, 191 pounds), it's been reported Gainwell is up to around 200 pounds and ran a 4.42 40-yard dash. It wouldn't be surprising to see him jump some of the other backs on this list and get drafted in the second or third round. Either way, he clearly has the versatility offensive coordinators crave, and if he goes to the right team, he should be a dynamic player. 
6. Chuba Hubbard, Oklahoma State
An ankle injury limited Hubbard in 2020, but he led the nation in rushing in '19, posting 2,094 yards (6.5 yards per carry) and 21 TDs. Hubbard has good size (6-0, 210 pounds) and speed (4.48 40-yard dash), and he's obviously shown an ability to produce with a heavy workload. He might not go until Day 3 considering he never showed much as a receiver in college, but it wouldn't be a surprise to see him starting at some point this season.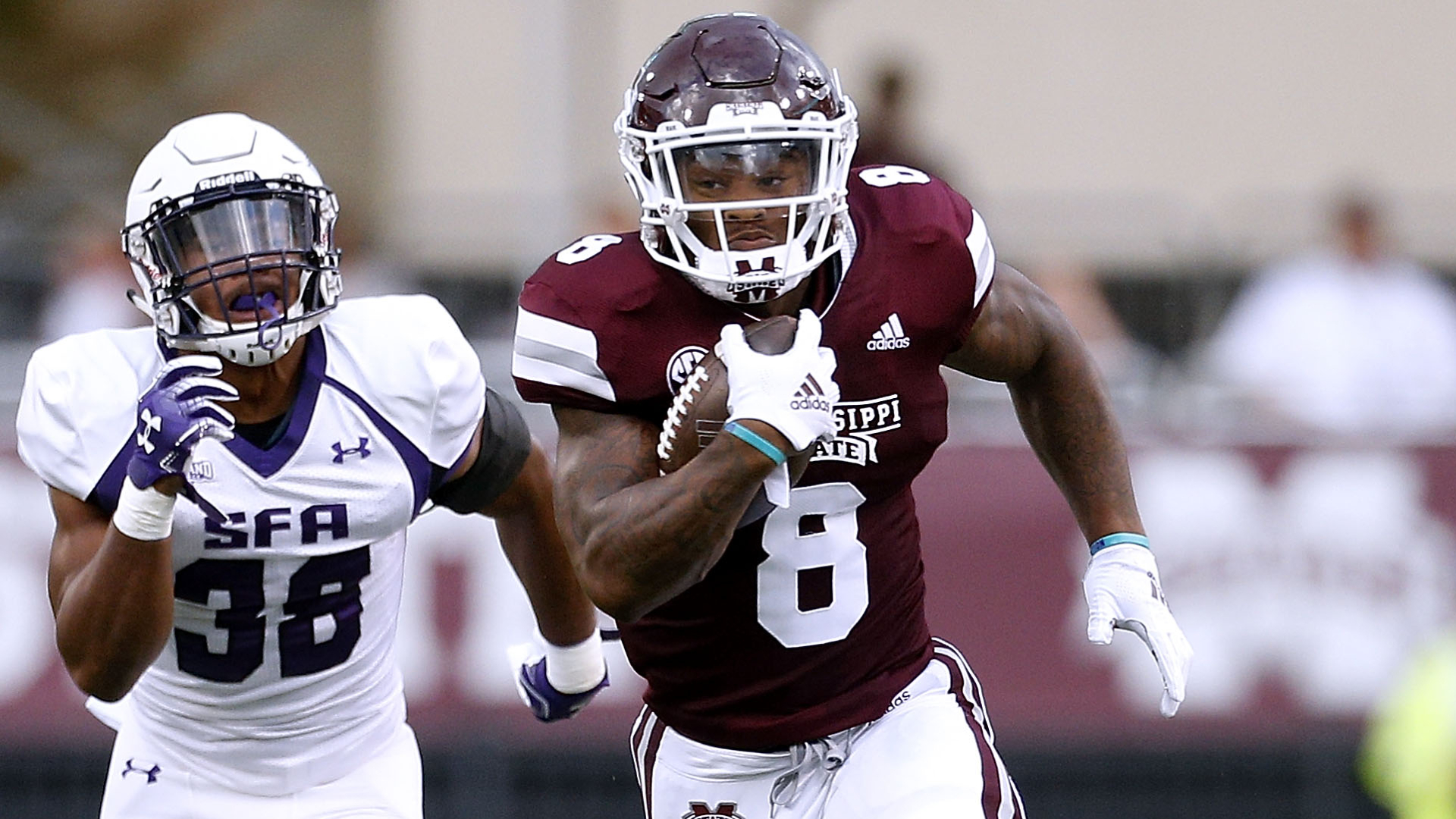 7. Kylin Hill, Mississippi State
Hill played just three games for Mississippi State in 2020, but he impressed the season before, totaling 1,350 rushing yards (5.6 yards per carry) and 10 TDs. The 5-11, 214-pounder ran a 4.51 40-yard dash and showed impressive strength at his pro day. He's the type of late-round pick who has upside and could excel in the right system, but he likely won't be an impact player early in the 2021 season. 
8. Rhamondre Stevenson, Oklahoma
A failed drug test cost Stevenson half of last season, but he excelled in the six games he played, rushing for 665 yards and seven TDs and adding another 211 yards through the air. The 6-foot, 230-pound bruiser isn't particularly fast (4.63 40), but his ability to catch the ball out of the backfield gives him more versatility than you might expect. That overall package makes Stevenson an intriguing prospect who could surprise this year. 
9. Jaret Patterson, Buffalo
Patterson was a high-level producer in his three-year career, running for 1,799 yards (5.8 yards per carry) and 19 TDs in 13 games in 2019 and an even more impressive 1,072 yards (7.6 yards per carry) and 19 TDs in just six games in '20. That included a 409-yard, eight-TD game against Kent State. Patterson's size is an issue, as he measured in shorter than 5-7 and just 195 pounds. His 4.52 40-yard-dash time was decent, but clearly he'll have to overcome concerns about his size to get a chance at regular playing time. He could be a dynamic change-of-pace back in the right offense, though.
10. Trey Sermon, Ohio State
Sermon showcased his skills during his first three years at Oklahoma, but he shined during his senior season at Ohio State. Specifically, he really stood out during his final two games (not counting the National Championship game in which he got injured on the first series), rushing 60 times for 524 yards and three scores against Northwestern in the Big 10 Championship game and Clemson in the Sugar Bowl. The 6-3, 215-pound Sermon ran a 4.57 40-yard dash, which shows he has decent speed for his size. There's potential here for the likely late-round pick.
Marlins' Jesus Aguilar quite literally tries to steal signs from D-backs' Carson Kelly
Caught red-handed.
We know that batters can sometimes take a peek at catcher's signs to try to get as much information as they can. It's just part of baseball, after all. But Jesús Aguilar took it to the next level Thursday.
With Diamondbacks catcher Carson Kelly reaching first base, Aguilar decided to take a peak at the catcher's signs — by lifting up Kelly's wrist cheat-sheet.
MORE: Padres fan starts brawl after knocking out Rockies fan
Kelly responds with an incredulous, "What are you doing, man?"
Kelly's disapproval to Aguilar taking a peek results in a hilarious reaction from Aguilar, looking like a kid who was caught with his hand in the cookie jar before breakfast.
Aguilar is one of baseball's more fun personalities, so there's nothing to read into here. But it's not the first time that Aguilar has tried to steal signs. About a month ago, Aguilar stole an index card straight out of Dom Smith's back pocket during a game against the Mets — presumably a defensive positioning card that players carry with them on the field.
The Marlins would go on to win the game 5-1.
If Aguilar keeps this up, he might be able to score a role in an "Ocean's 11" reboot. 
NASCAR lineup at Dover: Starting order, pole for Sunday's race without qualifying
The starting lineup for Sunday's NASCAR Cup Series race at Dover International Speedway was set by applying the statistical formula NASCAR is using for the majority of the series' races in 2021.
Drivers' starting positions for the Drydene 400 (2 p.m. ET; FS1, TSN, MRN, SiriusXM NASCAR Radio) were based on four factors:
Driver's finishing position from the previous race (25 percent)
Car owner's finishing position from the previous race (25 percent)
Team owner points ranking (35 percent)
Fastest lap from the previous race (15 percent)
NASCAR is conducting qualifying and practice for just eight Cup Series races in the 2021 season. The next qualifying session will take place prior to the May 23 event at Circuit of the Americas, a road course outside Austin, Texas.
Below is the starting lineup, which was set without qualifying, for Sunday's NASCAR Cup Series race on Dover's 1-mile oval.
MORE: Watch Sunday's NASCAR race live with fuboTV (free 7-day trial)
Who won the pole for the NASCAR race at Dover?
Martin Truex Jr. was tabbed to lead the field to green for the Drydene 400 based on the mathematical formula. Truex is coming off his third win of the season, a dominating performance at Darlington last Sunday. He is the only driver to win more than once in the Cup Series in 2021.
Truex also gained the No. 1 pit stall, which is a valuable piece of real estate at Dover because track position is highly important on the Monster Mile.
The Joe Gibbs Racing driver is second in the series point standings to teammate Denny Hamlin, who will start in the second position Sunday. William Byron, Kyle Larson, Kevin Harvick, Kyle Busch, Ryan Blaney, Chase Elliott, Joey Logano and Chris Buescher received the other top-10 lineup spots.
NASCAR starting lineup at Dover
NASCAR used a mathematical formula to set the starting lineup for Sunday's race at Dover International Speedway, the Drydene 400, without qualifying.
| | | | |
| --- | --- | --- | --- |
| Start pos. | Driver | Car No. | Team |
| 1 | Martin Truex Jr. | 19 | Joe Gibbs Racing |
| 2 | Denny Hamlin | 11 | Joe Gibbs Racing |
| 3 | William Byron | 24 | Hendrick Motorsports |
| 4 | Kyle Larson | 5 | Hendrick Motorsports |
| 5 | Kevin Harvick | 4 | Stewart-Haas Racing |
| 6 | Kyle Busch | 18 | Joe Gibbs Racing |
| 7 | Ryan Blaney | 12 | Team Penske |
| 8 | Chase Elliott | 9 | Hendrick Motorsports |
| 9 | Joey Logano | 22 | Team Penske |
| 10 | Chris Buescher | 17 | Roush Fenway Racing |
| 11 | Christopher Bell | 20 | Joe Gibbs Racing |
| 12 | Tyler Reddick | 8 | Richard Childress Racing |
| 13 | Ryan Newman | 6 | Roush Fenway Racing |
| 14 | Austin Dillon | 3 | Richard Childress Racing |
| 15 | Brad Keselowski | 2 | Team Penske |
| 16 | Alex Bowman | 48 | Hendrick Motorsports |
| 17 | Chase Briscoe | 14 | Stewart-Haas Racing |
| 18 | Matt DiBenedetto | 21 | Wood Brothers Racing |
| 19 | Ross Chastain | 42 | Chip Ganassi Racing |
| 20 | Ricky Stenhouse Jr. | 47 | JTG Daugherty Racing |
| 21 | Michael McDowell | 34 | Front Row Motorsports |
| 22 | Bubba Wallace | 23 | 23XI Racing |
| 23 | Erik Jones | 43 | Richard Petty Motorsports |
| 24 | Daniel Suarez | 99 | Trackhouse Racing Team |
| 25 | Ryan Preece | 37 | JTG Daugherty Racing |
| 26 | Corey LaJoie | 7 | Spire Motorsports |
| 27 | Anthony Alfredo | 38 | Front Row Motorsports |
| 28 | Kurt Busch | 1 | Chip Ganassi Racing |
| 29 | Justin Haley | 77 | Spire Motorsports |
| 30 | Cole Custer | 41 | Stewart-Haas Racing |
| 31 | BJ McLeod | 78 | Live Fast Motorsports |
| 32 | Aric Almirola | 10 | Stewart-Haas Racing |
| 33 | James Davison | 15 | Rick Ware Racing |
| 34 | Cody Ware | 51 | Petty Ware Racing |
| 35 | Quin Houff | 00 | StarCom Racing |
| 36 | Garrett Smithley | 53 | Rick Ware Racing |
| 37 | Josh Bilicki | 52 | Rick Ware Racing |
Oliveira vs. Chandler purse, salaries: How much money will they make at UFC 262?
There's a whole lot of bling on the line at UFC 262, and not just from the lightweight championship belt.
Charles Oliveira (30-8-1, eight KOs) and Michael Chandler (22-5, 10 KOs) will vie for a significant payday and supremacy in the lightweight division as its Nos. 3- and 4-ranked fighters, respectively. That's especially impressive for Chandler, who is fighting under the UFC flag for just the second time after moving on from Bellator. He is on a current three-win streak, all via knockout, heading into his bout vs. Oliveira.
Oliveira, meanwhile, is on an eight-fight win streak, mixing in wins via submission, KO and decision into the mix. Will he prove his superiority over the relative UFC newcomer, or will Chandler put his stamp as the best lightweight in the world in just his second UFC fight?
With that, here's everything you need to know about the money they stand to make at UFC 262.
MORE: Sign up to watch the UFC 262 PPV, exclusively on ESPN+
UFC 262 purse, prize money
The official UFC 262 purse won't be revealed until after the fight has concluded, but the headliners' previous bouts in the Octagon could provide some indication of what they're expected to make.
Michael Chandler made a reported $530,000 from UFC 257, which included his Performance of the Night, win and sponsorship bonuses. He made $350,000 in show money. Oliveira made a reported $250,000 from UFC 256: $115,000 to show, $115,000 as a win bonus and $20,000 in fight week incentive pay.
Considering that each fighter made those figures without headlining their respective events, it stands to reason that each will look to make at least $500,000 from UFC 262.
MORE: Everything you need to know about UFC 262
What is Charles Oliveira's net worth?
Oliveria's net worth is estimated between $2 million and $3 million per mmasalaries.com and $2.21 million according to sportkez.com.
What is Michael Chandler's net worth?
Chandler has a net worth of $2 million, according to a 2020 estimate from wealthygenius.com.
UFC 262 card
Main card
Charles Oliveira vs. Michael Chandler (lightweight championship)
Tony Ferguson vs. Beneil Dariush (lightweight)
Katlyn Chookagian vs. Viviane Araujo (women's flyweight)
Shane Burgos vs. Edson Barboza (featherweight)
Matt Schnell vs. Rogerio Bontorin (bantamweight)
Prelims
Jacare Souza vs. Andre Muniz (middleweight)
Lando Vannata vs. Mike Grundy (featherweight)
Andrea Lee vs. Antonina Shevchenko (women's flyweight)
Jordan Wright vs. Jamie Pickett (middleweight)
Early prelims
Gina Mazany vs. Priscila Cachoeira (women's flyweight)
Kevin Aguilar vs. Tucker Lutz (featherweight)
Christos Giacos vs. Sean Soriano (flyweight)