Next snaps up 25% stake in Reiss in latest high street deal | Business News
Next has agreed to buy a 25% stake in smaller upmarket rival Reiss with an option to add to its holding and secure majority control.
The FTSE 100 fashion group will pay £33m for the stake and also provide Reiss with a £10m loan.
Reiss's online operations will from next year be contracted to Next, which will also provide it with warehouse and distribution services.
Next said that Reiss, which is led by former long-serving Next executive Christos Angelides, would retain creative independence under the deal.
"The intention is that Next's infrastructure – its online systems, warehousing, distribution assets and sourcing base – can serve as a launch pad for Reiss's growth plans, both in the UK and overseas," the company said in a statement.
The deal gives Next an option, which expires after next July, to buy an additional 26% stake, which would take its total holding to 51%.
Reiss, founded in 1971, operates in 14 countries via 79 stores and 104 concessions, as well as through wholesale and franchise operations.
It notched up annual sales of £227.4m in the year to 1 February 2020, up 22% on the prior year, before worldwide lockdowns struck.
Reiss is currently majority owned by US private equity firm Warburg Pincus with the family of founder David Reiss retaining a minority holding.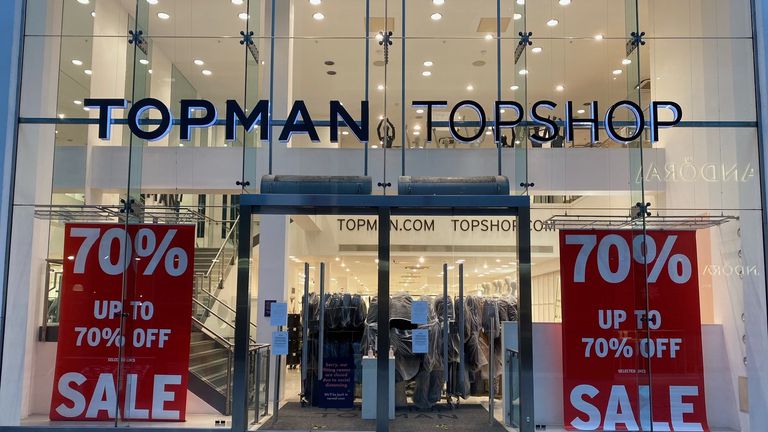 The deal comes at a time when the UK's high street sector is being reshaped by the impact of the coronavirus pandemic.
Next has been a resilient performer thanks to its big online business and chief executive Lord Wolfson has said the crisis would throw up takeover opportunities.
It has already expanded its beauty business by taking on five former Debenhams sites and taken a majority stake in a joint venture operating Victoria's Secret lingerie stores in the UK.
Next had also been involved in a bid to take over Topshop, part of Sir Philip Green's collapsed Arcadia empire, but pulled out earlier this year.
The demise of Arcadia and Debenhams – whose brands, but not stores, were eventually picked up by online retailers Asos and Boohoo – will mean a number of retail's best-known names not reopening on the high street even as pandemic lockdown measures are relaxed later this year.
Annual results published on Wednesday by Zara owner Inditex, which reported a 70% fall in profits to €1.1bn, highlighted the impact of COVID-19 on the sector globally.
AMC cashes in on Reddit-trading frenzy with $428 million share sale
Cinema operator AMC Entertainment Holdings has raised about $428 million from a share sale, capitalizing on the retail-trading driven surge in its stock earlier this year.
The world's largest cinema chain operator's shares have gained more than five-folds in 2021 thanks to interest from amateur traders on Reddit that were piling into heavily shorted stocks such as GameStop and AMC to punish hedge funds that bet against them.
AMC said in a statement Thursday it had sold 43 million shares at an average price of $9.94 apiece in the at-the-market offering, sending its stock nearly 16 percent higher.
The company has raised funds in the past few months to ride out a downturn in its business wrought by pandemic-driven theater closures, delays in the launch of big movies and the growth of video streaming platforms.
It said in January it had raised $917 million since mid-December through equity and debt issues. It raised an additional $304.8 million in the same month through a share sale.
Amazon Fresh grocery store to replace Fairway in Paramus
The Paramus Fairway's getting a fresh start.
An Amazon Fresh supermarket is set to replace the shuttered Fairway Market in Paramus, N.J.
The Jeff Bezos-owned e-commerce giant bought the former Fairway location out of bankruptcy auction along with another former Fairway store in Woodland Park for a total of $1.5 million last March, The Post previously reported. 
Amazon's plans for the two locations were listed as confidential at the time, but came as the Seattle-based company, which also owns Whole Foods, was beginning to expand in the groceries space. 
But Amazon confirmed in November the former Woodland Park Fairway would be converted into an Amazon Fresh. And now, the Paramus location will go the same route, an Amazon spokesperson confirmed to NorthJersey.com. 
It's not clear when opening day will be, and the company did not return The Post's request for comment. 
Amazon opened its first Fresh store in Los Angeles' Woodland Hills neighborhood in September. It's since opened 11 other locations elsewhere in California and in Illinois, according to the tech giant's website. 
Amazon Fresh is the company's attempt to offer a mix of in-store and online grocery shopping while attracting a distinct demographic from Whole Foods by offering lower prices. Fresh stores also tend to feature more national staple brands like Coca-Cola and Kellogg's than Whole Foods, which emphasizes organic food. 
As The Post previously reported, Amazon may be looking to scoop up some more Fairway locations to expand Amazon Fresh's footprint in the Northeast. Only seven of Fairway's 14 stores were sold at last year's bankruptcy auction, including the two that went to Amazon. Village Supermarket, which operates Shoprite stores, acquired at least four of those locations as well as rights to the Fairway brand. 
McDonald's to boost wages by 10 percent amid worker shortage
Enlarge Image
A McDonald's in Spring, Pa., advertises $15-an-hour jobs on April 19. Like other restaurants and retailers, McDonald's is facing a nationwide labor shortage as the pandemic wanes.
Ben Hasty/MediaNews Group/Reading Eagle via Getty Images
McDonald's said Thursday it will boost its rank-and-file employees' hourly pay by 10 percent as it seeks to add 10,000 workers at its company-owned eateries amid a nationwide labor shortage.
The world's biggest restaurant company said entry-level employees will now get paid between $11 and $17 an hour while managers will make anywhere from $15 to $20 an hour. The wage boost also will apply to 35,600 existing McDonald's employees, some of whom have already received the increase, the company said.
"Together with our franchisees, we face a challenging hiring environment, and staying ahead means we must constantly renew our commitment to offer one of the leading employment packages in the industry," McDonald's USA president Joe Erlinger said in a message to US workers.
McDonald's said it expects all of its company-owned stores to be paying workers an average of $15 an hour by 2024 while some will get there as early as this year.
The wage increases come amid one of the tightest labor markets in history with a record 8.1 million job openings as of March. Critics have partly blamed generous unemployment benefits which have included a $300 weekly COVID-19 sweetener from the federal government. Workers have also cited concerns about a lack of childcare services and health and safety fears.
Some McDonald's franchisees have been handing out hiring and referral bonuses to attract employees. As previously reported by The Post, a McDonald's manager in Florida even offered $50 for potential candidates to simply interview for a job — and said he had no takers after two weeks.
Chipotle Mexican Grill said this week that its average wage will reach $15 an hour by the end of June as it pushes to hire 20,000 workers.