'Messi must follow his heart' – Out-of-contract star backed to return glory to Barcelona
Lionel Messi should follow his heart and stay with Barcelona this summer in a bid to restore the Blaugrana to their former glories, according to his former Argentina team-mate Franco Di Santo.
Speculation around Messi's future continues to swirl, with the mercurial No.10's contract set to expire at the end of June following his public falling-out with the club's hierarchy in the summer of 2020.
That means that Saturday's meeting with Real Madrid at Estadio Alfredo di Stefano would be his last-ever Clasico if he does choose to leave Camp Nou behind.
Goal understands that the 33-year-old is completely ignoring the situation around his future until the end of the season as Manchester City, Paris Saint-Germain and Inter continue to be linked with his signature.
And former Chelsea striker Di Santo believes that while it would be interesting to see the six-time Ballon d'Or winner in a new setting, he would rather he remained in Catalunya.
What was said?
Speaking exclusively to Goal, Di Santo says: "He deserves respect at Barcelona for all he has won in the club. It is a team game but a big part of their recent history has been about him.
"I don't think they would have won as much without him. He is the key for everything at Barcelona. And the style of play. He deserves to be respected for what he has won in the last years.
"It would be great for whoever signs him in the Premier League or Italy. To see him in another context would be cool.
"However, I would like to see him stay in Barcelona to build his legacy.
"If I were him, I would ignore whatever people say and do what my heart says. I would do what's best for my family and me. Maybe that's to make Barcelona strong again."
Is Messi still the world's best player?
Despite a poor start to the season and the emergence of new stars such as Kylian Mbappe and Erling Haaland, Messi's recent form suggests he is not willing to give up his crown as the world's best player without a fight.
With 16 goals and seven assists in 13 league games since the turn of the year, Messi has led Barca back into the Spanish title race, with Ronald Koeman's side now just a point behind faltering leaders Atletico Madrid with nine matches still to play.
The Blaugrana have also reached the Copa del Rey final, which is scheduled for April 17 against Athletic Club.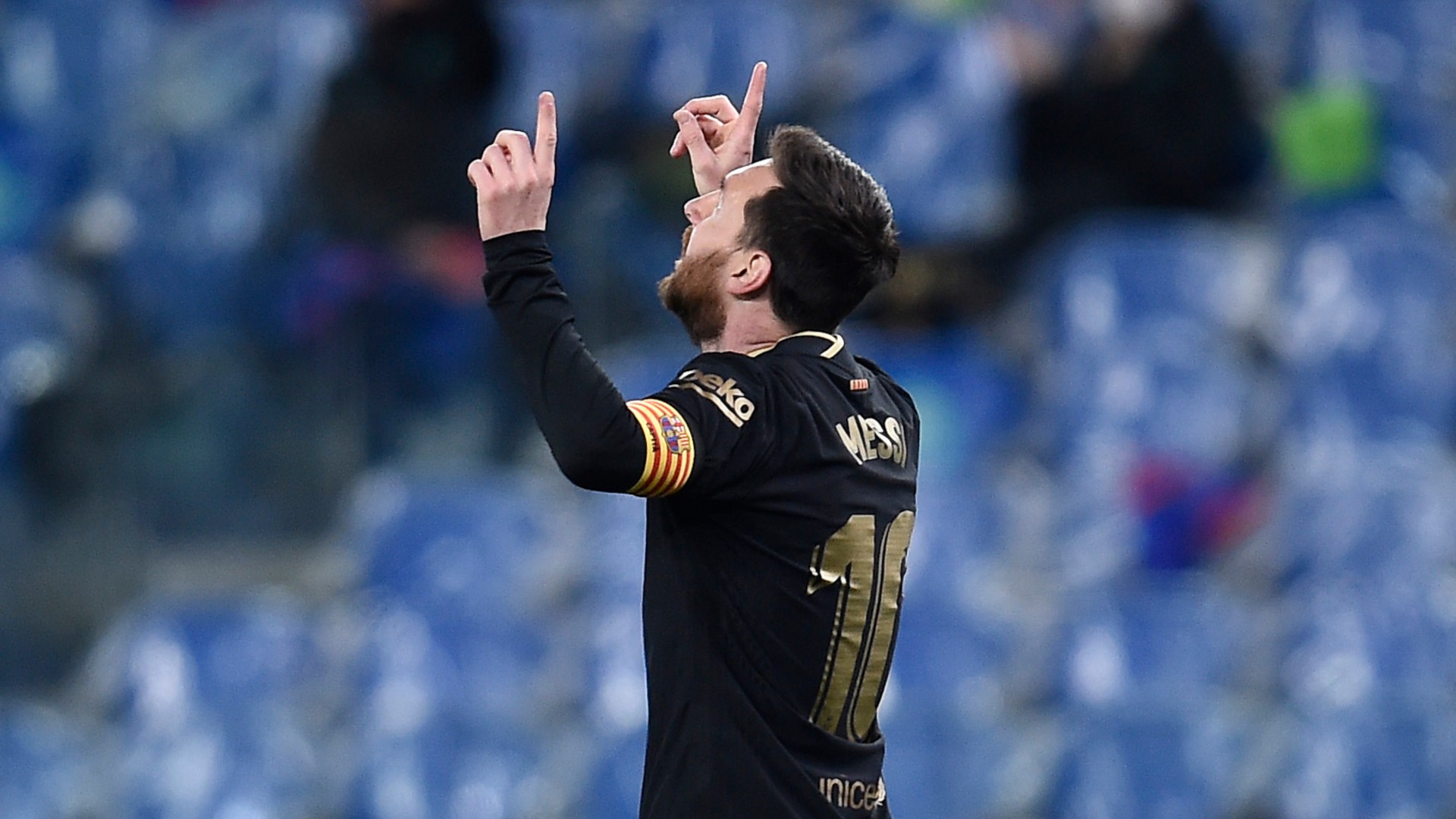 As such, a domestic double is within Messi's reach, and Di Santo believes that his recent form suggests he remains at the very top of the world game.
"Even just meeting Messi is amazing because he is our (Argentina's) other idol along with (Diego) Maradona," Di Santo adds. "I think with him they are the two best players in our history.
"We have produced so many good players but those two are the best that we have had.
"I think Messi is one of the best players, if not the best, right now. We are always happy to have him in our team. It will be really difficult to see another player like him in the future."
Further reading
Raiders declined trade-down offer in NFL Draft to avoid losing Alex Leatherwood
No team has been more criticized for its 2021 NFL Draft haul than the Raiders. And none of the Raiders' picks was more scrutinized than their top overall pick: Alabama offensive tackle Alex Leatherwood at No. 17 overall.
Most mock drafts, including Sporting News', considered Leatherwood a Day 2 selection. That Raiders GM Mike Mayock and coach Jon Gruden took him in the first round was considered a massive reach, especially when most assumed that he would be available in the second. That they took him over several, more highly rated offensive tackles — SN rated six available tackles higher, including four with first-round grades — only added to the controversy of the pick.
But Mayock has defended the choice, saying he, Gruden, offensive line coach Tom Cable and Raiders scouts all highly valued Leatherwood. Las Vegas was so enamored with the big-name tackle that it even declined an offer to trade down in the 2021 NFL Draft for risk of losing him.
MORE: Worst value picks in the 2021 NFL Draft
"Just when we got on the clock a team did call us and inquired about moving up, but they gave us a very poor trade offer and it was a team that needed a tackle," Mayock said (via ESPN). "So the combination of the poor offer and their need kind of pushed us away from that.
"There's a risk/reward scenario and, in this case, we didn't feel that it was worth it."
Ultimately, the Vikings were the only other team to draft a tackle in the first round, selecting Virginia Tech tackle Christian Darrisaw with the 23rd overall pick. Only two more offensive tackles went in Round 2 before the Raiders drafted again at 43: Oklahoma State's Teven Jenkens to Chicago, at 39, and Notre Dame's Liam Eichenberg to Miami, at 42.
This isn't the first time Mayock's draft choices have been scrutinized. His previous drafts have included an inordinate number of players from big-name schools, especially in the early rounds. Those include Clemson's Clelin Ferrell, Alabama's Josh Jacobs and Henry Ruggs III, Ohio State's Damon Arnette and more.
That said, It's a virtual certainty that NFL teams' draft boards aren't the same as outlets' mock drafts. And if the Raiders saw something they liked in Leatherwood — enough to warrant their first-round pick — then that's their prerogative.
Only time will tell whether he was worth the high selection.
Aaron Rodgers' attempt to throw insults at Packers GM Brian Gutekunst is mostly bull
Of the 13 seasons Aaron Rodgers has spent as a starting quarterback in the NFL, nine ended in the Pro Bowl and three with him named the league's Most Valuable Player. He's so good that you could call him the "Michael Jordan of quarterbacks," if you wished, and not be far off in your assessment.
Not far at all, it turns out.
Bob McGinn, a veteran journalist who has covered the Packers for four decades, reported in The Athletic that Rodgers' relationship with general manager Brian Gutekunst has become so fractured that Rodgers referred to the GM as "Jerry Krause" in group chats with his teammates.
MORE: Where are Packers in SN's latest NFL Power Rankings?
Rodgers is angry with Gutekunst about several personnel moves over the past few seasons, enough so that McGinn's reporting confirmed the player's intent not to return to the Packers as long as Gutekunst remains in charge of personnel.
Among Rodgers' gripes is the obvious: the decision to trade for an earlier selection in the 2020 NFL Draft that was used to select a quarterback who presumably will be the successor at that position. Rodgers was embarrassed by the team's decision to cut receiver Jake Kumerow — the day after Rodgers had said during a show he hosts on Sirius XM Radio that he thought Kumerow was a valuable member of the team.
If it seems petty for Rodgers to be so aggravated by his organization over a receiver who has caught 21 passes — combined — in three NFL seasons, well, that's where the Jordan/Rodgers comparison truly coalesces.
Jordan spent much of his later years with the Bulls degrading himself with public insults aimed at Krause's weight and stature, even though Krause, at the time, was earning a position in the Naismith Memorial Hall of Fame with his shrewd drafting, trading, hiring and management of the Bulls' rosters that won six NBA championships in the 1990s.
Jordan was the centerpiece of those teams, and he was drafted before Krause was hired as Bulls GM, but every other essential member of the teams that won from 1991 to 1993 and from 1996 to 1998 was added by Krause, including Hall of Famers Scottie Pippen, Dennis Rodman and head coach Phil Jackson.
Gutekunst has done little to warrant the comparison to Krause.
He has been GM since 2018, and the Packers delivered 13-3 records in his second and third seasons but fell short of the Super Bowl each time. Their defenses allowed an average of 34 points in the 2019 and 2020 NFC Championship games.
Rodgers almost certainly drew his inspiration for the use of Krause as a front-office insult from "The Last Dance," the ESPN documentary that chose to portray him as a villain despite that he'd built the championship team whose impending dissolution Jordan was lamenting. Rodgers should study basketball history better; there surely are GMs who would serve as a fitting standard of ineptitude.
Krause is not the guy. He won six championship rings in his position as Bulls GM.
Rodgers still has just the one, earned 11 seasons ago.
Yankees fans break out trash cans, taunts in first chance to jeer Astros
Yankees fans waited a year-and-a-half for their opportunity to jeer the Astros for their tainted 2017 World Series title, and they took full advantage of it on Tuesday when Houston visited Yankee Stadium.
The Astros, the object of extreme vitriol by both fans and players, faced taunts, jeers, heckling and signage from New York fans, all the way from batting practice through the end of the 7-3 Yankees win. It was especially cathartic for Yankees fans, whose team fell in seven games to the Astros in the 2017 ALCS. It was the teams' first meeting since Houston's cheating scandal surfaced in November 2019.
That Houston retains only five players from the scandalous 2017 World Series-winning team on its active roster was of no matter to Yankees fans. Two players who were on that team — Jose Altuve and Carlos Correa — faced heckling as early as batting practice.
MORE: Astros cheating scandal timeline
Altuve may have gotten the loudest boos of the night when he stepped up to the plate to open the game.
Other jeers included "You're a racist" — aimed at Yuli Gurriel for his racist gesture in the 2017 World series — and "We don't know you," aimed at Astros outfielder Kyle Tucker, who didn't join the team until 2020.
There were plenty of creative signs and props in the stadium as well, a good portion of them related to trash cans (which Houston used in its setup to steal signs from opposing teams).