Manchester United protests are a victory for fan power despite Liverpool postponement
In 2005, shortly after the Glazer family completed its purchase of Manchester United, around 300 supporters attended a march to protest the club's new owners.
Those protests, for a time, continued, with supporters showing their displeasure with signs and the wearing of the club's original green and gold colors on match days.
Sixteen years on, though, and those protests have largely been forgotten, at least outside United circles.
On Sunday, though, the 2,000 or so fans who turned up at Old Trafford ensured their voices would be heard, with the scenes that followed ensuring few will forget the events of May 2 and the postponement of United's clash with old rival Liverpool.
A fortnight on from the announcement of the ill-fated Super League, supporters arrived in droves at the Theatre of Dreams, keen to let the Glazers know just what they thought of the part they played in proposing the breakaway competition.
MORE: Cavani, Pogba, Fernandes supply the class to put Man Utd on the brink of Solskjaer's first final
"Apology not accepted," read a number of banners, referencing Joel Glazer's open letter to fans following United's decision to pull out of the new tournament.
"We want Glazers out," filled the air, the Super League having reignited a 16-year-old feud that some of those here on Sunday would not have been alive for when it first began. The message was loud, and it was clear.
"It's a warning to the owners of the football club that ultimately they (the fans) are not going to accept what they have done in the last couple of weeks," Gary Neville said on Sky Sports, having seen the hallowed turf on which he enjoyed so much success invaded by the protesting masses.
Whether that warning will be heeded remains to be seen, but surely the Glazers cannot ignore the events of this fateful afternoon.
Those taking part had been keen to stress beforehand that the planned protest would be peaceful, and on the whole it was.
Parents arrived with their children to demand change, rather than act in a volatile manner toward the club they love.
At 2 p.m. BST (9 a.m. ET) — around 2 1/2 hours before kickoff against Jurgen Klopp's side — things changed.
Two bangs from fireworks could be heard on the Old Trafford forecourt, which it is understood was a signal for fans to begin moving toward the stadium.
A 1,000-person-strong crowd was able to breach the barriers protecting the entrances and head inside, forcing staff members to lock themselves in rooms for protection as the old stadium was put into lockdown.
As supporters stormed the pitch, there was no doubting what they truly wanted: a change of hands at the very top of their football club.
While the majority limited their protests to chanting and parading banners, one group could be seen playing with the match ball while others paraded corner flags around the ground. A flare was thrown in the direction of the Sky Sports television stage, but trouble was limited to a minority before they were eventually ushered back outside.
The protests were not just limited to the ground, however.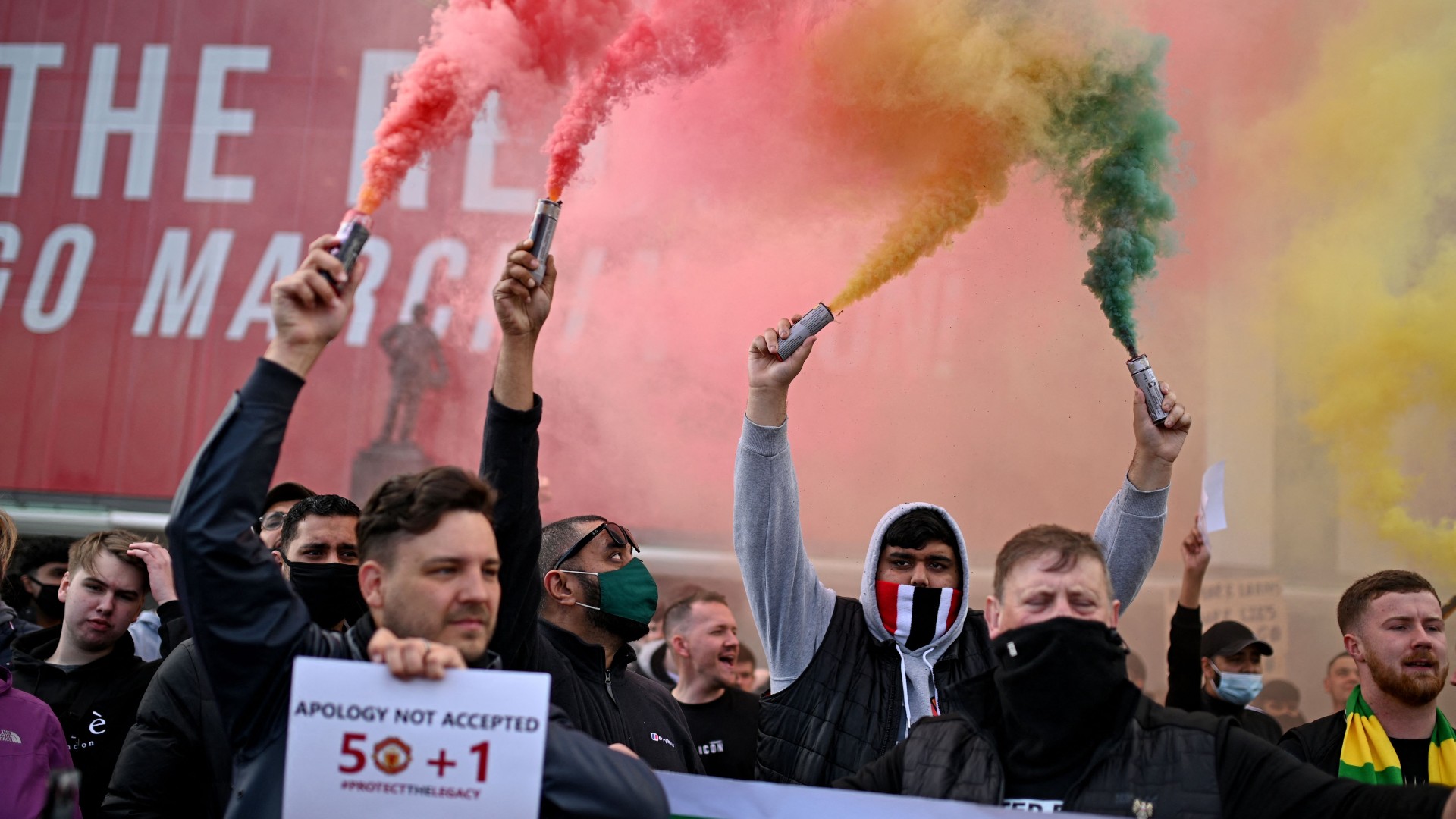 In Manchester city center, members of the United squad could be seen peering from their room windows inside the Lowry Hotel as fans began to gather outside the team's usual prematch base.
"We'll decide when you will play," was the chant being sung as the coaches slated to carry Ole Gunnar Solskjaer and his players to the game were barricaded in by supporters.
Fans are keen to remind the game's power brokers that they remain the loudest and, at times, most powerful voice. Money continues to talk, but the power of protest can be just as strong.
Across town, Liverpool's players and coaches were instructed to do their own thing at their own hotel as the drama played out elsewhere. A number chose to watch the television coverage, while others retreated to their rooms in a bid to prepare for a game they still believed would take place.
An hour before kickoff, that was seemingly a sentiment that was shared by most.
Despite concerns over whether COVID-19 regulations had been breached, with it Goal understanding some of the fans were able to gain access to the United dressing room, team lineups were announced and journalists received Zoom links for the postmatch virtual press conferences.
While that was as close to business as usual as the afternoon got, overhead police helicopters could be heard and referee Michael Oliver was forced to circle the stadium to ensure the stands were fully clear of protesters.
Security guards at the club had been prepared for an afternoon of dealing with crowds for the first time in over a year, but – perhaps naively – had not expected things to escalate as they did.
Following the clearing of the stadium, a small number of fans could be seen clashing with police around the entrance to the Munich Tunnel, with those involved set to face punishment from Greater Manchester Police.
The majority, though, acted peacefully, and it is perhaps their actions that will have the most far-reaching consequences.
"Our fans are passionate about Manchester United, and we completely acknowledge the right to free expression and peaceful protest," a statement from the club read following the decision to postpone the fixture at 5:35 p.m., just over an hour after the original kickoff time.
"However, we regret the disruption to the team and actions which put other fans, staff, and the police in danger."
Those at the Lowry celebrated loudly upon the announcement to call the game off, their victory for fan power and protest set to make headlines around the world.
Their fight, though, is not over.
"It's not going to go away," Neville warned the Glazers. "I don't think they (the fans) trust the owners of this club, they don't like them, they think they should leave.
"Beyond today, it should be about reform and regulation and making sure they can't do it (form a breakaway competition) again. Protesting is the right of every single person in this country, and we must retain that,.
"However, beyond today it's a case of making sure that across the country the fans unite to make sure there's reform in English football.
"If anything, today has got to be a precursor to that, or else today will be a waste of time."
This should have been a day when tensions between supporters of Manchester United and Liverpool were at their highest, and yet the opposing fan bases find themselves banding together behind a common cause.
Given the history of the rivalry, that maybe should be most concerning of all to those who own the world's biggest clubs.
This, too, is just the beginning. The Glazers and others are set for an uncomfortable end to the season and beyond.
Additional reporting by Neil Jones.
NFL schedule 2021: When is Tom Brady returning to New England to face the Patriots?
For the first time in his 21-year NFL career, Tom Brady is going to get a chance to play against the Patriots. Because of the way the NFL's rotating schedule works, the teams from the NFC South will be playing all four of the teams from the AFC East this year.
That, of course, means that Brady's Buccaneers will be taking on Bill Belichick and the Patriots during the 2021 campaign. Needless to say, the stakes will be high in that game as both members of the long-time coach/quarterback duo will look to out-duel one another on the field.
By virtue of the 2021 NFL schedule release, we now know when Tampa Bay is traveling to New England for the contest. And luckily, fans won't have to wait long to see a game that many never thought we'd see.
MORE: Full Buccaneers schedule for the 2021 season
Here's everything to know about Tom Brady's return to New England, including the date, time and TV channel for the contest.
When is Tom Brady playing against the Patriots?
Date: Sunday, Oct. 3
Kickoff Time: 8:20 p.m. ET
TV Channel: NBC
Tom Brady will be returning to New England to play the Patriots in Week 4 of the NFL season. The Oct. 3 game will be shown on NBC's "Sunday Night Football" and will be one of the marquee matchups of the season.
It won't just be Brady's return to New England either. Tight end Rob Gronkowski also will be in action against his former club for the first time in '21. That will mark two likely Hall of Famers who are set to suit up against New England for the first time. Belichick will certainly cook up some plays in an effort to slow them down.
It's unclear who the Patriots will be starting at quarterback by that point in the season, but it seems likely that it will either be Cam Newton or Mac Jones. If it's Jones, then the first-round rookie will have a chance to endear himself to Patriots fans early if he can beat the team's former star and earn Belichick and the Patriots some bragging rights.
The Buccaneers will be on the second game of a two-week road trip and will have just taken on the Rams in Los Angeles before this contest. It may not be easy for them to go coast-to-coast for this matchup, especially given how tough an opponent the Rams may be. Meanwhile, the Patriots will be coming off a home game against the Saints, which should be easier for them to bounce back from in the post-Drew Brees era.
No matter what happens in this game, it's sure to be great. Brady and Belichick are two of the NFL's ultimate competitors, and this could be the only time they face off as they enter the twilights of their careers. They'll each be sure to bring their A-games to this matchup of all-time greats.
Broncos schedule 2021: Dates & times for all 17 games, strength of schedule, final record prediction
The Broncos, despite finishing 5-11 and falling into last place in the AFC West last season, are giving coach Vic Fangio a chance to redeem himself in 2021. Denver hasn't made the playoffs since 2015 — the season which ended with the team winning Super Bowl 50.
John Elway hired a GM, George Paton. But the Broncos, much to everyone's surprise, didn't go all in trying to replace third-year second-rounder Drew Lock at quarterback, settling to bring Teddy Bridgewater in the mix (for now). While the offense is hoping to perform better with the many talented pieces it already has around the QB, the defense continues its rebuild for Fangio.
Here is a complete breakdown of the Broncos' 2021 schedule, including dates, start times and analysis.
NFL OFFSEASON 2021:
Team-by-team draft grades | Latest power rankings
Denver Broncos schedule 2021
| | | | | |
| --- | --- | --- | --- | --- |
| Week | Date | Opponent | Kickoff time  | TV |
| 1 | Sept. 12 | at Giants | 4:25 p.m. ET | Fox |
| 2 | Sept. 19 | at Jaguars | 1 p.m. ET | CBS |
| 3 | Sept. 26 | vs. Jets | 4:05 p.m. ET | CBS |
| 4 | Oct. 3 | vs. Ravens | 4:25 p.m. ET | CBS |
| 5 | Oct. 10 | at Steelers | 1 p.m. ET | Fox |
| 6 | Oct. 17 | vs. Raiders | 4:25 p.m. ET | CBS |
| 7 | Oct. 21 | at Browns | 8:20 p.m. ET | Fox/NFLN/Amazon |
| 8 | Oct. 31 | vs. Washington | 4:25 p.m. ET | Fox |
| 9 | Nov. 7 | at Cowboys | 1 p.m. ET | Fox |
| 10 | Nov. 14 | vs. Eagles | 4:25 p.m. ET | CBS |
| 11 | BYE | – | – | – |
| 12 | Nov. 28 | vs. Chargers | 4:05 p.m. ET | CBS |
| 13 | Dec. 5 | at Chiefs | 1 p.m. ET | CBS |
| 14 | Dec. 12 | vs. Lions | 4:05 p.m. ET | Fox |
| 15 | Dec. 19 | vs. Bengals | 4:05 p.m. ET | CBS |
| 16 | Dec. 26 | at Raiders | 4:25 p.m. ET | CBS |
| 17 | Jan. 2 | at Chargers | 4:05 p.m. ET | CBS |
| 18 | Jan. 9 | vs. Chiefs | 4:25 p.m. ET | CBS |
The Broncos looked up to everyone in the division last season. The Chiefs are still daunting and the Chargers have some worthy buzz. Las Vegas provides the slight opening for Denver to get out of the cellar.
Outside of the AFC West six games, the Broncos join those rivals in also playing all of the AFC North and NFC East. The Jaguars and Jets are the extra last-place games in the AFC. The depleted Lions are a helpful simliar reprieve as the 17th opponent, from the NFC North.
MORE: Strength of schedule for all 32 teams in 2021
Broncos strength of schedule
The Broncos, on paper, have the sixth easiest schedule in the NFL, tied with the Dolphins. Denver's opponents combined to go 127-143-2 last season, or a .471 winning percentage. A lot of that comes from Jacksonville, the two New York teams and Detroit.
Despite that, the Broncos still face returning playoff teams in six of their 17 games.
Toughest tests: The Broncos' road schedule is brutal with trips to Cleveland and Pittsburgh offsetting a date in Jacksonville. They also have to play in Dallas and go to the Giants.
It's a little different at home, where the Chiefs, Ravens and Washington represent the Broncos' three toughest games out of nine total.
Biggest breaks: The Broncos get the "earned" breaks of the Jaguars, Jets and Lions, three teams in simliar situations. There also are the Bengals, Eagles and Raiders coming to Denver.
Bottom line: The Broncos are a mixed bag with offensive limitations and defensive overhauling. Fangio needs to win now after being saved despite his team's dismal performance in 2020. 
If the QB situation changes dramatically, then it would be OK to consider the Broncos doing a complete 180 into contention. But in the current state, there's little from Lock's or Bridgewater's recent play that inspires.
Record prediction: 6-11
Giants schedule 2021: Dates & times for all 17 games, strength of schedule, final record prediction
The Giants are hoping for a breakout third season with quarterback Daniel Jones in 2021. New York finished second in the NFC East at 6-10 under new coach Joe Judge last season, an improvement from 4-12 the previous season.
With better health, led by running back Saquon Barkley, and upgrades in personnel all around, the Giants are more confident that they can jump into first place in Year 2 with Judge. Here is a complete breakdown of the Giants' 2021 schedule, including dates, start times and analysis for all 17 games.
NFL OFFSEASON 2021:
Team-by-team draft grades | Latest power rankings
New York Giants schedule 2021
Here is the New York Giants' complete schedule for 2021.
| | | | | |
| --- | --- | --- | --- | --- |
| Week | Date | Opponent | Kickoff time | TV |
| 1 | Sept. 12 | vs. Broncos | 4:25 p.m. ET | Fox |
| 2 | Sept. 16 | at Washington (Thursday) | 8:20 p.m. ET | NFLN |
| 3 | Sept. 26 | vs. Falcons | 1 p.m. ET | Fox |
| 4 | Oct. 3 | at Saints | 1 p.m. ET | Fox |
| 5 | Oct. 10 | at Cowboys | 4:25 p.m. ET | Fox |
| 6 | Oct. 17 | vs. Rams | 1 p.m. ET | Fox |
| 7 | Oct. 24 | vs. Panthers | 1 p.m. ET | Fox |
| 8 | Nov. 1 | at Chiefs (Monday) | 8:15 p.m. ET | ESPN |
| 9 | Nov. 7 | vs. Raiders | 1 p.m. ET | CBS |
| 10 | Nov. 14 | Bye | — | — |
| 11 | Nov. 22 | at Buccaneers (Monday) | 8:15 p.m. ET | ESPN |
| 12 | Nov. 28 | vs. Eagles | 1 p.m. ET | Fox |
| 13 | Dec. 5 | at Dolphins | 1 p.m. ET | Fox |
| 14 | Dec. 12 | at Chargers | 4:05 p.m. ET | Fox |
| 15 | Dec. 19 | vs. Cowboys | 1 p.m. ET | Fox |
| 16 | Dec. 26 | at Eagles | 1 p.m. ET | Fox |
| 17 | Jan. 2 | at Bears | 1 p.m. ET | CBS |
| 18 | Jan. 9 | vs. Washington | 1 p.m. ET | Fox |
The Giants have an interesting slate beyond their six division games against the Cowboys, Eagles and Washington. The other complete NFC division is the South, while the interconference rotation brings up the AFC West.
As a second-place team, the Giants also get the NFC wild-card Rams and Bears on top of the Super Bowl 55 champion Buccaneers. From the AFC, the Dolphins are the 17th opponent.
MORE: Strength of schedule for all 32 teams in 2021
Giants strength of schedule
The Giants, thanks to their weak division, are tied for the eighth-easiest schedule in the NFL with the Bills and Colts. New York's 2021 opponents had a combined 2020 record of 128-142-2, a winning percentage of .474.
The two games against Washington lead the contests against returning playoff teams. The Rams, Bears, Chiefs, Saints and Buccaneers make it seven out of 17 games.
Toughest tests: The Giants get the Chiefs, Buccaneers and Saints on the road. The Bears, Chargers and Dolphins round out the nasty non-division away slate. Of the home games, the Rams are easily the toughest foe.
Biggest breaks: The NFC East should be better, but the division still provides their most favorable games. The Falcons, Panthers, Raiders and Broncos are a welcome quartet of contests to soften the blows at home.
Bottom line: Jones has everything around him to be more successful winning games. The Giants' defense is in the next stage of its rebuild. Should Jones raise his passing and running, New York will have a real chance at an NFC playoff berth, either as East champs or fringe wild card.
Record prediction: 8-9