Manchester Arena attacker Hashem Abedi and Tube bomber Ahmed Hassan both charged with assaulting prison officer | UK News
Manchester Arena attacker Hashem Abedi and Parsons Green Tube bomber Ahmed Hassan have both been charged with assaulting a prison officer at HMP Belmarsh.
The pair, along with another man, named as Muhammed Saeed, 22, are accused of inflicting actual bodily harm on the officer on 11 May 2020.
Abedi, the brother of Arena bomber Salman Abedi, has also been charged with assaulting another prison officer.
The three men are due to appear at Bromley Magistrates' Court on 7 April.
Abedi, 23, is currently serving 24 life sentences with a minimum of 55 years before being considered for parole for his part in the 2017 Manchester Arena bomb attack.
He was found guilty in March of 22 counts of murder, attempted murder and plotting to cause an explosion likely to endanger life.
Hassan, meanwhile, is currently serving a life sentence for planting a bomb on a District Line train in London, before detonating it at Parsons Green Underground station in September 2017.
A total 51 passengers were injured.
The 21-year-old, who was sentenced in 2018, will serve a minimum of 34 years in prison.
COVID-19: Lebanon's health service close to collapse with case numbers beyond 'wildest predictions' | World News
The head of Lebanon's main coronavirus hospital has said the country's health system is close to collapse – with not enough beds, drugs, oxygen, ventilators or staff.
In a stark interview with Sky News, Dr Firas Abiad said the government decision to relax coronavirus restrictions over a few fateful days at Christmas and New Year has led to a huge increase in cases and deaths over the past few weeks.
He allowed our cameras into the casualty department and the intensive care unit of the Rafic Hariri University Hospital in Beirut to see the pressure he and his staff are under.
Dr Abiad said all hospitals were reporting full, or almost full, intensive care units – and many have patients stuck in emergency wards, waiting for a bed.
"Some patients are not able to find a bed and there's been several cases where patients have died in their homes," he said.
"If you look at the sharp rise in cases you see that Lebanon is really seeing unprecedented COVID numbers which is even beyond our wildest predictions.
"The number of daily new cases has almost quadrupled since where we were almost a month ago," said Dr Abiad.
"At the same time we've seen that the number of deaths has also tripled and the number of patients in ICU has gone up by almost 100%."
On 17 December, four days before a nationwide lockdown was due to end, the government decided to ease a series of restrictions for the holiday period.
Under intense pressure from businesses, they allowed nightclubs, bars and restaurants to open at 50% capacity while urging people to wear masks and maintain social distancing.
But videos on social media over Christmas and New Year showed packed clubs and bars. No attempts were made to crackdown on the violations.
"It's clear that those were catastrophic [decisions] and what has happened is they've thrown the whole healthcare system of the country into a major abyss," said Dr Abiad.
In the casualty department, the pressures are obvious. There is a shortage of beds, drugs, oxygen, ventilators and staff.
It is a relatively modern hospital but it looks sparse, except for the number of patients.
A nurse strokes a patient's head.
"I am passing out… I am passing out," he tells the nurse.
"No, no! You're doing very well. Don't be scared. Your oxygen is good. 99%. Honestly it's very good," she reassures him.
In the next bed is 53-year-old Aida Derawi. She first began to feel unwell 15 days ago. Her family had hoped she would recover at home, but this week things got worse.
"Yesterday I felt I couldn't take it anymore," she says. "My back and lungs were aching. My kids took me around to find a hospital but not a single one would accept me."
Eventually space was found and she is improving slowly.
Nurse Hussein al Khazn tells us that in this wave of the virus, the patients are no longer predominately elderly.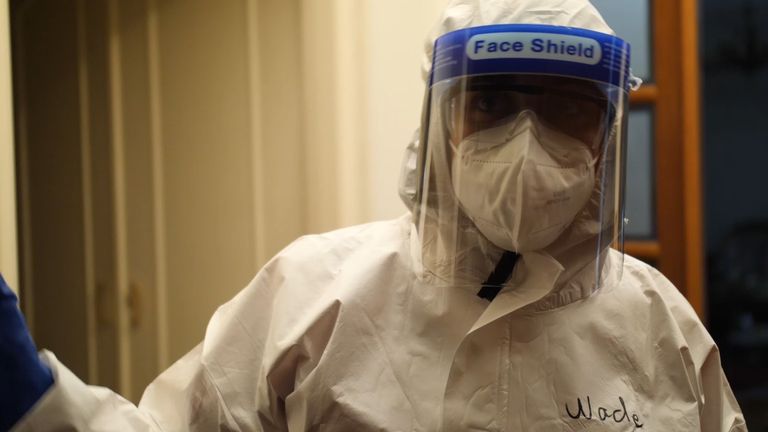 "Much younger now," he says. "Before we had 50, 60-year-old patients.
"Now it's 20, 25, 30-year-old patients and they're very, very critical – all of them."
On the other side of the city, we're given access to the Lebanese Red Cross coordination centre.
In a well-organised control room, a team of volunteers is juggling telephone calls from patients' families with radio calls to the ambulance teams on the ground.
"So, she's ill with coronavirus?" a volunteer asks down the line. "So she's got shortness of breath?"
A radio message is sent to one of the dispatch teams.
"We're dispatched to a patient that tested positive for COVID and she's currently suffering from desaturation and vomiting," volunteer medic Waad Abdulaal says from the passenger seat of the ambulance.
"So we're going to go ahead, assess her and see if there's a need to take her to the hospital."
Lebanon was already in a critical state economically.
Years of accumulative economic mismanagement has led to a slow collapse in every sector of society.
That was then exacerbated by the pandemic and the devastating port explosion last year.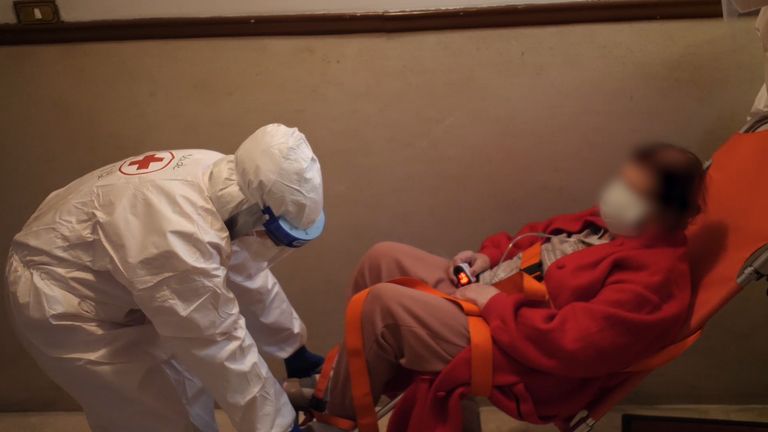 Up several flights of a stairwell, in darkness because of yet another power cut, the Red Cross team reaches its patient.
Madame Imad is 80 years old. She tested positive last week and her diabetes is complicating her condition. She needs to go to hospital, but there is an issue finding a bed for her.
The positivity rate across the country this past week has been at 21% (the 14-day rolling average).
That means the community spread of the virus is out of control. It needs to be at 5% before there is any chance of regaining a grip of the crisis.
Calls are made and they think space has been found at a hospital nearby.
Madame Imad is carried down the stairs as her daughter Sophie looks straight into our camera and pleads: "Show them that there are people dying before they reach the hospital."
The elderly woman did make it to the hospital. But she was sent home again. There were no beds. Her family has told us her condition this weekend has worsened.
COVID-19: UK records another 1,348 coronavirus-related deaths and 33,552 cases | UK News
The UK has recorded another 1,348 coronavirus-related deaths and 33,552 cases, according to the latest government figures.
A total of 5,861,351 people have also had a first dose of a vaccine, with another 468,617 people so far receiving their second inoculation against the virus.
It comes after the UK reported 1,401 coronavirus deaths and an additional 40,261 infections on Friday. The total number of deaths in the UK is now 97,329.
Live COVID news from UK and around the world
The R number – the average number of secondary infections produced by a single infected person – currently stands at between 0.8 and 1, with a daily infection growth rate range of -4% to -1%, the figures show.
The seven-day rolling average on positive tests shows that infections are now falling, which suggests that lockdown may be having an effect on case rates.
The latest figures come as senior doctors called on England's chief medical officer to halve the gap between the first and second doses of the Pfizer coronavirus vaccine.
The British Medical Association (BMA) has said the gap between doses being given to patients should be cut from 12 weeks to six.
Meanwhile, the introduction of "COVID hotels" and other curbs on international travel are to be discussed by senior ministers on Monday.
It follows Prime Minister Boris Johnson hinting that further border restrictions were needed to stop dangerous new coronavirus variants entering the country.
COVID-19: Three hospitals criticised for not vaccinating vulnerable inpatients | UK News
Vulnerable inpatients who are eligible for a COVID-19 jab are not being vaccinated in at least three hospitals in England.
Sky News has seen evidence of hospitals telling the families of elderly non-COVID patients that they are only vaccinating outpatients, and not those staying overnight.
Some 17.5% of COVID-19 patients caught the virus in hospital, according to analysis from the Daily Telegraph.
Maria Thompson's 80-year-old mother has been in Merseyside's Whiston Hospital with an autoimmune disease for more than a week.
"The hospital has given my mum wonderful care", Ms Thompson said.
"But as a family we have been really worried about my mum being in hospital. She has come into contact with more people in 10 days than she has in the past 10 months."
St Helens and Knowsley NHS Trust has not responded to a request for comment, but in a message to Ms Thompson, a staff member confirmed: "We are not yet vaccinating inpatients".
They cited challenges moving the Pfizer vaccine around the hospital, and concerns about recording who had received the jab.
In Northampton, a relative (who wished to remain anonymous) told Sky News of the case of his 85-year-old father, who has been in the town's hospital with non-COVID health problems for more than five weeks.
He will soon be discharged to a care home.
"The doctors and nurses have been brilliant. But as you can imagine given dad's age, health and location we were very keen for a COVID-19 vaccination pre-discharge. Apparently it isn't hospital policy," he said.
"It's a massive burden discharging him into a care home without the comfort of this protection, especially now knowing that home had multiple deaths in November."
Subscribe to the Daily podcast on Apple Podcasts, Google Podcasts, Spotify, Spreaker
Northampton General Hospital have declined to comment, but in a message to the relative, the trust's chief executive Deborah Needham wrote: "Unfortunately we are not currently vaccinating inpatients as we are unable to book them in & have them back on site for the second vaccine."
However, Ms Needham indicated the situation was under review.
Sky News understands inpatients at Addenbrooke's Hospital in Cambridge are also not being vaccinated. The hospital has not responded to a request for comment.
NHS England have also been contacted, but have yet to provide a response.