Lionel Messi bows out of Champions League with Barcelona; can improving club persuade him to stay?
Match statistics: PSG 1-1 Barcelona
It was a brilliant goal, and some way for Lionel Messi to bow out of the Champions League with Barcelona.
For this season, certainly. And maybe forever?
The Argentine forward launched a missile of a strike toward Keylor Navas' net, the ball somehow seeming to pick up more speed and swerve as it approached its target, whipping into the top left corner.
That is the kind of effort it took to beat the Costa Rica international on Wednesday evening, as Navas did his Real Madrid roots proud with a sublime performance in the Paris Saint-Germain goal, denying Barca time and time again as they banged on his door, in search of a new miracle; a Remontada II.
It might have come, but when Messi stood over a penalty kick just before halftime, the goalkeeper parried his strike down the middle.
Barcelona had driven PSG deep into its own territory for much of the first half but in the end could not get the goals it needed to overturn the 4-1 defeat at Camp Nou in the first leg, drawing 1-1 at Parc des Princes.
Ousmane Dembele missed a host of chances in the opening stages, and with better finishing he might have put his side ahead before Kylian Mbappe broke the deadlock.
The France forward ran amok in the Camp Nou but did not have as much joy here, only able to slam home an extremely soft penalty to put Mauricio Pochettino's side ahead.
Clement Lenglet, guilty of so many defensive mistakes this season, committed another, accidentally treading on Mauro Icardi's foot. Clumsy, certainly, but something he should be penalized for? Referee Anthony Taylor was one of the few who thought so.
At the other end he waved away Sergino Dest's appeal under similar circumstances, with Navas knocking him down before reaching the ball.
Messi leveled the game with his stunning goal after 37 minutes, his 19th from outside the area in the Champions League (behind only his old foe, Cristiano Ronaldo, on 20), and this was a strike more from the Portuguese's wheelhouse: a brutal, powerful drive.
However, when Messi missed from the spot after Layvin Kurzawa had felled Antoine Griezmann inside the area, Barca's confidence in achieving the impossible seemed to wane.
Griezmann was Barcelona's weakest link in an attacking sense as he failed to threaten Navas' goal. Dembele can be faulted for his finishing, but Griezmann's vanishing act is far more damaging for the Catalans. He has become proficient at it.
If Messi does leave in the summer, it may be Griezmann that profits, but ask any Barcelona fan and they will tell you they would happily leave the Frenchman stranded in Paris if they could keep their No.10.
The missed penalty took the wind out of Barca's sails, and though it still controlled the second half, it no longer had PSG penned in, even if Navas was forced to make further fine stops to keep Sergio Busquets and Dembele at bay.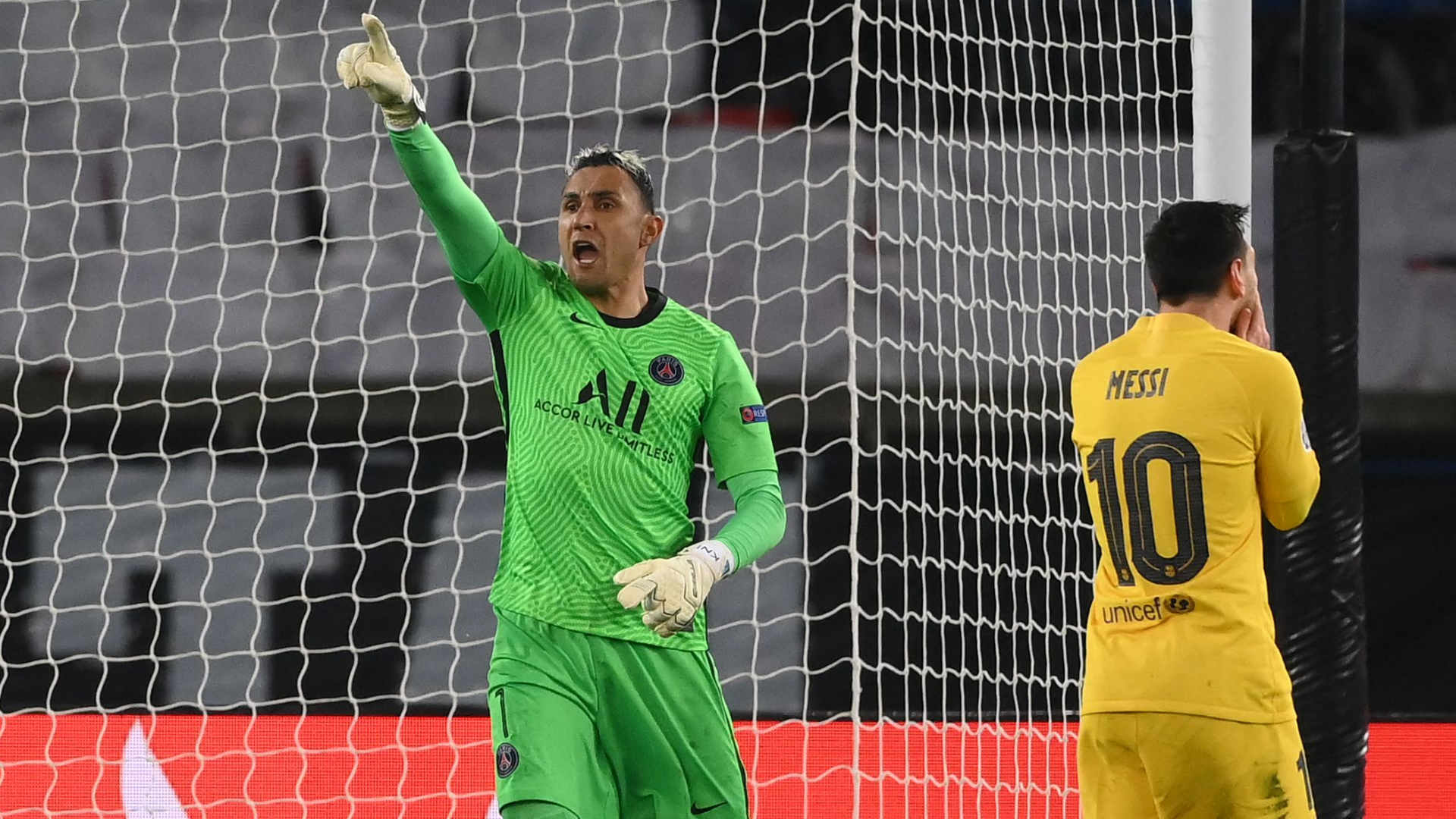 Barcelona scored three goals in seven minutes against PSG in 2017's famous 6-1 comeback, but with no Luis Suarez and no Neymar — the injured Brazilian watched on from the stands as his current side progressed —it did not have enough firepower to put the hosts to the sword.
Ilaix Moriba and Trincao came on in the final stages, and along with Frenkie de Jong, Pedri, Dembele, Oscar Mingueza and Marc-Andre ter Stegen will form part of Barcelona's next project.
For now, whether Messi will join them is an unknown, as are the futures of Griezmann, Miralem Pjanic, Samuel Umtiti and Co.
This is a team undergoing a great revolution, improving week by week. This performance was a great improvement on the first leg, even if it was not able to turn the tie around.
Ronald Koeman has changed systems, and his new 3-4-3 formation allowed it to match up more fairly with PSG, as well as keep Mbappe largely under wraps. He, too, is growing as a coach as he aims to impress new club president, Joan Laporta.
Unlike against Roma, Liverpool and Bayern Munich in previous years, Barcelona put up a fight. In the youngsters there are green shoots growing at the club.
Will it be enough to persuade Messi to stay?  His quick exit at full time suggested that he did not want to dwell on the result in the public eye.
He has a lot of thinking to do away from the pitch in the weeks and months to come.
Jaguars' Travis Etienne to work out at receiver in rookie minicamp
The Urban Meyer experiment continues to produce interesting results in Jacksonville.
The first-year Jaguars coach told reporters on Saturday that Travis Etienne — the second running back taken off the board and No. 25 overall selection in the 2021 NFL Draft — will take all of his rookie minicamp reps as a receiver.
From NFL Network's Ian Rapoport:
#Jaguars coach Urban Meyer told reporters that first-round RB Travis Etienne will take all of his minicamp reps at WR. "Worst case scenario you have a running back that's elite with receiver skills," Meyer said. Similar, it seems, to Le'Veon Bell in his prime.

— Ian Rapoport (@RapSheet) May 15, 2021
MORE: 2021 NFL Draft grades, from best (Dolphins) to worst (Raiders)
That's certainly one way to work your rookie into the offense.
While it's not unheard of for players to change positions once they reach the NFL, it does seem a little strange that it would happen with Etienne, considering his track record of success as a running back. To be fair, he consistently demonstrated excellent pass-catching ability while at Clemson, totaling 102 receptions for 1,155 yards (11.3 yards per catch) and eight receiving touchdowns.
Moreover, Etienne was among college football's best pass-catching running backs for the 2020 season, per Pro Football Focus. He caught 48 passes for 588 yards — both single-season highs — and two touchdowns. That might work to his favor with the Jaguars, as former Clemson star and No. 1 overall pick Trevor Lawrence will still be his quarterback in Jacksonville.
Travis Etienne will take all his mini-camp reps at WR, per @RapSheet

Etienne receiving ranks among RBs in CFB last season:

🔸90.9 receiving grade (1st)
🔸588 receiving yards (1st)
🔸29 1st down/TD receptions (1st) pic.twitter.com/YzL6SRMJZD

— PFF Fantasy Football (@PFF_Fantasy) May 15, 2021
That said, Etienne's pass-catching ability makes him a dual threat as a running back; it doesn't guarantee a successful transition to a full-time wide receiver. It's unclear whether Meyer considered changing Etienne's position (5-10, 215 pounds) when he drafted him, but that could have been the case considering James Robinson (1,070 yards, seven touchdowns in 2020) was so effective as an undrafted rookie.
One thing you can say about the move: It's making people talk. Add Tim Tebow and Meyer's coaching decisions to the mix, and the Jaguars are one of the most interesting teams of the 2021 NFL offseason.
NBA playoff scenarios 2021: Updated playoff picture, seeds ahead of play-in tournament, first round
What do we know about the NBA playoff seedings with just two days remaining in the 2020-21 regular season? Well, not much.
After Friday night's slate of games, only the 76ers, Celtics and Spurs know exactly where they stand. Philadelphia has clinched the No. 1 seed in the Eastern Conference, while Boston (No. 7 in the East) and San Antonio (No. 10 in the West) have locked in their spots for the play-in tournaments.
NBA STANDINGS: Seeding scenarios, breakdown for playoff spots
With teams still jockeying for position, here is a breakdown of the clinching scenarios for Saturday's games along with the possible seedings in each conference.
NBA playoff scenarios 2021
Eastern Conference
1. 76ers
2. Nets or Bucks
3. Nets or Bucks
4. Hawks, Heat or Knicks
5. Hawks, Heat or Knicks
6. Hawks, Heat or Knicks
———————————
7. Celtics
8. Hornets, Pacers or Wizards
9. Hornets, Pacers or Wizards
10. Hornets, Pacers or Wizards
The Hawks clinch the Southeast Division title with a loss by the Heat.
Western Conference
1. Jazz or Suns
2. Jazz or Suns
3. Nuggets or Clippers
4. Nuggets or Clippers
5. Mavericks or Trail Blazers
6. Mavericks, Trail Blazers or Lakers
—————————
7. Trail Blazers or Lakers
8. Warriors or Grizzlies
9. Warriors or Grizzlies
10. Spurs
The Trail Blazers clinch a playoff spot with a loss by the Lakers.
The Jazz clinch the best record in the West with a loss by the Suns.
NBA standings 2021: Eastern Conference
| | | | |
| --- | --- | --- | --- |
| Seed | Team | Record | Games back |
| 1. | 76ers* | 48-23 | — |
| 2. | Nets* | 46-24 | 1.5 |
| 3. | Bucks* | 45-25 | 2.5 |
| 4. | Hawks* | 40-31 | 8 |
| 5. | Heat* | 39-31 | 8.5 |
| 6. | Knicks* | 39-31 | 8.5 |
| 7. | Celtics** | 35-35 | 12.5 |
| 8. | Hornets** | 33-37 | 14.5 |
| 9. | Pacers** | 33-37 | 14.5 |
| 10. | Wizards** | 33-38 | 15 |
| — | Bulls | 30-40 | 17.5 |
| — | Raptors | 27-44 | 21 |
| — | Cavaliers | 22-49 | 26 |
| — | Magic | 21-50 | 27 |
| — | Pistons | 20-51 | 28 |
*clinched playoff berth
**clinched play-in berth
Eliminated from playoff contention: Bulls, Cavaliers, Magic, Pistons, Raptors
NBA standings 2021: Western Conference
| | | | |
| --- | --- | --- | --- |
| Seed | Team | Record | Games back |
| 1. | Jazz* | 51-20 | — |
| 2. | Suns* | 49-21 | 1.5 |
| 3. | Nuggets* | 47-24 | 4 |
| 4. | Clippers* | 47-24 | 4 |
| 5. | Mavericks* | 42-29 | 9 |
| 6. | Trail Blazers | 41-30 | 10 |
| 7. | Lakers | 40-30 | 10.5 |
| 8. | Warriors** | 38-33 | 13 |
| 9. | Grizzlies** | 38-33 | 13 |
| 10. | Spurs** | 33-37 | 17.5 |
| — | Pelicans | 31-40 | 20 |
| — | Kings | 31-40 | 20 |
| — | Timberwolves | 22-48 | 28.5 |
| — | Thunder | 21-50 | 30 |
| — | Rockets | 17-54 | 34 |
*clinched playoff berth
**clinched play-in berth
Eliminated from playoff contention: Kings, Pelicans, Rockets, Thunder, Timberwolves
NBA playoff bracket 2021
Preakness live race updates, results, highlights from 2021 Triple Crown race
Two weeks after the Kentucky Derby, the second leg of the Triple Crown Race is here.
The 2021 Preakness Stakes has even more intrigue this year because of the controversy surrounding Medina Spirit, winner of the Derby. A test result from after the race found the horse to have 21 picograms of betamethasone, 11 more than the legal race limit. Trainer Bob Baffert insists that the positive test wasn't a result of drugging, calling Churchill Downs' decision to invalidate the horse's win — pending a second positive test — "an injustice."
Adding to the controversy: Mandaloun, the runner-up from the Derby, will be retroactively deemed the winner at Churchill Downs should a second test confirm the first. But Mandaloun will not run at the Pimlico Race Course. So we could have a scenario in which Medina Spirit wins the race without being in the official running for the Triple Crown.
All the more reason to watch Saturday's spectacle. Follow along as Sporting News provides live updates during the 2021 Preakness Stakes.
MORE: Payout breakdown for 2021 Preakness Stakes
Preakness Stakes finish order
This section will be updated with final race results.
Post position
Horse
Win
Place
Show
1
Medina Spirit
 
 
 
2
Mandaloun
 
 
 
3
Hot Rod Charlie
 
 
 
4
Essential Quality
 
 
 
5
O Besos
 
 
 
6
Midnight Bourbon
 
 
 
7
Keepmeinmind
 
 
 
8
Helium
 
 
 
9
Known Agenda
 
 
 
10
Highly Motivated
 
 
 
Watch the 2021 Preakness Stakes
This section will be updated.
Preakness Stakes live updates, highlights, results
All times Eastern
2:49 p.m.: For those curious to see how Medina Spirit will perform in today's race:
2:23 p.m.: And winner of Race No. 7 at the Preakness: Mischief Afoot.
2:16 p.m.:Your winner for the 2021 Gallorette Stakes: Mean Mary!
2021 Preakness Stakes post time
Coverage of the 2021 Preakness Stakes will begin at 2 p.m. ET on the NBC Sports Network. NBC will take over coverage at 5 p.m. ahead of the race's scheduled post time of 6:50 p.m. ET.
You can also stream the Stakes live with fuboTV, which offers a seven-day free trial.
Preakness Stakes post positions
Below is the full list of starting spots, as well as each horse's morning line odds of winning the Preakness Stakes.
| | | |
| --- | --- | --- |
| Post position | Horse | Odds |
| 1 | Ram | 30/1 |
| 2 | Keepmeinmind | 15/1 |
| 3 | Medina Spirit | 9/5 |
| 4 | Crowded Trade | 10/1 |
| 5 | Midnight Bourbon | 5/1 |
| 6 | Rombauer | 12/1 |
| 7 | France Go De Ina | 20/1 |
| 8 | Unbridled Honor | 15/1 |
| 9 | Risk Taking | 15/1 |
| 10 | Concert Tour | 5/2 |