MONTH OF December
Monthly Snapshot:
Be the mistletoe you wish you could see in the world, Leo! While the first two weeks of December are pretty uneventful overhead, the Sun is in Sagittarius and your festive fifth house. You'll find plenty of ways to spread Santa-level cheer virtually, we have no doubt—and the good karma could be returned at the December 14 total solar eclipse in Sagittarius. From new love to baby news to recognition for your talents, the spotlight is on your happiness and creativity today! Get ready for a whole new chapter to open, one that will unfold between now and the May 26, 2021, Sagittarius lunar eclipse.
The second half of December is full-on. Not only does the eclipse rock your world, but lucky Jupiter and structured Saturn both end long visits to Capricorn and move into Aquarius, heating up your partnership house for the next one to three years! Powerful alliances are headed your way, and things could take a turn for the official in both love and career. This could happen quickly, since December 21 will announce the winter solstice with a Great Conjunction of Jupiter and Saturn—a once-every-20-years event where these two power planets are so close in their orbits that they can appear like a single shining star above.
A December 29 Cancer full moon helps bring closure to any lingering stress or unfinished projects on December 29. Then, get ready for the moon in YOUR sign on New Year's Eve, a cosmic invitation to put your dreams and intentions front and center as we roar into 2021.
Weeks 1 and 2: December 1-13
Cheer is where you make it
Joy to the world? Well, that might be a stretch in 2020, but if anyone is going to drum up good cheer—even if you have to do so virtually—it will be you, Leo. With the winter Sun shining in Sagittarius and your fifth house of passion, exuberance and creativity until Monday, December 21, you're the embodiment of mistletoe and merriment, even from behind your mask. With social Mercury also in Sagittarius from December 1 to 20, fun is at the top of your agenda. Channel your inner Buddy the Elf and send out holiday gift boxes (fuzzy socks, sweet treats and accoutrements for whatever tradition you celebrate) to your loved ones for a virtual fete. 
If you're spending the season with one special someone, take your rapid tests and ramp up the romance. But dial down the pressure and intensity—especially on Sunday, December 13, when a dramatic Mercury crashes into avoidant Neptune in elusive Pisces, which could bring a surge of jealousy, possessiveness or histrionics. Your own over-the-top expectations (of others and yourself) could lead to disappointment that puts you in a foul, Grinch-like mood. Adjust your standards accordingly and allow yourself to feel all your feelings, including disappointment, without acting out.
Week 3: December 14-20
Ready for your close-up?
Game on, Leo! The rest of the year becomes a whirlwind starting this Monday, December 14, as a total solar eclipse sweeps into Sagittarius and your fifth house of fame, passion and self-expression. There's no taming your inner lion, and why would you want to? Seize the spotlight when it comes (unexpectedly for many) and let your talents shine.
Ready to bring some relationship mojo back into your life? There's no denying that 2020's been a total grind for many Leos, without the fun and magic you're used to—and it's not just from the pandemic. For the past year, three planets (Jupiter, Saturn AND Pluto) have all been traveling through Capricorn and your stoic, sensible sixth house. Practical matters took precedence over playtime. And while you may be healthy, organized and on top of your to-do lists like never before, Leos are ultimately about their people…and you need to be around your Big Cat crew again!
The celestial Santa Claus has heard your plea, Leo. On Thursday, December 17, structured Saturn ends a three-year term in Capricorn and moves into Aquarius, where it will remain until March 6, 2023. And in a rare convergence, this Saturday, December 19, expansive Jupiter also exits Capricorn and blazes into Aquarius until December 28, 2021.
Both planets will spend the next year-plus in your seventh house of committed relationships. While virtual bonding is still the likely order of things for the next few months, you'll have a chance to deepen your current commitments and forge new partnerships. Exciting opportunities could arise, from a serious new relationship or marriage proposal to a lucrative work contract. Jupiter will ramp up the dynamic-duo energy, but cautious Saturn will nip at its heels, reminding you to perform due diligence before getting swept up in the novelty.
Mark your calendar for Monday, December 21, when Jupiter and Saturn unite at the closest point in their orbits since 1623. This event, called the Great Conjunction, combines Jupiter's lofty visions with Saturn's pragmatism. Get ready for a relationship breakthrough, Leo, and to be launched into new levels of interpersonal growth. Great Conjunctions only come along every 20 years—so anything that happens near this date will resound for quite some time.
It's been a while since we've experienced EITHER of these planets in Aquarius. To give you an idea of the magnitude, Jupiter was last in Aquarius for all of 2009, and Saturn's last time in Aquarius was in 1991-94. If you're old enough, reflect on who was in your life during these times, how you may have grown in your partnerships and whether themes from back then are repeating.
Week 4: December 21-31
Partnerships get serious
The week opens with the Great Conjunction, and the spirit of merriment abounds. But there's still work to do, Leo. On Monday, December 21—right as Jupiter and Saturn make their historic union in your fifth house of fun and expression—the Sun starts its monthlong march through Capricorn and your task-oriented, healthy sixth house.
It's a small lump of coal in your oversized stocking, but nothing will dim your festive inner light now, Leo (well, um, outside of the holidays being #canceled for 2020). Balance your indulgences with a post-feast power walk. Get ample sleep and lots of hydration. You've got enough sensible hacks up your faux-fur-trimmed sleeve, but the temptation to take risks at the expense of your health will be strong. Don't fudge the safety precautions just to have a little fun, Leo. It's hard to be self-disciplined after this year of deprivation—but just a little longer in the name of your wellbeing!
You'll especially need to manage your energy on December 23, when volatile Mars and intense Pluto clash in their last of 2020's three squares (stressful 90-degree angles). With Mars in your ninth house of excess and impatience, you'll be an untamed Lion, impulsive and hedonistic. Look back to events near August 13 and October 9, the other two Mars-Pluto squares, for clues of what might surface now.
Should you let loose or tighten your grip? As Mars locks into conflict with volatile Pluto in your controlling sixth house, your inner micromanager rears its head. One part of you wants to barrel into something risky while another side becomes neurotic and anxious, slamming on the brakes. Pace yourself, Leo—and check any diva demands or button-pushing urges at the door.
If you've worked yourself into a lather, let it ALL go on December 29, when the year's only Cancer full moon beams into your twelfth house of healing and closure. This is one of the year's final chances to forgive, release and clear the slate of anything toxic you've been holding inside. A beautiful moment of healing can occur if you allow yourself to surrender and accept divine guidance. Sometimes the universe has an even better plan that the one you made, no matter how well-crafted yours may be.
New Year's Eve has YOUR name written in Times Square neon as the moon spends the last hours of 2020 in Leo, making you the belle of your Zoom-friendly ball. Spend time thinking about what YOU palpably desire, for yourself and your loved ones, in the coming year. Dress up if you want, light sparklers, make a gourmet spread. Even if it's just you and another person or a small pandemic pod, you can still make this a memorable adieu to an unforgettable year. Onward!
LOVE & ROMANCE:
The world might be locking down, but your passionate soul can't be contained. Lusty and energizing Mars is in Aries, its last leg of an extended six-month visit to Aries and your expansive, adventurous ninth house spanning from June 27 to January 6. You may be feeling nomadic for another month, not yet ready to commit yourself to one particular person or direction. Coupled Leos could be busy with a million projects or getting ready for whatever holiday fun you've planned.
Family time might not look the same as prior years, but with Venus in Scorpio and your domestic zone until December 15, look for ways to connect with loved ones or make your home feel
festive and ambient. For newer duos, talk could turn to exchanging keys, moving in together or meeting each other's families (even if it's on FaceTime).
For you, 2020 ends on a playful and passionate note, starting in the second half of the month. On December 14, a total solar eclipse in Sagittarius beams into your fifth house of love, revving up the romance. An attraction could spark out of the blue and for some Leos, this could even bring baby news since the fifth house rules fertility. The next day, alluring Venus moves into Sagittarius and activates this flirty, frisky zone of your chart until January 9. Enjoy a safe but sensual foray into 2021!
Key Dates:
December 5: Venus trine Neptune
Hearts and souls unite as these two enchanting planets align in deeply emotional zones. Drop your guard and be vulnerable. Couples might talk about starting a family, moving in together or making a shared investment (perhaps in something shiny…). Meeting each other's families over the holidays, even via videochat? Today's softhearted sync-up is perfect for winning over those tough-customer relatives.
MONEY & CAREER:
With the Sun in playful Sagittarius and your creative, fun-loving fifth house until December 21, you'll be the Santa in every Zoom room—and your upbeat attitude will score you major points this month. Spread the virtual cheer by organizing a virtual holiday party. For your own self-promotion (not a dirty word!), glam up and post new headshots or design a sleek new website. Got fans and followers? Record an exuberant motivational message with your trademark Leo positivity, which is needed more than ever. Pay special attention to the total solar eclipse on December 14, which could bring fame and a spotlight moment. Make sure you're camera-ready!
The December 21 winter solstice is a banner day, featuring the "Great Conjunction" of Jupiter and Saturn in innovative Aquarius and your seventh house of partnerships. The rare joining of these two giants into a single bright "star" marks the end of a hardworking (and possibly thankless) year they spent in your humble, service-oriented sixth house. Look for a major shift back toward beauty and balance—and keep a sharp eye out for new partnerships and contracts flowing in.
If you picked up fresh skills in 2020 (or over the last three years, since Saturn has been in Capricorn since late 2017), get ready to put them to work supporting the dynamic duos and supportive partners you deserve!
Here's more exciting news: Mars is headed into Taurus and your ambitious, successful tenth house on Thursday, January 6, after an extended six-month trip to Aries and your visionary ninth house. Some of your grand, blue-sky ideas could turn into viable business or career opportunities shortly after the calendar turns.
Key Dates:
December 21: Jupiter-Saturn meetup (The Great Conjunction)
Powerful partnerships could ignite as expansive Jupiter and restrictive Saturn—the ultimate odd couple—merge their superpowers in your companionship zone. You could take one small but definite step toward making things official today. Or test the waters of a promising connection to see if there's real-deal potential. This alignment only happens every 19 to 20 years, so all offers that arrive around this date should at least be considered.
Love Days: 14, 18
Money Days: 25, 7
Luck Days: 22, 5
Off Days: 30, 15, 20
See All Signs
This content is created and maintained by a third party, and imported onto this page to help users provide their email addresses. You may be able to find more information about this and similar content at piano.io
Fendi Couture Brings Out Naomi Campbell, Bella Hadid, and Kate Moss
Virginia Woolf, Bella Hadid, and Kim Jones walk into a room. That's the vibe Jones brought to Fendi couture with his highly anticipated debut for the Italian maison. In a year in which fashion took its rightful place on the back burner, the new creative director's reimagining of Fendi gives us something to be excited about.
This content is imported from YouTube. You may be able to find the same content in another format, or you may be able to find more information, at their web site.
After leading Dior Men for three years and completing a tenure at Louis Vuitton (during the Supreme stint, of course), Jones took his transition from hyped-up menswear to couture womenswear literally. Citing Virginia Woolf as a major source of inspiration (Fendi is also presenting an exhibition of rare books and manuscripts to accompany the couture collection), Jones's clothes blur gender lines with direct references to Orlando, Woolf's novel which sees the protagonist switch from male to female mid-story with little explanation.
The resulting collection sees gowns spliced with tailored suits, clutches in the shape of books, quotes from the novel embroidered on accessories, and a pattern in the final looks pulled from the marble-bound books Woolf published with her husband Leonard Woolf for Hogarth Press.
The casting of the show presented the same level of thoughtfulness. Dandies wove through a complex glass maze wearing sweeping trains alongside every Super imaginable: Naomi Campbell, Bella Hadid, Christy Turlington, and Kate Moss and her daughter Lila Grace Moss Hack shared the stage, all faces familiar to the brand.
To further drive home the importance of fashion (and its androgynous fluidity), the show notes iterate a line from Orlando: "Vain trifles as they seem, clothes have, they say, more important offices than to merely keep us warm. They change our view of the world and the world's view of us."
This content is created and maintained by a third party, and imported onto this page to help users provide their email addresses. You may be able to find more information about this and similar content at piano.io
Who is Alev Aydin? – Meet Halsey's Boyfriend and Child's Father
Halsey began 2021 by unveiling some major news: she's expecting her first child with screenwriter and film producer Alev Aydin. She shared the life update via Instagram on Wednesday, posting a series of photos where her baby bump is fully visible. "surprise! 🍼🌈👼🏻 Photos by @samdameshek," Halsey, 26, wrote alongside the pictures, tagging Aydin, who is 37, according to People.
Underneath Halsey's post, he wrote, "Heart so full, I love you, sweetness" next to a pair of heart emojis. "I love you!!!!! And I love this mini human already!" she replied.
This content is imported from Instagram. You may be able to find the same content in another format, or you may be able to find more information, at their web site.
This will be the first child for Halsey, who has previously opened up about suffering a miscarriage and battling endometriosis. She paid tribute to her "rainbow baby," a term commonly used for a child born after pregnancy loss, on Twitter, writing "my rainbow" alongside a matching emoji. Aydin retweeted the message on his own account.
This content is imported from Twitter. You may be able to find the same content in another format, or you may be able to find more information, at their web site.
Ahead, everything we know about Aydin, including his matching tattoo with Halsey and how long the couple has been dating.
He's a writer, actor, and producer.
Like Halsey, Aydin is in the entertainment business. He created and produced the 2017 series Small Shots, wrote and directed a 2017 short called HipMen: Los Angeles, and has appeared in a few episodes of the daytime soap General Hospital, according to his IMDB. Aydin's debut film was 2013's Lonely Boy, in which he wrote, produced, and starred in the project about "romantic misadventures of a schizophrenic bachelor."
This content is imported from Instagram. You may be able to find the same content in another format, or you may be able to find more information, at their web site.
He and Halsey were first linked together in October 2020.
Although not many knew about Aydin and Halsey's quiet relationship, the pair do follow each other on Instagram. They were even spotted shopping for art supplies at Los Angeles's Blick back in October by the Daily Mail, which referred to Aydin as Halsey's "pal."
The couple "have been dating for several months," according to a People source. "Halsey has been low-key about their relationship," the insider continued. "They were spending a lot of time at her house in the fall though, and it was obvious that she was happy."
Halsey was last linked to Yungblood in March 2020, following some flirty social media interaction. Before that, she dated Evan Peters for several months in late 2019 and early 2020. The Grammy nominee was also in an on-again, off-again relationship with G-Eazy until 2018.
There's evidence Aydin and Halsey are longtime friends.
The new couple may not have been photographed by paparazzi until 2020, but the friendship between Aydin and Halsey extends back at least a year earlier. In March 2019, he shared a throwback photo of himself and Halsey from a Lakers game that January.
"Back when I did a very cool thing I'll prob never get to do again – massive thanks @iamhalsey for the courtside experience. Only ones not on our phones, actually watching the game. 🙏🏻" he wrote alongside the post.
His Instagram is an ode to filmmaking.
Aydin's passion for movies runs far deeper than his profession. A scroll through his Instagram will find stills from movies such as Parasite, Get Out, and Romeo + Juliet. He also paid tribute to Oscar-winning filmmaker Martin Scorsese last November.
This content is imported from Instagram. You may be able to find the same content in another format, or you may be able to find more information, at their web site.
He and Halsey have matching tattoos.
The timeline of Aydin and Halsey's romance is unclear. But they did mark a major milestone by getting matching tattoos together in June. Tattoo artist Amanda Owley shared photos of the couple's matching tattoos on their feet of the word "Seeds." According to Owley's caption, the tattoos were drawn "in each other's handwriting."
This content is imported from Instagram. You may be able to find the same content in another format, or you may be able to find more information, at their web site.
This content is created and maintained by a third party, and imported onto this page to help users provide their email addresses. You may be able to find more information about this and similar content at piano.io
The Best Hair Fragrances For Extra Luxurious Strands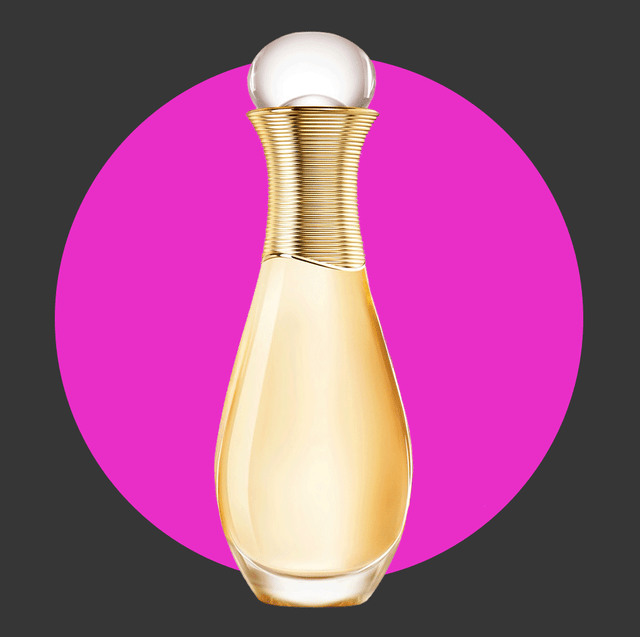 You might be wondering if you need a hair fragrance. After all, using one is inherently extra. (The proof is in the many indulgent scents available, and how the product adds yet another step to your hair routine.) We're here to tell you that hair fragrances are more than just fancy, as experts say that they can be better for your hair than your everyday perfumes.
According to cosmetic chemist Ginger King, hair fragrances typically use less alcohol (an ingredient that can strip hair of its moisture) than regular perfumes. In its place, you'll find more water, as well as ingredients that can help improve the look and feel of your hair, Think: camellia oil (an emollient that can help condition), silicones (which are meant to help prevent frizz), and hyaluronic acid (a humectant).
Devin Toth, hairstylist at New York City-based Salon SCK, echoes this, and his method for using one is to spritz at the roots and mid-shaft before quickly running your fingers through the length of your hair. The end result: "While you're walking, hair-flipping, or putting your hair up in a ponytail, the scent will be desirable without becoming overbearing."
If you're still not sure if hair fragrances deserve space on your vanity, Toth captures our sentiment entirely. "When I think of hair fragrances, I think of aromatic sprays for cocktails at reputable, fancy cocktail lounges," he says. "Are they necessary? Probably not. Are they wonderful? Absolutely, and they definitely elevate your experience." Read on for some of our favorites, below.
Advertisement – Continue Reading Below
1
Mojave Ghost
Like the beloved eau de parfum, this hair perfume contains ambrette (a plant with a musky, amber scent), woody, and floral notes for a crisp yet enigmatic scent that you'll be delighted to surround yourself with all day long.
2
Kayali Déjà Vu White Flower Hair Mist
Huda Beauty
sephora.com
$40.00
This spray—which is housed in a travel-friendly bottle—blends together floral notes like gardenia and tuberose with vanilla for a warm, modern fragrance. It's earned King's stamp of approval, as it doesn't contain any alcohol that can dehydrate your hair. 
3
J'Adore Hair Mist
This featherweight mist will leave your hair smelling like the classic eau de parfum: vibrant with hints of citrus and fruit. Its bottle is just as elegant and you'll want to display it front-and-center on your vanity.
4
Brazilian Crush Body Fragrance Mist
Sol de Janeiro
soldejaneiro.com
$19.00
This mist captures the essence of the brand's cult-favorite Brazilian Bum Bum Cream with its warm and delicious notes that include pistachio and salted caramel.
5
Rosa Nobile Hair Mist
Acqua di Parma
bloomingdales.com
$60.00
This mist bottles up the feeling of walking through a romantic, lush garden, as it swirls together rose and peony with musk and woody notes.
6
Sachajuan Protective Hair Perfume
Sachajuan
amazon.com
$72.00
This hair perfume is as refreshing for your strands as its clean fruit-floral scent. It's formulated to help moisturize, reduce frizz, and pump up the shine to add oomph to your hairstyle when you need it.
7
Mix:Bar Cloud Musk Hair & Body Mist
Spritz on this mist—which is made up of at least three percent fragrance oil—for a musky scent of vanilla bourbon. It is subtle, seductive, and—the best part—only $9.
8
Advanced Hair Mist in Vert
Raincry
raincry.com
$53.00
Within this elegant (and portable) bottle is a mix of warm florals that will linger on your strands long after you've spritzed it on. That, and a blend of amino acids to help strengthen hair.
9
L'Huile De Parfum Travel Size Fragrance-In-Hair-Oil
Kérastase
kerastase-usa.com
$37.00
This hair perfume oil's notes will give you an irresistible halo of citrus and florals, while its blend of emollient oils (like sunflower seed) will nourish your hair and give it a fresh-from-the-salon softness and shine.
10
Cleopatra Hair Fragrance
This slightly sweet, floral musk blend takes on a unique scent once it hits your hair and skin. It melds with your natural aroma, leaving behind sexy, yet sophisticated aura.
This content is created and maintained by a third party, and imported onto this page to help users provide their email addresses. You may be able to find more information about this and similar content at piano.io
Advertisement – Continue Reading Below