LeBron James and Liverpool: The LA Lakers star's Premier League investment explained
Los Angeles Lakers power forward LeBron James is one of the biggest stars in sport, but he is not just famed for his prowess on the basketball court.
Off the court, the man affectionately known as 'King James' has been diligently honing his business acumen and has been investing the wealth that he has acquired through his exploits in the NBA in a variety of ventures.
As well as securing lucrative endorsements with brands such as Nike and negotiating clever deals with the likes of Beats Electronics, James has also branched out into the Premier League after becoming a minority shareholder in Liverpool, one of English football's most successful teams.
Goal takes a look at when the relationship came about, what it entails and more.
When did LeBron James get involved with Liverpool?
James' involvement with Liverpool began in 2011 and it grew out of his dealings with Fenway Sports Group (FSG).
Then playing with Miami Heat, he had struck a partnership with FSG – who had just bought Liverpool from George Gillett and Tom Hicks – which saw the group become his chief marketing agency. Part of the deal with FSG was that he also acquired a minority stake in the Reds.
"I am thrilled to be working with [FSG founders] John Henry and Tom Werner," James said when the news was announced.
"These guys, like me, have a passion for sports. You can see the drive and commitment they have for their teams. For me, this is about being in business with an organisation that loves sports as much as I do."
James subsequently compared Liverpool to the Dallas Cowboys, the New York Yankees and – perhaps annoyingly so for Reds fans – Manchester United in terms of their global brand appeal and signalled his intention to help them grow further.
"Any time you have so much history and so much power behind their story, there is great potential to continue that expansion," he said in an interview with the Guardian.
"Liverpool are definitely one of those clubs. They really are like Man U – and the Dallas Cowboys and the New York Yankees.
"There are some teams and logos you see, no matter where you are in the world, and you know exactly who they are and what they mean. I see Liverpool in that group."
James was later brought into Liverpool's ownership group by FSG in March 2021.
How much is LeBron James' stake in Liverpool worth?
James' stake in Liverpool is reported to be two per cent and while that may not seem like much in the grand scheme of things it is proving to be a very shrewd investment for him.
When he first acquired the two per cent share in the Anfield club in 2011, it was estimated to be worth approximately $6.5 million (£4.9m) but that number has grown considerably thanks to Liverpool's rising value.
By 2018 James' share in the club was reported by ESPN to be worth to $32 million (£24m) and continued to rise in the following years, having most recently been valued at £37 million ($51m) by KPMG.
PREMIER LEAGUE CHAMPIONS!!!!!!!!!!!!!!! LET'S GO 🗣🗣🗣🗣🗣 @LFC #YNWA♥️ 🙏🏾💪🏾🏆👑

— LeBron James (@KingJames) June 25, 2020
The steady rise in Liverpool's value since James first became a minority shareholder is down to the club's consistency on the pitch, which culminated in Champions League glory in 2019 and a Premier League crown in 2020. The Reds were also crowned world champions after winning FIFA's Club World Cup.
Liverpool's worth was put at $1.9 billion (£1.4bn) by Forbes in 2019, which at the time meant they were in the top 10 most valuable football clubs in the world. However, the value has since dropped, in large part due to the impact of the Covid-19 pandemic.
Does LeBron James go to Liverpool games?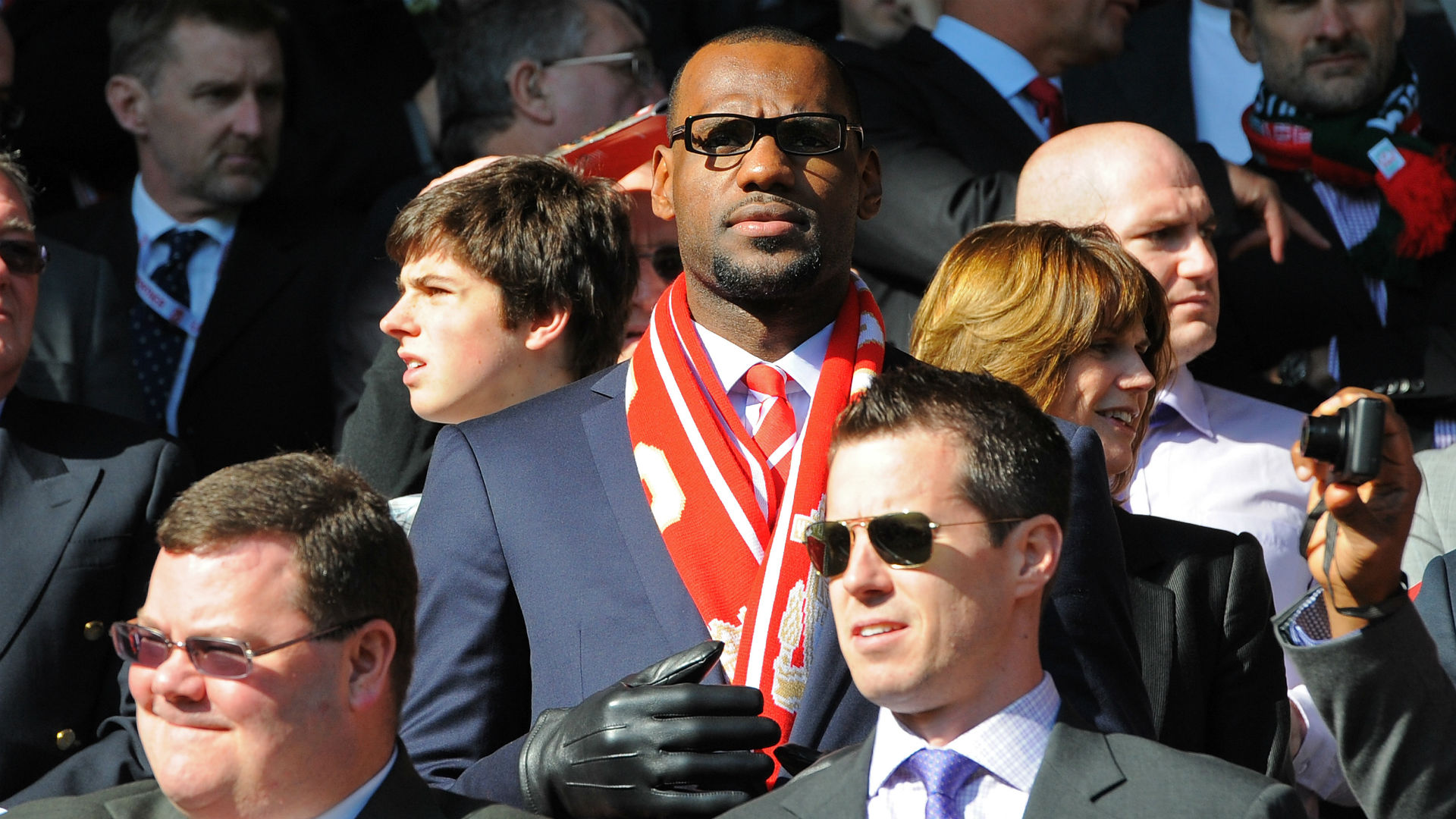 While he's not a regular sight at Anfield, James has been to see Liverpool play, notably taking in a derby match against Manchester United in 2011.
The iconic basketball player was kitted out in a suit with a red and white tie and he had a Liverpool scarf draped around his neck, leaving no doubt as to where his allegiance lay.
"To be at Anfield and see 40,000 fans screaming at the top of their lungs, the whole game, was an unbelievable experience for me," he said afterwards of his Merseyside visit.
On that occasion James was also given a tour of the famous stadium, meeting Luis Suarez and Steven Gerrard, as well as club icon Kenny Dalglish.
He joked of the meeting with Dalglish: "King Kenny is something else! His accent is very strong. So it was very difficult to understand what he was saying."
YOU'LL NEVER WALK ALONE‼️‼️‼️‼️ #WEARELIVERPOOL❤️ CONGRATULATIONS MEN AND ANYONE THAT HAS ANY AFFILIATION WITH THE CLUB!! @LFC 🏆

— LeBron James (@KingJames) June 1, 2019
He may not necessarily get to games on a frequent basis but James is supporting the club from afar – notably tweeting his joy following the 2019 Champions League and 2020 Premier League triumphs – and has been pictured wearing Liverpool gear.
However, he risked the ire of Reds fans in 2018 when he named Manchester United – failing to mention Liverpool at all – as an example of "historic franchises" akin to the LA Lakers. Such a faux pas suggests that owning part of Liverpool is strictly business for James.
Anthony Edwards has no idea who Alex Rodriguez, potential Timberwolves owner, is
Anthony Edwards, meet Alex Rodriguez: Your potential future boss. Oh, and only one of the most singularly talented, charismatic and controversial MLB players this millennium.
As Rodriguez and e-commerce billionaire Marc Lore continue to finalize a deal with current Timberwolves owner Glen Taylor to take over the Minnesota franchise, reporters began asking current players their thoughts on their potential new boss.
But Edwards, the rookie out of Georgia, has no idea who Rodriguez is, as this exceptionally funny video showcases:
MORE: Rodriguez, Marc Lore negotiating deal to buy Timberwolves
Hey, at least he's honest. And the explanation that he simply doesn't watch baseball — as if only MLB fans know Rodriguez — is pure comedy. It's not as if Edwards doesn't understand the sport of baseball, either. In the video below, he describes how he was talented enough as a multi-athlete star to play in MLB had he decided to take that career route:
To be fair, Edwards, 19, wasn't even born yet when Rodriguez began his MLB career in 1994 with the Seattle Mariners. And he was just 15 years old when Rodriguez hung up the cleats for the final time after the 2016 season.
Still, you'd think he would have at least heard of someone who was a 14-time All-Star selection, three-time AL MVP, two-time Gold Glove Award winner and 10-time Silver Slugger Award winner, among other accolades. And that's to say nothing of his controversial PED use, which cost Rodriguez the entirety of the 2014 season due to suspension.
Look at it this way: If Rodriguez ends up gaining ownership of the Timberwolves, Edwards will have plenty of future opportunities to learn more about his new boss.
Aaron Rodgers has perfect response for 'Jeopardy!' contestants who whiff on Packers question
Who are the Green Bay Packers?
Only one of the most historic franchises in the history of the NFL, owner of 13 championships and four Super Bowl victories and the current team of "Jeopardy!" guest host Aaron Rodgers. Oh, and a question on Tuesday's episode.
MORE: 'Jeopardy!' contestant leaves guest host Aaron Rodgers laughing with troll-tastic response
Unfortunately, all three contestants whiffed on the question after Rodgers' introduction: "In the 1960s, these Midwesterners earned five NFL championship trophies." Rodgers, of course, referred to Vince Lombardi's Packers, who won titles in 1961, '62, '65, '66 and '67 — the latter two Super Bowl victories.
To make matters worse, one of the contestants then managed to correctly guess the Boston Celtics as the team to win the NBA title every year from 1959-66.
At the very least, it afforded viewers the opportunity to watch Rodgers show off his comedic chops. He clearly has picked up a few tricks from his discount double check and State Farm ad appearances. It certainly will do nothing to curb his enthusiasm for hosting the show full-time — while also serving as quarterback for the Packers.
Jake Paul accused of sexual assault by TikTok star
YouTube personality-turned-boxer Jake Paul has been accused of sexual assault.
Paul's accuser, Jasmine Paradise, posted a 20-minute YouTube video on Friday in which she claimed Paul sexually assaulted her at his Team 10 house in Los Angeles. Paradise is a TikTok star with more than 525,000 followers.
In the video, Paradise focused on events she said occurred in June and July 2019; she said she met Paul at his home in July of that year after visiting his house several times with friends starting in June. In the video, Paradise said she and Paul had several awkward encounters at first, but that one night he pulled her into a corner of his studio area and began kissing her. She said she "was fine with that. I did think he was cute."
Afterward, however, Paradise said Paul took her into his room and began to show frustration at her reluctance to have sex with him. She said he forced her to have oral sex after she told him "No" several times.
"Sex is very special and very important to me," Paradise said in the video. "But I haven't had sex with that many people. Normally, everybody respects me when I don't want to do sexual things, so I thought that it was fine if I went in his room. I thought it would be fine to kiss him, because I thought he would stop if I didn't want to do anything else.
"He didn't ask for consent or anything. He knew I didn't want to do anything with him because he said, 'If nothing is gonna happen, what's the point?' Then he shoves himself in me.
"That's not okay. On no level at all is that okay."
Paradise also posted several text conversations between her and Paul, as well as photos and videos of her at his Team 10 house, as proof of her allegations in the video.
Daniel E. Gardenswartz, Paul's lawyer, said his client "categorically denied" Paradise's claims in a statement (via the New York Post).
"Our client is aware of the recent allegation against him. While others have already begun to debunk the claim alleged against him, our client categorically denies the allegation and has every intention of aggressively disproving it and pursuing legal action against those responsible for the defamation of his character."