Khairi Saadallah: Terrorist who murdered three in 'brutal' Reading attack gets whole life sentence | UK News
A terrorist who stabbed three people to death in a park in Reading – because he believed the pandemic heralded the end of the world – has been handed a rare whole life sentence.
Khairi Saadallah, a Libyan refugee, pleaded guilty to three counts of murder after killing James Furlong, David Wails and Joseph Ritchie-Bennett in Forbury Gardens on 20 June last year.
Saadallah "executed" each man with a single knife blow to the back of the head in the space of less than 30 seconds, the Old Bailey heard.
The 26-year-old also pleaded guilty to the attempted murder of Stephen Young, Patrick Edwards and Nishit Nisudan, who were injured in the attack.
Speaking on behalf of James Furlong's family, Gary Furlong said "serious questions need to be answered" about how Saadallah was in a position to perform these attacks.
The brother of David Wails added: "We know that our lives, and the lives of everyone who knew and loved David, will never be the same. We love you David – may you, James and Joe now rest in peace."
Joseph Ritchie-Bennett's brother-in-law said: "Unfortunately, no amount of justice will ever bring back Joe, James and David the lives they deserved. And never will it allow family members, loved ones, friends, and those who witnessed the attacks to forget 20 June 2020."
Several witnesses reported Saadallah yelling "Allahu Akbar" and a Muslim bystander heard him say in Arabic: "God accept my jihad."
After his arrest, he told police: "Those men I killed were wrong 'uns, they deserved it. I'm going to paradise for the jihad what I did to them."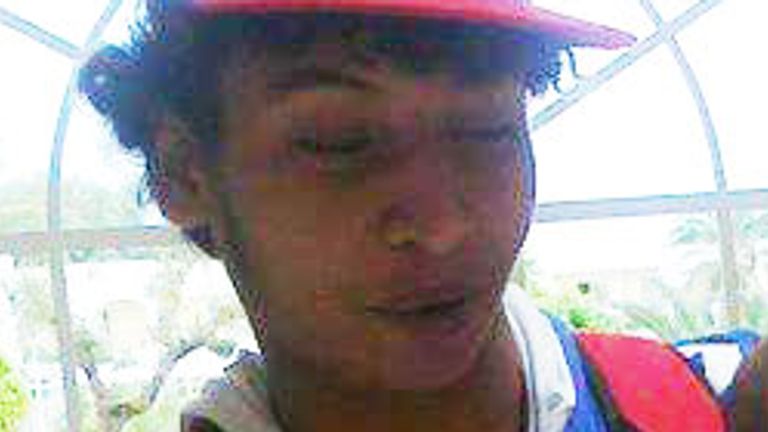 Police later found images of the Twin Towers and the IS flag cached from websites he had visited on his phone, along with links to YouTube videos about the IS executioner Jihadi John.
However, Saadallah later attempted to fake mental illness and in court he denied that he had acted from a religious motive. His lawyer denied he was a terrorist, without suggesting what his motive may have been.
In his sentencing remarks, Mr Justice Sweeney said he was sure that Saadallah had been trained to fight for the extremist group Ansar al Sharia in Libya – and had lied about his role in the group when he applied for asylum in the UK.
The judge said the knife Saadallah bought for the attack "was chosen with care to ensure the maximum likelihood of swift fatal injury each time it was used".
Mr Justice Sweeney also concluded that Saadallah intended to kill as many people as possible, and had planned to injure himself with a plastic razor "in the hope that he could pass himself off as a victim".
Saadallah, who showed no emotion as he was sentenced, was told this was "a rare and exceptional case in which just punishment requires that you must be kept in prison for the rest of your life".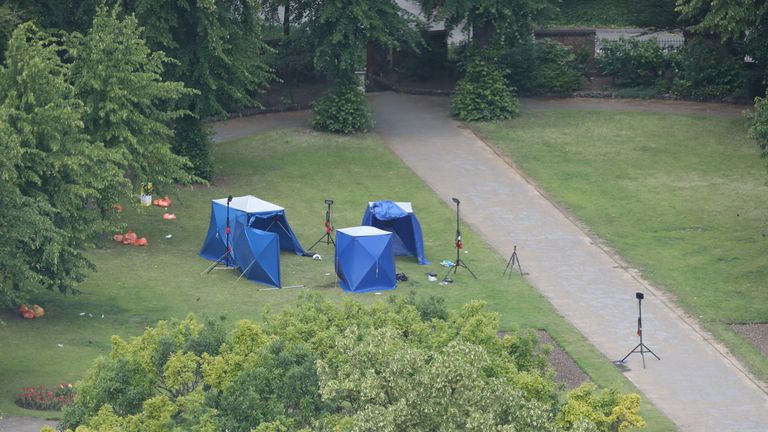 Saadallah has amassed seven previous convictions for 19 offences, leading to four prison sentences.
During one prison sentence, he had come under the influence of a notorious radical preacher called Omar Brooks, also known as Abu Izzadeen.
Saadallah came to the notice of MI5, which was told he was planning to travel to Syria, leading to his subsequent referral to the Prevent de-radicalisation programme.
Just 10 days after leaving prison in June last year, Saadallah searched online for "Is corona a sign of the end of the world?" and looked at images of people sitting around Forbury Gardens, where he would later launch his attack.
He appeared to have a psychotic episode on 18 June, speaking to mental health services about things under his bed and his belief that he was possessed.
The following day, he bought a large kitchen knife from a supermarket to be used in the attack.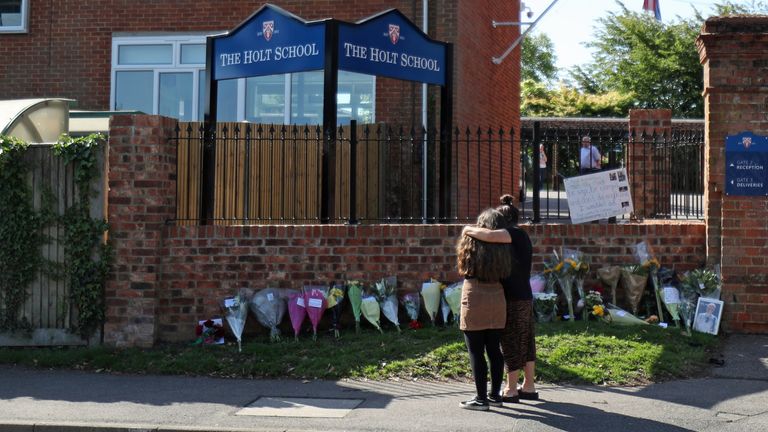 Saadallah's brother later called police to say he was concerned, but officers who visited his address that evening found he was behaving normally.
The next day, Saadallah launched his "brutal attack" as the victims enjoyed a "summer's evening in the park", prosecutor Alison Morgan QC said.
"In less than a minute, shouting the words 'Allahu Akbar' [God is the greatest] the defendant carried out a lethal attack with a knife, killing all three men before they had a chance to respond and try to defend themselves," she said.
Within the same minute, the killer went on to attack others nearby and stabbed three more people – Stephen Young, Patrick Edwards and Nishit Nisudan – causing them significant injuries.
Ms Morgan said Saadallah was "ruthlessly efficient in his actions", adding: "The force with which the defendant struck his first victims is clear.
"In short, he executed Joseph Ritchie-Bennett, David Wails and James Furlong with such speed and precision before they had time to be aware of what was happening.
"The defendant believed that in carrying out this attack he was acting in pursuit of his extremist ideology… he believed that in killing as many people as possible that day he was performing an act of religious jihad."
After the attack, Saadallah ran off and he was pursued by an off-duty police officer. As he was detained, a Muslim member of the public told Saadallah: "You have nothing to do with Islam, b******."
Mitch McConnell: Capitol rioters 'provoked' by Donald Trump | US News
One of the most senior US Republicans has accused Donald Trump of feeding supporters lies that led to the deadly Capitol riot.
Mitch McConnell, leader of the GOP in the Senate, accused the outgoing president on his last full day in office of having "provoked" those who stormed the building where legislators narrowly escaped a baying mob.
And in a further snub to Mr Trump, who has claimed without evidence held up in court that last November's election was rigged, Mr McConnell vowed the inauguration of Joe Biden on Wednesday will be "safe and successful".
The intervention comes ahead of tomorrow's transfer of powers in the White House, with a markedly different ceremony than usual planned for Mr Biden and Vice President-elect Kamala Harris.
Coronavirus and the serious security breaches that led to five deaths two weeks ago mean participation at the event in Washington DC will be drastically reduced.
Ahead of it, Mr McConnell opened the Senate on Tuesday – also his final day as Majority leader, before Ms Harris takes over and swings its political make-up in favour of the Democrats.
"The mob was fed lies," he declared about the Capitol riot.
"They were provoked by the president and other powerful people, and they tried to use fear and violence to stop a specific proceeding of branch of the federal government."
Mr McConnell added that "we'll move forward" after Mr Biden's inauguration on the Capitol's West Front – what he noted former president George HW Bush has called "democracy's front porch".
COVID-19: 'Saving lives is an act of worship' – leading scholar urges Muslims to have COVID vaccine | UK News
A leading Islamic scholar is calling on Muslims to ignore disinformation campaigns aimed at discouraging them from taking the COVID-19 vaccine. 
Sheikh Muhammad Tahir ul-Qadri says a series of conspiracy theories circulating on social media is leading to vaccine hesitancy in Muslim populations, which goes against the tenets of Islam.
"Saving lives is an act of worship," he told Sky News in an exclusive interview. "At the start of the pandemic, Muslims around the world were among those in the forefront.
"They put their maximum efforts into saving lives, providing people with food and every kind of necessary support. In the same way, they should come forward now."
Live COVID news from UK and around the world
Canadian-based Sheikh Tahir seeks to reassure his three million followers on social media, in an effort to counter the spread of fake news about the COVID-19 vaccines.
"Some people are saying that there is alcohol in it, or pork or other things forbidden (in Islam). Some say these vaccines may affect certain parts of the brain. What can I say? These are totally baseless claims."
"This is a matter of medicinal development, of life, and it is just the same as when we take paracetamol, antibiotics, or aspirins despite their side effects.
"Believing in the medical process is one of the basic teachings of Islam. Islam and the teachings of the Koran the Prophet Muhammad, peace be upon him, is focused on reason, intelligence, scientific research, and intellectual development."
Vaccine hesitancy is increasingly being seen as one of the reasons why groups described as BAME, many of who are Muslim, may not receive the COVID-19 vaccine at the same level as the rest of the population.
Dr Winston Morgan, a leading researcher in medical outcomes based on race and ethnicity, says this is yet another way COVID-19 is harming BAME communities.
"What is described as vaccine hesitancy is more a lack of enthusiasm or faith in the system that has failed certain groups in the past," he said.
"If you do not believe from past experiences that medical treatments will work well for people like you and in certain cases could actually harm you, not because of genetics linked to race, but because of structural disadvantages, you are unlikely to be enthusiastic when a new, and what could be described as a controversial, vaccine comes along."
Dr Morgan cites research which shows that BAME groups generally say they are less likely to take the vaccine. In one study 72% of black people said they are unlikely or very unlikely to be vaccinated. He warns against overstating the case about hesitancy.
"The temptation will be to blame hesitancy rather than the structural problems based on class and race which have always plagued healthcare delivery to BAME communities.
"Based on the government's past records, it is likely they will also fail to meet vaccination targets. Having a ready-made excuse like vaccine hesitancy amongst BAME groups would be a convenient excuse."
Much was made of the Muslim husband and wife scientists behind the German company BioNTech, which teamed up with Pfizer to produce one of the world's leading COVID-19 vaccines.
Doctors Ugur Sahin and Ozlem Tureci are children of Turkish migrants who moved to Germany in the late 1960s.
The British Islamic Medical Association (BIMA) has urged Muslims to take the vaccine on the advice of their medical practitioners and following informed consent.
"It is important to make sure they participate in the vaccine campaign. This is a health issue, not a faith issue." said Dr Sharif Kaf Al-Ghazal, president of BIMA.
Muslims who want to travel to Saudi Arabia for pilgrimage are being advised by the country's Hajj and Umrah Minister Mohammed Benten to take the coronavirus vaccine before traveling. Dr Al-Ghazal agrees this could help convince more Muslims.
US National Guard troops removed from inauguration duty due to 'far right' links, reports | US News
Two US Army National Guard members have been removed from duty during Joe Biden's presidential inauguration because of ties to far-right militias, according to Associated Press.
A US Army official and a senior US intelligence official confirmed the decision to AP on the condition of anonymity due to Defense Department media regulations.
They did not say what fringe group the Guard members belonged to or what unit they served in.
Live updates on the final preparations for Joe Biden's inauguration
A spokesman for the National Guard Bureau told AP: "Due to operational security, we do not discuss the process nor the outcome of the vetting process for military members supporting the inauguration."
Speaking from Washington DC, Sky's US correspondent Cordelia Lynch said: "We haven't been told what groups these two individuals are members of – but it is an indication of a level of concern in Washington DC."
She added there were "threats of an inside job", but the National Guard is not commenting on what the vetting process is.
Lynch said the FBI are looking at a large number of organisations and there is "heightened security and a heightened sense of alarm".
The heightened security comes after the riots on 6 January when Donald Trump supporters stormed the Capitol Building.