Jodie Turner-Smith in Bloom
You know that saying about how anything Fred Astaire did, Ginger Rogers did backward and in high heels? It comes to mind as Jodie Turner-Smith recounts filming the action movie Tom Clancy's Without Remorse while in her second trimester of pregnancy—something her costars Michael B. Jordan and Jamie Bell were quite assuredly not dealing with. "The men think they're hard-core," the actress says, cracking up, "but they could never do what they do while also making a baby. They just couldn't."
For Turner-Smith, the fight scenes took a back seat to the humanity of the story. "True strength is not found in force and brutality, but in vulnerability," she says. "I would love to do more action, and action where I'm allowed to be a woman," she adds, citing Sigourney Weaver's classic turn in Alien. "I know we don't maybe class that as specifically an action film, but I mean, what she's doing in that? Fucking brilliant."
On the opposite end of the spectrum—except in the sense that she's also what a streaming-service menu might consider a Strong Female Lead—is Anne Boleyn, whom Turner-Smith has signed on to play in an as-yet-unnamed series. The English queen's tragic story has been told countless times via film (The Other Boleyn Girl), musical theater (Six), and literary fiction (Hilary Mantel's Bring Up the Bodies), but Turner-Smith has a theory about why we're still, nearly a half-millennium after her beheading, so enthralled by her. "We can only infer who she was, because she left no paper trail that would hint at her imagination. She's endlessly fascinating for that reason," she says. With her portrayal, Turner-Smith wanted to "tell the story of the woman who sits at the center of the myth, and make that story an accessible one—one that's not entirely about class, but about humanity. Because whether a woman is a queen or a housekeeper, she is not exempt from any of the challenges and trials that women face in navigating their bodies, love, or the patriarchy," she says. "There's an opportunity to tell a really human story and for it to feel that much more accessible because a Black woman is playing her."
Beauty Tip: Buff Gucci Fluide de Beaute Fini Natural across skin for a perfected, luminous canvas.
As if this weren't already enough range for one person, Turner-Smith is also playing opposite Colin Farrell in After Yang, about a family with a robot among its ranks. While the film has a sci-fi bent, it also has, she insists, a very intimate focus on "family and connection and what that really means in the age of technology."
Turner-Smith, of course, is no stranger to tackling weighty issues onscreen. In 2019, she starred in Melina Matsoukas's Queen & Slim, a tale of Black love and survival that has become even more powerful in the wake of this past summer's Black Lives Matter protests. "I really think that we made a classic, and [that] 10 years from now, it will be viewed that way as well," she says. "Black artists are not only the engine, but also the car. We are in the driver's seat, telling our own stories." Including Turner-Smith herself, who made her directorial debut this fall with Jackie, a short film created in collaboration with Gucci and Dazed magazine (she became an ambassador for the house in 2019). To finally be behind the camera, she says, was "so incredible, so empowering. To have my hand in everything—to choose every shot, every look, and approve every piece of set decoration; to see the edit, and sit for hours and select the color grade" was her idea of heaven. Her husband, actor Joshua Jackson, "sat with me, being my biggest supporter and my brain trust, and we watched all these references, and he let me bounce all these ideas off him until all hours of the morning." Her relationship with the Gucci team, including the house's polymath creative director, Alessandro Michele, sounds similarly collaborative. Working with them "is so natural and feels so lived-in," she says.
Speaking of natural and lived-in, here Turner-Smith wears pieces from the house's glamping-friendly capsule with The North Face. Thanks to Jackson, who grew up in Vancouver, she's been converted to the outdoor lifestyle. "If we can mix fashion with me getting my outdoor situations on, it's a very beautiful marriage of two things," she says, adding that for her lately, fashion has become a form of self-care. She likes "this idea of dressing up for you, of putting something on to enhance your own mood, just to do what you want to do and not necessarily even leave the house—because right now we're not even doing that. It's like telling a story about how you feel with what you wear," she says. "We all need a little bit of carefree energy right now."
In between acting and directing, Turner-Smith recently gave birth to her daughter. Doing so during a global pandemic has been challenging, but Turner-Smith is grateful to have had her mother by her side throughout. "Navigating parenthood at any time is difficult," she says, "and it's even more difficult without support, when everything is shut down and you can't really see other people or go anywhere." She's quick to point out that moms of school-age children have it much harder right now: "I'm not having to sit on Zoom with her and suddenly become her educator as well as her caretaker," she says of her daughter. Childbirth ultimately taught her another lesson about strength. "Patriarchal society really is out here, scamming women into thinking that they're not supremely powerful beings," she says, chuckling. "Because damn, it's some goddess-level shit." ▪
Hair by James Catalano for Dyson Hair; makeup by Rebecca Davenport for Gucci Beauty; set design by Luke Kene; produced by Yasser Abubeker.
This article appears in the February 2021 issue of ELLE.
Fendi Couture Brings Out Naomi Campbell, Bella Hadid, and Kate Moss
Virginia Woolf, Bella Hadid, and Kim Jones walk into a room. That's the vibe Jones brought to Fendi couture with his highly anticipated debut for the Italian maison. In a year in which fashion took its rightful place on the back burner, the new creative director's reimagining of Fendi gives us something to be excited about.
This content is imported from YouTube. You may be able to find the same content in another format, or you may be able to find more information, at their web site.
After leading Dior Men for three years and completing a tenure at Louis Vuitton (during the Supreme stint, of course), Jones took his transition from hyped-up menswear to couture womenswear literally. Citing Virginia Woolf as a major source of inspiration (Fendi is also presenting an exhibition of rare books and manuscripts to accompany the couture collection), Jones's clothes blur gender lines with direct references to Orlando, Woolf's novel which sees the protagonist switch from male to female mid-story with little explanation.
The resulting collection sees gowns spliced with tailored suits, clutches in the shape of books, quotes from the novel embroidered on accessories, and a pattern in the final looks pulled from the marble-bound books Woolf published with her husband Leonard Woolf for Hogarth Press.
The casting of the show presented the same level of thoughtfulness. Dandies wove through a complex glass maze wearing sweeping trains alongside every Super imaginable: Naomi Campbell, Bella Hadid, Christy Turlington, and Kate Moss and her daughter Lila Grace Moss Hack shared the stage, all faces familiar to the brand.
To further drive home the importance of fashion (and its androgynous fluidity), the show notes iterate a line from Orlando: "Vain trifles as they seem, clothes have, they say, more important offices than to merely keep us warm. They change our view of the world and the world's view of us."
This content is created and maintained by a third party, and imported onto this page to help users provide their email addresses. You may be able to find more information about this and similar content at piano.io
Who is Alev Aydin? – Meet Halsey's Boyfriend and Child's Father
Halsey began 2021 by unveiling some major news: she's expecting her first child with screenwriter and film producer Alev Aydin. She shared the life update via Instagram on Wednesday, posting a series of photos where her baby bump is fully visible. "surprise! 🍼🌈👼🏻 Photos by @samdameshek," Halsey, 26, wrote alongside the pictures, tagging Aydin, who is 37, according to People.
Underneath Halsey's post, he wrote, "Heart so full, I love you, sweetness" next to a pair of heart emojis. "I love you!!!!! And I love this mini human already!" she replied.
This content is imported from Instagram. You may be able to find the same content in another format, or you may be able to find more information, at their web site.
This will be the first child for Halsey, who has previously opened up about suffering a miscarriage and battling endometriosis. She paid tribute to her "rainbow baby," a term commonly used for a child born after pregnancy loss, on Twitter, writing "my rainbow" alongside a matching emoji. Aydin retweeted the message on his own account.
This content is imported from Twitter. You may be able to find the same content in another format, or you may be able to find more information, at their web site.
Ahead, everything we know about Aydin, including his matching tattoo with Halsey and how long the couple has been dating.
He's a writer, actor, and producer.
Like Halsey, Aydin is in the entertainment business. He created and produced the 2017 series Small Shots, wrote and directed a 2017 short called HipMen: Los Angeles, and has appeared in a few episodes of the daytime soap General Hospital, according to his IMDB. Aydin's debut film was 2013's Lonely Boy, in which he wrote, produced, and starred in the project about "romantic misadventures of a schizophrenic bachelor."
This content is imported from Instagram. You may be able to find the same content in another format, or you may be able to find more information, at their web site.
He and Halsey were first linked together in October 2020.
Although not many knew about Aydin and Halsey's quiet relationship, the pair do follow each other on Instagram. They were even spotted shopping for art supplies at Los Angeles's Blick back in October by the Daily Mail, which referred to Aydin as Halsey's "pal."
The couple "have been dating for several months," according to a People source. "Halsey has been low-key about their relationship," the insider continued. "They were spending a lot of time at her house in the fall though, and it was obvious that she was happy."
Halsey was last linked to Yungblood in March 2020, following some flirty social media interaction. Before that, she dated Evan Peters for several months in late 2019 and early 2020. The Grammy nominee was also in an on-again, off-again relationship with G-Eazy until 2018.
There's evidence Aydin and Halsey are longtime friends.
The new couple may not have been photographed by paparazzi until 2020, but the friendship between Aydin and Halsey extends back at least a year earlier. In March 2019, he shared a throwback photo of himself and Halsey from a Lakers game that January.
"Back when I did a very cool thing I'll prob never get to do again – massive thanks @iamhalsey for the courtside experience. Only ones not on our phones, actually watching the game. 🙏🏻" he wrote alongside the post.
His Instagram is an ode to filmmaking.
Aydin's passion for movies runs far deeper than his profession. A scroll through his Instagram will find stills from movies such as Parasite, Get Out, and Romeo + Juliet. He also paid tribute to Oscar-winning filmmaker Martin Scorsese last November.
This content is imported from Instagram. You may be able to find the same content in another format, or you may be able to find more information, at their web site.
He and Halsey have matching tattoos.
The timeline of Aydin and Halsey's romance is unclear. But they did mark a major milestone by getting matching tattoos together in June. Tattoo artist Amanda Owley shared photos of the couple's matching tattoos on their feet of the word "Seeds." According to Owley's caption, the tattoos were drawn "in each other's handwriting."
This content is imported from Instagram. You may be able to find the same content in another format, or you may be able to find more information, at their web site.
This content is created and maintained by a third party, and imported onto this page to help users provide their email addresses. You may be able to find more information about this and similar content at piano.io
The Best Hair Fragrances For Extra Luxurious Strands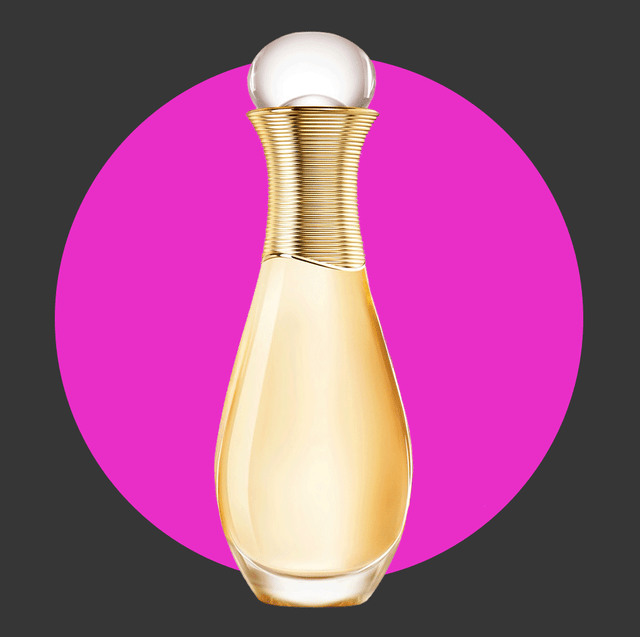 You might be wondering if you need a hair fragrance. After all, using one is inherently extra. (The proof is in the many indulgent scents available, and how the product adds yet another step to your hair routine.) We're here to tell you that hair fragrances are more than just fancy, as experts say that they can be better for your hair than your everyday perfumes.
According to cosmetic chemist Ginger King, hair fragrances typically use less alcohol (an ingredient that can strip hair of its moisture) than regular perfumes. In its place, you'll find more water, as well as ingredients that can help improve the look and feel of your hair, Think: camellia oil (an emollient that can help condition), silicones (which are meant to help prevent frizz), and hyaluronic acid (a humectant).
Devin Toth, hairstylist at New York City-based Salon SCK, echoes this, and his method for using one is to spritz at the roots and mid-shaft before quickly running your fingers through the length of your hair. The end result: "While you're walking, hair-flipping, or putting your hair up in a ponytail, the scent will be desirable without becoming overbearing."
If you're still not sure if hair fragrances deserve space on your vanity, Toth captures our sentiment entirely. "When I think of hair fragrances, I think of aromatic sprays for cocktails at reputable, fancy cocktail lounges," he says. "Are they necessary? Probably not. Are they wonderful? Absolutely, and they definitely elevate your experience." Read on for some of our favorites, below.
Advertisement – Continue Reading Below
1
Mojave Ghost
Like the beloved eau de parfum, this hair perfume contains ambrette (a plant with a musky, amber scent), woody, and floral notes for a crisp yet enigmatic scent that you'll be delighted to surround yourself with all day long.
2
Kayali Déjà Vu White Flower Hair Mist
Huda Beauty
sephora.com
$40.00
This spray—which is housed in a travel-friendly bottle—blends together floral notes like gardenia and tuberose with vanilla for a warm, modern fragrance. It's earned King's stamp of approval, as it doesn't contain any alcohol that can dehydrate your hair. 
3
J'Adore Hair Mist
This featherweight mist will leave your hair smelling like the classic eau de parfum: vibrant with hints of citrus and fruit. Its bottle is just as elegant and you'll want to display it front-and-center on your vanity.
4
Brazilian Crush Body Fragrance Mist
Sol de Janeiro
soldejaneiro.com
$19.00
This mist captures the essence of the brand's cult-favorite Brazilian Bum Bum Cream with its warm and delicious notes that include pistachio and salted caramel.
5
Rosa Nobile Hair Mist
Acqua di Parma
bloomingdales.com
$60.00
This mist bottles up the feeling of walking through a romantic, lush garden, as it swirls together rose and peony with musk and woody notes.
6
Sachajuan Protective Hair Perfume
Sachajuan
amazon.com
$72.00
This hair perfume is as refreshing for your strands as its clean fruit-floral scent. It's formulated to help moisturize, reduce frizz, and pump up the shine to add oomph to your hairstyle when you need it.
7
Mix:Bar Cloud Musk Hair & Body Mist
Spritz on this mist—which is made up of at least three percent fragrance oil—for a musky scent of vanilla bourbon. It is subtle, seductive, and—the best part—only $9.
8
Advanced Hair Mist in Vert
Raincry
raincry.com
$53.00
Within this elegant (and portable) bottle is a mix of warm florals that will linger on your strands long after you've spritzed it on. That, and a blend of amino acids to help strengthen hair.
9
L'Huile De Parfum Travel Size Fragrance-In-Hair-Oil
Kérastase
kerastase-usa.com
$37.00
This hair perfume oil's notes will give you an irresistible halo of citrus and florals, while its blend of emollient oils (like sunflower seed) will nourish your hair and give it a fresh-from-the-salon softness and shine.
10
Cleopatra Hair Fragrance
This slightly sweet, floral musk blend takes on a unique scent once it hits your hair and skin. It melds with your natural aroma, leaving behind sexy, yet sophisticated aura.
This content is created and maintained by a third party, and imported onto this page to help users provide their email addresses. You may be able to find more information about this and similar content at piano.io
Advertisement – Continue Reading Below