Italian prosecutor in Mafia 'maxi-trial' says he won't be intimidated | World News
An Italian prosecutor, who has been called "dead man walking" by members of the Mafia, has told Sky News he will not be intimidated at the start of the biggest trial against the criminal syndicate in decades.
More than 350 people will face charges including murder, drug trafficking, extortion and money laundering – and Nicola Gratteri is the man who has overseen the case.
"You need to have broad shoulders and nerves of steel," he said.
"You need to stay calm and not get caught up in emotion or tension. You need to rationalise every emotion because the goal is important and fundamental."
Mr Gratteri is Italy's most famous anti-Mafia prosecutor and, as a consequence, he and his family have had to live under police protection for decades.
It has meant sacrifices, but ones he says he is prepared to make.
"This means giving up everyday life, giving up the most trivial things, common things, any kind of freedom.
"But we feel very free inside us because what drives us to do this job are the motivations, to think and believe in something, to have a more free, more liveable and therefore more democratic territory.
"Any sacrifice, any risk, is overcome in the conviction of being right and useful to the freedom of the people."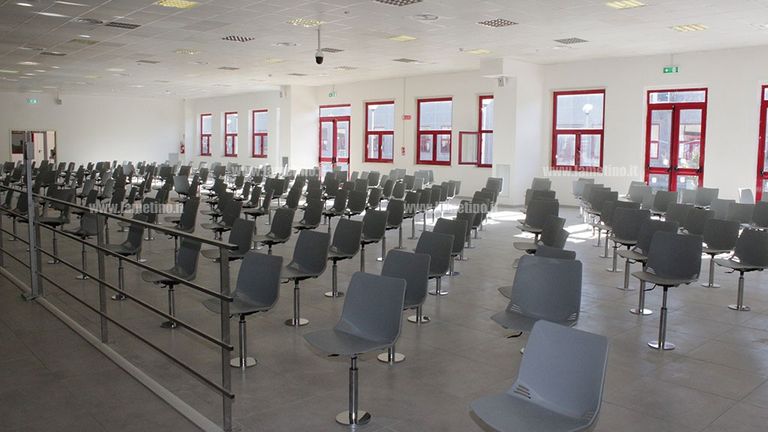 And yet he knows the very real risks he is taking.
Following Italy's first so-called maxi-trial, which targeted Sicily's Cosa Nostra Mafia, two prosecutors were assassinated.
This trial will target the Ndrangheta crime syndicate in Calabria and its alleged accomplices which include politicians, civil servants, police officers and business people.
Mr Gratteri saw the Mafia at work from when he was a child, he says.
"I spent my childhood in Calabria, at a time when dozens and dozens of people were killed.
"When I used to go to school from my village, several times I used to see dead people on the ground and I thought that as an adult I wanted to do something to prevent this from happening.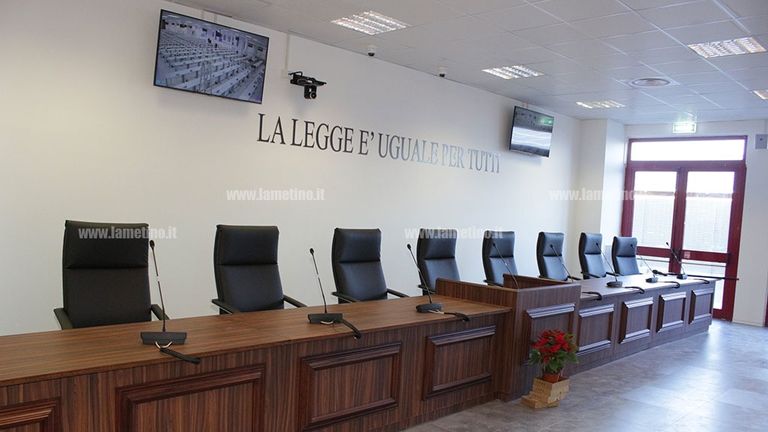 "Then outside school I also saw the children of the Mafia bosses who behaved like 'little Mafiosetti' and I didn't accept this either.
"But I was lucky because I was born into a family of humble but honest people and this helped me a lot to make my personal choices right away.
"Having gone to school with people that subsequently I had to arrest and convict as an adult is something that marks, it is unpleasant, but it is our job."
Such is the scale and security risk of this trial that a specially converted bunker court room has been created along with facilities to accommodate over 350 defendants, more than 700 lawyers and close to 1,000 witnesses giving evidence.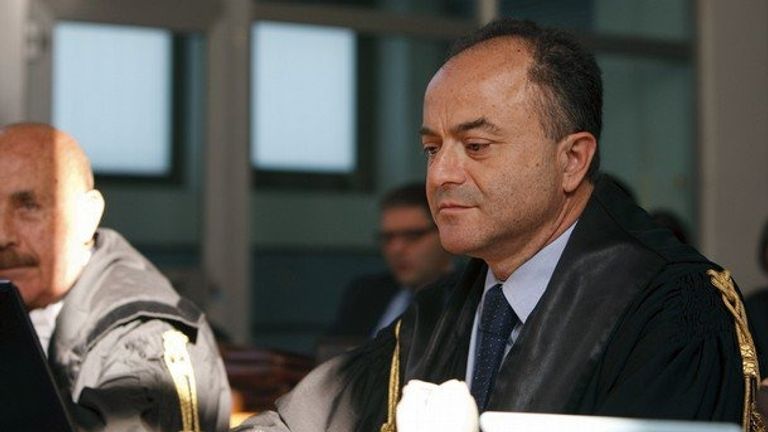 All at a time when coronavirus restrictions means social distancing has to be obeyed.
And the pandemic is a situation Mr Gratteri is concerned that the Mafia will exploit.
"I am worried that the Ndrangheta and the other mafias will be able to take advantage of the needs of merchants, hoteliers, restaurateurs in crisis, and that with the money from cocaine they can buy everything that is on sale and then through the purchase of these hotels, restaurants and pizzerias can launder money," he said.
"This worries me. In addition, I am also worried about poor, needy people.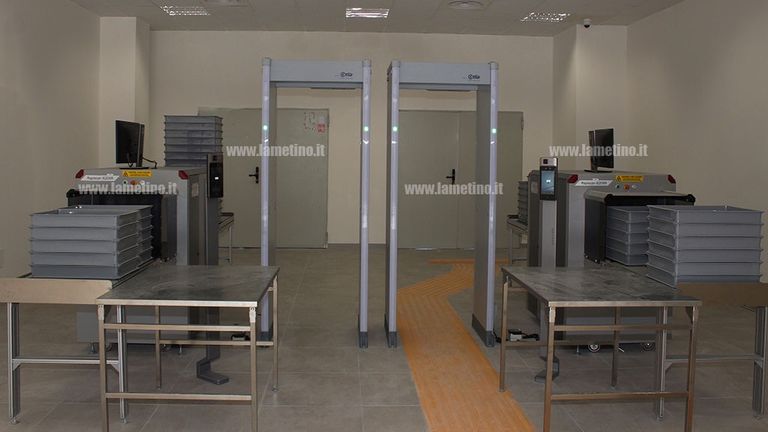 "If the state arrives late to give them subsidies, then the Mafia will take care of them and when there will be the elections these people will remember the help and vote for the candidate chosen by the Mafia boss."
The trial is expected to last two years, but Nicola Gratteri has hope for the end of it.
He said: "It is always worth doing what you believe in. Sacrifices are made if you believe that you are on the right side and that you are doing something useful to the community.
"Therefore it is never wasted time and we are always convinced that it was worth it."
Biden wastes no time undoing Trump's work, but it's how he handles the future that will count | US News
Joe Biden spent his inaugural address preaching unity in a country riven with division.
But on his first day in office he went solo to sign 15 executive orders and two directives. It was all aimed at undoing Trump's work swiftly- from re-joining the Paris Climate accord, to a national mask mandate, to reversing the Muslim travel ban.
It may be a risky move in a time crying out for bi-partisanship, but Joe Biden campaigned as the antidote to Donald Trump and it's no surprise he didn't want to waste any time unpicking his predecessor's most controversial policies.
The day was rich with symbolism, his press secretary opening up a briefing promising to be "truthful and transparent". It was an attempt to reset after an unprecedented era.
Gone was the talk of American carnage. Biden vowing to put an end to "an uncivil war," insisting politics doesn't need to be full of rage. It was the message we were expecting – a push for unity – an echo of his stump speech themes.
It felt sensible and safe, in a country that feels like it needs a pause from fighting. Liberal Hollywood looked delighted to be returning to the fold after shunning Donald Trump. It had all the hallmarks of convention that have been so absent for four years.
The standout moment for me was not Joe Biden's words, but those of a 22 year-old poet who like the president she recited for, had suffered a speech impediment as a child.
"There is always light, if only we are brave enough to see it. If only we are brave enough to be it," Amanda Gorman said with soaring eloquence. At 78 years old Joe Biden is an unlikely candidate to craft a new future for a diverse America.
But his strength may be in who he picks to present his ideas. Amanda Gorman was the light a lot of people needed to see in that moment.
But from today on, it will be his deeds not just his words that America looks to. The 74 million people who didn't vote for him will hold his feet to the fire. So too will the progressives, who invested their vote in a pragmatist, but will demand much more than incremental change. They picked him as their vessel, but they have high expectations.
Biden declared that "democracy has prevailed". Yesterday felt like a city breathing a sigh of relief, not just for the absence of violence, but a return to what they know.
But everyone in that White House has seen how fragile America can and could still be.
President Biden: Herculean challenges of COVID, the economy and division loom on his first day in office | US News
President Joe Biden starts his first full day in office pledging to unify the country and heal divisions after four turbulent years.
America's new leader, the country's 46th president, is a seasoned political operator but the challenges he faces are legion.
Taming the pandemic, dealing with the economic carnage it has reaped and calming a raging political crisis will be the focus of his immediate attention.
Any one of those problems in isolation would require huge amounts of energy and Herculean resolve – he has inherited all three at once.
The truth is America is at a crossroads and President Biden must somehow take the right route and lead a disunited, fearful country, shaken by insurrection and ill at ease with itself, to a safer political ground.
It will not be easy.
Huge numbers of people still believe the conspiracy theories peddled by Donald Trump and others that the election was stolen.
And in his inaugural speech President Biden was under no illusions about the difficulties he now faces.
"Few people in our nation's history have been more challenged or found a time more challenging or difficult than the time we're in now.
"To overcome these challenges, to restore the soul and secure the future of America, requires so much more than words and requires the most elusive of all things in a democracy; unity."
The team he is assembling will represent a modern and diverse America.
His vice president has already made history; Kamala Harris becomes the first woman and the first black person and person of south Asian descent to take on the role.
Last night celebrities also returned to the fold with a star studded TV extravaganza hosted by the actor Tom Hanks. Welcoming Biden's presidency he said "the dream of America has no limit".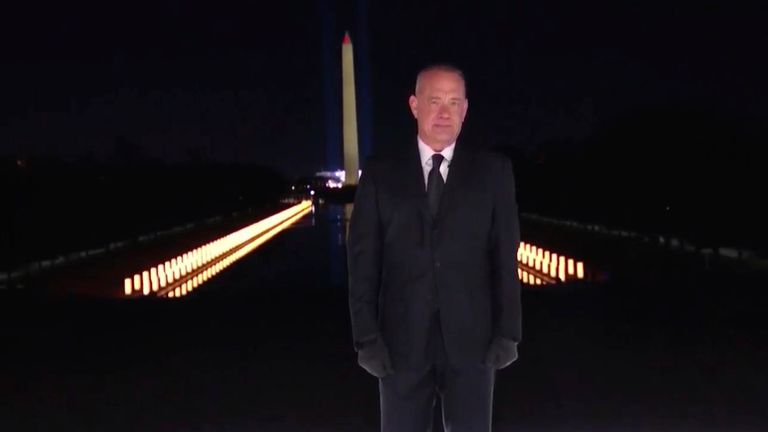 Their were performances from different locations across the country including musical performances from the Foo Fighters, Bruce Springsteen and Justin Timberlake.
Throughout Trump's presidency many of Hollywood's biggest stars made their negative feelings about him more than clear.
The new president spoke at the event saying: "This is a great nation. We're a good people. And to overcome the challenges in front of us requires the most elusive of all things in a democracy, unity.
"It requires us to come together in common love that defines us as Americans, opportunity, liberty, dignity and respect, and to unite against common foes, hate, violence, disease and hopelessness."
But even during the celebrations the business of government was well underway.
Already the Biden administration has reversed some of the more controversial policies of his predecessor.
A flurry of 17 executive orders to deal with four main issues; the COVID-19 pandemic, climate change, immigration and racial inequality.
For many western leaders seeing the US re-join the Paris climate agreement and the WHO will be a welcome relief.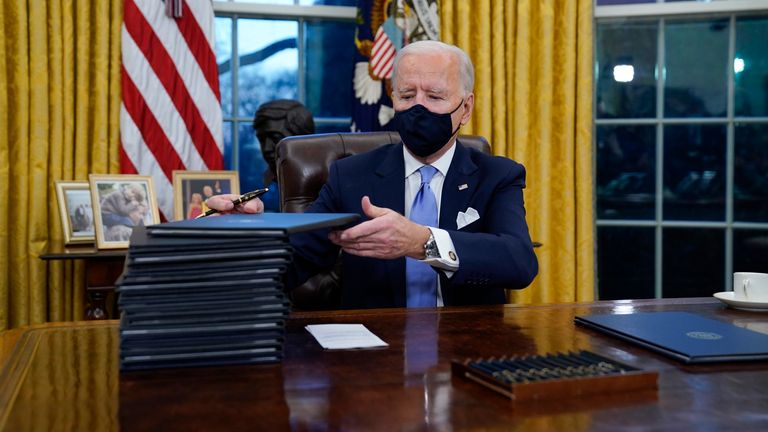 But perhaps the most pressing problem will be navigating a pandemic that has taken more than 400,000 American lives.
His plan will mark a sharp contrast to Donald Trump, who downplayed the seriousness of the virus, and largely left it to state governments to deal with the deadly fallout.
President Biden has vowed to throw the full weight of the federal government into the fight; he's pushing congress to approve a $1.9 trillion (£1.39trn) COVID plan to provide economic relief and speed up the vaccine rollout.
The steps of the new administration have also been carefully choreographed to show the country that convention and normality are returning.
There will no more 'alternative facts', or rejection of science; the modus operandi will be about rebuilding public trust.
Just hours after the swearing-in ceremony Biden's Press Secretary, Jennifer Psaki, held the first briefing for White House reporters where she pledged to bring "truth and transparency back to the briefing room".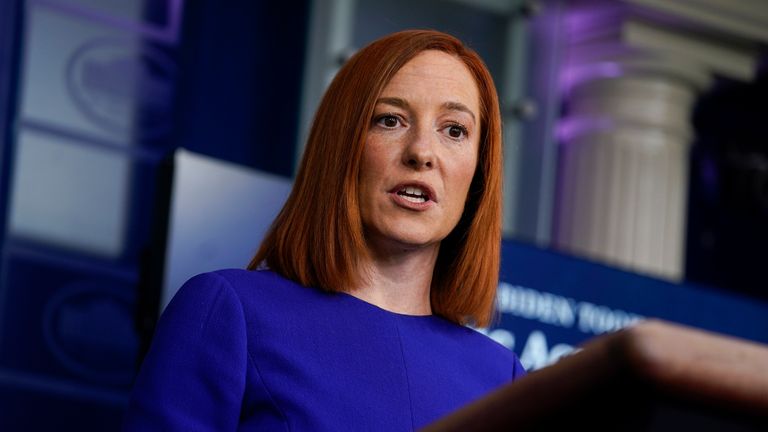 From his first steps then as leader it is clear that President Biden is tackling what he believes to be the toxic legacy left by Donald Trump.
But the months ahead are fraught with political peril and jeopardy, especially if he fails to find some bipartisan support for his agenda.
And if he fails in that task, his presidency may be lost before it even starts.
'A new era' for some as Biden is sworn in, but fear and suspicion still divide communities | US News
Champagne flowed at a bar in Atlanta, Georgia as they whooped and hollered their approval through the US Inauguration ceremony being held hundreds of miles away in the capital.
Some wore hats festooned with US flags, others had scarves emblazoned with the Stars and Stripes draped over them.
A four-year-old girl waved two little flags excitedly as the adults spread out amongst socially-distanced tables watching the ceremony on a specially-erected large television outside.
Inside, in every room, TVs were booming out the ceremony to everyone. This was the city's drinking hole for the victors – and they were ready to party – even in COVID times.
"Today is the beginning of a new era," said Timothy Young. "Now we've changed hands we feel our voices as black people will be heard during this time. This gives us a little more hope."
His companion April Anderson added: "I feel renewed, refreshed, elated."
Georgians were pivotal in voting Joe Biden into the White House. Voters here turned out in their droves to overturn a Republican stronghold with a massive increase in the African-American vote.
This followed years of suspicion, mistrust and investigations which showed that tens of thousands of mainly African-Americans had been disenfranchised in the past.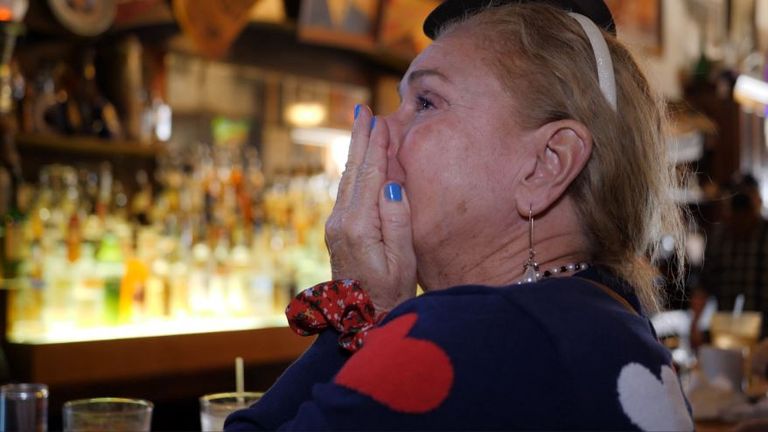 So, it's not surprising victory tastes sweet here. Kelsey Nix had tears running down her cheeks as she sat at the bar, listening to the man she helped elect talk about unity and a fresh start. "I was crying through relief," she said.
In the kitchen, head chef Stanley Barnes said the whole kitchen had been celebrating. "It's been a rough four years," he said. "I'm hoping things are going to get better now."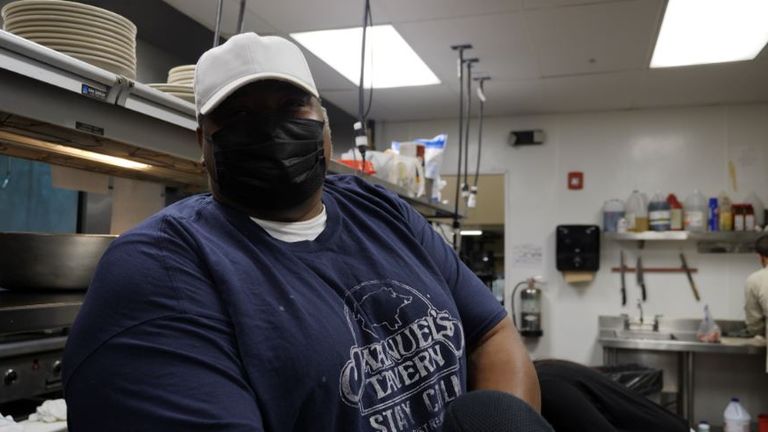 But there's an acceptance not all the deep-seated problems are going to disappear. "We still got really big challenges," the general manager Steven Pitt said.
"There's been a lot of hate over the past few years. And some of those people haven't just gone away. They're still there. We just have to stop these white supremacists getting into power ever again."
The lingering tensions across the nation are evident at every state Capitol building which have all been fortified in the wake of the riots in Washington on 6 January.
In Atlanta, they'd positioned Humvees at the top of the Capitol building steps and police sniffer dogs were busy circling the perimeter.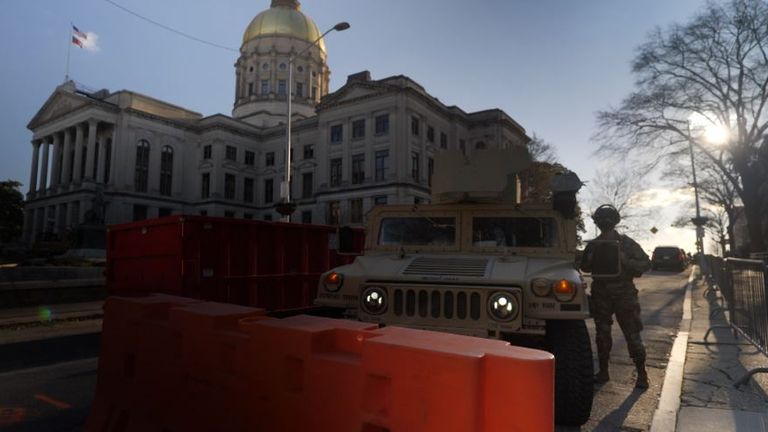 Across the city, a few miles away from the bar celebrations we spoke to a group of Republican voters who talked about the ugly atmosphere and the hate they were now on the receiving end of.
"There's got to be a recognition that Republicans have been vilified by the left…called racists, white supremacists, misogynists….everything you can think of, simply for having a different opinion," said Garrison Douglas.
His view was echoed by BJ Van Gundy sitting next to him, who urged the Democrats to fulfil their promises of unity.
'Do you think the country CAN unite, we asked him?' "If I see the other side do what they say they want to do which is unite…TRULY doing it…and not continuing to say 73 million are white supremacists," he replied.
There's a mountain of paperwork waiting for Joe Biden in his in-tray. Bringing together this polarised nation is going to be one of the toughest tasks.