Into The Grey Zone: The 'invisible' attacks that threaten to undermine democracies | World News
Invisible attacks by states like Russia, China and Iran risk unravelling the world's democracies "without a shot being fired", the defence secretary and the UK's military chief have warned.
There is also a threat that hostilities – from cyber hacks and disinformation to assassinations and sabotage – escalate, perhaps even triggering an "uncontrollable state of war", they said.
A new podcast series by Sky News explores how assaults in a grey zone between war and peace can weaken a target society from within by eroding trust in government and amplifying divisions on issues like politics, race, and even the coronavirus pandemic.
They take place deliberately below the threshold of war so as not to draw enough public attention to prompt an effective retaliation, according to interviews with current and former spies, hackers and soldiers for the Into The Grey Zone podcast.
The whole point is to cause harm to your enemy and gain an advantage without people feeling sufficiently threatened or realising they're under attack, they said. Left unchallenged, these "insidious, subversive" attacks could be just as damaging as a military invasion.
Lieutenant General Graeme Lamb, a former director of UK special forces, summed up the threat: "We're being boiled like a frog."
:: Subscribe to Into The Grey Zone on Apple Podcasts, Spotify, Spreaker
Biden-Johnson call: The 'special relationship' is off to a good start | US News
The state of the special relationship between Britain and America under a Biden presidency has been the focus of intense speculation.
Joe Biden and Boris Johnson are not political bedfellows. Mr Biden has referred to Mr Johnson as the physical and emotional clone of Donald Trump and is no fan of Brexit.
But Saturday's phone call and its timing will be encouraging news for Downing Street.
President Biden did contact Mexico's President Andrés Manuel López Obrador and Canadian Prime Minister Justin Trudeau on Friday and only got round to Mr Johnson the following evening but American presidents always contact their immediate neighbours first.
The fact the prime minister is the first world leader outside of North America to be called by President Biden suggests the so-called special relationship is in better shape than some had feared.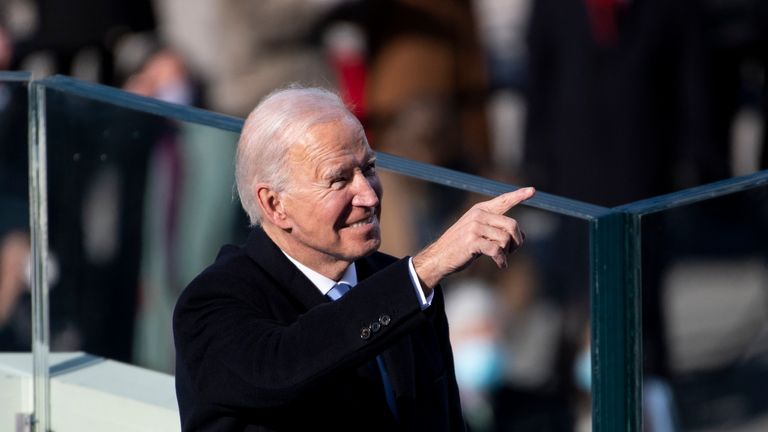 It was a wide-ranging call and focussed on what the two leaders can agree on, primarily tackling COVID-19 and climate change. Both leaders have made it clear they regard the two crises of paramount importance.
In a statement after the call, the White House said: "The president conveyed his intention to strengthen the special relationship between our countries and revitalise transatlantic ties, underscoring the critical role of NATO to our collective defence and shared values."
And it stressed the need for co-operation on shared challenges including "combatting climate change, containing COVID-19 and ensuring global health security".
Notably absent from the White House readout was any mention of discussion of a free trade deal.
A Downing Street spokesman put the emphasis on COVID-19, saying the leaders "noted the significant challenges facing the world during the pandemic, but also the unparalleled opportunities to build back better and greener together".
"The prime minister warmly welcomed the president's decision to re-join the Paris Agreement on climate change, as well as the World Health Organisation and the COVAX programme to ensure equitable access for vaccines."
Security, defence, human rights and protecting democracy were also discussed, we are told.
In contrast with the White House readout, Downing Street says the two men talked about "the benefits of a potential free trade deal between our two countries, and the prime minister reiterated his intention to resolve existing trade deals as soon as possible".
Subscribe to Divided States on Apple podcasts, Google Podcasts, Spotify, and Spreaker
Mr Johnson is hoping for a free trade deal in the wake of Brexit – something he had pursued with president Donald Trump. Both White House press secretary Jen Psaki and Treasury Secretary Janet Yellen have in the last week poured cold water on hopes for a free trade deal, saying the administration would be too busy dealing with COVID-19 to make it a priority.
Fears of tensions in the special relationship may have been exaggerated, however.
Those who know President Biden well say he is not a vindictive man and is keen to start afresh with allies at the outset of his administration. Mr Johnson may have more to worry about with the people around Mr Biden who resent his description of president Barack Obama as part-Kenyan in a newspaper article.
The omens from this call are good. The two leaders have decided to focus on what they can agree on. The world is in too parlous a state to let minor differences get in the way. The two men can continue developing their own special relationship when they meet at the G7 summit in June.
'Incredibly selfish' people attending parties during COVID lockdown | UK News
Police have criticised party-goers for making "incredibly selfish" decisions during the coronavirus lockdown.
Superintendent Michael Walsh, of the Met's Central West Basic Command Unit, was speaking after a series of late-night parties in the London borough of Kensington and Chelsea.
On Sunday, 17 January police found more than 200 people at an illegal gathering in Knightsbridge.
When told to go home, the attendees became hostile and pushed past officers in an attempt to avoid being fined, police said.
Two officers were injured, around 30 fixed penalty notices were issued, and a three-month closure order is being prepared for the establishment, which had already been fined for a previous breach of COVID legislation.
On Saturday, 16 January more than 30 people were found socialising in a venue in Ladbroke Grove, police said.
The venue's owner is being considered for a fixed penalty notice amounting to £10,000 and those who attended were told to go home.
Last month, an illegal gathering at a commercial property in Knightsbridge resulted in the venue being closed for three months, following previous breaches of COVID legislation.
Superintendent Michael Walsh, of the Met's Central West Basic Command Unit, said the incidents showed "flagrant breaches of COVID legislation and could potentially have put multiple people at risk of contracting or spreading the virus".
He added: "Attending or organising such parties during this critical period is an incredibly selfish decision to make and we will continue to take action against those who flout the rules.
"My officers continue to work incredibly hard to uphold COVID legislation in order to keep people safe. While the majority of breaches have been resolved without incident, it deeply saddens me that some individuals have chosen to assault police officers who are simply doing their part in the collective battle against this deadly virus.
"We will absolutely not tolerate assaults on police officers. It goes without saying that anyone who harms an emergency worker will face the full force of the law."
'Major dog welfare crisis' warning after sharp rise in dogs sold online | UK News
Experts have warned of a "major dog welfare crisis" following a sharp rise in the number of dogs being sold online during the COVID-19 pandemic.
Pets4Homes, one of the UK's largest online pet marketplaces, recorded a 51% increase in demand for puppies since the pandemic began.
A total of 466,601 dogs have been advertised on the site so far, with average prices increasing by 131%.
Rory Cowlam, a vet and ambassador for the RSPCA, told Sky News he expects to see a spike in the number of dogs being abandoned this year as a result.
He said: "Abandonments are going to happen because people have got puppies on a whim.
"They've been putting off getting a dog for years and years, they're suddenly furloughed or they're at home more and more and they think now's the right time to get a dog."
Mr Cowlam added that the rising demand has also led to worrying "increases in puppy theft and, unfortunately, increases in things like puppy farming and irresponsible breeding".
The RSPCA has responded to 5,955 reports about abandoned dogs since the start of the pandemic, and seven-month-old Nala is one of them.
She was adopted by Mr Cowlam in October last year after being found abandoned in a heap of rubble.
The charity said she arrived at their Harmsworth Animal Hospital "extremely emaciated", before staff helped her build her strength, gain weight and build confidence.
They fear that hundreds more cases like Nala's will be seen as the year progresses.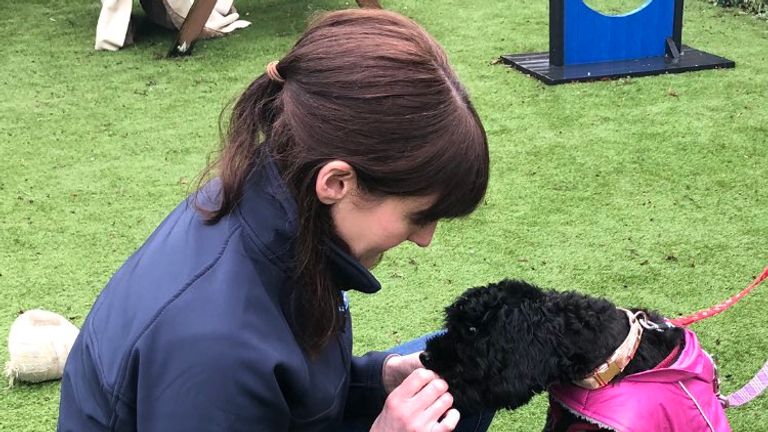 Dr Samantha Gaines, a dog welfare specialist at the RSPCA, said: "We expect that we'll see a major dog welfare crisis this year."
She told Sky News: "We've probably yet to see the worst to come. We're now into the third lockdown in England and people still are at home with their puppies that they bought last year, some people will be thinking about getting puppies now."
"If there is anyone at this moment in time that is thinking about getting a dog or a puppy because they're at home, we'd urge people to be very very careful and to make sure they do their research."
Dr Gaines also warned that "now is probably the greatest time ever you'd be caught out by someone".
Ira Moss, co-founder of All Dogs Matter, told Sky News the online market for dogs has become a "lucrative" and "unscrupulous trade" due to a lack of regulations.
She said: "They're being multi-sold, so one dog can turnover, can transact five to ten thousand pounds if it's sold three times. It's become such a commodity, a dog.
"At some point there's got to be a saturation point – this can't carry on forever, it's just not practical."
Ms Moss added: "It's just so sad – we're a nation of dog lovers and we've created this monster."