How Uganda's election has been stacked against the pop star who would be president | World News
Everyone in Uganda knows the country is going to the polls on Thursday.
Election signs and slogans have been plastered on just about every billboard and lamp post in the nation.
And everyone knows who is likely to win the presidency.
President Yoweri Museveni, who is seeking his sixth term, has got the state's key agencies working hard to secure his victory.
The 76-year-old has the country's electoral commission, which organises the vote, under his effective control, as well as the police and military, who have made life extremely difficult for Uganda's opposition parties.
His most prominent opponent, charismatic popstar turned politician Bobi Wine, has been attacked and arrested on multiple occasions and dozens of his supporters have been killed.
Journalists following Mr Wine have been tear-gassed, beaten and shot with rubber bullets.
Opposition groups depend on social media to communicate safely and securely. But this week the government moved to block all social media platforms.
Mr Museveni was particularly unhappy when Facebook deleted accounts belonging to government officials accused of attempting to manipulate public debate before election day.
In televised remarks he told the nation: "The government has closed social media… There's no way anyone can come and play around with our country, to decide who is good [and] who is bad… we cannot accept that."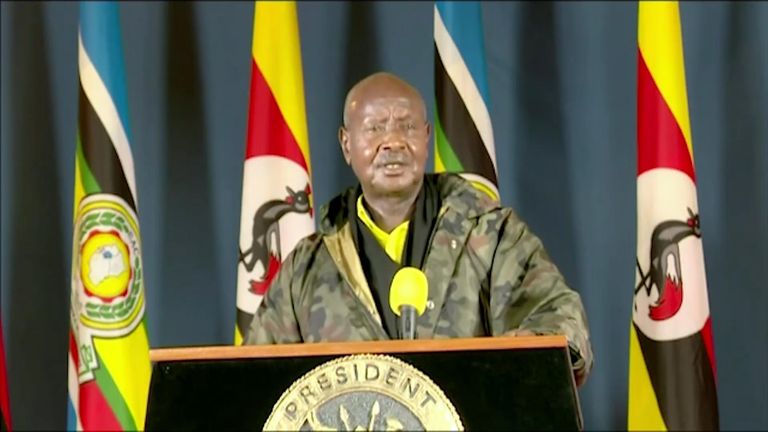 In response, Bobi Wine – whose real name is Robert Kyagulanyi – told Sky News that Uganda's ruler was trying to shut his opponents down.
He said: "Taking on General Museveni [means] taking on the Ugandan police force, the Ugandan military, the bank of Uganda – all the institutions of state have been deployed against us to attack us with impunity, with brutality.
"There is no rule of law."
Mr Wine was in a pensive mood as he circled the garden on his property outside the capital Kampala.
He said 92 polling agents from his National Unity Platform party had been arrested over the past week, making their efforts to observe the vote count far more difficult.
"[Our team] is calling us, informing us that agents are being arrested and that those coordinators are being picked up by the military and are being charged with recruiting rebels," he said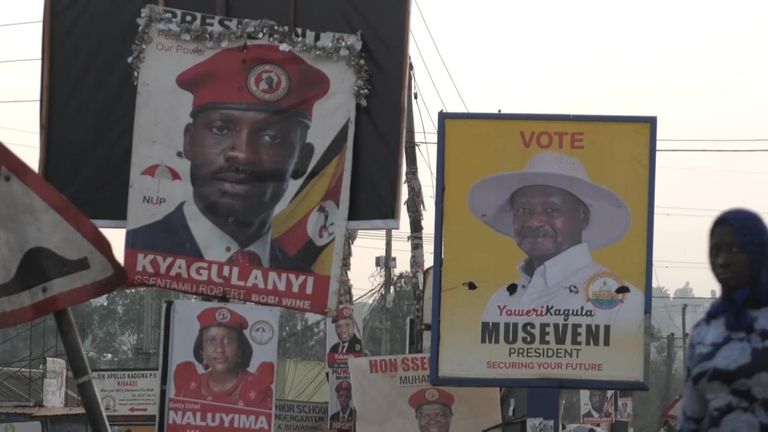 The 38-year old musician, who was raised in a slum, has given the president a run for his money in this election.
But the insurgent candidate said he does not expect the president to go quietly and that more violence could lie ahead.
"We are already seeing the events unfolding, as you must have seen, the military has been heavily deployed with heavy combat weapons, as if the nation of Uganda is under attack by a foreign aggressor," he said.
"We expect more violence, but again, we expect more resistance."
COVID-19: BAME groups far less likely to take coronavirus vaccine, SAGE finds | UK News
People from minority ethnic backgrounds are far less likely to take the coronavirus vaccine, according to documents from the government's scientific advisers.
An undated document released by the Scientific Advisory Group for Emergencies (SAGE) found vaccine hesitancy was highest in Black or Black British groups, with 72% stating they were unlikely/very unlikely to get the jab.
Pakistani/Bangladeshi groups were the next most hesitant, with 42% unlikely/very unlikely to be vaccinated.
Other White ethnic groups, including Eastern European communities, also had higher levels of COVID-19 vaccine hesitancy than White UK/White Irish ethnicity.
Among the barriers to the vaccine uptake are the perception of risk, low confidence in the jab, and lack of endorsement from trusted providers and community leaders, the paper said.
It said to overcome the barriers, "multilingual, non-stigmatising communications should be produced and shared".
These would include "vaccine offers and endorsements from trusted sources to increase awareness and understanding and to address different religious and cultural concerns".
Leeds-based Imam Qari Asim, who is chair of the Mosque and Imams National Advisory Board, is running a campaign to encourage Muslim communities to take the coronavirus vaccine and dispel some of the myths around the procedure.
He cited misinformation being spread by far-right groups, as well as religious concerns that the vaccine might contain gelatine or other animal products and is not halal – or that it can result in modification of DNA.
Around 100 mosques are using Friday prayers to raise COVID awareness and dispel myths around vaccinations.
Imam Asim said: "Misinformation can result in someone losing their life and it is one of the core principles of Islam that protection of life is extremely important.
"My message to Muslim communities is that it is our ethical obligation, moral duty to take the vaccine whenever the opportunity arises.
"Don't miss the opportunity to take the vaccine and save lives."
He said Muslim scholars, as well as medical experts, have looked into concerns from their communities but are "confident" the vaccine is permissible under Islamic law.
National Rifle Association: US gun advocacy group files for bankruptcy | US News
The National Rifle Association (NRA) has announced it has filed for bankruptcy petitions in a US court as part of a restructuring plan.
The gun rights advocacy group said it would restructure as a Texas nonprofit to exit what it described as "a corrupt political and regulatory environment in New York", where it is currently registered.
It comes four months after the New York Attorney General filed a lawsuit to dissolve the organisation over allegations of financial misconduct.
In a message issued to its members and supporters on Friday, the group said the decision to file voluntary chapter 11 petitions in the United States Bankruptcy Court was not due to financial problems.
"You know that our opponents will try to seize upon this news and distort the truth," the statement said.
"Don't believe what you read from our enemies. The NRA is not 'bankrupt' or 'going out of business'. The NRA is not insolvent. We are as financially strong as we have been in years."
The message suggested the decision had been taken as a direct result of the lawsuit in New York.
"We are leaving the state of an attorney general who, just a few months ago, vowed to put us out of business through an abuse of legal and regulatory power," it said.
"Subject to court approval, the NRA is pursuing plans to reincorporate in the State of Texas."
A separate statement from the organisation said the "move will enable long-term, sustainable growth and ensure the NRA's continued success as the nation's leading advocate for constitutional freedom – free from the toxic political environment of New York".
NRA chief executive Wayne LaPierre said: "Obviously, an important part of this plan is dumping New York.
"The NRA is pursuing reincorporating in a state that values the contributions of the NRA, celebrates our law-abiding members, and will join us as a partner in upholding constitutional freedom."
The NRA has previously faced allegations it wields disproportionate influence on American politics through extensive lobbying.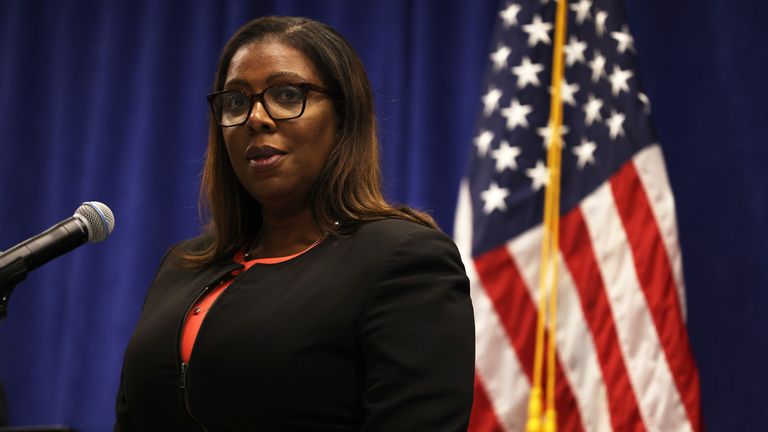 It has played a key role in preventing tighter restrictions on gun sales, despite a series of deadly mass shootings and opinion polls repeatedly showing a significant majority of Americans favour stricter controls on weapons.
Announcing her move to dissolve the group in August, New York Attorney General Letitia James accused it of siphoning millions of dollars from its charitable mission for personal use by senior figures.
"The NRA's influence has been so powerful that the organisation went unchecked for decades while top executives funnelled millions into their own pockets," she said.
"The NRA is fraught with fraud and abuse, which is why, today, we seek to dissolve the NRA, because no organisation is above the law."
US Capitol riots: Police break silence on 'brutal, medieval style combat' | US News
Police involved in protecting the Capitol building last week have spoken for the first time describing what happened as "brutal, medieval style combat".
The officers were outnumbered by hundreds of rioters, who federal prosecutors claim were intending to "capture and assassinate officials".
Officer Daniel Hodges was nearly crushed to death in the violence. Disturbing video shows him trapped by a metal door, bloodied and screaming for help.
"They were calling us traitors, shouting at us, telling us to remember our oath, and eventually, they attacked us," he said.
"At that moment in the hallway where I was pinned, I was there to do my best to keep them out, obviously, and the way I was doing that was with my body."
At times, he said, he thought he wouldn't survive.
"There was chaos, someone managed to get his thumb in my eye and start gauging my eye," he said.
"That was the second time I thought it might be the end, or I might be maliciously disfigured."
The police officers' accounts of the chaos and the violence brings a chilling new understanding to what the world witnessed.
The footage is still being carefully studied by investigators.
In one video, police officer Michael Fanone can be seen being pulled from the building.
He was then beaten by the pro-Trump thugs on the steps of America's seat of democracy.
He said: "Guys were grabbing at my gear, I had my badges ripped off, my radio was ripped off, one of my ammunition magazines was stripped from my belt and guys were trying to grab my gun and they were chanting: 'Kill him with his own gun'.
"I thought… I could shoot them, they're trying to kill me and I'm justified, but if I did that I'd provide them with the justification they needed to kill me.
"So then I thought I could appeal to someone's humanity and I just started yelling that I have kids."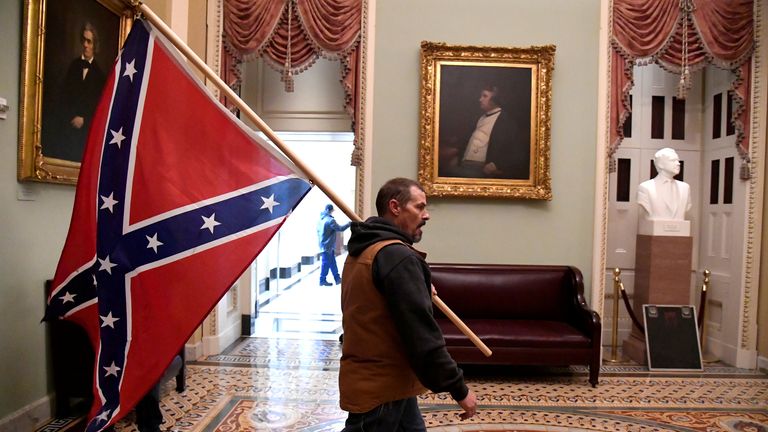 Another police officer, Eugene Goodman, has also been feted for his bravery and is now in line for the congressional gold medal.
In video that has emerged he can be seen armed with just his baton and, at great risk, diverting the insurrectionists away from the unguarded entrance to the Senate, allowing members to escape.
But as some police officers are lauded for their heroism, others are being investigated. It is thought some had a role in the chaos.
The wider investigation is beginning to gather pace and so far there have been nearly 100 arrests.
Authorities are still trying to identify more suspects, including the man wanted in connection with the murder of police officer, Brian Sicknick.
Subscribe to the Daily podcast on Apple Podcasts, Google Podcasts, Spotify, Spreaker
And it is feared there could be more attacks in the days leading up to the inauguration of President-elect Joe Biden.
Thousands of National Guard troops are fanned out across the capital, fortifying institutions.
This city now has all the hallmarks of a war zone. It is a sad reflection of the state of politics in a country which feels increasingly under siege.