How did Man City let USMNT starlet Reyna slip through their grasp?
Manchester City's scouting network and state-of-the-art Etihad Campus mean they can attract the best players from not just the local area but around the world.
Even with that in mind, Phil Foden will be the only academy player close to the starting line-up when City try to reach the semi-finals of the Champions League for just the second time in the club's history.
There would probably have been another had England winger Jadon Sancho decided not to leave the Etihad Stadium as an 17-year-old to join quarter-final opponents Borussia Dortmund.
Faced with the choice of possible patient progress under Pep Guardiola or the promise of a fast-track to the first team in the Bundesliga, Sancho opted for Germany and it would be difficult to argue that he made the wrong choice.
But he's not the only young Dortmund star to have passed up the possibility of a chance at City.
Like Foden, Giovanni Reyna grew up a City fan and, like Sancho, he faced a similar decision as a teenager between staying in the City set-up or taking his chances elsewhere when a number of top clubs took notice of his huge promise.
Reyna left fellow City Football Group club New York City FC to join Dortmund and the attacker is among a group of exciting young United States players starting to light up Europe's top leagues.
The son of former USMNT and City midfielder Claudio, the teenager was part of NYCFC's youth academy when he started attracting the attention of clubs in Europe after he showed his potential for the under-15s national team.
With the help of a Portuguese passport, secured via his paternal grandmother, Reyna had the option of moving to Europe when he turned 16.
There was also the possibility of promotion to the New York City first team  and it would have seemed a more natural move with his father the-then director of football operations at the MLS club. However, Claudio left the decision to his son.
"I'm a dad first, and I will support whatever he wants to do," Reyna told Goal before his son's move abroad. "The thing about a player at 14, 15, 16 is they're going to make their own decision. They're going to take everything in and see."
Reyna opted to follow in the footsteps of his father, who had moved to Germany as a youngster having spells with Bayern Leverkusen and Wolfsburg.
He was encouraged by the development of promising young US star Christian Pulisic, who was starting to break into the Dortmund side as an 18-year-old.
The teenager decided to make the same move and while he had to grow up quickly on his own and more than 3,500 miles away from home, it's another decision that has paid off.
Still only 18, Reyna has made 54 appearances for the Dortmund first team already as well as winning four international caps and scoring twice.
Playing with fellow youngsters Sancho, Erling Haaland, and Jude Bellingham, it has helped cement the German's club reputation as a place for blossoming talent.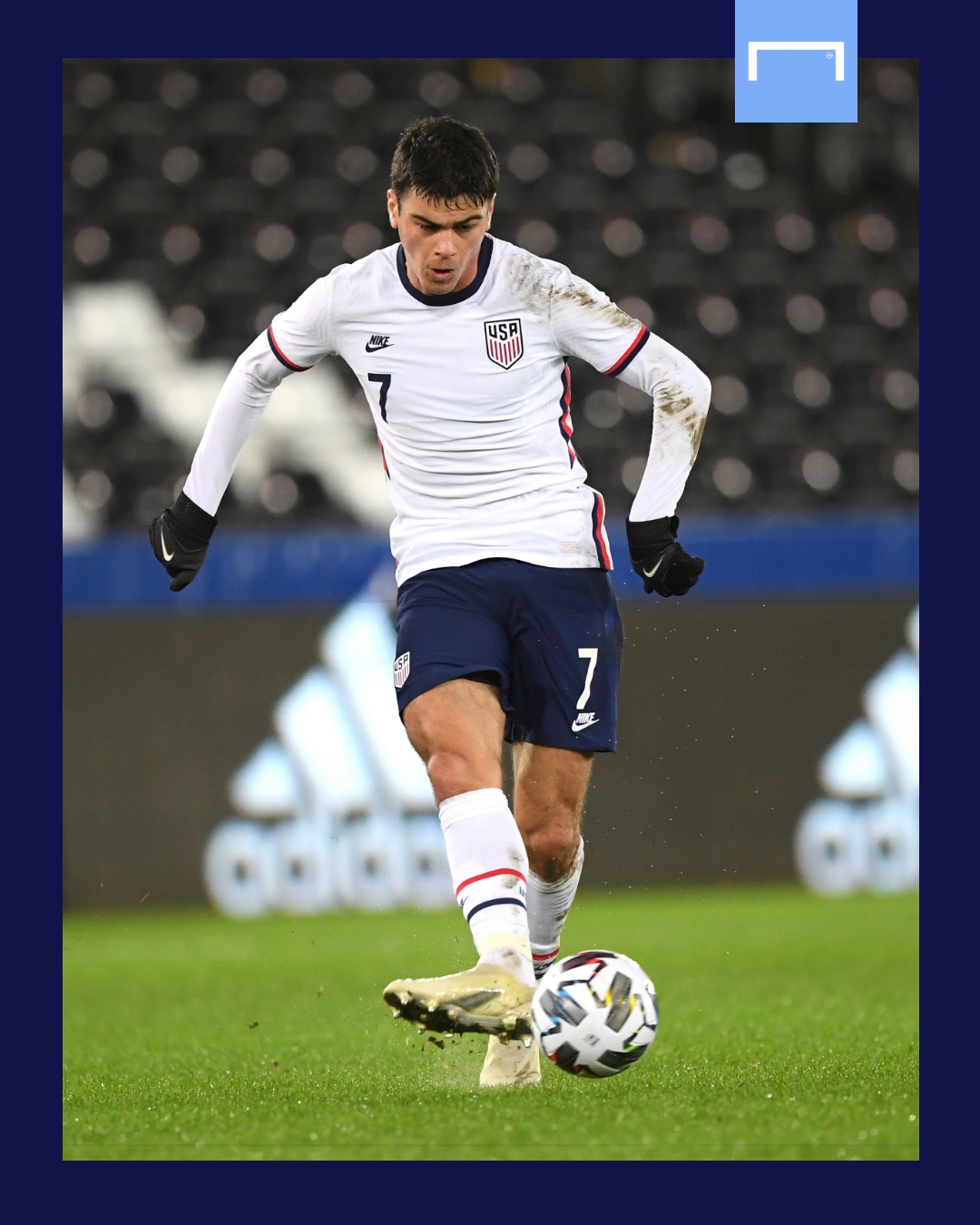 "I think I was 14 at the time, or 15, when I realised that there was a possibility to go to Europe and yeah, I just came here and Christian was here at the time and everything he was doing at the time put it in my head that I could do great things here," he said last year.
"Everything about Dortmund and the opportunities they had, giving young players playing time, playing in the Champions League and all of the biggest competitions. They made it feel like home from day one, made me feel like I was really wanted here, so it has been a perfect decision so far."
Still, having been part of the City Football Group from such an early age, it feels like another missed opportunity for City.
Born in Sunderland when Claudio was playing for the Premier League side, the family to move to Manchester when he switched to the Etihad Stadium and Gio spent the early years of his life with a Mancunian accent, although that faded when they moved back to Bedford in New York.
However, Reyna and brother Jack remained City fans.  He has spoken touchingly about Sergio Aguero's famous title-clinching moment being special  – when his sibling was ill with cancer that was to tragically take his life just weeks after.
Since then, Reyna has become one of the most exciting young talents in world football. With pace, goals and the quality to provide a killer pass, the excitement around Reyna is growing – even in a squad crammed with huge potential such as Dortmund's.
A first visit to the Etihad on Tuesday night gives him another opportunity to take a big step in a career which is on a trajectory to the very top.
Is Julian Edelman a Hall of Famer? Twitter debates retired receiver's credentials
Julian Edelman called it quits Monday, announcing his retirement after an 11-year NFL career, all of it spent with the Patriots.
Edelman's final stat line: 620 receptions for 6,866 receiving yards (11 yards per reception) and 36 receiving touchdowns; 58 rushes for 413 yards (7.1 yards per carry); 177 punt returns for 1,986 yards and four touchdowns. His yardage ranks 156h in NFL history, and his receiving touchdowns are tied for 261st.
Zero Pro Bowl selections. Three Super Bowl rings. One Super Bowl MVP. And a member of the Patriots' 2010 All-Decade team.
Now, the ensuing debate: Are those numbers good enough to be inducted into the Pro Football Hall of Fame (which Edelman won't be eligible for until 2026)? The pure numbers say no, but that didn't stop Twitter users from making "HOFer" and "Edelman" trend Monday evening as they discussed Edelman's Hall of Fame credentials.
MORE: Why did Patriots cut Julian Edelman? Failed physical only part of New England roster move
Sporting News' Vinnie Iyer in May 2019 made a compelling argument that Edelman's Hall of Fame case isn't so cut and dry. Working in Edelman's favor is the fact that only Jerry Rice ranks ahead of Edelman in postseason receptions (151 to Edelman's 118) and receiving yards (2,245 to Edelman's 1,442). He was also one of the favorite targets of Tom Brady — himself a first-ballot Hall of Famer — as the two won three Super Bowls together.
But Edelman only led the Patriots three times in receiving yards, and never put together more than 1,117 yards in a season (in 2019, his last fully healthy season). He had three 1,000-yard receiving seasons and never scored more than seven receiving touchdowns a year. People were also quick to point out his stats pale in comparison to other non-Hall of Famers with considerably better stats, including Hines Ward, who in 2021 failed to make it into Canton for the fifth consecutive year.
Regardless of whether Edelman makes it into the Hall of Fame, the fact that his candidacy is so hotly debated — not even 24 hours removed from announcing his retirement — is a testament to his impact on the game.
Why did Patriots cut Julian Edelman? Failed physical only part of New England roster move
The Patriots sent shockwaves throughout the NFL on Monday — tremors, at least — with the announcement that they would cut veteran receiver Julian Edelman.
Multiple reports suggest that New England cut Edelman, 34, because he failed his physical; he would have played his 12th season in the league in 2021 after missing the final 10 games of the 2020 season while recovering from knee surgery.
That said, New England's decision to cut Edelman was more than just a simple failed physical. Either way, Monday's decision could put the cap on an 11-year career that saw Edelman catch 620 passes for 6,822 yards and 36 touchdowns and win three Super Bowls.
NFL MOCK DRAFTS 2021: Compare Mel Kiper, Daniel Jeremiah, Todd McShay & other experts
Here's everything you need to know about the decision, and Edelman's future in the NFL.
Why did the Patriots cut Julian Edelman?
The initial reason for Edelman's tenure ending in New England was a failed physical. That makes sense on the surface, considering that the 34-year-old receiver played in the fewest games in a given season since he entered the NFL in 2009. Considering how busy New England coach/GM Bill Belichick was in free agency, it also stands to reason that Edelman would have seen fewer targets in 2021 after the Patriots added receivers Nelson Agholor and Kendrick Bourne, and tight ends Hunter Henry and Jonnu Smith.
However, that was only part of the Patriots' decision. Per Mike Weiss of ESPN, the decision could simply be a formality and precursor to Edelman retiring from football.
While Julian Edelman showed up on today's transaction wire as having his contract terminated by the Patriots, Edelman has been mulling retirement and this could just be a precursor to that announcement.

— Mike Reiss (@MikeReiss) April 12, 2021
Edelman later confirmed rumors that he was, indeed, retiring. Edelman, in a pre-recorded video, announced his decision.
Why is Edelman retiring from the NFL?
In the video, Edelman credited an undisclosed knee injury from the 2020 season as the reason for his retirement. He underwent surgery on Oct. 29 and did not return for the remainder of New England's 7-9 season.
"Nothing in my career has ever come easy. And, no surprise, this isn't going to be easy, either," Edelman said in his announcement. "I always said, 'I'm gonna go until the wheels come off.' And they finally have fallen off. Due to an injury last year, I'll be making my official announcement of retirement from football. It was a hard decision, but the right decision for me and my family. And I'm honored, and so proud, to be retiring a Patriot.
That last line also puts an end to any rumors that Edelman will attempt a comeback somewhere else in the NFL — notably, in Tampa Bay with former teammates Tom Brady and Rob Gronkowski.
Dustin Poirier says Conor McGregor never donated promised $500K to former's charity
Dustin Poirier and Conor McGregor are confirmed to be fighting again … on Twitter.
The latest clash between the two UFC fighters stems from a Poirier claim Sunday night that McGregor and his team failed to deliver on a promised $500,000 donation. It would have gone to Poirier's charity, "The Good Fight," after their UFC 257 bout in January, which Poirier won via second-round TKO.
McGregor responded in kind, saying that Poirier never said exactly where the money was going and how it would be used.
A donation, not a debt. We've been awaiting the plans for the money that never came. I do with all my donations. Know where it's going dot for dot. Otherwise it goes walking. As is the case with a lot of these foundations, sadly. You took the McG over the belt shows I was right.

— Conor McGregor (@TheNotoriousMMA) April 12, 2021
MORE: Francis Ngannou wins heavyweight title at UFC 260 after KO of Stipe Miocic
All this stemmed from a 2020 exchange between the two fighters where McGregor teased a comeback outside of UFC. He proposed a PPV with Poirier, saying all the money would go to charity. He eventually settled on the $500,000 amount, which would be donated after their January bout. Poirier confirmed in December 2020 that McGregor's team had begun the process of donating to his foundation.
Poirier and McGregor's online squabble further devolved from there, with Poirier claiming that McGregor's team quit responding to emails and McGregor calling Poirier a "brain dead hillbilly" — before canceling their trilogy fight.
Both fighters have reportedly signed contracts to a trilogy fight on July 10 at UFC 264, though that promotion hasn't been made official. What's also uncertain is whether McGregor's claim that the fight is off is him simply letting off steam or retaliation against Poirier.
Just another day in the UFC.