Happy Mondays star Bez launches YouTube fitness classes after getting 'seriously unfit' in lockdown | Ents & Arts News
Happy Mondays star Bez is launching his own online exercise classes after getting "seriously unfit" scoffing chocolate last lockdown.
The maraca-shaking dancer, famed for his onstage antics as part of the "Madchester-era" band, hopes to lose his lockdown weight and help motivate others.
The 56-year-old, whose real name is Mark Berry, will be sharing videos on YouTube under the title Get Buzzin' With Bez.
But unlike lockdown fitness star Joe Wicks, who creates his own workout videos, Bez will be following the orders of a personal trainer as well as visiting a psychologist, learning yoga and trying hypnotherapy.
He said: "I'd like to think I'm somewhere between Joe Wicks and Mr Motivator.
"I've started this new year seriously unfit, with a fat belly and creaky hips, and I can't stop eating chocolate.
"Last lockdown I got unfit, fat, lazy and into some seriously bad eating habits.
"This year, this lockdown, I need to sort it out sharpish."
A short teaser video shows Bez warming up in a park under the watch of a personal trainer from the Fit Forward company.
Subscribe to the Backstage podcast on Apple Podcasts, Google Podcasts, Spotify, Spreaker
Bez won Celebrity Big Brother in 2005 and stood unsuccessfully as a candidate in the 2015 general election.
Happy Mondays, fronted by Shaun Ryder, was one of the leading bands in the "Madchester" scene of the late '80s and early '90s, along with groups including The Stone Roses and Inspiral Carpets.
Dua Lipa denies she is pregnant after 'cryptic' emoji message speculation | Ents & Arts News
Dua Lipa has denied she is pregnant after speculation over a "cryptic message" in her emoji use on social media.
The chart-topping singer said she wanted to clear up any confusion during a TV appearance, saying her use of "random" digital icons had "come to bite me in the arse".
Rumours started when Lipa, 25, shared a picture of herself wearing a green tartan dress on Instagram earlier in January.
In her caption, the British star, who is in a relationship with model Anwar Hadid, included a baby's bottle emoji alongside sparkles and an angel, leading to speculation she was pregnant.
But during an appearance on Jimmy Kimmel Live!, she dismissed the rumours.
"I like finding little random emojis, like a little baby bottle or angels and sparkles," she said. "Random. I really didn't think this through and I posted it and then I look at the comments and somebody says, 'is she pregnant?'
"And I look at the picture, I look at the comment, I look at the picture, I look at the comment, and I'm like, 'surely I don't look pregnant?'
"And then I see that people have been writing stories saying that I posted some cryptic message that I might be announcing my pregnancy. And I'm just like, 'oh my God, these emojis have come to bite me in the arse'."
Lipa, who appeared on the show virtually, added: "I'm not pregnant, just to clear it up."
Subscribe to the Backstage podcast on Apple Podcasts, Google Podcasts, Spotify, Spreaker
Asked by Kimmel if she will announce any future pregnancy through emojis, she replied: "No, because now I'd be the boy who cried wolf."
Lipa, who is nominated for six Grammys this year, said she "occasionally" reads the comments on social media, saying that "sometimes it's nice stuff, sometimes it's not so nice stuff".
"It doesn't bother me too much," she added.
Ulrika Jonsson defends Stacey Solomon over 'shaming' of having children with different fathers | Ents & Arts News
Ulrika Jonsson is standing "tall and proud" with Stacey Solomon following an online comment about her having children by different fathers – and says she was always "stumped by the injustice" of her own "4×4" nickname.
TV presenter Jonsson, best known for her work on Gladiators and Shooting Stars in the 1990s, has four children with four different men and was infamously given the epithet by critics following the birth of her youngest.
Loose Women host and former X Factor star Solomon, 31, has two sons from previous relationships as well as a little boy with fiance Joe Swash, and responded when an Instagram user highlighted this online.
Commenting on one of her posts, the user said it "must be very sad having three different dads for your boys".
Solomon replied to say her children "are the best thing that ever happened" to her.
In a newspaper column, Jonsson, 53, defended Solomon and criticised the double standards for men and women.
"The simple truth – which applies to both me and Stacey – is that we are good, caring mothers," Jonsson wrote in The Sun. "We chose to have our children – we longed for them, regardless of the circumstances of their creation.
"We love them more than anything in the world. And we both nurture our children, keep them by our sides, care for and pay for them. We did not sow our seeds and disappear.
"We chose to take responsibility, to carry these creations in our own arms, sometimes with the assistance of others, sometimes on our own.
"I fail to see the issue with that. My children see themselves as whole siblings and are better adjusted than many other children I know."
:: Subscribe to the Backstage podcast on Apple Podcasts, Google Podcasts, Spotify, Spreaker
Jonsson also asked the question, "why don't men ever get stick for it?", and listed male stars who have had children with different women, such as Bob Marley, Rod Stewart, Jude Law, Liam Gallagher, Paul Weller and Eddie Murphy.
She said she was "stumped by the injustice" of her 4×4 nickname and said the intention was to "hurt and, above all, to shame a woman".
She continued: "I didn't particularly want to be associated with the label because I felt no sense of shame. At all."
She recalled being criticised for her family life by a Loose Women panel 12 years ago and being introduced as 4×4 by a young Jack Whitehall after her stint in the Celebrity Big Brother house in 2009.
"So I stand tall and proud with Ms Solomon," she said. "Who knows, had life taken yet another turn, I might have had more children by more men."
Pamela Anderson says Donald Trump is 'debating' pardoning Julian Assange | Ents & Arts News
Pamela Anderson has called on Donald Trump to pardon Julian Assange in his final days as US president, saying the move could be the "perfect way" to end his term.
The former Baywatch star is one of WikiLeaks founder Assange's most high-profile supporters, and has visited him several times in London, including at Belmarsh prison in May 2019.
Assange won his fight to avoid extradition to the United States earlier in January but was denied bail on mental health grounds. He is wanted to face an 18-count indictment, alleging a plot to hack computers and a conspiracy to obtain and disclose national defence information.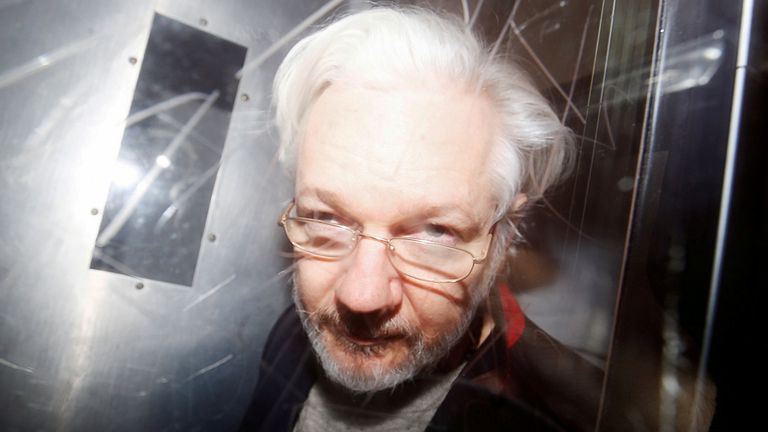 The 49-year-old has not been seen in public as a free man since June 2012, when he rang the doorbell of the Ecuadorean embassy in London and asked for sanctuary. In April 2019 he was carried out by police ahead of a 50-week jail sentence for jumping bail in 2012.
If Mr Trump were to pardon him, it would need to happen quickly, with his time at the White House due to end when Joe Biden is inaugurated as the 46th president of America on Wednesday.
In an interview on ITV's Good Morning Britain, Anderson, 53, claimed she has access to Mr Trump and that he is considering the pardon.
"I know that I am in his ear," the actress said. "I know he is debating and we will see what happens.
"He has until midday on the 20th and I hope he makes that decision because I think that could add a positive to his legacy.
"I think that he is obviously against fake news and WikiLeaks is anti-fake news. It would be a perfect way to go out."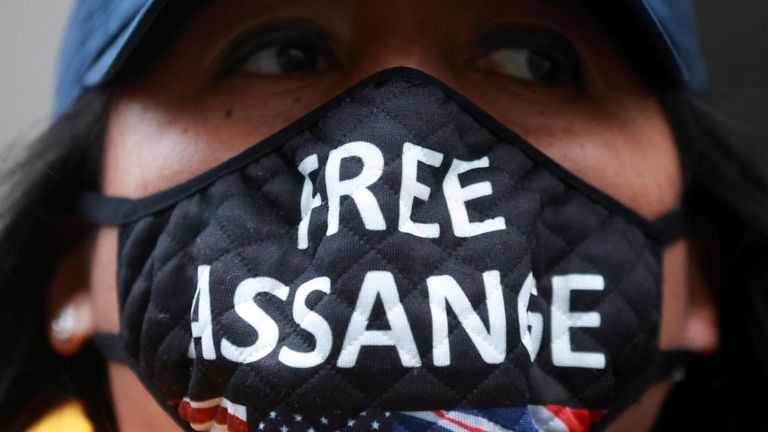 The Americans claim Assange's receipt and publishing of tens of thousands of classified military and diplomatic documents about the Iraq and Afghanistan wars put lives in danger.
The raw data appeared on the WikiLeaks website in 2010, while edited versions were published in newspapers, including the UK's Guardian.
When GMB presenter Susanna Reid suggested to Anderson that a pardon for Assange is unlikely, the actress replied: "I have been supporting him for a very long time and freedom of speech is really important.
"I think this would be a monumental position that Trump could take, that would help with human rights and the rights of a free press because it is a very dangerous situation if we don't have a free press."
Anderson described Assange as a "very mild-mannered, funny, sweet man with two children".
She added: "He wants all of us to have that right to be able to know what is going on in the world."
Anderson is not the only high-profile supporter of the WikiLeaks founder, with famous figures including fashion designer Dame Vivienne Westwood, artist Ai Weiwei and rapper MIA all having spoken out in various forms for the Free Assange campaign.