Guardiola silences the critics as Man City reaches new heights in Champions League
Match statistics: Paris Saint-Germain 1-2 Manchester City
When Manchester City has been knocked out of the Champions League over the past four seasons, the blame has been laid squarely at Pep Guardiola's door.
Successive quarterfinal exits against Liverpool, Tottenham and Lyon have led to accusations that the Catalan "overthinks" the biggest games of City's seasons, and there is definitely evidence to support that theory.
And yet, faced with the biggest game of his five-year City tenure against Paris Saint-Germain on Wednesday, Guardiola kept things simple.
There were no gimmicks and no shocks when the City lineup was announced. Guardiola went with his strongest team in a system that has led it to the cusp of a treble-winning campaign.
With a 2-1 first-leg victory in its back pocket as City returns from the French capital, it is fair to say it worked.
Eventually.
For large parts of the first half at Parc des Princes, City seemed more concerned with the ethos that attack was the best form of defense and forgot that attack was also best way to score and win the tie.
But when the players got it right after the break, they controlled the game just as Guardiola had wanted them too.
Whatever he said at halftime transformed the emphasis of a Champions League semifinal that appeared to be slipping away from the Premier League side, and should now give his side the confidence that it can complete the job.
For 45 minutes, City had played with fear and a lack of belief that meant it was lucky to trail the French champion by just a single goal, scored by Marquinhos.
But by full time, PSG had imploded and will feel fortunate to still have a foothold in the tie heading into the second leg at the Etihad Stadium in six days' time after playing the final 13 minutes with 10 men following Idrissa Gueye's red card.
City pinned the home side back inside its own half, which in turn panicked a settled defense and forced it into aimless balls that ensured Neymar and Kylian Mbappe were kept well away from Ederson's goal.
It was exactly how Guardiola had planned it, and he just needed to give the players the belief that they could do it.
"Sometimes you need time to be relaxed and to be ourselves," Guardiola explained postmatch."The first half is normal – over 180 minutes you don't want to lose the ball and you don't play free.
"We changed a little bit the way we pressed and the second half we were more aggressive."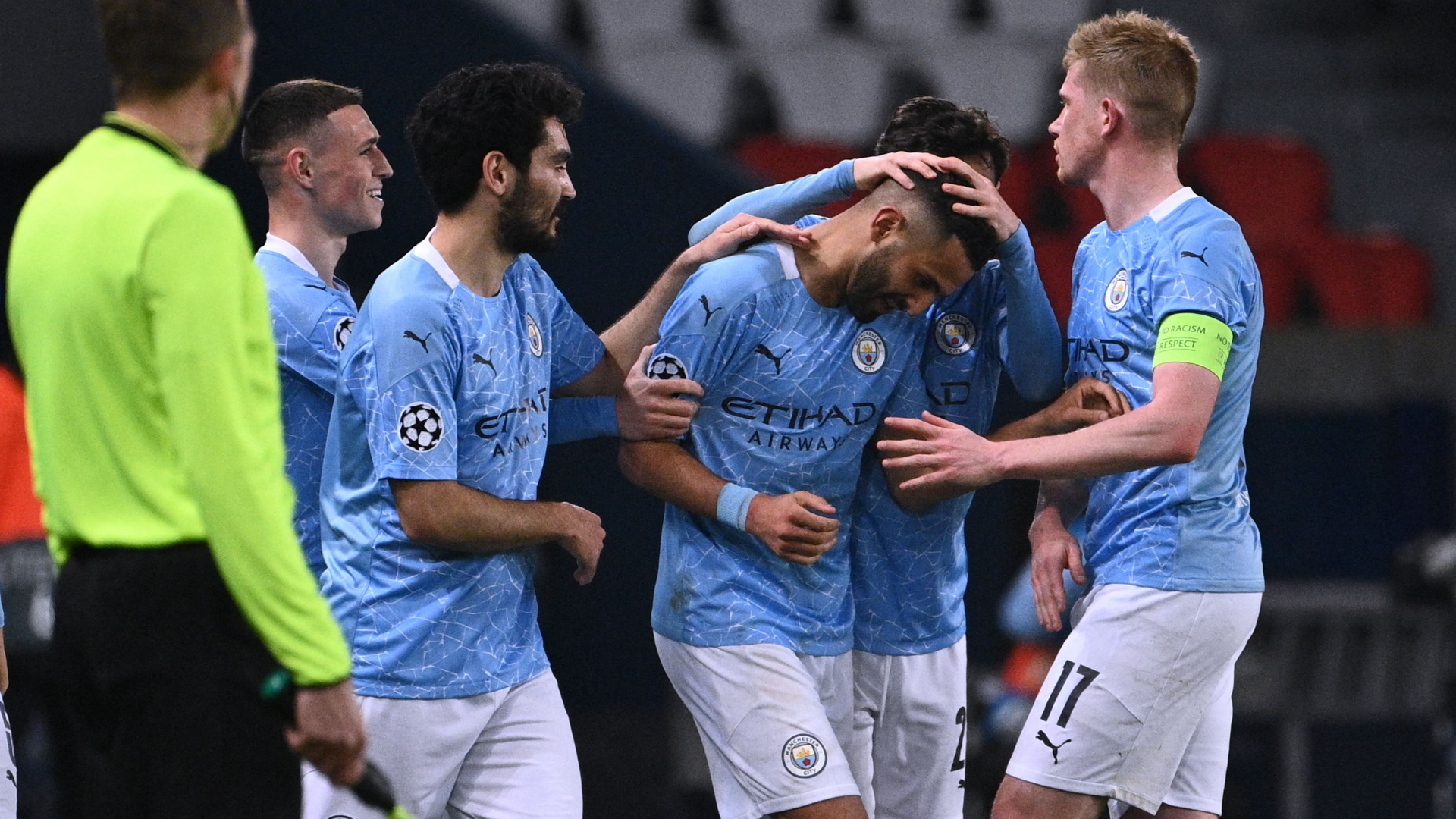 That aggression eventually led to City's goals, and though they both came about via a touch of fortune, with Kevin De Bruyne's floated cross evading everyone to nestle in the corner and Riyad Mahrez's free kick flying through a gap in the PSG wall, they were nonetheless well-deserved.
City will do well to recall that PSG lost at home to both Bayern Munich and Manchester United earlier in the competition, yet beat both – as well as Barcelona – on the road.
The tie, therefore, is far from over, despite no English side having ever been knocked out on the 47 previous occasions they have won the first leg away from home in a European Cup knockout tie.
The skills of Neymar and Angel Di Maria along with the blistering pace of Mbappe threatened to blow City away here, and a performance similar to the first half again next week would suddenly see them come under pressure once more.
But unlike in previous years, Guardiola has seemed relaxed throughout the build-up, and that confidence seems to have been transmitted to his players.
Another tactical masterclass in Manchester, and City will surely be booking flights to Istanbul for their first appearance in a Champions League final.
Just don't overthink it, Pep.
Twitter reacts to Russell Westbrook's NBA-record 182nd career triple-double
Russell Westbrook made history Monday night, notching his 182nd career triple-double — and moving past Oscar Robertson for the all-time NBA record.
Robertson's record lasted 47 years, from 1974 through Monday night when a fourth-quarter rebound in front of a reduced-capacity crowd in Atlanta gave Westbrook sole possession of the record. It took him 12 years to surpass Robertson's record after he achieved his first triple-double (17 points, 10 assists, 10 rebounds) in 2009 as a rookie with the Thunder.
MORE: Jaylen Brown injury update: Celtics star out for rest of season with torn wrist ligament
Monday's triple-double was Westbrook's 36th of the year. That insane output is helping him average, for the fourth time in his career, a triple-double over the course of the season. The previous such campaigns came in 2016-17 through 2018-19.
Westbrook finished with 28 points, 21 assists and 13 rebounds in the Wizards' 125-124 loss to the Hawks; the loss dropped Washington to 32-37 on the season, but the team still ranks 10th in the Eastern Conference standings. The Wizards' playoff hopes pale in comparison to the history Westbrook made, however.
He even made sure to get the game ball from officials so he could be certain to commemorate the historic achievement.
Here are some of the best reactions to Westbrook's history-making feat:
CONGRATULATIONS, RUSSELL WESTBROOK, FOR BREAKING OSCAR ROBERTSON'S 47-YEAR-OLD CAREER TRIPLE-DOUBLE RECORD. NOBODY HAS EVER PLAYED HARDER EVERY SINGLE POSSESSION. NOBODY HAS EVER BEEN ABLE TO DOMINATE A STAT SHEET IN ALL 3 CATEGORIES THE WAY THIS MAN CAN.

— Skip Bayless (@RealSkipBayless) May 11, 2021
Congratulations from Oklahoma City to @russwest44 on becoming the all-time triple-double leader!

There's been some debate whether it is still "Russell Westbrook Day"… Tonight, let's just say that it is.

We love you, Russ!

— Mayor David Holt (@davidfholt) May 11, 2021
Career triple-doubles:

Russell Westbrook: 182

Michael Jordan, Kobe Bryant, Chris Paul, Kevin Durant, Bob Pettit, Scottie Pippen, Kevin Garnett, Steph Curry, Allen Iverson, Giannis Antetokounmpo, Derrick Rose, Bill Russell, Gary Payton and Kawhi Leonard COMBINED:
181

Combined.

— Tommy Beer (@TommyBeer) May 11, 2021
Kenny Mayne's ESPN cover letter was perfect precursor to his incredible career
ESPN's Kenny Mayne, one of the most recognizable talents in sports broadcasting, is leaving the network, he announced on Monday.
The 27-year ESPN anchor broke the news on Twitter, describing his exit from the worldwide leader in sports as a "salary cap casualty." Naturally, he could only include some of the dry humor that helped him become a beloved presence in the studio and on millions of sports fans' TVs.
I am leaving ESPN.
Salary cap casualty.
Thanks for the opportunity Vince Doria & Al Jaffe & for taking my solicitations
Herman/Stinton/Lynch.

I will miss the people.
I will miss the vending machine set up over by the old Van Pelt joint.
We had everything.

IntoTheGreatWideOpen#

— Kenny Mayne (@Kenny_Mayne) May 10, 2021
MORE: ESPN anchors get emotional over laid-off co-workers: 'We are all hurting'
The longtime "SportsCenter" host's final day will be on May 24, bringing to an end a 27-year stint at ESPN that began in 1994. His absence will undoubtedly be noted among fans who appreciated his humor and presence in ESPN's studios — but his Monday announcement is as good a reason as any to remember the incredible cover letter that first landed him the gig in 1994.
Mayne sent a short and sweet cover letter to ESPN's John Walsh in 1994, offering him three checkboxes in the former's bid to land a job with ESPN:
Old tweet…thanks for re-post.

I'm on 📺 till May 24 here…including tonight with @espnSteveLevy

Steve- I'm stopping for Japanese..do you want any.. or Deryk or anybody..call & add to my order. https://t.co/LY6POpGvdx

— Kenny Mayne (@Kenny_Mayne) May 10, 2021
Unsurprisingly, Mayne made Walsh smile. Walsh wouldn't be the last person to smile at Mayne's humor and creativity.
Jaylen Brown injury update: Celtics star out for rest of season with torn wrist ligament
The Celtics will have to fight for a playoff spot without one of their most important players.
Boston announced Monday night that All-Star forward Jaylen Brown has suffered a torn scapholunate ligament in his left wrist and will miss the rest of the 2020-21 season. He is expected to undergo surgery later this week.
MORE: Will LeBron James return vs. Knicks?
The Celtics offered no specific timetable for Brown's return to the court, but as The Athletic's Jared Weiss noted, Boston guard Romeo Langford suffered the same injury last year and took about six months to recover. If Brown stays roughly on that timeline, he should be available to rejoin the lineup for the start of the 2021-22 campaign.
Brown dealt with injury and COVID-19 issues throughout the season, but the 24-year-old still managed to earn his first All-Star selection with some of the best individual numbers of his career. He averaged a career-high 24.7 points per game while shooting 48.4 percent from the field and 39.7 percent from 3-point range.
Brown set many career highs this season in which he made his 1st All-Star appearance. PPG (24.7), APG (3.4), Steals PG (1.2), Blocks PG (0.6), FG pct (48.4) and 3-pt FG pct (39.7).

He had 11 games with at least 30 pts after having just 8 such games in his 1st 4 seasons combined https://t.co/pTBqNo0Ck3

— ESPN Stats & Info (@ESPNStatsInfo) May 10, 2021
Without Brown available, Boston will rely heavily on Jayson Tatum and Kemba Walker to produce offensively. The Celtics will also need more from trade deadline acquisition Evan Fournier, who most recently scored 30 points in a loss to the Heat on Sunday — his highest scoring output since joining the team.
Even if other players step up in Brown's absence, the Celtics, currently the No. 7 seed in the Eastern Conference standings, are unlikely to make a deep run in the 2021 NBA playoffs. They would face an uphill battle in a potential first-round series against the 76ers, Nets or Bucks, the top three seeds in the Eastern Conference.