A smoke generating pyrotechnic device used at a gender-reveal party has ignited one of the 23 major fires burning in California, fire officials announced on Sunday evening.
The El Dorado Fire, currently burning near Oak Glen in San Bernardino County, has forced the evacuations of 3,000 residents, according to CBS LA. It's already scorched more than 7,000 acres and is only five percent contained.
"CAL FIRE reminds the public that with the dry conditions and critical fire weather, it doesn't take much to start a wildfire," a Cal Fire San Bernardino Unit statement said. "Those responsible for starting fires due to negligence or illegal activity can be held financially and criminally responsible."
GARCETTI CALLED OUT OVER TWEET AMID HEATWAVE
The fire started at 10:23 a.m. on Sept. 5, in the El Dorado Ranch Park in Yucaipa, located about 70 miles east of Los Angeles, the statement added.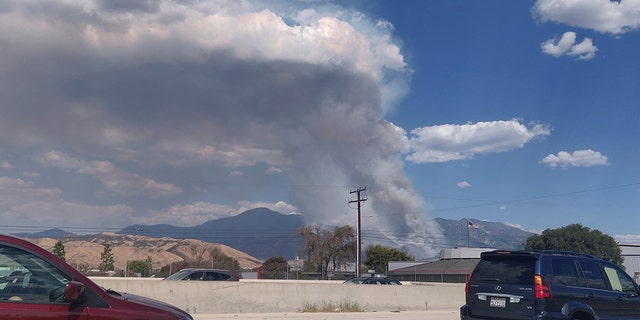 A plume of smoke from the El Dorado Fire is seen from the Interstate 10 in Loma Linda, Calif., Saturday, Sept. 5, 2020. (AP Photo/Ringo H.W. Chiu)
"It burned in four different directions since we've been here. It was pushing to the east, then to the north, and then big westwardly wind shift, and (Sunday) it moved to the south. The wind has been pretty dramatically inconsistent," said Ben Holmes, a U.S. Forest Service senior firefighter on the Arroyo Grande Hotshots team, according to the station.
Users on social media shared their outrage after learning what caused the blaze, which has required more than 600 personnel to help contain it.
"God, this makes me so angry," one user wrote on Instagram.
"You HAVE to be kidding. How do people think this is a good time for something like that?" another wrote on Twitter.
LOS ANGELES COUNTY SEES RECORD HEAT
Nearly 15,000 firefighters are currently battling dozens of wildfires across California, according to Cal Fire. The state has seen record-breaking temperatures that have strained its electrical grid and shortly threatened power outages for millions.
Downtown Los Angeles reached 111 degrees and a record-shattering high of 121 degrees was recorded in the nearby Woodland Hills neighborhood of the San Fernando Valley.
California has seen 900 wildfires since Aug. 15, with many of them started by an intense series of thousands of lightning strikes. At least eight deaths have been related to the fires and 3,300 structures have been destroyed.
CLICK HERE TO GET THE FOX NEWS APP
The blazes have burned more than 2,343 square miles.
The Associated Press contributed to this report