Gamers derail eBay listings to stop hardware scalpers profiting on latest technology | Science & Tech News
Gamers are sharing tips on how to derail auctions for high-end graphics cards and consoles to try to end scalping – where people buy limited-supply goods to sell on at a profit.
Fake bids for the latest consoles have been spotted, but some of the most committed activism is coming from PC gamers, especially those trying to get their hands on the newest hardware.
In one eBay auction, bids for an AMD Radeon RX 6800 XT graphics card, which can sell for less than £600, rocketed to over $70,000 (£52,000) through the use of automated bidding bots.
A tongue-in-cheek post from the moderators of the subreddit for AMD – a company that specialises in graphics units for gaming PCs – highlighted the issue.
"The moderators of /r/AMD do NOT condone locating scalper auctions, leaving dozens of absurd bids, so as to repeatedly derail a scalper's opportunity to make a sale and ultimately de-incentivise PC hardware scalping," the title of the post stated.
The message joked: "Evil cyber criminals decimated this totally innocent and honest listing with dozens of fake bids. They bidded so rapidly the lister couldn't even cancel them all – So sad!
"Doing this isn't a good idea because it could get your account banned from eBay… unless you were to use, say, a VPN service to make a bunch of throwaway eBay accounts and stockpile their logins in a spreadsheet or something," the post facetiously added.
"Again, do NOT do this. Scalpers are providing a valuable service to the PC gaming community when they pay $5 for bot scripts that snap up entire shipments of hardware from retailers and then automatically create auctions on other websites, pulling a 10x turnaround before the hardware even hits the first warehouse's shelves.
"It would be wrong to use bot scripts to deprive them of their right to trade graphics cards – just put yourselves in their shoes. They would never use technology maliciously to deprive you of a graphics card trade, would they? No. Never."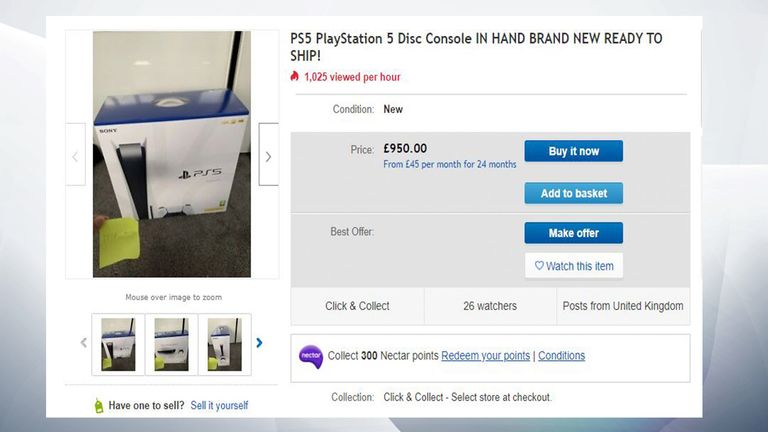 While manufacturers attempt to reduce scalping levels by manually reviewing initial orders and limiting purchases per address, the demand for their stock is usually so much greater than supply that reselling is almost always commonplace around hardware launches.
PlayStation and Xbox gamers who have been unable to nab a console due to limited stock have seen a number of consoles listed on eBay, some with winning bids for as much as double the recommended retail price – although it is unclear whether these bids were genuine or attempts to derail the sales.
A spokesperson for eBay told Sky News: "We understand how frustrating it can be for gamers to see overpriced listings of PS5s, however placing fake bids to artificially push up prices is against our policies and we will be taking action against these users.
"We'd urge these gamers to stop artificially pushing up prices and wait for sellers to lower their prices or for there to be more stock," they added.
"People are generally free to list non-essential items – such as games consoles – at the price they want on eBay.
"The reality is that while a small number of people may be happy to pay high prices when an item is in very strong demand, if most shoppers refuse to pay over the odds for these items, sellers will need to lower their prices in order to make a sale."
WhatsApp delays launch of business feature after privacy backlash | Science & Tech News
WhatsApp is delaying the rollout of new business features following a user backlash over the company's data sharing practices.
The delay is a setback for its plan to generate revenue by facilitating commercial exchanges on the messaging app, which Facebook acquired for $19bn in 2014 but has been slow to monetise.
WhatsApp has said users will no longer have to review and accept its updated terms by 8 February – and no accounts will be suspended or deleted by that date.
Privacy advocates have jumped on the WhatsApp changes, pointing to what they say is Facebook's poor track record of supporting consumer interests when handling their data.
Many have suggested users would migrate to other platforms, and rival app Signal surged up the App Store charts on iPhone and the Google Play Store on Android after WhatsApp's plan first came to light.
WhatsApp had insisted that the planned update does not affect personal conversations, which it said will continue to have end-to-end encryption, or expand its ability to share data with Facebook.
"The update includes new options people will have to message a business on WhatsApp, and provides further transparency about how we collect and use data," the company said.
WhatsApp said it had set a new target date of 15 May for the launch of the business tools and will approach users gradually to review the policy changes.
COVID-19: How long are you protected for if you've already had coronavirus – and are you still a risk to others? | UK News
People who've had COVID are likely to be protected from reinfection for at least five months and have a similar defence to someone who's been vaccinated, according to a UK study.
But does it mean those who have recovered are no longer a risk to others? And could the protection last any longer? Here's what you need to know.
Who did the study follow and is it reliable?
More than 20,000 healthcare workers from 102 NHS trusts across the country, including frontline staff, have been tested since June by the Public Health England (PHE) Siren study.
Some 6,614 of them tested positive for antibodies at the start of the research, suggesting they'd had the virus previously in the first wave.
It's a big cohort of people so its results are valuable – and the study is still ongoing.
How many people contracted COVID a second time?
There were only 44 potential reinfections from the 6,000-plus found to have antibodies.
Two of them were deemed "probable" cases, while 42 were "possible", based on the evidence available.
What does it mean for the chances of contracting the virus again?
If all 44 cases are assumed to be confirmed reinfections, the protection rate is 83% compared with those who've not had it before.
If only the two "probable" cases are considered, the rate would be 99%, but researchers are going with the headline figure of 83%.
However, PHE says more work is going on to clarify this range.
How long does the protection last?
It appears to be at least five months, on average, from first getting sick.
The analysis of the results was done towards the end of 2020, and the study is still following the participants to see if it lasts longer.
It means people infected in the first wave last spring could now be at risk of getting coronavirus again.
The study's lead, Professor Susan Hopkins, warned the protection "is not total and we do not yet know how long [it] lasts".
Despite the uncertainties, Dr Julian Tang – a clinical virologist at University of Leicester – said the results were still "useful and reassuring news" for medics on the frontline.
Subscribe to the Daily podcast on Apple Podcasts, Google Podcasts, Spotify, Spreaker
It's also important to note that the study was done before the new UK variant – which transmits far more easily – had become widespread.
Scientists are therefore also looking at whether "first wave" antibodies provide protection against it.
How does this 'natural' protection compare with vaccines?
Vaccines being rolled out in the UK, such as the Pfizer and Oxford jab, can offer over 90% protection after two shots.
In terms of length of protection, scientists aren't sure yet – as the vaccines haven't been around long enough to see how long people are immune for.
The vaccines may also have to be tweaked to deal with new variants of the virus – such as the one that's been identified recently in Brazil.
If I've had COVID before, can I still pass it on?
It's very possible, and the study's authors warn that a person with antibodies may still be a clear risk to others.
They say early evidence suggests some people with immunity could carry high levels of the virus in the nose and throat, and potentially pass it on.
Can I be more relaxed if I've been infected before?
No – in light of the risk of potentially still being able to spread coronavirus, people must still stick to the law and government guidelines.
PHE stresses it's "crucial that everyone continues to follow the rules and stays at home, even if they have previously had COVID-19".
This means continuing to stick to lockdown measures and practise safety protocols such as social distancing, wearing a face covering and regular handwashing.
Will COVID be 'easier' the second time, and will I show symptoms?
The two "probable" reinfection cases in the study said their symptoms were less severe the second time – but it's too early to say for sure.
However, if it were to follow other coronaviruses, a second infection could turn out more minor.
Professor Lawrence Young, a virologist from Warwick Medical School, said studies on common cold coronaviruses indicate that any reinfection "is unlikely to result in severe disease".
But one notable difference with getting COVID-19 again, appears to be the likelihood of not showing any symptoms at all.
The study found people who were reinfected were significantly more likely to be asymptomatic (66%) than those contracting COVID for the first time (22%), said Professor Paul Hunter, from the Norwich School of Medicine.
Donald Trump banned from YouTube over concerns of 'ongoing potential for violence' | US News
Donald Trump has been banned from uploading videos on YouTube "in light of concerns about the ongoing potential for violence", the platform said.
YouTube, which is owned by Google's parent company Alphabet, said it had removed new content from the president's channel late on Tuesday for violating its policies.
Mr Trump will be unable to upload anything "for a minimum of seven days", a spokesperson said.
This means he will not be able to post any YouTube videos to his 2.76 million subscribers before Joe Biden replaces him on 20 January.
The president uploaded eight new videos on Tuesday, including one which saw him telling reporters that "Big Tech had made a terrible mistake" by barring him.
1/ After review, and in light of concerns about the ongoing potential for violence, we removed new content uploaded to Donald J. Trump's channel for violating our policies. It now has its 1st strike & is temporarily prevented from uploading new content for a *minimum* of 7 days.

— YouTubeInsider (@YouTubeInsider) January 13, 2021
2/ Given the ongoing concerns about violence, we will also be indefinitely disabling comments on President Trump's channel, as we've done to other channels where there are safety concerns found in the comments section. https://t.co/1aBENHGU5z

— YouTubeInsider (@YouTubeInsider) January 13, 2021
The YouTube ban follows similar ones by Twitter, Facebook and Instagram, which have all suspended Mr Trump's accounts over fears he may incite further violence following the riots on Capitol Hill last Wednesday.
Google and Apple were also forced to remove alternative website Parler from their app stores this week over concerns the far-right friendly platform may have been used by the president to spread misinformation.
It also comes after US campaign group Stop Hate for Profit threatened to organise a boycott of 1,000 advertisers if YouTube failed to take his account offline.
"If YouTube does not agree with us and join the other platforms in banning Trump, we're going to go to the advertisers," organiser Jim Steyer said.
Mainstream broadcasters in the US also appear to be unwilling to give Mr Trump a platform, after many, including CNN and Fox News, failed to take his speech in Alamo, Texas on Tuesday.
They chose instead to stream the latest hearing in the investigation into the violence that swept Washington DC on 6 January.
More than 170 people are being investigated and 70 have been charged over the rioting and looting of Capitol buildings that took place as Electoral College votes were counted in Congress.
Mr Trump had told his supporters to march to the Capitol, repeating false claims that Mr Biden "stole" the November election.