Former sub-postmasters have convictions over IT scandal quashed | UK News
A former sub-postmaster, who was one of six cleared after being wrongly accused of theft and fraud due to an IT error, says they are looking forward to healing and rebuilding their lives.
The convictions of Chris Trousdale and others at magistrates' courts, which were based on evidence provided by a faulty accounting system, have been quashed after the Post Office admitted they were "unsafe" and apologised.
The Post Office had earlier said it would not oppose attempts to overturn the convictions of 44 sub-postmasters.
Hundreds of sub-postmasters were incorrectly accused of wrongdoing after the Horizon IT system was added to Post Office branches across the country between 2000 and 2002.
It incorrectly showed cash shortfalls, which resulted in many of the postmasters involved being sacked or even put in prison.
A High Court judge ruled in December last year that the system – which was introduced to branches in 1999 – contained a number of "bugs, errors and defects" and there was a "material risk" that shortfalls in Post Office branch accounts were caused by the system.
Mr Trousdale was sentenced to a Community Punishment Order in March 2004, at the age of just 22, after being prosecuted by the Post Office and advised to plead guilty to false accounting or face jail.
Following his and others' acquittals at Southwark Crown Court, Mr Trousdale, 38, from Whitby in North Yorkshire, said he had been through a "long and torturous 16-year journey".
He said: "Today feels like the heavy lead box we have been trapped in has had the lid ripped off. We can take our first breath and look forward to being able to start to heal and rebuild."
He added: "I'm happy now that we have got to a place where we can see the clearing through the woods.
"A lot of us were told we were the only ones with this problem. The Post Office – that was the standard line. And when we started to meet people who were in the same position as us it all became a little bit clearer. And we suddenly realised this was a very big scandal."
Among those also having their names cleared was former Oxfordshire sub-postmaster Vipinchandra Patel.
Mr Patel, 67, was handed an 18-week prison sentence after pleading guilty to fraud in June 2011, after being accused of stealing £75,000.
He says he went from being a "pillar of the community to a pariah", adding that the conviction was "impacting on every aspect of life".
Now, he says he can "finally start enjoying and living life again".
Susan Rudkin, 65, was given a 12-month suspended sentence, ordered to complete 300 hours of unpaid work and placed on an electronically monitored curfew for six months after being convicted of stealing almost £44,000 from the branch she ran with her husband in Ibstock, Leicestershire.
She said on Friday: "This is like the best Christmas present I could have ever wished for.
"Clearing my name has been the single most important thing in my life as it proves what I have told everybody for years, that I was always innocent and that we have been put through the most awful experience.
"I get upset whenever I speak about it simply because it has had such an impact on our lives. I've had years of people pointing the finger at me, I have lost friends as well, having not done a thing wrong.
"Now I can hold my head high again, as can everybody else."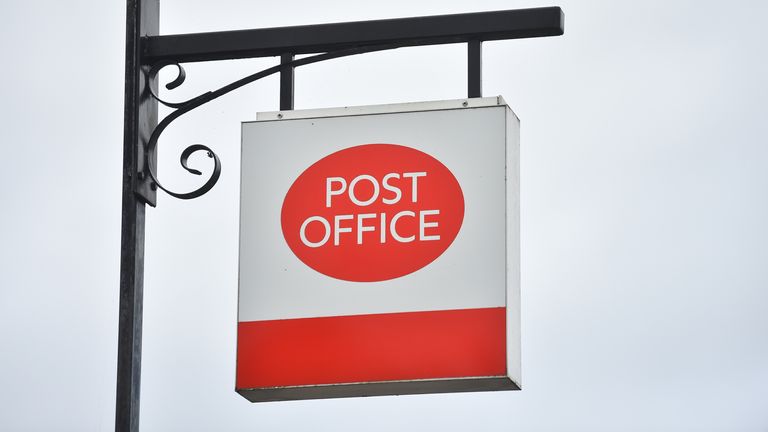 Solicitor Neil Hudgell, of Hudgell Solicitors, represents three of the six who have had their convictions quashed.
He also represents another 30 former sub-postmasters whose appeals will not be contested by the Post Office at a Court of Appeal hearing in the New Year, his firm said.
Mr Hudgell said his company had received a "significant number" of new clients who have come forward to start the process of challenging their convictions.
In December last year, the Post Office agreed to pay nearly £58m to settle a civil claim brought by 550 sub-postmasters, which kickstarted the criminal appeals process.
Forty-seven convictions brought under Horizon evidence were referred to the Court of Appeal by the English Criminal Cases Review Commission.
In May, the Post Office launched a scheme to provide redress to current and former postmasters who were not part of the litigation settlement but who believe they were adversely affected by earlier versions of the Horizon computer system.
Barclays weigh £3bn float of online retailer Very Group | Business News
The proprietors of The Daily Telegraph have begun exploring plans for a £3bn-plus flotation of Very Group, their booming online retail operation.
Sky News has learnt that the Barclay family is at the early stages of examining whether to take Very to the public markets in order to capitalise on exploding investor interest in digitally led retailers.
Insiders said that the family had started evaluating such a move prior to the unexpected death this week of Sir David Barclay, who with his twin brother Sir Frederick had built one of Britain's biggest private business empires.
A decision about an initial public offering (IPO) of Very Group is not thought to be imminent, but sources close to the family acknowledged that it was under more serious contemplation than at any previous point.
It was unclear on Friday evening whether Very's board had formally appointed bankers to help advise on a potential listing plan, although one source said that UBS – which has advised the company in the past – was likely to be involved.
If the owners did decide to pursue a public listing, it would expose a Barclay-owned business to the glare of public equity markets for the first time, marking a significant departure for a family which has – despite the profile of the assets it owns – always sought to protect its privacy.
In addition to the Telegraph titles, the Barclays also own the logistics business Yodel.
Last year, the family sold London's Ritz hotel following a bitter dispute between the twins over its valuation.
A legal battle involving allegations of corporate espionage may yet continue despite Sir David's death.
Last year's Sunday Times Rich List estimated that the brothers had amassed a combined fortune of about £7bn.
A flotation of Very Group would be a logical step for a business which, like many online retailers, has been among the big beneficiaries of the coronavirus pandemic.
While high street chains have invariably been struggling to stay afloat, Very reported this week what it described as a record-breaking Christmas and Black Friday trading performance.
The company is run by Henry Birch, a former boss of the casino operator Rank Group, and chaired by Aidan, one of Sir David's sons.
In a trading update published this week, Mr Birch said the Christmas trading period had "started early at Very and our committed team worked tirelessly to deliver for our customers".
"Because we sell everything our customers could possibly want except food, are online only and offer a range of payment options, we were perfectly placed to help a record number of people make the most of the festive period."
The company said it had seen more than 500,000 new customers use the Very Group platform, with 139m website visits – a year-on-year rise of nearly 50%.
"Our record-breaking performance was supported by our new fulfilment centre, which processed 3.9m orders during peak; an incredible achievement for a facility that only launched in March this year, when the first national lockdown was announced," Mr Birch added.
"While the economic picture remains unpredictable, we have strong momentum as we begin the year."
Very Group last explored the possibility of bringing in external investors in 2017, when it held talks with a number of large private equity firms.
At the time, it sought a roughly-£3bn valuation for the business, which at the time was called Shop Direct, but ultimately decided not to pursue a sale.
A Very Group spokesman declined to comment on Friday.
ITV picks firm to screen successors to chairman Bazalgette | Business News
ITV is kicking off a search for a new chairman as Sir Peter Bazalgette prepares to step down next year after almost a decade on the broadcaster's board.
Sky News has learnt that ITV's nominations committee, led by the former Jupiter Fund Management boss Edward Bonham Carter, has appointed Spencer Stuart to oversee the search.
Sir Peter, who has chaired the commercial television group since 2016, is not expected to leave until his term expires in May 2022.
In total, he will have served for nine years on ITV's board, having been a non-executive director for three years prior to replacing Archie Norman.
Sir Peter, a former chief creative officer at the TV production company Endemol, is a respected figure both at ITV and in the wider broadcasting industry.
A number of the company's leading shareholders are said to be disappointed that he has effectively been "timed out" by the corporate governance code, which stipulates that chairs are no longer deemed independent after nine years in total on a listed company's board.
His successor as chair will inherit a company that, like many others, is grappling with rapid changes convulsing the media landscape.
ITV's stock price has been hit by the coronavirus pandemic, with the company's chief executive, Dame Carolyn McCall, revealing last summer that advertising revenue had been hit by the sharpest fall in its history.
During the last 12 months, shares in ITV have fallen by nearly a quarter, giving the company a market value of £4.37bn.
ITV declined to comment on the search for a new chairman.
COVID-19: Supreme Court backs small firms over business interruption insurance claims | Business News
Small firms are cheering a Supreme Court ruling that appears set to force insurers to pay out on disputed coronavirus business interruption claims potentially worth £1.2bn.
Judges were asked to set the parameters for valid claims from various policies following a test case brought by the Financial Conduct Authority (FCA) with the support of eight insurance companies last summer.
The High Court judgment, handed down in September, was widely seen as supportive for the bulk of the estimated 370,000 companies said to be affected by the dispute.
Hiscox Action Group has hailed the Supreme Court ruling as a "massive boost" for UK businesses.
A broad range of firms including pubs, cafes, wedding planners and beauty parlours argued they faced ruin when they were turned down by insurers for business interruption policy claims on losses caused by the first national COVID-19 lockdown.
Reasons for turning down payouts by insurers included that policies demanded there be local cases in any outbreak situation.
The legal process was fast-tracked to the highest court in England and Wales which said on Friday that it was to had "substantially allowed" the appeal brought by the FCA and an action group to clarify the position.