Food producer Cranswick hungry to devour petfood group IPN | Business News
Cranswick, the listed food producer, is drawing up plans to raise equity to fund the potential purchase of one of Britain's best-known makers of pet food.
Sky News understands that Cranswick is among the final bidders for Inspired Pet Nutrition, which counts the premium brand Harrington's and Wagg among its products.
City sources said that final bids for IPN were tabled earlier this week, with a decision about the outcome of the sale process expected within days.
Several private equity firms have also tabled offers for IPN, and there is no certainty that Cranswick's bid would prevail, one of them added.
The disclosure of Cranswick's interest could prompt it to withdraw from the process, they said.
Cranswick would be an unexpected winner of the IPN auction as it would herald its return to the pet food market after a long absence.
The coronavirus pandemic has seen sales of pets and products associated with them soar among locked-down Britons, with a number of businesses in the sector changing hands in recent months at bumper valuations.
IPN is owned by L Catterton, a private equity firm backed by the French luxury goods billionaire Bernard Arnault.
Cranswick is said to have drafted in banks including HSBC and Shore Capital to work on an equity-raising of more than £100m in the event that its bid is successful.
The auction of IPN is being handled by bankers at Harris Williams.
Cranswick, which has a market value of £1.83bn, declined to comment.
Reddit forum's role in Gamestop shares frenzy faces regulatory probe | Business News
US financial market regulators are to review the extraordinary rallies in the shares of struggling gaming retailer Gamestop, part-driven by participants of an investor forum on Reddit.
The Securities and Exchange Commission said it was working with fellow regulators to "assess the situation and review the activities of regulated entities, financial intermediaries, and other market participants".
The action reflects deep and widespread concern over the functioning of financial markets.
Gamestop shares were up by 1,744% in the year to date – with a market value above $20bn – at the close of trading on Wednesday night.
The value boom of the past week has created more than $2bn in personal wealth for its three largest individual shareholders, whose holdings have not increased during the frenzy.
The staggering leap represents a victory for retail investors over hedge fund short-sellers, who are nursing heavy losses, as markets witness a boom in amateur stock trading.
Millions of Americans have taken advantage of zero-commission trading platforms during the coronavirus crisis – often using social media forums to discuss opportunities.
The value surge has not been restricted to Gamestop.
Its shares, and those of other firms including BlackBerry and AMC Entertainment, fell by more than 20% in extended trading when it emerged that Reddit had temporarily closed the Wallstreetbets chat room.
The volatility prompted widespread calls for scrutiny of trading fuelled by anonymous social media posts. Reddit said it had not been contacted by any authorities in relation to users' behaviour.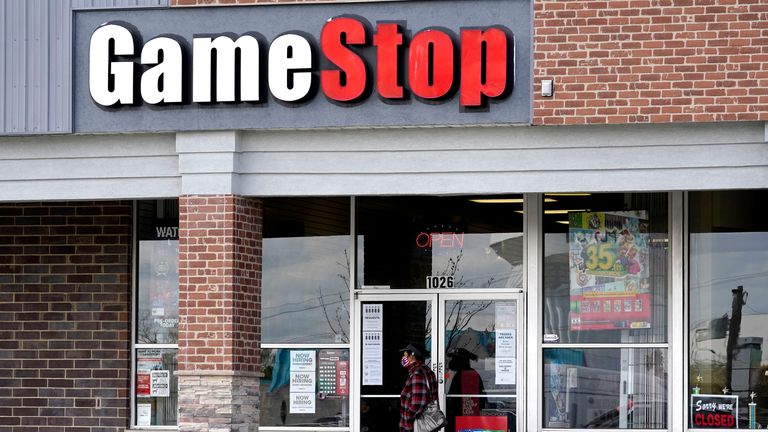 Wider market falls in recent days have been blamed on hedge funds selling positions to pay for losses shorting Gamestop.
Wednesday's session saw the main indexes on Wall St lose more than 2% and futures indicate further turbulence ahead.
Even the new US treasury secretary, Janet Yellen, said she was "monitoring the situation" while a state regulator has called for Gamestop shares to be suspended for 30 days to allow a cooling off period.
Technology investor Chamath Palihapitiya told Sky's sister channel CNBC: "We are moving to a world where ordinary folk have the same access as professionals and can come to the same conclusion or maybe the opposite.
"The solution is more transparency on the institutional side, not less access for retail."
In Gamestop's case, it has been shuttering stores for years in a tough retail landscape and market analysts have likened the stock interest – driven purely by retail investors – to a pyramid scheme.
Nasdaq chief Adena Friedman said: "If we see a significant rise in the chatter on social media … and we also match that up against unusual trading activity, we will potentially halt that stock to allow ourselves to investigate the situation."
EasyJet warns of lockdown drag but sees pent-up demand on horizon
EasyJet has warned it expects to fly just 10% of normal services in its current financial quarter as coronavirus crisis restrictions continue to take a toll on travel.
Tesla posts first profit after stellar year for electric car maker | Business News
Tesla has posted its first ever annual profit capping a stellar year in which its surging share price have seen it become the world's most valuable car maker.
The electric vehicle firm, led by Elon Musk, reported a profit of $721m for 2020 compared to a loss of $862m a year earlier.
However there was disappointment for investors as the company's fourth quarter earnings fell short of expectations, sending shares 4% lower in after-hours trading.
The stock has surged by 700% in the past 12 months, taking the company's value to more than $800bn and surpassing Toyota.
Tesla's bottom line for the year was boosted by $1.58bn worth of environmental regulatory credits, which it is able to sell to other less environmentally-friendly car makers – and without these it would have remained in the red.
Still, its delivery of more than 180,000 vehicles during the fourth quarter was a record, though it narrowly missed a target to ship 500,000 for the year as a whole.
Total revenues for the year rose 28% to $31.5bn.