Foden fireworks bring an end to Man City's quarter-final curse
Match statistics: Borussia Dortmund 1-2 Manchester City
Prior to the second leg of Manchester City's Champions League quarter-final against Borussia Dortmund, local fans in the German city had set off fireworks overnight in a bid to disturb the sleep of their visitors.
But on Wednesday, it was Phil Foden who sparkled at Signal-Iduna Park, his goal sparking emotional celebrations as City finally ended their quarter-final curse under Pep Guardiola to reach the competition's final four for the first time under the Spaniard.
Make no mistake, though – this was another night when nerves were shredded after Foden's even younger England team-mate, Jude Bellingham, threatened to add another chapter to City's European heartbreak.
Slim margins have cost City in the past three years, and they were heading for a fourth successive quarter-final exit after a brilliant and breathless performance from 17-year-old Bellingham saw him fire Dortmund into a first-half lead that would have seen them through on away goals.
City needed a goal of their own, and were literally handed a lifeline when Foden's cross struck Emre Can's arm in the 55th-minute.
As Riyad Mahrez stepped up to take the spot-kick, even the usually ice-cool Kevin De Bruyne could be seen biting his nails. Similar scenes were taking place around living rooms in Manchester, that is for sure.
City have missed nine of their last 25 penalties, while Mahrez's infamous effort that almost cleared the Anfield Road stand against Liverpool in 2018 remains ingrained in the memories of most City fans.
The Algeria international was brave enough to step up again here though, and this time made no mistake as he smashed the ball past keeper Marwin Hitz.
The relief was almost visible in the City legs, and from then on there was only going to be one winner on the night, and in the tie.
Foden had given City an important advantage in the first leg with his last-minute strike, and he made sure of victory here with a thumping 20-yard low strike that smashed in off the near post.
The 20-year-old – only the second player under the age of 21 to score in both legs of a Champions League quarter-final tie after Kylian Mbappe – was again absolutely fearless as City once more lined up without a recognised striker.
But while the Premier League leaders remain the only unbeaten team left in the Champions League, this was far from a comfortable night – mainly because of the dynamic Bellingham.
Twice in the last three seasons it was English sides that ended Guardiola's hopes at this stage after defeats to Liverpool and Tottenham in 2018 and 2019, respectively.
This time it was an Englishman – or rather an English teenager – who gave them a real scare.
Former Birmingham City midfielder Bellingham fired in a superb opener, becoming the youngest English player to score in the Champions League and the second youngest of any nationality to find the net in a knockout game.
He was denied a goal by a dubious refereeing decision in the first leg at the Etihad Stadium, but nothing could stop him giving Dortmund a 15th-minute advantage – not even a hand from Ederson.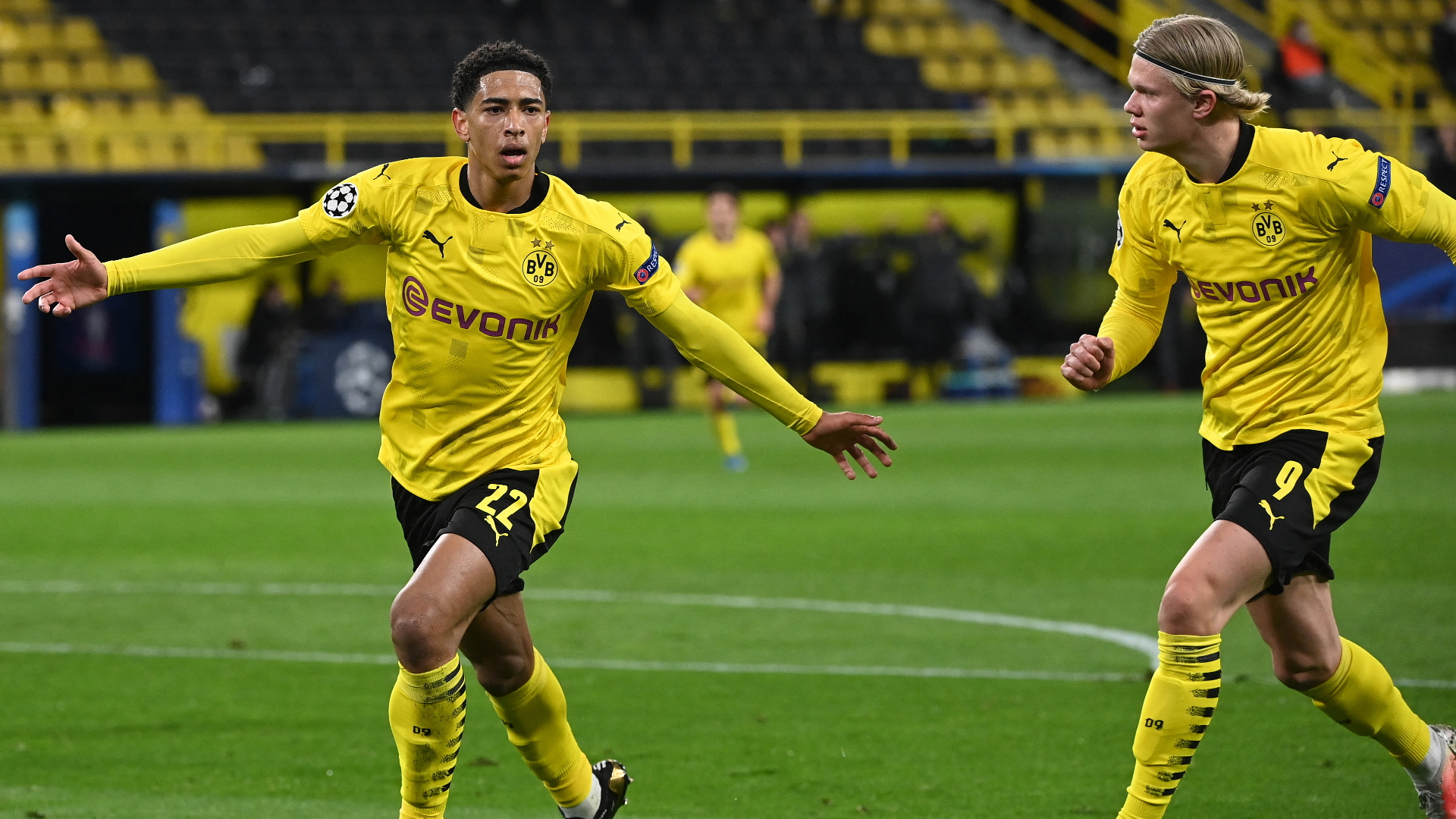 Haaland, who was largely kept quiet throughout the night, briefly lost John Stones from Can's long ball, and when the ball eventually found its way to Bellingham, he coolly steered a shot into the top corner.
De Bruyne almost answered as he rattled the bar from the edge of the box before Bellingham scrambled away a Mahrez shot when his low effort was heading goalwards as City went in behind at the break.
But Mahrez made the most of his big moment following the restart, and Foden made sure there was to be no comeback.
City's quadruple dream lives on until Saturday's FA Cup semi-final against Chelsea at least, with Paris Saint-Germain, Mbappe and Neymar waiting for them when the Champions League resumes at the end of April.
Guardiola may have slept through the fireworks outside his hotel room in the early hours of Wednesday night.
But he will not have missed the way Foden illuminated a memorable Champions League night in City's history.
Why did the Rangers fire John Davidson and Jeff Gorton? Production may be reason behind shocking move
Ladies and gentlemen: JD and the Straight Fired. 
The Rangers have fired general manager Jeff Gorton and team president John Davidson, per reports, in a shocking move that no one in the NHL saw coming.
Gorton had been employed by the Rangers since 2015, acting as the team's GM in that span. During that time, the team acquired Artemi Panarin and navigated a rebuild on the fly, developing a core of young, talented players in the process.
MORE: NHL seeding scenarios, breakdown for final 2021 playoff spots
Davidson, though, is the more surprising firing: The long-time Ranger fan favorite and front-office exec got the ax, as well, despite being in the role for less than two years. He was hired on May 17, 2019.
Chris Drury, former Ranger, gets the nod to assume both GM and president roles:
The Rangers are coming off a disappointing 26-21-6 season, missing out on the Stanley Cup playoffs again under head coach David Quinn.
Here's why both Gorton and Davidson got the ax.
Why did the Rangers fire Jeff Gorton and John Davidson?
There are conflicting reports on the exact reason why both front office executives are heading to the unemployment line.
The predominant reports indicate that team owner James Dolan was simply unhappy with the team's production in 2020-21, missing out on the Stanley Cup playoffs with just three games left.
Others say that Davidson and Gorton distancing themselves from the Rangers' controversial statement on Tuesday, calling for the head of NHL Player Safety George Parros' resignation, ultimately led to the firing.
Some reports have said that the firing is purely coincidental. 
Still, the Rangers seem to be ahead of the timeline they set for themselves a few years ago, when a letter to fans addressed the team's intentions to undergo a rebuild. 
Since then, the team has drafted Kaapo Kakko, Alexis Lafreniere, Filip Chytil and K'Andre Miller, who have made their marks as members of the core. They've also acquired Adam Fox, Jacob Trouba and Artemi Panerin either via trade or free agency.
Chris Drury will assume GM and president duties. 
Raiders declined trade-down offer in NFL Draft to avoid losing Alex Leatherwood
No team has been more criticized for its 2021 NFL Draft haul than the Raiders. And none of the Raiders' picks was more scrutinized than their top overall pick: Alabama offensive tackle Alex Leatherwood at No. 17 overall.
Most mock drafts, including Sporting News', considered Leatherwood a Day 2 selection. That Raiders GM Mike Mayock and coach Jon Gruden took him in the first round was considered a massive reach, especially when most assumed that he would be available in the second. That they took him over several, more highly rated offensive tackles — SN rated six available tackles higher, including four with first-round grades — only added to the controversy of the pick.
But Mayock has defended the choice, saying he, Gruden, offensive line coach Tom Cable and Raiders scouts all highly valued Leatherwood. Las Vegas was so enamored with the big-name tackle that it even declined an offer to trade down in the 2021 NFL Draft for risk of losing him.
MORE: Worst value picks in the 2021 NFL Draft
"Just when we got on the clock a team did call us and inquired about moving up, but they gave us a very poor trade offer and it was a team that needed a tackle," Mayock said (via ESPN). "So the combination of the poor offer and their need kind of pushed us away from that.
"There's a risk/reward scenario and, in this case, we didn't feel that it was worth it."
Ultimately, the Vikings were the only other team to draft a tackle in the first round, selecting Virginia Tech tackle Christian Darrisaw with the 23rd overall pick. Only two more offensive tackles went in Round 2 before the Raiders drafted again at 43: Oklahoma State's Teven Jenkens to Chicago, at 39, and Notre Dame's Liam Eichenberg to Miami, at 42.
This isn't the first time Mayock's draft choices have been scrutinized. His previous drafts have included an inordinate number of players from big-name schools, especially in the early rounds. Those include Clemson's Clelin Ferrell, Alabama's Josh Jacobs and Henry Ruggs III, Ohio State's Damon Arnette and more.
That said, It's a virtual certainty that NFL teams' draft boards aren't the same as outlets' mock drafts. And if the Raiders saw something they liked in Leatherwood — enough to warrant their first-round pick — then that's their prerogative.
Only time will tell whether he was worth the high selection.
Aaron Rodgers' attempt to throw insults at Packers GM Brian Gutekunst is mostly bull
Of the 13 seasons Aaron Rodgers has spent as a starting quarterback in the NFL, nine ended in the Pro Bowl and three with him named the league's Most Valuable Player. He's so good that you could call him the "Michael Jordan of quarterbacks," if you wished, and not be far off in your assessment.
Not far at all, it turns out.
Bob McGinn, a veteran journalist who has covered the Packers for four decades, reported in The Athletic that Rodgers' relationship with general manager Brian Gutekunst has become so fractured that Rodgers referred to the GM as "Jerry Krause" in group chats with his teammates.
MORE: Where are Packers in SN's latest NFL Power Rankings?
Rodgers is angry with Gutekunst about several personnel moves over the past few seasons, enough so that McGinn's reporting confirmed the player's intent not to return to the Packers as long as Gutekunst remains in charge of personnel.
Among Rodgers' gripes is the obvious: the decision to trade for an earlier selection in the 2020 NFL Draft that was used to select a quarterback who presumably will be the successor at that position. Rodgers was embarrassed by the team's decision to cut receiver Jake Kumerow — the day after Rodgers had said during a show he hosts on Sirius XM Radio that he thought Kumerow was a valuable member of the team.
If it seems petty for Rodgers to be so aggravated by his organization over a receiver who has caught 21 passes — combined — in three NFL seasons, well, that's where the Jordan/Rodgers comparison truly coalesces.
Jordan spent much of his later years with the Bulls degrading himself with public insults aimed at Krause's weight and stature, even though Krause, at the time, was earning a position in the Naismith Memorial Hall of Fame with his shrewd drafting, trading, hiring and management of the Bulls' rosters that won six NBA championships in the 1990s.
Jordan was the centerpiece of those teams, and he was drafted before Krause was hired as Bulls GM, but every other essential member of the teams that won from 1991 to 1993 and from 1996 to 1998 was added by Krause, including Hall of Famers Scottie Pippen, Dennis Rodman and head coach Phil Jackson.
Gutekunst has done little to warrant the comparison to Krause.
He has been GM since 2018, and the Packers delivered 13-3 records in his second and third seasons but fell short of the Super Bowl each time. Their defenses allowed an average of 34 points in the 2019 and 2020 NFC Championship games.
Rodgers almost certainly drew his inspiration for the use of Krause as a front-office insult from "The Last Dance," the ESPN documentary that chose to portray him as a villain despite that he'd built the championship team whose impending dissolution Jordan was lamenting. Rodgers should study basketball history better; there surely are GMs who would serve as a fitting standard of ineptitude.
Krause is not the guy. He won six championship rings in his position as Bulls GM.
Rodgers still has just the one, earned 11 seasons ago.