Fantasy Injury Updates: Josh Jacobs, D.J. Moore, Daniel Jones impacting Week 13 waiver wire pickups
A handful of notable players went down in Week 12 as Josh Jacobs (ankle), D.J. Moore (leg), Daniel Jones (hamstring), and Phillip Lindsay (knee) all suffered various lower-body injuries while playing for their teams. Fantasy football owners will need to know the latest about each of these banged-up players ahead of the Week 13 waiver wire to make informed claims and make their final push for the fantasy playoffs. We'll be delivering the latest news about these four key options and how they could impact our Week 13 rankings and start 'em, sit 'em decisions.
For all the latest fantasy updates, follow us on Twitter @SN_Fantasy.
WEEK 13 STANDARD RANKINGS:
Quarterback | Running back | Wide receiver | Tight end | D/ST | Kicker
Josh Jacobs injury update
Late in the third quarter of the Raiders' loss to the Falcons, Jacobs suffered an apparent ankle injury on a lost fumble. He wouldn't return to the field in the blowout. Given the status of the game, that was a sensible decision, but it did raise some questions about his availability moving forward.
According to ESPN's Paul Gutierrez, when Raiders coach Jon Gruden was asked if there was any concern about Jacobs' injury, he said "obviously, there is." That doesn't necessarily mean that Jacobs will miss any in-game action. The Raiders could just choose to limit him at practice this week to make sure he heals up properly. Either way, Jacobs' status will need to be watched.
If Jacobs' ankle injury does cause him to miss time. Devontae Booker would become the top RB in Las Vegas, at least for one game. That contest would be a favorable matchup with the Jets, so Booker would be a sure-fire RB2 if Jacobs is absent. As such, Booker will be one of the top waiver wire pickups this week and Jacobs' owners will want to grab him as a handcuff if they can.
WEEK 13 WAIVER WIRE: Top pickups
D.J. Moore injury update
Late in the Panthers' loss to the Vikings, Moore exited the game with an apparent leg injury. The injury was of a non-contact nature, as he was leaping in the end zone to try to catch a pass and appeared to get hurt in the process. Moore left the field on a cart with trainers and didn't return, as there were only a few minutes left in the fourth quarter when he got hurt.
Moore's status moving forward is unclear. The Panthers do have a Week 13 bye, so that will buy Carolina some time to thoroughly diagnose Moore's injury. With the Panthers sitting at 4-8, they're unlikely to rush Moore back into action.
Moore owners should be focused on trying to field a worthwhile replacement for Moore during his Week 13 bye while also looking ahead to potential streamers in case he does miss time, which seems likely. Also, if Moore is out, Robby Anderson and Curtis Samuel will have far more opportunities to produce in the Panthers' receiving game, as will Christian McCaffrey if he can return from a shoulder injury that has kept him out the last few weeks.
WEEK 13 PPR RANKINGS:
Quarterback | Running back | Wide receiver | Tight end | D/ST | Kicker
Is Daniel Jones playing this week?
Jones suffered a hamstring injury against the Bengals in the third quarter, and while he returned for a few plays, he ultimately limped off to the sideline and stayed there for the remainder of the contest.
According to NFL Network's Ian Rapoport, Giants coach Joe Judge was optimistic about Jones after the game. However, the team could still err on the side of caution with the injury just to make sure Jones is 100 percent before they put him back on the field. That could lead to Jones missing some time, though the quarterback will have an MRI soon to reveal the severity of the injury. But again, the team is hopeful that the injury isn't serious.
If Jones is out, Colt McCoy will start at quarterback for the Giants. McCoy, 34, completed six-of-10 passes for 31 yards in relief of Jones and helped lead the Giants to win. He hasn't won a start since 2014, and he is a clear downgrade from Jones due to his lack of rushing ability. Fantasy owners won't want to trust McCoy unless they're in a two-QB or Superflex league or if they're going for a dirt-cheap QB option in NFL DFS tournaments.
Also, the Giants' pass-catchers will be slightly downgraded, and Darius Slayton could perform particularly poorly as a result. Slayton had zero catches against the Bengals, and given that McCoy doesn't have the strongest arm and likes to check down over the middle of the field, he doesn't figure to do well. The likes of Sterling Shepard and Golden Tate could benefit from this while Evan Engram will still be a solid tight end. Their ceilings are all a little lower, but Slayton, a strong deep threat, will see the biggest drop-off.
Phillip Lindsay injury update
Lindsay suffered a knee injury in the second half of the Broncos' loss to the Saints on Sunday and didn't return to action. According to Mike Klis of 9News, Lindsay will be getting an MRI and a second opinion on his knee, and while there's nothing to indicate that the injury is major yet, it still seems like Lindsay could miss time.
If Lindsay is out, Melvin Gordon will go back to being the clear-cut lead back for the Broncos and can be trusted as an RB2 in every matchup. Meanwhile, Royce Freeman would be the player in line to see extra carries as Gordon's backup, so he can be added as a solid handcuff and potential low-end flex play with games upcoming against the Chiefs and Panthers.
What NBA games are on today? TV schedule, times, channels for MLK Day basketball 2021
The NBA's Martin Luther King Jr. Day tradition continues this year with a nine-game slate featuring some of the league's top stars.
It all starts at Madison Square Garden with a Monday afternoon game between the Magic and Knicks followed by a contest between the Timberwolves and Hawks in Atlanta, the birthplace of MLK. There will be five nationally-televised matchups (two on NBA TV, three on TNT), including a battle of former MVPs as Stephen Curry's Warriors take on LeBron James' Lakers to close out the evening.
Here's everything you need to know about watching NBA games on MLK Day, including a full schedule with TV channels and start times.
MORE: Watch select NBA games live with fuboTV (7-day free trial)
NBA schedule 2021: What games are on today?
Monday, Jan. 18
(All times Eastern)
| Game | Time | Channel |
| --- | --- | --- |
| Magic vs. Knicks | Noon | NBA TV |
| Timberwolves vs. Hawks | 2:30 p.m. | NBA TV |
| Spurs vs. Trail Blazers | 3 p.m. | — |
| Suns vs. Grizzlies | 5 p.m. | TNT |
| Bucks vs. Nets | 7:30 p.m. | TNT |
| Mavericks vs. Raptors | 7:30 p.m. | — |
| Pistons vs. Heat* | 8 p.m. | — |
| Rockets vs. Bulls | 8 p.m. | — |
| Warriors vs. Lakers | 10 p.m. | TNT |
*Pistons vs. Heat, originally scheduled for 3 p.m. ET, was delayed in order to allow for more COVID-19 testing to be processed, according to The Associated Press' Tim Reynolds.
NBA games postponed on MLK Day 2021
As of Sunday night, Cavs vs. Wizards is the only game that has been removed from the MLK Day schedule. Due to contact tracing within the team, Washington does not have the minimum number of players required to play the game.
"We have nine players right now that are in protocol. Six have tested positive for COVID-19," Wizards general manager Tommy Sheppard said Friday. "We are certainly not gonna be able to play these games on Sunday and Monday. … It's just an unfortunate set of circumstances."
How to live stream NBA games
If you're a cord cutter who is desperate to watch some hoops, don't worry. You can still keep up with NBA action through these streaming services:
NBA scores, results for MLK Day
You can keep up with live scores and stats with SN's live scoreboard.
Game
Knicks 91, Magic 84
Timberwolves vs. Hawks
Spurs vs. Trail Blazers
Suns vs. Grizzlies
Bucks vs. Nets
Mavericks vs. Raptors
Pistons vs. Heat
Rockets vs. Bulls
Warriors vs. Lakers
Tennessee's 9 best coaching candidates to replace fired Jeremy Pruitt
Tennessee is reportedly parting ways with Jeremy Pruitt after a three-year stint was doomed from the start.  
Pruitt was a hired after a disastrous coaching search in 2018. He finished with a 16-18 record the last three seasons. The football program is currently under investigation for alleged recruiting violations during Pruitt's tenure. Athletic director Phil Fulmer also retired as part of the overhaul.
Kevin Steele reportedly will serve as interim coach. If Steele isn't the answer, then who is? 
Tennessee will need a more-focused coaching search this time to find out. Here is a closer look at the possible candidates:  
MORE: Every college football coaching change in 2020-21
Top Tennessee coach candidates 
Gus Malzahn  
Malzahn would be the ultimate safe pick. Auburn parted ways with Malzahn after eight seasons, a run that included a SEC championship in 2013 and SEC championship appearance in 2017. Malzahn won the Iron Bowl three times. Tennessee has not beat Alabama since 2006. Steele joined Tennessee's staff last week, too. Is this the not-so-awkward transition that keeps Malzahn in the SEC?  
Hugh Freeze  
Freeze might be the more-popular choice in Knoxville. Freeze is a bright offensive mind that led Liberty to a 10-1 record last season. He had success on the field at Ole Miss, a run that included a Sugar Bowl run in 2015. The Rebels, however, were hit with NCAA sanctions that resulted in Freeze's dismissal. Can Tennessee really hire Freeze while the program is under investigation?  
Joe Brady  
Why not? Brady revamped LSU's offense in one year, and it led to one of the best seasons of all time. Brady spent last season with the Carolina Panthers, and he's a sought-after coach at both levels. Brady, 31, has never been a huge coach. It's a risk, but it would be one worth taking.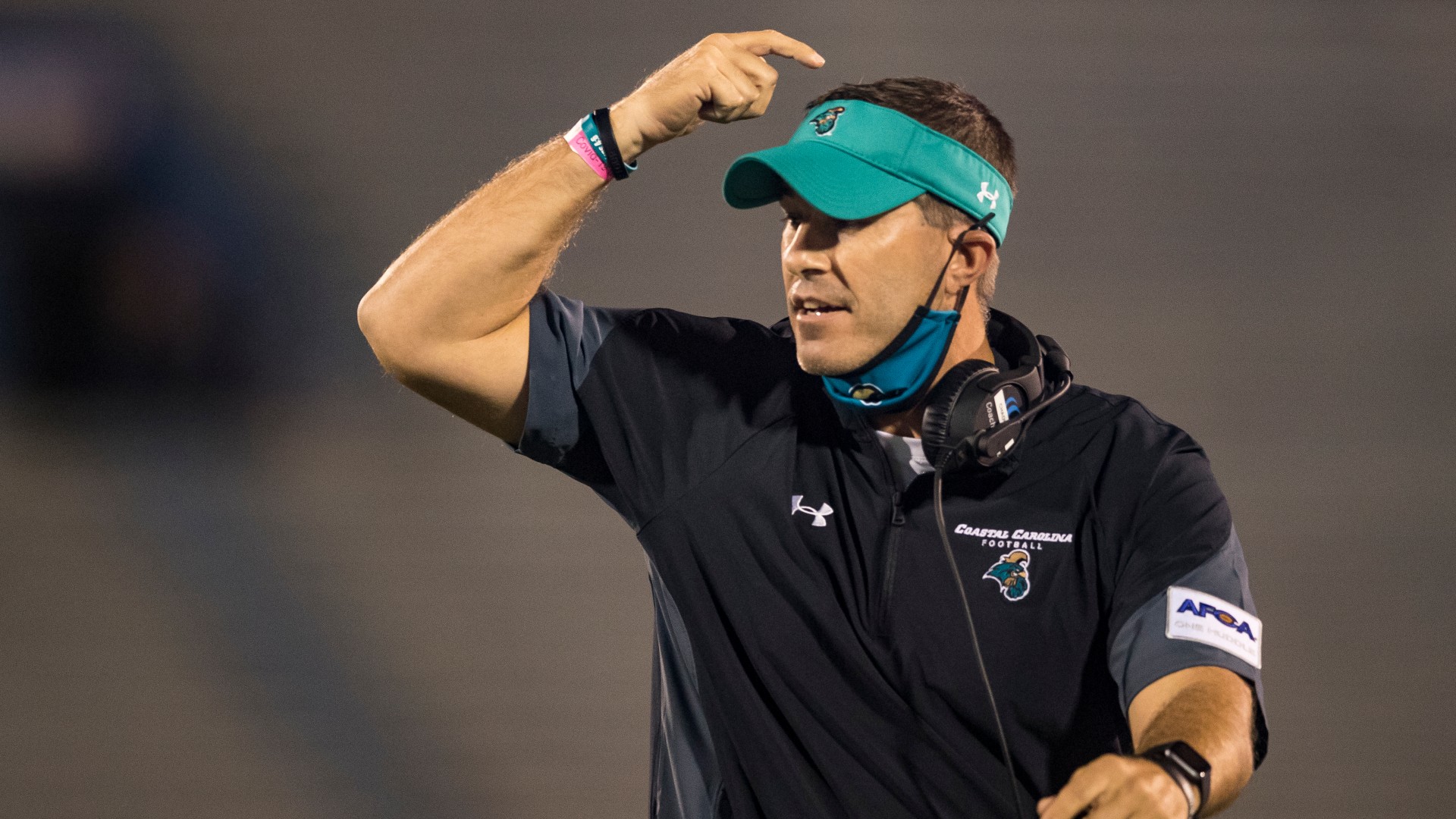 Group of 5 candidates  
Billy Napier  
Would Tennessee take another chance on a former Saban assistant? Napier is 28-11 the last three seasons at Louisiana, and it's a matter of time before he takes on a Power 5 job. Napier was rumored to be a candidate for the Auburn job, but he turned that down. Is Tennessee a better fit?  
Bill Clark  
Clark is the other coach from a Group of 5 school that could turn up. He revived UAB into a Conference-USA championship program, and he's done that with a player-friendly culture that earned him SN Coach of the Year honors in 2018. Clark also was a candidate for the Auburn job. Would be more interested in Tennessee?  
Jamey Chadwell  
Chadwell is going to draw some interest knowing he led the Chanticleers to an 11-1 record this season, which earned him SN Coach of the Year honors. Coastal Carolina played an exciting blend of football on both sides, and Chadwell is moving up the coaching ranks. Is he that different than Napier or Clark?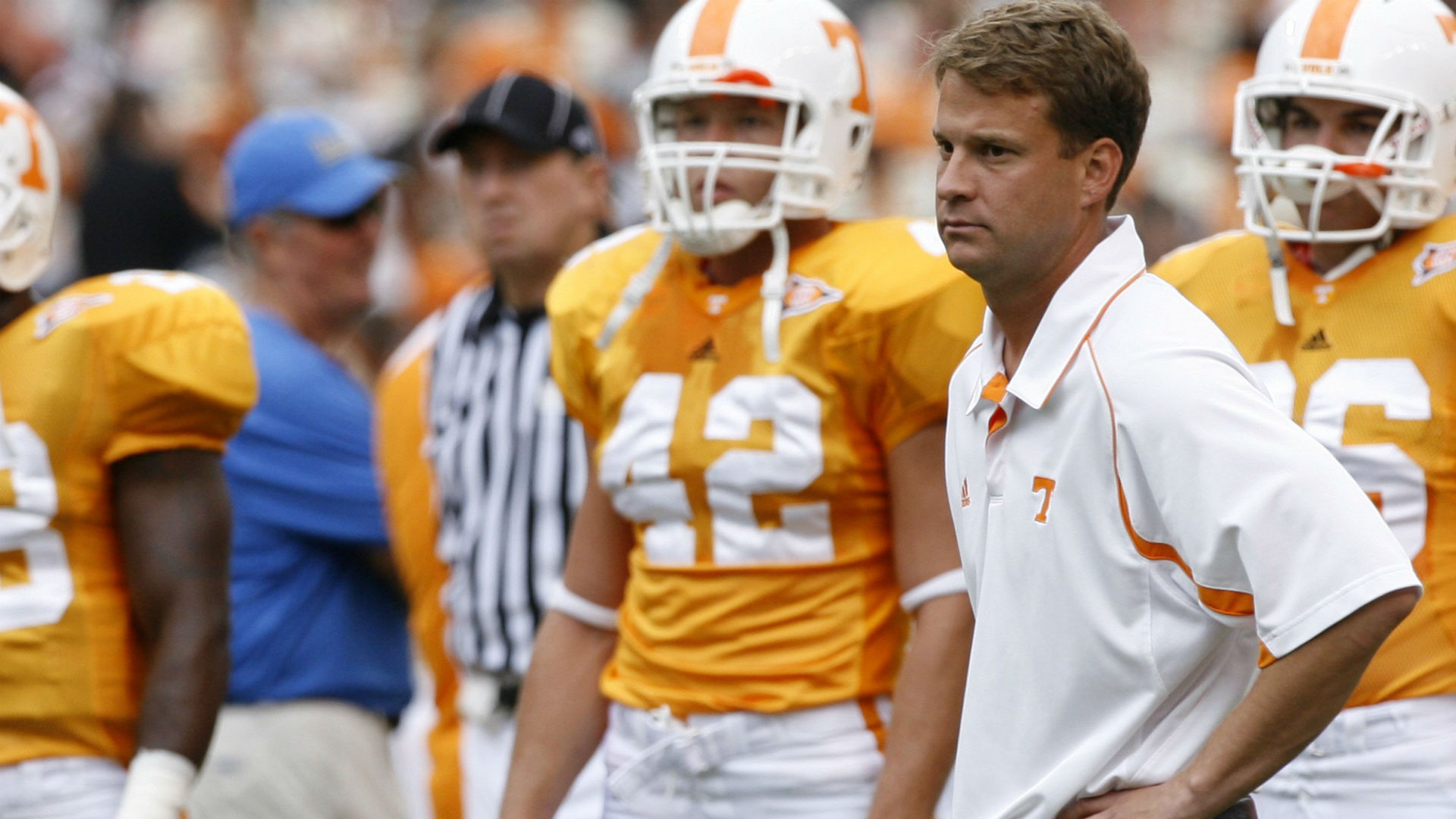 Wild cards  
Lane Kiffin  
Kiffin already laughed at the idea.  
Kiffin had a one-year stint with Tennessee in 2009 before bolting for USC, and the idea of a second chance is laughable, right? Kiffin finished 5-5 in his first season with Ole Miss, where he renovated the offense and won a bowl game against Indiana. Kiffin would be a bold move, but there is no doubt the track record of success.  
Tom Herman  
Herman likely wouldn't excite the fanbase given the end of his tenure at Texas. Herman compiled a 32-18 record with the Longhorns, and he upgraded the recruiting with the program. Herman, however, lost too many close games, and the pressure in Knoxville isn't that much different than Austin when it comes to through-the-roof-expectations. Herman would feel more like a consolation prize compared to the other names on this list. 
Scott Satterfield  
Satterfield would have been a good hire the last time. He's 12-12 the last two seasons at Louisville, but the track record at Appalachian State before that suggests there will be more success on the way. Given the mess he inherited at Louisville, Satterfield set the bar too high early. He would be a good fit at Tennessee.  
Deshaun Watson trade rumor tracker: Timeline of dysfunction details Texans' rift with franchise QB
Not so elementary, my dear Watson.
The yearslong odyssey for the Texans to find a true franchise passer culminated in Houston selecting the Deshaun Watson out of Clemson in the first round of the 2017 NFL Draft, but it looks like the pairing will soon come to an end, with tumult surrounding the quarterback and the franchise leading to lots of smoke and trade rumors.
With organizational chaos dooming the Texans in the last two seasons, ownership reportedly over-relying on the voice and opinions of Jack Easterby and reportedly completely ignoring the voice of Watson, it's hard to fault Watson for wanting out. He's a top-five quarterback coming off his best season, still young and with a contract that will prove to be a bargain in a few years.
Total organizational instability — from the top down — has led Watson to, reportedly, being incredibly pissed off and ready to move on from the team that drafted him in 2017. Here's a timeline of reports and other rumors that detail the interworkings of the Texans organization and Watson's displeasure with the situation.
MORE: Here are Deshaun Watson's best trade fits, from Jets to Dolphins
Deshaun Watson trade rumors
Jan. 18: 'Great lather' to get Watson out, but leverage in his favor
Source: Josina Anderson, ESPN
Anderson reminds everyone a key point: Watson has a no-trade clause, and it's not entirely in the Texans' best interest to trade away a superstar of Watson's caliber. In any case, it's a weak argument, especially if the team is going to continue to do poorly by its star player.
Jan. 18: Watson has yet to ask for a trade
Source: Ian Rapoport, NFL Network
Despite all the smoke surrounding Watson and the Texans at the moment, the superstar QB has yet to ask for a trade, per Rapoport. That hasn't stopped teams from calling to check on Watson's availability, though, 
Jan. 17: Watson has 'played his last snap for Houston'
Source: Adam Schefter/Chris Mortensen, ESPN
If the weeks of turmoil and confusion have left any doubt about Watson's future in Houston, ESPN's Adam Schefter reported that some people surrounding the Texans organization feel Watson won't play another down for the team. A source close to Chris Mortensen added that the only remedy for the situation between Watson and the Texans would be for owner Cal McNair to fire … Cal McNair.
Schefter also added that "Watson's feelings cannot and should not be underestimated." Whatever that means.



Jan. 16: Watson 'just wants out' of Houston
Source: Greg Bishop, Jenny Vrentas, Sports Illustrated
Despite the Texans making moves to try and appease their disgruntled quarterback, Watson just wants out of H-Town, per SI. A culmination of the coaching and GM search and general organizational dysfunction has led to Watson taking a hard stance on his status with the team: Just get me out of here.
Jan. 15: A single tweet sets NFL world on fire
Source: Deshaun Watson's Twitter
Coming from a Schefter report that Watson's anger was "at a 2, but now a 10," the Texans QB sends out a single tweet that seems to confirm this. A later tweet would actually indicate that these were actually song lyrics. (Sure, Deshaun.)
MORE: Deshaun Watson's latest tweet sends Twitter back into trade frenzy
Jan. 15: Watson photographed in Falcons gear
Source: Instagram
A curious wardrobe decision by Watson, with a photo on an Instagram story showing Watson in a Falcons jacket, coincidentally, outside of a building in New York City. Watson is a Georgia native and likely grew up a Falcons fan.
It's just a jacket, but let your imagination run wild.
Jan. 12: Texans request interview for Chiefs OC Eric Bieniemy
Source: Ian Rapoport, NFL Network
The Chiefs OC is a hot commodity on the coaching scene, and was even recommended to Watson by some guy named Patrick Mahomes. While the Chiefs hadn't initially put in an interview with Bieniemy — missing the window in which coordinators can interview during the playoffs — new GM Nick Caserio is interested in speaking with him. Because of tampering policies, the Texans won't be allowed to speak with Bieniemy until after the Chiefs are eliminated.
Jan. 12: Andre Johnson speaks, offers Watson advice
Source: Andre Johnson via Twitter
In the words of Deandre Hopkins, when 'Dre speaks, we listen. The former Texans wide receiver took to Twitter to offer Watson some sage advice: Stand your ground. He also roasted the Texans and their devotion to Jack Easterby, who many question 
MORE: Andre Johnson thinks Deshaun Watson is right to turn on 'pathetic' Texans
Jan. 10: Watson's anger reaching boiling point
Source: Adam Schefter, ESPN
Heads exploded when then head coach/GM Bill O'Brien opted to trade star wide receiver DeAndre Hopkins to the Cardinals, with Watson himself taking the trade in stride. ESPN's Adam Schefter reports that Watson's anger vaulted from a "2 to a 10" with the organization opting not to hire ESPN analyst and former front-office exec Louis Riddick to its GM role.
Jan. 10: More details emerge about rift; Dolphins could be a trade destination
Source: Chris Mortensen, ESPN
If Watson were to be moved, then the Dolphins could be a viable destination for a trade, according to ESPN's Chris Mortensen. Miami, who holds Houston's first-round pick in the 2021 NFL Draft, would reportedly be open to trading quarterback Tua Tagovailoa and trade assets in exchange for Watson, per Mortensen.



Jan. 7: The Texans name Nick Caserio new GM
Source: "Literally us, the  Houston Texans."
A major part of the reported rift between Watson and the Texans surrounded Houston naming a general manager without Watson's input, a promise that had been supposedly made to Watson during the season. Instead, owner Cal McNair Jr. and Jack Easterby.
MORE: Ranking the NFL's head-coaching vacancies
Jan. 5: J.J. Watt offers an ominous apology 
Source: JJ Watt's mouth
After the Texans fell in Week 17 to the Titans in Week 17, NFL cams caught JJ Watt and Deshaun Watson in a candid moment as the two were walking off the field. "I'm sorry, I'm sorry," Watt said. "We wasted one of your years." The Texans would finish 4-12.
Oct. 5: Texans fire Bill O'Brien
Source: "Literally us, the  Houston Texans."
Well, about a year, many losses and one too many trades too late, the Texans decided to fire head coach/general manager Bill O'Brien after a sluggish start to their 2020 season. The team would name Romeo Crennel the interim head coach.
O'Brien's tenure as HC would be mired in personnel controversies and several lopsided trades that leave the Texans without a first-round pick in 2021. 
April 2019: Jack Easterby hired by Houston
Source: The Texans
"I think the best way to tell the story is by starting at the end, briefly, then going back to the beginning, and then periodically returning to the end, maybe giving different characters' perspectives throughout." — "The Other Guys," 2010
Arguably the genesis of the chaos in Houston was the hiring of Patriots team chaplain — later "character coach," whatever that is — as its executive vice president of football operations.
Easterby's meteoric rise to a such a high office in an NFL franchise is met with skepticism from all avenues, and would come back to haunt the team later.