ETF Partners leads £5m milk round for Yorkshire delivery firm | Business News
A Yorkshire-based milk delivery company which found instant fame when it sheltered a reticent Boris Johnson in a refrigerator during the 2019 general election campaign has secured millions of pounds in new funding.
Sky News understands that ETF Partners, an environmentally focused investment fund, is injecting £5m into The Modern Milkman, which markets itself on its local sourcing and plastic-free supply chain.
The deal will be announced formally on Wednesday, according to the companies.
The Modern Milkman, which said it had seen a tenfold increase in revenues in 2020, is among a wave of home delivery companies which have benefited from the coronavirus pandemic.
Its offer to host the prime minister paid unexpected dividends in December 2019 when he joined the company for an early-morning delivery round.
Mr Johnson, however, decided against answering an ITV journalist's questions and ducked into a fridge stacked with milk bottles – handing The Modern Milkman's profile an instantaneous and unexpected boost.
Based in Pudsey, a Conservative-held constituency, it last raised seed funding of £500,000 in 2019.
The valuation attached to the latest funding round was unclear on Tuesday.
It makes tens of thousands of deliveries each week across Greater Manchester, Leeds and Lancashire, allowing customers to place orders until 9pm to ensure deliveries by 7.30am the following day.
The Modern Milkman claims to have mitigated the use of nine tons of single-use plastic through its service, which deploys returnable and reusable packaging.
Simon Mellin, the company's founder and chief executive, said ETF Partners' "insight, skill and experience in the sustainability space will help us deliver the positive impact we strive to have on the environment at pace, as we move forward with our expansion plans across the UK over the course of 2021".
Tomer Strikovsky, an investment manager at ETF Partner, said: "In today's world, many of us are looking to reduce our environmental impact on the planet, but convenience remains key to daily life.
"Consumers do not need to forego convenience when prioritising the sustainable environmental, economic, and social structures surrounding food delivery.
"We have full confidence that The Modern Milkman will play an essential role in changing how we consume food, and we continue to be impressed by the founders and their commitment to sustainability."
Yellen urges Congress to 'act big' on virus stimulus and not worry about debt | Business News
President-elect Joe Biden's choice as US Treasury secretary has urged Congress to "act big" and ignore surging national debt in the face of the continuing coronavirus crisis.
Janet Yellen, the former chair of the US central bank, made her remarks at a Senate finance committee hearing to confirm her appointment as the Trump administration nears its end.
She told lawmakers that the incoming administration would focus on winning quick passage of its $1.9trn pandemic relief plan, which is to be funded by borrowing, on top of the near $3trn in support delivered during the crisis to date.
Republicans on the committee argue the package, which includes sending cheques of $1,400 (£1,030) to individual Americans earning less than $75,000 annually, is too big given the size of the US budget deficit.
That hit a record $3.1trn last year with US national debt standing at $27trn (£19.8trn).
Critics also pointed to fears that the package of measures, which need the approval of Congress, would also include Mr Biden's plan for a $15-per-hour minimum wage.
Ms Yellen dismissed suggestions the wage proposal could spark a wave of redundancies, saying she expected little to no effect.
She added that many of the lowest-paid had done the most to keep the country's supply chain functioning during the COVID-19 pandemic.
On the broader issue of financial support for consumers and businesses she said: "More must be done.
"Without further action, we risk a longer, more painful recession now and long-term scarring of the economy later."
She said of budget concerns: "Right now, with interest rates at historic lows, the smartest thing we can do is act big.
"In the long run, I believe the benefits will far outweigh the costs, especially if we care about helping people who have been struggling for a very long time."
Ms Yellen, set to be the first woman to become Treasury secretary, is expected to win confirmation of her appointment on Thursday following a vote in the Democrat-controlled Senate.
In financial disclosure forms filed with the committee ahead of Tuesday's hearing, she listed more than $7m in speaking fees she had received from several Wall Street firms including Goldman Sachs and Citigroup since leaving the Federal Reserve two years ago.
Ms Yellen has agreed to recuse herself from Treasury matters involving firms that have paid her for talks.
Biden inauguration: Watch and follow events on Sky News from 1pm on Wednesday, with the ceremony starting at 4pm
Superdry's efforts to beat COVID blues are yet to convince investors | Business News
The UK high street is in the deep freeze and Superdry, the fashion retailer, emerged on Tuesday as one of the major casualties of coronavirus.
The company, a stock market darling after it first went public in 2010, reported a half year pre-tax loss of £18.9m – up from £4.2m in the same period a year earlier – on the back of a 23.4% drop in sales to £282.7m.
The period covered is up to 24 October last year and, accordingly, does not take into account the COVID-19 national lockdown in November or the tiered restrictions in much of the country which had a similar affect in December, let alone the latest national lockdown.
Superdry also issued a so-called "going concern" statement, warning shareholders: "The risks of the recovery in consumer demand, the group's ability to capture this during the autumn/winter 2020 season, and the ability of the group to meet the new covenants from debt providers represent material uncertainty and may cast significant doubt on the group's ability to continue as a going concern."
Shares of Superdry fell by 19% at one point before rallying.
These are hardly the circumstances that Superdry's founder, Julian Dunkerton, could have hoped for or expected when, in April 2019, he masterminded a coup which reinstated him on the board of the company he founded with his business partner, James Holder, in 2003.
His return to the board was followed by the departures of the company's chairman, chief executive, chief financial officer and the head of its remuneration committee.
Mr Dunkerton, who had left in 2018 because he was unhappy with the strategy, engineered the coup because, he said, "seeing my life's work being destroyed was destroying me".
He moved from being interim chief executive to permanent chief executive shortly before Christmas.
Ever since the boardroom coup, investors have had one question: can Mr Dunkerton, whose career in fashion began with a single clothing store at Cheltenham market in 1985, restore the fortunes of what was once one of Europe's hottest fashion brands?
Answering that question is impossible given the current situation.
However, speaking to City analysts today, Mr Dunkerton did his best to accentuate the positives.
Firstly, he played down the 'going concern' issue, stressing that it was a technicality which had also appeared in the company's last results announcement, in September last year, while also highlighting the £70m facility Superdry has with its lenders – which is currently undrawn – and its net cash of £54.8m.
Secondly, he sought to address some of the issues arising from the pandemic, citing the actions being taken to cut costs and access government support.
The former came to £13.5m during the period while the latter came to £11.5m – £8.1m in rates relief and £3.4m in furlough money.
Further savings are expected during the second half of the financial year but, with nearly three-quarters of the group's 170 outlets currently closed, it will clearly be a slog.
Benedict Smith, the interim chief financial officer, told analysts the company is "modelling a return to UK business rates from April" but said that, due to the ongoing uncertainty, Superdry would not for now be guiding the market on its expectations for the full year results.
Interestingly, given the vital importance to fashion retailers of not being left with stock and having minimising the amount that is put on sale, Mr Dunkerton revealed Superdry was "phasing" its stock purchases all the way through the season – giving it more flexibility in May and June than it would traditionally have – and was now sitting on less inventory than it was a year ago.
That said, due to store closures, there was still a need for a "tactical clearance" to clear excess stock.
Online sales, as might have been expected, grew strongly during the period but the importance of physical stores to Superdry is underlined by the fact that, even though the business lost more than two-fifths of available store trading days due to lockdown closures, ecommerce still only accounted for half of all retail sales during the period.
The company is also trying to renegotiate store rents so more of them are based on turnover and has also dropped some wholesale contracts – including one with the US department store Macy's – which, in Mr Dunkerton's words, "just didn't make any sense, didn't make any money".
The third thing Mr Dunkerton had to address is, longer term, probably the most important – the "brand reset" he promised when he returned to the business. Central to this is reconnecting with the group's target customers, 16-24 year olds, via initiatives such as campaigns on the social media platform TikTok with Zara Larsson, the singer and influencer, as well as launches of sustainable products such as vegan trainers.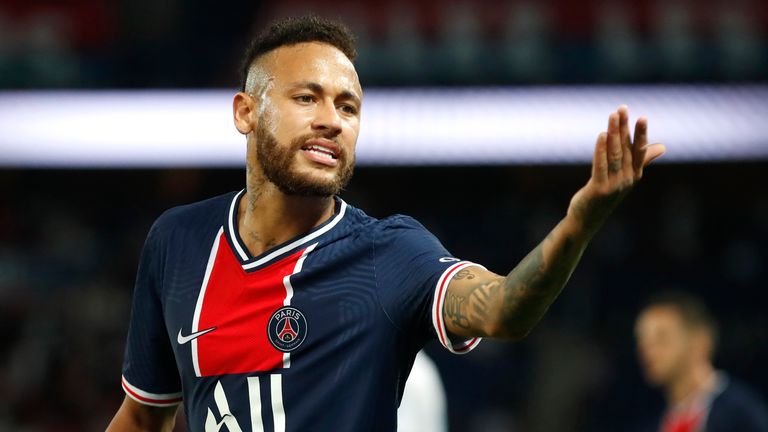 Mr Dunkerton said that Superdry was now working with more than 100 influencers across the UK, France, Germany and Sweden that was already driving more traffic to its social sites.
Another key strand of this reset is the partnership, announced shortly before Christmas, Superdry has signed with the Brazilian footballer Neymar Jr.
Mr Dunkerton explained: "This is a genuine statement of our intent for the brand's ambition… we have secured a three year deal which will focus on championing sustainability through our organic cotton underwear and sleepwear.
"Neymar provides us with the ability to communicate with his global audience of 143 million social media followers…and, with the World Cup in 2022 maximising this exposure, this will drive a step change in digital marketing activity."
He said the partnership with Neymar was only "a start" on what Superdry hopes to achieve with its marketing.
Seizing back share of the sport fashion and 'athleisure' markets, into which Nike and Adidas have been successfully encroaching, will also be another strand to the strategy in addition to building on the brand's share of the streetwear market.
Clearly, then, this is a company trying to do an awful lot – although it is very difficult to peer through the fog of COVID-19 right now and assess the progress being made. Mr Dunkerton highlighted improvements in Superdry's "net promoter score" – the likelihood of a customer recommending a company's products or services to friends or colleagues – and a recent report from KPMG, the business services group, suggesting it is outperforming peers in both menswear and womenswear.
But it is early days.
In the meantime, the share price – which had rallied after the traumatic sell-off last March that the whole market suffered – has started to drift again. The shares are now less than half the price that they were when, shortly after his return, Mr Dunkerton issued Superdry's third profits warning in a year.
From a peak of £1.7bn, the company's stock market value is now just £196m. Mr Dunkerton, who owns 20.3% of the business, has been buying shares in recent months – showing that he backs himself to pull off a turnaround.
If investors fail to share that faith, it would be no surprise to see him taking Superdry private again.
COVID-19: Blame coronavirus not Brexit for fish export woes, says business secretary | Business News
Kwasi Kwarteng has dismissed border delays and the rising cost of transporting goods to Europe as "teething problems" rather than a consequence of Brexit.
The new business secretary, who succeeded Alok Sharma last week, told MPs on the Commons business select committee he was confident that, despite concerns raised by businesses across numerous sectors, a "smoother" regime would soon be in place at ports and borders.
UK ports and hauliers have reported a collapse in trade since the Brexit deal was implemented on 1 January, introducing onerous new customs procedures for British companies sending goods to Europe and Northern Ireland.
The fishing industry has been particularly hard hit, with a third of the Scottish fleet tied up because operators say delays and increased costs mean they cannot get their catch to European markets.
Fleets in Devon and Cornwall have been affected too, with exporters reporting long border delays causing stock to spoil, and for some shellfish products rendering European markets unviable.
Boris Johnson has outlined a £23m compensation fund.
On Tuesday morning, the chief executive of Food & Drink Scotland, James Withers, shared a picture of a deserted Peterhead fish market on social media, commenting: "What a sad sight. Europe's biggest fish market in Peterhead like a ghost town. Built to deal with 10,000 boxes/day but with a few hundred. Boats tied up, exporters crippled. No Brexit image of lorry queues, it's the sight of trade that isn't moving at all."
What a sad sight. Europe's biggest fish market in Peterhead like a ghost town. Built to deal with 10,000 boxes/day but with a few hundred.
Boats tied up, exporters crippled.
No Brexit image of lorry queues, it's the sight of trade that isn't moving at all. Pics via @will051266 pic.twitter.com/JLCYRCGh3P

— James Withers (@scotfoodjames) January 19, 2021
Challenged about the impact on Scottish fishing, Mr Kwarteng blamed COVID-19 and the closure of restaurants in France – an issue that pre-dates the Brexit deal.
"I think these are teething problems," he said. "We were in the EU for 47 years. A lot of predictions of total congestion and chaos have not materialised, that doesn't mean we are out of the woods.
"But the most scary predictions were not borne out in reality. I'm confident that we will be able to get to a regime where we will have to get to a much smoother process.
"A lot of the issues relating to things like the collapse of the price of fish are related to the fact all the restaurants in France are closed, so there is no demand for fish in France at the moment. A lot of the difficult issues we are dealing with are also related to COVID."
Mr Kwarteng, who campaigned for Brexit, is the latest cabinet minister to minimise the impact the deal has had on trade in the first three weeks of operation.
The PM and the Northern Ireland secretary, Brandon Lewis have made similar arguments, dismissing concerns raised by sectors as diverse as Formula 1 and freight hauliers that the deal has pushed up prices, increased complexity, and ultimately may reduce competitiveness.
Mr Kwarteng added: "There are lots of swirling circumstances here which mean the economic situation is unclear and difficult," he said. "With respect of the Brexit issue I'm confident we can reach very normal conditions soon, but with the pandemic I have no sight of that.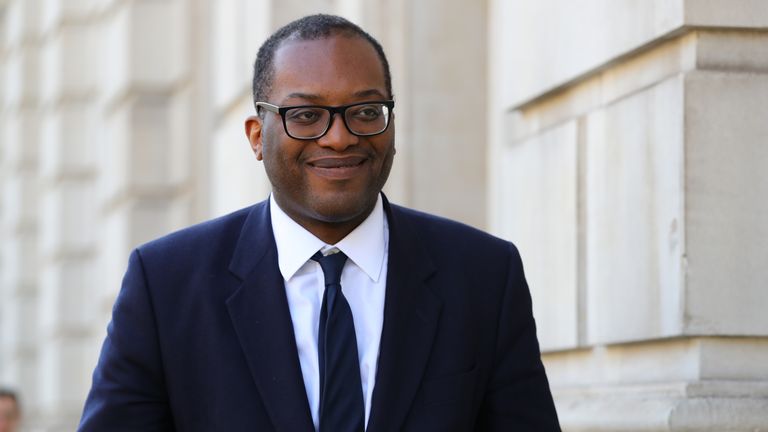 "No-one in the world can tell you when the pandemic has done its worst."
The business secretary did acknowledge the difficulties the Brexit deal has caused for musicians and entertainers planning to tour in Europe and hinted he was working to resolve them.
The deal includes no special provision for live performers, meaning an act or touring show will need a visa and customs documentation for every performer and piece of equipment in every country they plan to visit.
The EU has claimed the UK rejected an offer to allow free movement to performers while London has countered that it was the EU that rejected their suggestion.
The upshot is that the industry, already reeling from almost a year of venue closures and no guarantee of a return to normal this year, is facing a huge challenge.
"As far as the deal's concerned we offered a deal on ease of movement of musicians and the entertainment industry.
"It was the EU that rejected our deal on this. I am convinced we can resolve these issues and I am fully aware of the difficulties in this area, " the minister said.
Mr Kwarteng also confirmed that he is reviewing employment regulations and workers' rights protections following the departure from the EU.
Last week the Financial Times reported that the government would abandon the constraints of the working time directive, which limits workers to 48 hours a week, as part of reforms that would water down workers' rights.
Mr Kwarteng said it was right to review legislation but standards would remain: "I think we can have a strong, powerful economy based on net-zero [carbon] and high standards and high wages, and the idea that we're trying to whittle down standards is not plausible or true."
Shadow cabinet spokesman Ed Milliband claimed the fact of the review demonstrated the government wanted to abandon protections for key workers.
"Neither workers nor business want ministers to take a wrecking ball to the hard-won rights of working people and families," he said.