Errol Spence Jr. vs. Danny Garcia: Welterweight champion returns with intriguing test
Errol Spence Jr. returns to the ring 14 months after the car accident that left him hospitalized in critical condition, but the welterweight world champion is hardly easing his way back in.
Spence puts his IBF and WBC titles on the line against Danny Garcia at AT&T Stadium in Arlington, Texas, an impressive venue worthy of hosting a clash between two of the leading names at 147 pounds. 
SPENCE vs. GARCIA: Fight time, how to watch, odds
Fans will be present at the home of the NFL's Cowboys to witness the bout, a welcome boost as the sport aims for a big finish to a year so dominated by the coronavirus pandemic. 
A late venue switch — it was initially planned to take place in Los Angeles at the end of November — gives the defending champion home advantage (Spence fights out of Dallas), but Spence is just grateful to be back in action at all.
Not long after beating Shawn Porter to claim the WBC belt, the 30-year-old was involved in a single-car crash in Dallas in October 2019. Flung from the vehicle before it flipped, he somehow escaped without any serious injuries.
It would have been easy for Spence to look for a soft option when making his comeback. Instead, he has retained the desire to take on his leading rivals, starting with the experienced Garcia.
"The accident just made me hungrier and even more focused. I have the same hunger now that I had before I won the title," he told RingTV.
Garcia used to hold the WBA and WBC welterweight titles himself, but defeats to Keith Thurman and Porter have seen him slip down the pecking order in what is a hugely competitive division.
The 32-year-old now has the opportunity to prove he still belongs among the elite, with a win — or at least an impressive performance — holding the key to what direction his career path travels next.
Angel Garcia, the challenger's father and trainer who is never afraid to speak his mind, has predicted a seventh-round stoppage. It is a bold forecast, yet the questions surrounding both fighters makes it feel like any result is possible heading into Saturday's main event.
Recent history 
Spence added a second title when edging Porter on points. An 11th-round knockdown was not crucial in deciding the outcome on the cards, with two judges giving it 116-111 in his favor (the other judge had it 115-112 to Porter, another example of how scoring in boxing is completely subjective). 
He also went the distance against Mikey Garcia, having previously become accustomed to stoppages, most notably over Kell Brook in the Englishman's back yard that earned him the IBF strap.
Garcia, meanwhile, has recorded stoppage wins over Adrian Granados and Ivan Redkach in his previous two outings, though neither were seen as much more than keep-busy bouts while waiting for a bigger test. 
Now he gets his shot to put his name back among the elite in the division. All he has to do is put an end to Spence's 26-fight unbeaten streak.
Tale of the tape 
ERROL SPENCE JR.
Age: 30 
Height: 5-9 
Weight: 146.5 pounds 
Reach: 72 inches
Professional record: 26-0 (21 KOs) 
Major career titles: IBF, WBC welterweight 
DANNY GARCIA 
Age: 32 
Height: 5-8 
Weight: 146.75 pounds
Reach: 68.5 inches  
Professional record: 36-2 (21 KOs) 
Major career titles: WBA, WBC light welterweight, WBC welterweight 
The undercard 
Familiar face Josesito Lopez is in action on the bill, taking on Francisco Santana in a 10-round welterweight contest. 
Lopez lost last year to Thurman, the latest reverse in a career that has included defeats against other notable names in Andre Berto, Marcos Maidana and Saul Alvarez. 
The unbeaten Sebastian Fundora — nicknamed "The Towering Inferno" — is quickly back in action, having previously recorded a knockout triumph over Nathaniel Gallimore in August. 
This time the super welterweight, who stands at over 6-5, takes on the experienced Jorge Cota, who has won two in a row since being stopped by Jermell Charlo. 
What they had to say 
Spence on the choice of opponent: "I could have taken the tune-up, but I wanted somebody dangerous that was going to keep me focused and keep me in the gym and training hard."
Garcia on his journey to this moment: "In this world you learn from your mistakes and you become a better person and become a better man, and that's why I'm here today." 
Angel Garcia on fight tactics: "We're going to control everything. We're going to slip, we're going to dip, we're going to counter. We're going to give him some leather."
Shawn Porter, who has faced both fighters: "I think it is important for Danny to start fast, I think it's important for Danny to be in Errol Spence's grill, be in his face."
Tennessee's 9 best coaching candidates to replace fired Jeremy Pruitt
Tennessee is reportedly parting ways with Jeremy Pruitt after a three-year stint was doomed from the start.  
Pruitt was a hired after a disastrous coaching search in 2018. He finished with a 16-18 record the last three seasons. The football program is currently under investigation for alleged recruiting violations during Pruitt's tenure. Athletic director Phil Fulmer also retired as part of the overhaul.
Kevin Steele reportedly will serve as interim coach. If Steele isn't the answer, then who is? 
Tennessee will need a more-focused coaching search this time to find out. Here is a closer look at the possible candidates:  
MORE: Every college football coaching change in 2020-21
Top Tennessee coach candidates 
Gus Malzahn  
Malzahn would be the ultimate safe pick. Auburn parted ways with Malzahn after eight seasons, a run that included a SEC championship in 2013 and SEC championship appearance in 2017. Malzahn won the Iron Bowl three times. Tennessee has not beat Alabama since 2006. Steele joined Tennessee's staff last week, too. Is this the not-so-awkward transition that keeps Malzahn in the SEC?  
Hugh Freeze  
Freeze might be the more-popular choice in Knoxville. Freeze is a bright offensive mind that led Liberty to a 10-1 record last season. He had success on the field at Ole Miss, a run that included a Sugar Bowl run in 2015. The Rebels, however, were hit with NCAA sanctions that resulted in Freeze's dismissal. Can Tennessee really hire Freeze while the program is under investigation?  
Joe Brady  
Why not? Brady revamped LSU's offense in one year, and it led to one of the best seasons of all time. Brady spent last season with the Carolina Panthers, and he's a sought-after coach at both levels. Brady, 31, has never been a huge coach. It's a risk, but it would be one worth taking.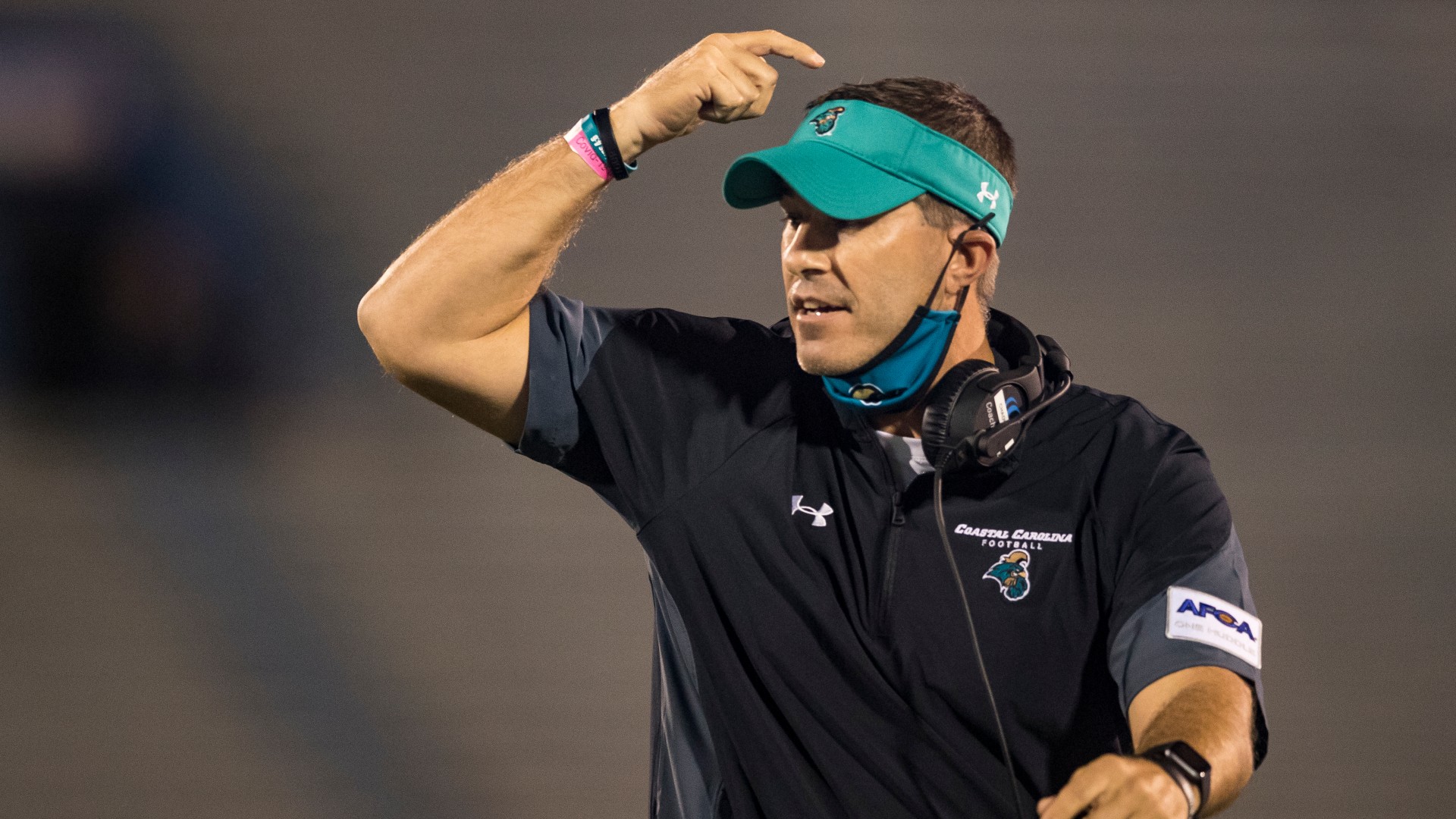 Group of 5 candidates  
Billy Napier  
Would Tennessee take another chance on a former Saban assistant? Napier is 28-11 the last three seasons at Louisiana, and it's a matter of time before he takes on a Power 5 job. Napier was rumored to be a candidate for the Auburn job, but he turned that down. Is Tennessee a better fit?  
Bill Clark  
Clark is the other coach from a Group of 5 school that could turn up. He revived UAB into a Conference-USA championship program, and he's done that with a player-friendly culture that earned him SN Coach of the Year honors in 2018. Clark also was a candidate for the Auburn job. Would be more interested in Tennessee?  
Jamey Chadwell  
Chadwell is going to draw some interest knowing he led the Chanticleers to an 11-1 record this season, which earned him SN Coach of the Year honors. Coastal Carolina played an exciting blend of football on both sides, and Chadwell is moving up the coaching ranks. Is he that different than Napier or Clark?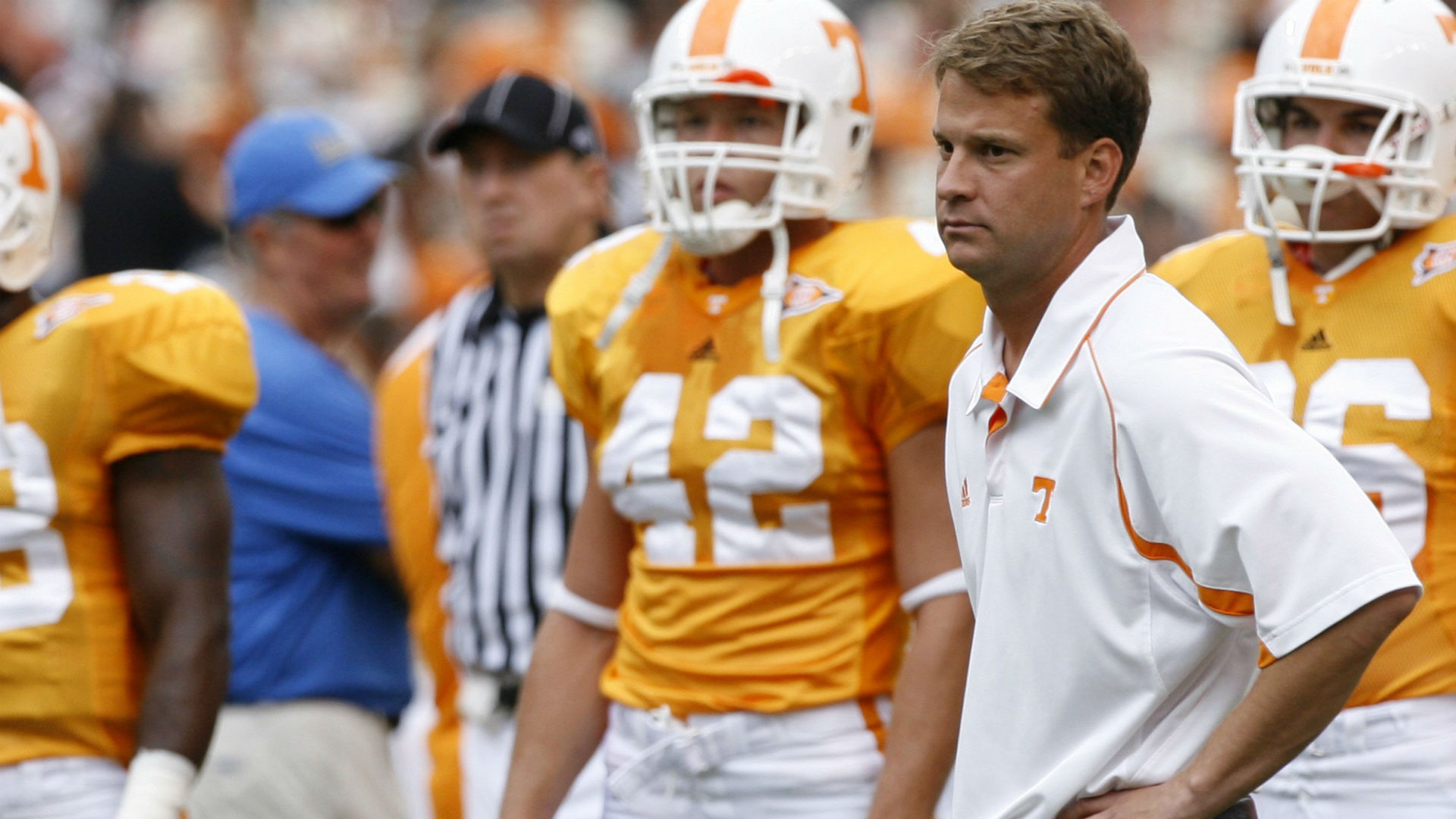 Wild cards  
Lane Kiffin  
Kiffin already laughed at the idea.  
Kiffin had a one-year stint with Tennessee in 2009 before bolting for USC, and the idea of a second chance is laughable, right? Kiffin finished 5-5 in his first season with Ole Miss, where he renovated the offense and won a bowl game against Indiana. Kiffin would be a bold move, but there is no doubt the track record of success.  
Tom Herman  
Herman likely wouldn't excite the fanbase given the end of his tenure at Texas. Herman compiled a 32-18 record with the Longhorns, and he upgraded the recruiting with the program. Herman, however, lost too many close games, and the pressure in Knoxville isn't that much different than Austin when it comes to through-the-roof-expectations. Herman would feel more like a consolation prize compared to the other names on this list. 
Scott Satterfield  
Satterfield would have been a good hire the last time. He's 12-12 the last two seasons at Louisville, but the track record at Appalachian State before that suggests there will be more success on the way. Given the mess he inherited at Louisville, Satterfield set the bar too high early. He would be a good fit at Tennessee.  
Deshaun Watson trade rumor tracker: Timeline of dysfunction details Texans' rift with franchise QB
Not so elementary, my dear Watson.
The yearslong odyssey for the Texans to find a true franchise passer culminated in Houston selecting the Deshaun Watson out of Clemson in the first round of the 2017 NFL Draft, but it looks like the pairing will soon come to an end, with tumult surrounding the quarterback and the franchise leading to lots of smoke and trade rumors.
With organizational chaos dooming the Texans in the last two seasons, ownership reportedly over-relying on the voice and opinions of Jack Easterby and reportedly completely ignoring the voice of Watson, it's hard to fault Watson for wanting out. He's a top-five quarterback coming off his best season, still young and with a contract that will prove to be a bargain in a few years.
Total organizational instability — from the top down — has led Watson to, reportedly, being incredibly pissed off and ready to move on from the team that drafted him in 2017. Here's a timeline of reports and other rumors that detail the interworkings of the Texans organization and Watson's displeasure with the situation.
MORE: Here are Deshaun Watson's best trade fits, from Jets to Dolphins
Deshaun Watson trade rumors
Jan. 18: 'Great lather' to get Watson out, but leverage in his favor
Source: Josina Anderson, ESPN
Anderson reminds everyone a key point: Watson has a no-trade clause, and it's not entirely in the Texans' best interest to trade away a superstar of Watson's caliber. In any case, it's a weak argument, especially if the team is going to continue to do poorly by its star player.
Jan. 18: Watson has yet to ask for a trade
Source: Ian Rapoport, NFL Network
Despite all the smoke surrounding Watson and the Texans at the moment, the superstar QB has yet to ask for a trade, per Rapoport. That hasn't stopped teams from calling to check on Watson's availability, though, 
Jan. 17: Watson has 'played his last snap for Houston'
Source: Adam Schefter/Chris Mortensen, ESPN
If the weeks of turmoil and confusion have left any doubt about Watson's future in Houston, ESPN's Adam Schefter reported that some people surrounding the Texans organization feel Watson won't play another down for the team. A source close to Chris Mortensen added that the only remedy for the situation between Watson and the Texans would be for owner Cal McNair to fire … Cal McNair.
Schefter also added that "Watson's feelings cannot and should not be underestimated." Whatever that means.



Jan. 16: Watson 'just wants out' of Houston
Source: Greg Bishop, Jenny Vrentas, Sports Illustrated
Despite the Texans making moves to try and appease their disgruntled quarterback, Watson just wants out of H-Town, per SI. A culmination of the coaching and GM search and general organizational dysfunction has led to Watson taking a hard stance on his status with the team: Just get me out of here.
Jan. 15: A single tweet sets NFL world on fire
Source: Deshaun Watson's Twitter
Coming from a Schefter report that Watson's anger was "at a 2, but now a 10," the Texans QB sends out a single tweet that seems to confirm this. A later tweet would actually indicate that these were actually song lyrics. (Sure, Deshaun.)
MORE: Deshaun Watson's latest tweet sends Twitter back into trade frenzy
Jan. 15: Watson photographed in Falcons gear
Source: Instagram
A curious wardrobe decision by Watson, with a photo on an Instagram story showing Watson in a Falcons jacket, coincidentally, outside of a building in New York City. Watson is a Georgia native and likely grew up a Falcons fan.
It's just a jacket, but let your imagination run wild.
Jan. 12: Texans request interview for Chiefs OC Eric Bieniemy
Source: Ian Rapoport, NFL Network
The Chiefs OC is a hot commodity on the coaching scene, and was even recommended to Watson by some guy named Patrick Mahomes. While the Chiefs hadn't initially put in an interview with Bieniemy — missing the window in which coordinators can interview during the playoffs — new GM Nick Caserio is interested in speaking with him. Because of tampering policies, the Texans won't be allowed to speak with Bieniemy until after the Chiefs are eliminated.
Jan. 12: Andre Johnson speaks, offers Watson advice
Source: Andre Johnson via Twitter
In the words of Deandre Hopkins, when 'Dre speaks, we listen. The former Texans wide receiver took to Twitter to offer Watson some sage advice: Stand your ground. He also roasted the Texans and their devotion to Jack Easterby, who many question 
MORE: Andre Johnson thinks Deshaun Watson is right to turn on 'pathetic' Texans
Jan. 10: Watson's anger reaching boiling point
Source: Adam Schefter, ESPN
Heads exploded when then head coach/GM Bill O'Brien opted to trade star wide receiver DeAndre Hopkins to the Cardinals, with Watson himself taking the trade in stride. ESPN's Adam Schefter reports that Watson's anger vaulted from a "2 to a 10" with the organization opting not to hire ESPN analyst and former front-office exec Louis Riddick to its GM role.
Jan. 10: More details emerge about rift; Dolphins could be a trade destination
Source: Chris Mortensen, ESPN
If Watson were to be moved, then the Dolphins could be a viable destination for a trade, according to ESPN's Chris Mortensen. Miami, who holds Houston's first-round pick in the 2021 NFL Draft, would reportedly be open to trading quarterback Tua Tagovailoa and trade assets in exchange for Watson, per Mortensen.



Jan. 7: The Texans name Nick Caserio new GM
Source: "Literally us, the  Houston Texans."
A major part of the reported rift between Watson and the Texans surrounded Houston naming a general manager without Watson's input, a promise that had been supposedly made to Watson during the season. Instead, owner Cal McNair Jr. and Jack Easterby.
MORE: Ranking the NFL's head-coaching vacancies
Jan. 5: J.J. Watt offers an ominous apology 
Source: JJ Watt's mouth
After the Texans fell in Week 17 to the Titans in Week 17, NFL cams caught JJ Watt and Deshaun Watson in a candid moment as the two were walking off the field. "I'm sorry, I'm sorry," Watt said. "We wasted one of your years." The Texans would finish 4-12.
Oct. 5: Texans fire Bill O'Brien
Source: "Literally us, the  Houston Texans."
Well, about a year, many losses and one too many trades too late, the Texans decided to fire head coach/general manager Bill O'Brien after a sluggish start to their 2020 season. The team would name Romeo Crennel the interim head coach.
O'Brien's tenure as HC would be mired in personnel controversies and several lopsided trades that leave the Texans without a first-round pick in 2021. 
April 2019: Jack Easterby hired by Houston
Source: The Texans
"I think the best way to tell the story is by starting at the end, briefly, then going back to the beginning, and then periodically returning to the end, maybe giving different characters' perspectives throughout." — "The Other Guys," 2010
Arguably the genesis of the chaos in Houston was the hiring of Patriots team chaplain — later "character coach," whatever that is — as its executive vice president of football operations.
Easterby's meteoric rise to a such a high office in an NFL franchise is met with skepticism from all avenues, and would come back to haunt the team later.
How long is Patrick Mahomes out? Explaining the NFL's concussion protocol, Chiefs QB's status vs. Bills
The NFL's concussion protocol and its very specific timeline and guidelines could determine the fate of the Kansas City Chiefs' season. Patrick Mahomes is concussed, and his status for the AFC Championship Game is in doubt.
The Chiefs' superstar quarterback was concussed during the third quarter of Kansas City's divisional round win over the Cleveland Browns. While scrambling, he was brought to the ground with the tackler wrapped around his neck. Mahomes' head collided with the ground while his neck appeared to be twisted. Mahomes tried to get up and initially struggled before falling back to the ground. He eventually ran off to the locker room before being ruled out for the remainder of the contest, forcing backup Chad Henne to hold on to Kansas City's lead.
IYER: Why Chiefs have edge over Bills in AFC championship game 
With the win, the Chiefs set up an AFC Championship matchup with the Bills for the right to play in Super Bowl 55. But because of the NFL's five-step concussion protocol, Mahomes' availability may not be known until late in the week ahead of the Sunday, Jan. 24 game. 
After Sunday's game, Chiefs coach Andy Reid said, "He's doing great now, which is a real positive as we looked at this. He passed all the deals that he needed to pass, so we'll see where it goes from here."
Mahomes himself tweeted twice after the game, first writing "#HenneThingIsPossible" and then telling Browns linebacker Mack Wilson, who had the tackle that injured Mahomes, "All good brother!" 
How long is Patrick Mahomes out?
There is no set timetable for a player's return from the NFL's concussion protocol, at least in terms of number of days. Mahomes' return to practice and game action will depend on how quickly he moves through the five steps of the league's protocol.
According to The Athletic, the median time for the 29 quarterbacks who suffered a concussion between 2015-2019 to return was seven days. But that's just the central length among the sampling of 29, which includes both longer and shorter absences.
It's also important to note that concussion recovery doesn't necessarily follow the same line for each individual. Just because Reid said Sunday that Mahomes was "feeling good," and just because Mahomes tweeted a couple times after the game, doesn't specifically point to how fast he may get back from his concussion.
Mahomes has had one recorded concussion in his college/NFL career, which came in 2014 while he played quarterback for Texas Tech. He didn't return to the game he was injured in, and the Red Raiders had a bye the next week. When Texas Tech played again 14 days after the injury, Mahomes was back.
The process for Mahomes getting through the NFL's concussion protocol starts with a concussion evaluation Monday, the day after the injury. From there, he'll have to pass each of the five steps of protocol and be cleared by both the Chiefs medical staff and an independent neurologist before he can play. 
NFL concussion protocol, explained
In order to handle head injuries with standard procedure, the NFL has a five-step concussion protocol that every team must follow when a player is diagnosed with a concussion. This ensures that no team/player receives preferential and potentially dangerous treatment in being rushed back to action from a head injury. 
The NFL Head, Neck and Spine Committee developed the protocol in 2011, and it's reviewed each year by independent and NFL-affiliated physicians and scientists to ensure that identification, diagnosis and treatment of concussions is up to current medical standards. 
The following five steps of concussion protocol feature the NFL's official wording from its July 2020 revisions to the Return-to-Participation Protocol:
Step 1: Symptom Limited Activity
The player is prescribed rest, limiting or, if necessary, avoiding activities (both physical and cognitive) which increase or aggravate symptoms. Under athletic training staff supervision, limited stretching and balance training can be introduced, progressing to light aerobic exercise, all as tolerated. 
Step 2: Aerobic Exercise
Under direct oversight of the team's medical staff, the player should begin graduated cardiovascular exercise and may also engage in dynamic stretching and balance training. Neorocognitive and balance testing can be administered after completion of Phase Two and the results should be interpreted as back to baseline.
Step 3: Football Specific Exercise
The player continues with supervised cardiovascular exercises that are increased and may mimic sport-specific activities, and supervised strength training is introduced. The players is allowed to practice with the team in sport-specific exercise for 30 minutes or less with ongoing and careful monitoring.
Step 4: Club-Based Non-Contact Training Drills
The player continues cardiovascular, strength and balance training, team-based sport-specific exercise, and participates in non-contact football activities (e.g. throwing, catching, running, and other position-specific activities). Neurocognitive and balance testing should be completed no later than the end of Phase Four with the results interpreted as back to baseline.
Step 5: Full Football Activity/Clearance
Upon clearance by the Club physician for full football activity involving contact, the player must be examined by the Independent Neurological Consultant (INC) assigned to his Club. If the INC concurs with the Club physician that the player's concussion has resolved, he may participate in his Club's next practice or game.
Who has to clear Patrick Mahomes from concussion?
As can be seen in step five above, Mahomes has to be cleared by two separate entities to return to full practice and game action. First, the Chiefs' medical staff must clear Mahaomes, essentially saying that he's progressed through the first four steps of concussion protocol and passed all the testing along the way.
Once the Kansas City medical staff clears Mahomes, he also has to be cleared by an Independent Neurological Consultant, essentially a brain expert who isn't employed by the team and thus can make decisions independent of how they impact that Chiefs on the field. If Mahomes is also cleared by that independent consultant, he can return to full practice and game activity.