Environmentalists search for 'ocean heroes' amid call for 10-year govt plan to save the seas | Climate News
Environmentalists are calling for an urgent recovery strategy to address what they call the "chronic health of our seas".
A report by the World Wide Fund for Nature (WWF), supported by Sky's Ocean Rescue Campaign, has called for government investment and a plan to restore marine habitats by 2030.
It also says restoring the UK's seas could pump billions of pounds into the economy by 2050, bringing thousands of new jobs and huge climate benefits.
The campaign includes a petition urging the UK government to commit to a ten-year ocean recovery plan by tackling pollution, plastic, over fishing and climate change, and protecting at least a third of the UK's seas.
Our seas currently absorb over a third of the UK's carbon emissions, leading environmentalists to stress the importance of looking after marine health.
"Our seas are in trouble," said Tanya Steele, the chief executive at WWF. "And the report that Sky and WWF have worked on together highlights that business as usual just isn't an option and the ocean is too important in tackling climate change.
"By restoring our seas, what we also have is a very considerable benefit in terms of boosting jobs – it outlines up to 100,000 new jobs could be created by 2050, and it could create a £50bn boost to the UK economy, but importantly it will also enable us to tackle climate change and restore the really precious wildlife that works incredibly hard for us."
The report, called Value of UK Restored Seas, estimates less than 1% of marine areas currently have full protection.
Coastal erosion is also destroying crucial marine habits with 85% of saltmarshes and 95% of oyster reefs lost. Seagrass meadows, capable of capturing vast amounts of carbon, have also suffered a 90% decline, according to the report.
Sky Ocean Rescue and WWF are now asking the public to become "ocean heroes" and play their part in restoring the health of our seas.
According to Ms Steele, this could include sharing experiences and personal pictures of times spent by the sea, along with showing support for ocean recovery.
She said: "I think to be an ocean hero we're asking people to get involved, share with us some of your ocean stories; your ocean selfie – we've all spent an amazing amount of time by the sea.
"Help sign up on our petition; support this ocean recovery strategy. We need it for the future. And think about ways that you buy, you shop, so we have healthy oceans for the future as well."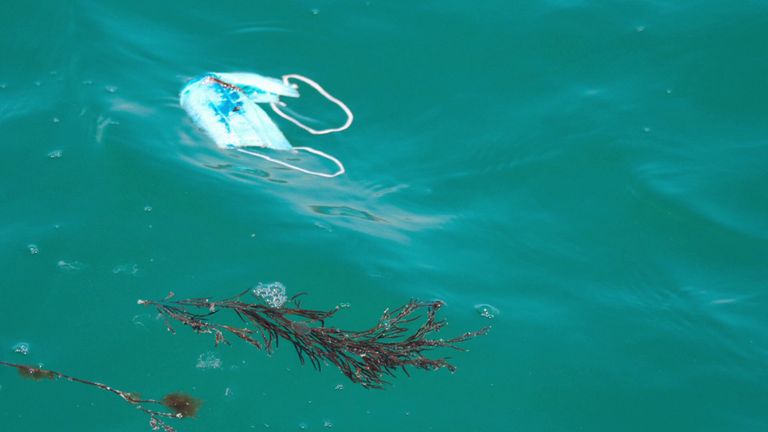 Jeremy Darroch, executive chairman at Sky and WWF-UK ambassador said: "The health of our oceans and climate change are inextricably linked. It is critical that we invest in positive solutions for ocean and climate recovery that help us build back from the global crisis in the right way.
"Four years ago, Sky Ocean Rescue was launched to tackle plastic pollution in our seas but today this report highlights how much more needs to be done to save our oceans and halve the climate emergency."
Sky Ocean Rescue and WWF are working to restore vital carbon sinks and to date have planted over a million seagrass plants.
Sky and WWF have been working together since 2009 in a joint mission to tackle some of the world's most pressing environmental issues, such as the deforestation of the Amazon, restoring and protecting ocean habitats, and the climate emergency.
Sidelined Dr Fauci admits life as Trump's medical adviser was 'uncomfortable' | US News
Chief immunologist Dr Anthony Fauci has returned to the White House under the new administration – and admitted it feels better than the old days.
After former president Donald Trump continually contradicted and sidelined him, President Joe Biden has placed the infectious diseases expert firmly front and centre of his new COVID strategy – and asked him to address the World Health Organisation on its details.
And at his first press conference under the 46th president today, Dr Fauci admitted life under the new regime was "liberating".
He told the gathered press at the White House that it had been difficult to stand besides former president Donald Trump and hear him talking publicly about when he contracted coronavirus and took hydroxychloroquine – a drug experts had warned could be dangerous.
On another occasion Mr Trump suggested drinking disinfectant might be a suitable treatment.
He made what appeared to be a couple of veiled jokes at the start of the press conference alluding to the fact that he preferred life under the new president to the old days – and one American journalist couldn't resist asking him to elaborate.
Hesitantly, he asked Dr Fauci if he could explain the "difference" between the two experiences and to clarify what he had been joking about.
But Dr Fauci laughed: "You say they were jokes – they weren't. I was serious!"
He went on: "It's very clear that there were things that were said – be it regarding hydroxychloroquine and other things like that – that was uncomfortable because they were not based on scientific fact.
"I take no pleasure at all of being in a situation of contradicting the president. It was really something you didn't feel you could actually say something and there wouldn't be repercussions.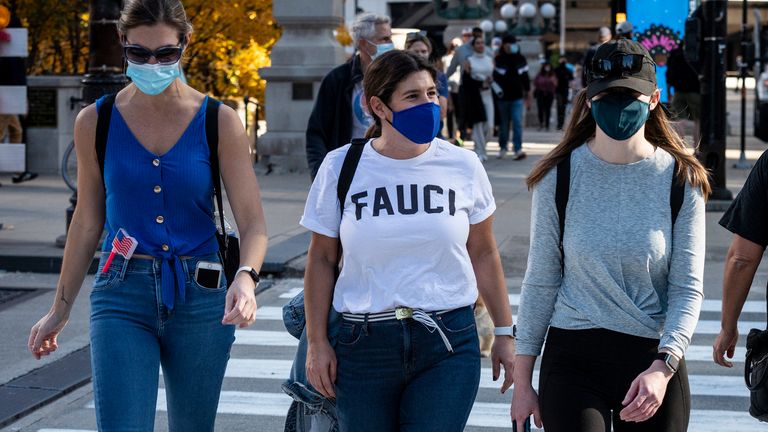 "The idea that you can get up here and talk about what you know, what the evidence, what the science is, and know that's it, let the science speak…it is somewhat of a liberating feeling."
President Biden has outlined a series of executive actions to combat the disease as the US braces for its death toll to reach 500,000 lives lost.
One of his new rules, is the requirement to wear a mask and social distance in all federal buildings, on federal lands and by federal employees and contractors.
All White House staff were wearing masks today.
Amanda Gorman felt 'enormous responsibility' to reflect on US Capitol riots in inauguration poem | World News
Young poet laureate Amanda Gorman has said she felt an "enormous responsibility" to reflect on the violent US Capitol riots in her six-minute poem for the presidential inauguration.
The 22-year-old Harvard graduate took the world by storm with an electric reading of her poem entitled The Hill We Climb as new president Joe Biden was sworn in on Wednesday.
Speaking to NBC News' Lester Holt following the inauguration, Ms Gorman said she knew she had to reference the 6 January events in order to "re-purify" the idea of the United States.
She said: "I had around three minutes of the six minute poem done when the 6 January event occurred, and it was kind of like a bombshell went off in my brain."
She added: "On the one hand there was this moment of horror and disgust of what was happening, but then I felt an enormous responsibility to say 'okay, this is occurring, what am I going to do about it?'
"And even more importantly, 'what am I going to write?'"
Ms Gorman, who woke up a superstar on Thursday and topped Amazon's best seller list for her debut poetry collection, continued: "I definitely tried to weave through that type of understanding and reconciliation with this event in the poem, that is to say that I wanted to use the words to re-sanctify a space and a building that had been violated.
"I wanted to use my words to kind of re-purify this idea of the United States, which we had seen so tainted via violence."
Ms Gorman, the youngest inaugural poet in US history to mark the transition of presidential power, joining the likes of a very select few before her including Robert Frost and Maya Angelou, offered a hopeful vision for a deeply divided America on Wednesday.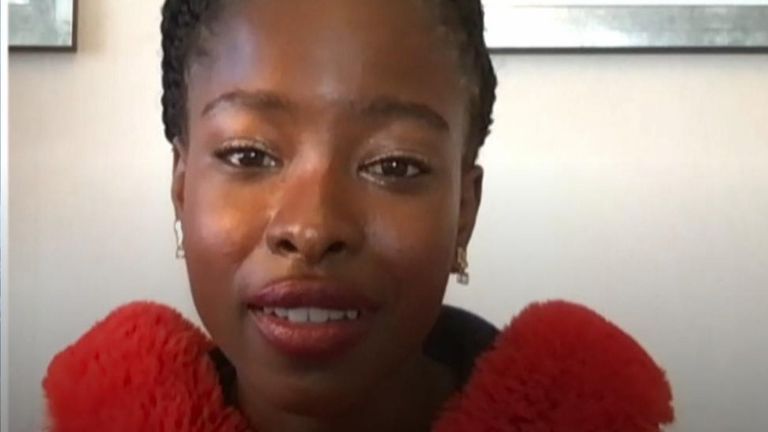 "Being American is more than a pride we inherit. It's the past we step into and how we repair it," Ms Gorman said on the Capitol steps just two weeks after a mob laid siege and following a year of global protests for racial justice.
"We will not march back to what was. We move to what shall be, a country that is bruised, but whole. Benevolent, but bold. Fierce and free."
Her performance won instant acclaim from people across the country and political spectrum, from the Republican-backing Lincoln Project to former President Barack Obama and his wife Michelle.
Former first lady and US presidential candidate Hillary Clinton tweeted: "Wasn't @TheAmandaGorman's poem just stunning? She's promised to run for president in 2036 and I for one can't wait."
TV host Oprah Winfrey also applauded her, tweeting: "I have never been prouder to see another young woman rise! Brava Brava, @TheAmandaGorman! Maya Angelou is cheering-and so am I".
The recent university graduate, who has seen her social media following boom since inauguration day, says she overcame a speech impediment in her youth, before becoming the first US National Poet Laureate in 2017.
COVID-19: The nightmare of one father as coronavirus hit his family | UK News
Imagine being told to prepare for the worst: your pregnant partner and the unborn baby inside her, are unlikely to survive. 
That is exactly what Tommy Larkins was told.
The young father rushed his wife Elsa to Kingston Hospital just after Christmas.
She was critically ill with COVID-19.
Elsa is just 34 years old. She has no underlying health issues – but she was heavily pregnant.
"It was a life-threatening situation for her and our unborn baby.
"It was terrifying, the most terrifying thing I've been through", Tommy tells me. "To potentially lose the pair of them on the same night was terrible.
"I'd never wish it on anybody else."
Once in hospital, Elsa's health deteriorated quickly. She was moved to one of the hospital's two intensive care units.
Here she was put into a coma and intubated and Tommy was told to prepare for the worst.
"She was really sick. I'd been told to say my last goodbye to my other half – and to my unborn baby as well. Your world comes crashing down," he said.
These painful, difficult, heart-breaking conversations are happening all the time.
Rene Coles, a 74-year-old grandmother, has spent a week on one of Kingston Hospital's high dependency wards.
She coughs heavily into the oxygen mask strapped to her face before telling me she has been to hell – and she is not sure she is back.
"I thought I was dead," Rene says. "I've never felt like that in my life.
"For these nurses to get me through it, and the doctors, I cannot believe what they did to me.
"I'm 76 and I have COPD and I still got through – they are marvellous people."
But at one stage it was feared Rene might not make it.
"My daughter was asked to come up the hospital to say goodbye to me with my son because I might be dying," she said.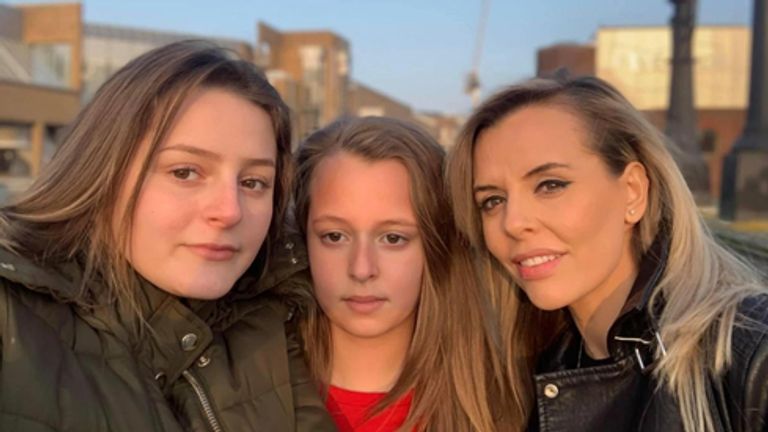 Tommy had the same devastating conversation with the rest of his his family. He broke the news to his young daughters Melisa and Alba.
He told the girls: "Mummy's on a knife edge. I'm sure she is going to be okay, but she's on a knife edge. We all need to hope."
Gags Sekhon, an ICU nurse, was one of the critical care nurses who cared for Elsa.
He said: "Thankfully, we have not seen many pregnant women, but Elsa was particularly sick when she came in.
"She was struggling to breathe. I think the difficulty with that was because she was heavily pregnant.
"The big bump she had was pushing on her lungs. As COVID had infected her lungs she was finding it difficult to breathe anyway and then with the added pressure of baby squeezing on the bottom of her lungs it was making it even more difficult.
"So she did require quite a lot of support all the time she was here."
On 5 January the decision was taken to deliver Elsa and Tommy's baby by emergency C-section: a full two months before the baby was due.
The operation could save Elsa's life but it carried a huge risk.
Tommy said he was "absolutely petrified".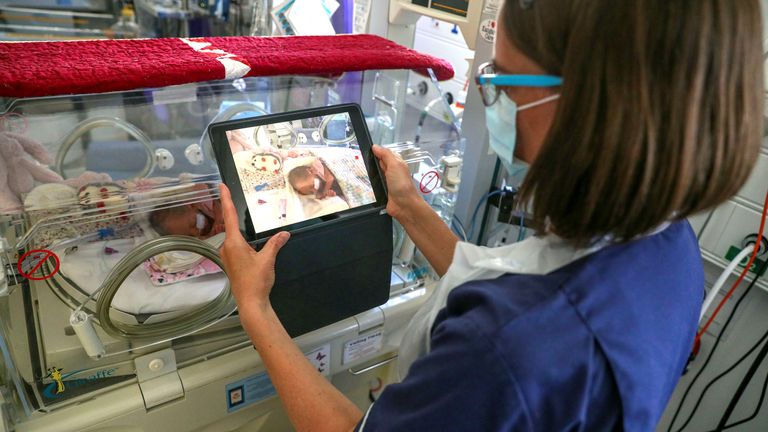 "The baby was due the second week in March. To have an emergency C-section, and a baby potentially born with COVID – it was awful.
"It was all very dark. A horrible place to be in."
The operation to deliver the baby was successful.
Elsa and Tommy's daughter weighs just 1.4kg and needed life support in those first critical few weeks of her birth.
Tommy was allowed to visit his daughter in hospital on compassionate grounds for the first time yesterday but Elsa is still COVID positive and has yet to meet her beautiful, tiny, fragile daughter.
It could be weeks before all three are together.
Tommy said the first few hours were the most difficult. " It was day-by-day, hour-by-hour. She had ups and downs.
"She's tiny and is still tiny. Basically a ventilator the same size as her body attached to her. And seeing her like that is heart-breaking.
"When doctors and clinicians tell you it could be the worse, you could lose everything here, to worry about the kids, to worry about everything, home life, work, everything we had planned, to lose all of that in one fell swoop for everything to be cut short was really difficult.
"To come through and to see that light at the tunnel, it was amazing.
"We still have little way to go.
"Hopefully we will keep pushing forward and she'll keep fighting."
The pandemic baby who survived against all odds has a name.
She's called Florence – a tribute to the nurses and doctors who saved her and her mother's life.