Eight absurd records DeVonta Smith broke in Alabama's national championship season
Alabama receiver DeVonta Smith led the Crimson Tide to a resounding 52-24 victory against Ohio State in the College Football Playoff championship game Monday.  
The Heisman Trophy winner finished with 12 catches for 215 yards and three TDs in the Crimson Tide's win against Ohio State. He set a series of records as a result. The ridiculous part? Smith did all that in the first half before leaving in the third quarter with a hand injury.  
A look at Smith's absurd receiving numbers in the 2020 season:  
CFP records 
Receptions: 12 
Smith broke the record of receptions in a CFP championship game before halftime. Clemson's Hunter Renfrow held the previous record with 10 catches against Alabama on Jan. 9, 2017.
TDs: 3  
Smith broke the record for receiving TDs in a CFP championship game with three TDs in the first half alone. Four different players had two TD catches in the CFP championship game.  
Yards in a half: 215  
Smith put up 215 yards in the first half against the Buckeyes. That broke the record for receiving yards in a half, which was set by Alabama's O.J. Howard – who had 183 yards in the second half against Clemson on Jan. 11, 2016. Smith just missed the single-game record set by Ja'Marr Chase, who had 221 receiving yards against Clemson in last year's CFP championship game.  
Two-game receiving yards: 345 
Smith finished with 345 receiving yards in the two Playoff games against Notre Dame and Ohio State. That broke the record set by Justin Jefferson, who had 333 receiving yards in two games for LSU last season.  
Two-game TDs: 6  
Smith scored six TDs in the College Football Playoff wins against Notre Dame and Ohio State. That tied the record set by Ohio State's Ezekiel Elliott, who scored six TDs in the 2014 CFP.  
SEC records 
SEC receiving yards: 1,856  
Smith set the SEC single-season record with 1,856 yards. That breaks the record set by Chase, who had 1,780 receiving yards last season.  
SEC receiving TDs: 23  
Smith set the single-season record for receiving TDs with 23. Chase scored 20 TDs last season for LSU.  
FBS record
Career receiving TDs: 46 
Smith finished with 46 career TD receptions. That's the most by a Power 5 receiver in FBS history. Oklahoma's Ryan Broyles caught 45 TDs from 2008-11.  
Lil Wayne releases 'Green and Yellow' remix ahead of Packers playoffs push
Packers superfan Lil Wayne has released a remix of his "Green and Yellow" hype track ahead of the Packers' playoff push and — no surprise — it slaps.
Lil Wayne originally released the song with the same title in 2011, days before Green Bay's Super Bowl 45 matchup with the Steelers. In a moment of artistic appreciation — and gamesmanship — he sampled Pittsburgh fan Wiz Khalifa's song "Black and Yellow" to make the track. Both teams used the respective tracks as their fight songs for the game, but it was the Packers who prevailed, 31-25, to win their first Super Bowl since the 1996 season.
The new rendition includes nods to several Packers legends and players on the team's 2020 roster, including running back Aaron Jones, receiver Davante Adams, offensive lineman David Bakhtiari, tight end Robert Tonyan, linebackers Preston Smith and Za'Darius Smith, safety Darnell Savage — even kicker Mason Crosby.
Lil Wayne also includes several references to quarterback Aaron Rodgers, including his ability to draw teams offside, his penchant for Hail Marys and the State Farm Rodgers Rate commercial.
MORE: Who is Aaron Rodgers? This Packers quarterback is getting an opportunity to host 'Jeopardy!'
Here's the song in all its cheesehead glory:
Lil Wayne discussed his production of the remix in a Friday episode of "Undisputed," saying he spent three days on the song where normally it would take hours — a testament to his Packers fandom:
.@LilTunechi on the theme song he made for the Packers playoff run:

"I want them to hear it and be ready to run through a wall. Me and Coach Matt been cool. I put a lot of time into it. I worked on it for 3 days and I usually don't do that." pic.twitter.com/yd5IkvKSD0

— UNDISPUTED (@undisputed) January 15, 2021
Whether Rodgers and Co. can win another Super Bowl with the "Green and Yellow" song at their back remains to be seen. The Packers (13-3) are the top seed in the NFC playoffs and have the second-best odds (+500) to make Super Bowl 55. They only trail the 14-2 Chiefs (+190).
Green Bay begins its playoff push on Saturday against Jared Goff and the Rams at 4:35 p.m. ET on FOX.
Projecting Josh Allen's next contract with Bills: How much should Buffalo pay QB after rookie deal?
The Bills have seen steady improvement from quarterback Josh Allen ever since they selected him No. 7 overall in the 2018 NFL draft. He came into the league as a wild but highly talented prospect because of his big arm and great athleticism for his 6-5, 237-pound frame.
There was reason to believe Allen could emerge like Cam Newton in his prime, given Buffalo's braintrust of coach Sean McDermott and general manager Brandon Beane's history in Carolina. In his first two seasons, Allen leaned much on his running because of his inconsistency in passing downfield. That made 2020 a crossroads third year for Allen.
During the Bills' 13-3 season, despite a few shaky performances, Allen put it all together as a pass-first QB, with field-stretching go-to wide receiver Stefon Diggs being the final piece. With his standout, MVP-like year, Allen has rewarded the Bills for making significant investments around him on the offensive line, receiving corps and backfield.
Now the Bills should feel a lot more comfortable about rewarding Allen with a lucrative second contract. Here's a look back on Allen's rookie deal and what that now means for how big of a raise he can expect to see:
MORE: Revisiting the Chiefs' 2017 trade up to select Patrick Mahomes
Josh Allen contract details
Allen was slotted in for a fully guaranteed four-year deal of $21.183 million. In comparison, 2018 No. 1 pick Baker Mayfield got $32.682 million from the Browns and No. 32 pick Lamar Jackson got $9.471 million from the Ravens. The Bills also have a fifth-year option for 2022.
Allen earns an average annual salary of $5.295 million. For 2020, he's making a total of $5.867 million when combining base salary, the even split of his signing bonus and roster bonus. In 2021, he's set to make $6.91 million.
With No. 3 pick Sam Darnold and No. 10 pick Josh Rosen as non-factors and Mayfield turning into more of a caretaker in Cleveland, Allen figures to be at least the second-highest paid QB from the class after Jackson going forward. Jackson, with league MVP on his resume from Year 2, currently deserves that jump over Allen.
Josh Allen's second contract projection
Assuming there's no major third-year regression from Allen after his strong start, he should get locked up long-term in the summer of 2021, the way the Chiefs took care of Patrick Mahomes and the Texans extended Deshaun Watson right before the 2020 season.
Mahomes set a new bar with an average annual salary of $45 million over 10 years, along with $63 million guaranteed at signing as part of more than $141 million in total guarantees. Watson averages $39 million on his four-year deal that came with more guaranteed at signing, $73.7 million as part of more than $110.7 million in total guarantees in relation to his shorter contract duration.
When projecting Jackson's contract with the Ravens, there's good reason to match Watson in terms of length of contract, only with more guaranteed at signing and a higher percentage of total guarantees. In terms of average annual salary, look for Jackson to make between $40 and $43 million.
MORE: What if the Bills had drafted Patrick Mahomes in 2017?
Should Jackson slot in between Mahomes and Watson, as expected, where does that leave Allen? Really, should Allen build on his elite early play to either succeed Jackson as the best QB in the 2018 class, or even better, succeed Mahomes as Super Bowl MVP, he could command the second-highest average annual salary at the league's highest-paid position.
At this point, with Allen turning the corner in his career, he shouldn't feel bad if his play in relation to Mahomes, Watson and Jackson gets him "only" into Russell Wilson's four-year neighborhood of $35 million per season, $70 million guaranteed at signing and $107 in total guarantees.
Based on the rising market values for young, successful first-round QBs as they exceed expectations on their initial bargain contracts, Allen was well behind but is catching up fast. His next deal will come with a high Wilson-like floor, but it can't be ruled out for him getting right under the Mahomes ceiling, depending on whether he can finish the season even stronger than he started it.
Dest, Cannon, Reynolds: How USMNT's position of weakness became a strength
Steve Cherundolo is one of the best players American soccer has ever produced.
However, 'The May or Hannover', as he was affectionately known due to his long career with the Bundesliga club, was among the most underappreciated members of the U.S. men's national team.
His importance only became more apparent in the years that followed his retirement from international football in 2012, because the U.S. struggled to replace the right-back.
For years, the USMNT simply made do, shifting players to fill the gaps amid a revolving door of new faces coming in and out of the team.
But that is changing. What was once a position of weakness is now arguably American soccer's biggest strength. For the first time in recent memory, there's not just one top-level fullback in the U.S. player pool; there are several.
There's Sergino Dest at Barcelona, a Swiss Army knife that can feature on either side. There's Reggie Cannon at Boavista, a player bound for higher levels of the game sooner or later. There's Antonee Robinson, starting at Fulham, and Bryan Reynolds, the soon-to-be Juventus signing who will have his say at one point or another
And they're not the only ones. Suddenly, the U.S. has legitimate depth at outside back.
"Sometimes, it's a generational thing, but a lot of times, it's just timing," Cherundolo said when asked about how his old position suddenly became one of strength. 
"I wouldn't use the word luck. I just think it's maybe a combination of, when a position opens on a national team, a lot of players gun for that position, and some players adapt to that position.
"It's a number of things coming together at once. And it's great that things don't happen like clockwork."
This coming together follows years of difficulties out wide. At the 2014 World Cup, the last one the U.S. participated in, converted wingers Fabian Johnson and DaMarcus Beasley were the primary fullbacks. Those two very much remained in the picture in the following years, while Graham Zusi, Tim Ream and Matt Besler were converted to play out wide at one point or another.
Players like Jorgen Villafana, Justin Morrow and Eric Lichaj were also involved, but none truly shined like the current crop. The one player who really stood out was DeAndre Yedlin, who earned a Premier League move after going toe-to-toe with Eden Hazard at the 2014 World Cup.
But none have locked down the position as steadily as Cherundolo, who currently works as a youth coach for the German federation and is charged with helping educate the next generation of stars. Most of German soccer's top players call the Bundesliga home, at least at the start of their career, and that gives clubs in big countries an advantage.
"One of the challenges the U.S, national team has is that we have players in Europe, we have players all around the world," Cherundolo said. "And one of the advantages, maybe, the DFB has or the [English] FA has is that you have all of your top talents already playing in your country.
"It's very easy to keep tabs on clubs, moving forward to say, 'Hey listen, we need an outside back, maybe we can push this player', and that's something that the U.S. national team has always battled. It's always been difficult. So, I think these generational gaps are only natural because one half of our team plays on the other side of the globe and one half plays in the States."
Knowing that, the USMNT's current core of right-backs is, for lack of a better word, astounding. Dest, Cannon and Reynolds aren't anywhere near the primes of their careers and are already playing at or headed to the highest level.
And, as the saying goes, a rising tide lifts all boats. Julian Araujo, who started on the right in a December win over El Salvador, has been linked to Tottenham and Juventus in recent weeks as teams overseas are beginning to eye America's top defenders more and more.
Yedlin, at just 27, is the elder statesman of this group. Just a month or two ago, it appeared Yedlin was pretty far out of the picture at Newcastle but, in recent weeks, he has battled back, pushing his way back into Steve Bruce's starting XI in the Premier League.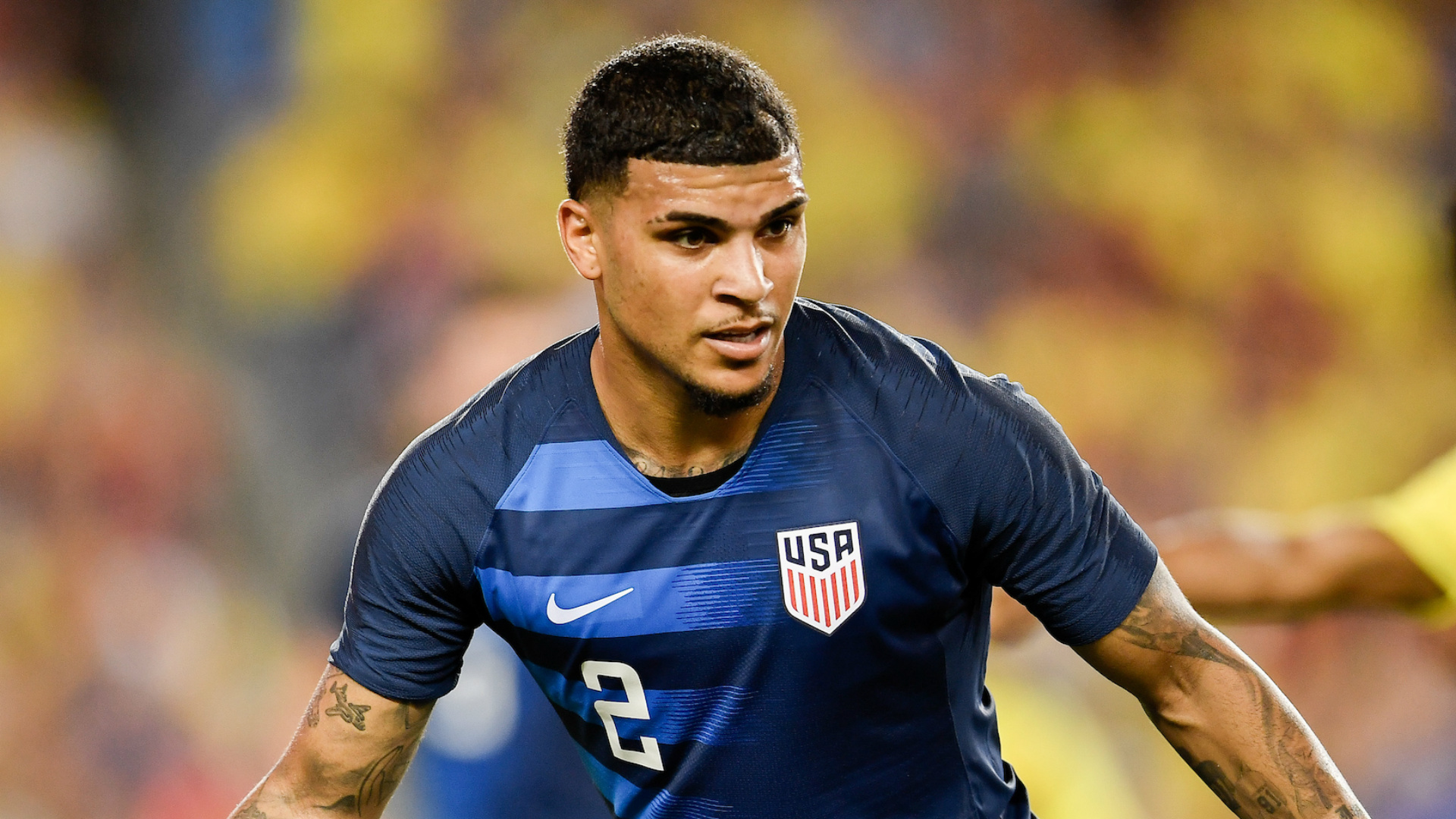 With his contract set to expire this summer, Yedlin's future remains uncertain, but his performances over this last month have served as evidence that he still may have a part to play, even if it is just as a game-changing super-sub due to his still-electric pace. 
Left-back, meanwhile, isn't quite as strong. Robinson is the front-runner, having been a bright spot for Fulham this season, while Dest may shift out to that side given the depth on the right. Sam Vines, who started against El Salvador, is a young option as well, at just 21.
While there are certainly more names on the right than the left, there are still plenty of options to choose from when it comes to arranging this puzzle, and virtually all of them are Olympic-eligible, which is very good news for U.S. U-23 boss Jason Kreis.
"I'm a little unsure of how it could have all happened at the same time, as far as fullback is concerned… I look at it a little bit more globally and say that that the amount of young super, super high potential players that have been produced in our soccer system right now is fantastic," Kreis said.
He added: "I think that we've done a lot of complaining over the past, however long it is, about lack of development and lack of good coaches in our country, et cetera, so I think, when we can, we need to take a moment and say all of the people out there that have been involved in our youth development program have done an amazing job, in my opinion, to get all of these players to the level they're at right now."
With several of these top fullbacks playing at top clubs, Cherundolo says they already do have one advantage on players like him.
During his time at Hannover, Cherundolo's teams were never among those competing at the top of the Bundesliga. Instead, they were more often the team fighting to survive. And, with that, comes a more defensive style of play.
With the USMNT, though, fullbacks will need to be attacking more often than not. Aside from a few big games a year, the U.S. will almost always be on the front foot, especially in World Cup qualifying.
Having that extra player in the attack that can make something happen could be the difference between escaping Central America with extra points or being left out of the World Cup fun altogether like in 2018.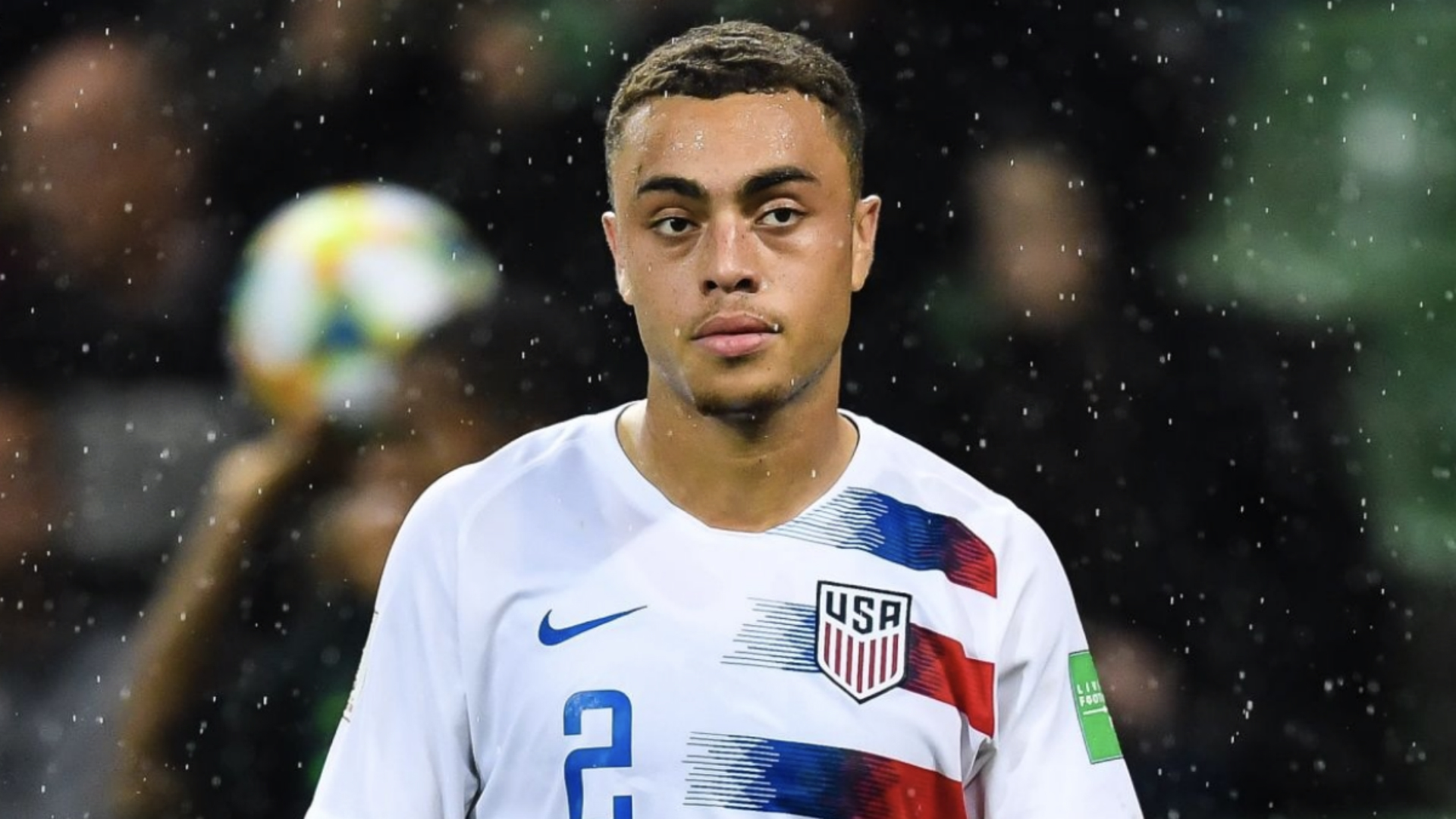 "My job as an outside back was mostly defensive," Cherundolo explained, "and going into the national team, aside from playing in World Cups, playing against Mexico and friendlies in Europe, it's mostly offensive.
"It's really a very different position. I think it's unique for outside backs in the United States for the U.S. national team because you're going to need those more offensive players. I know Gregg [Berhalter, USMNT head coach] and how he wants to play.
"You look at Sergino Dest, who grew up in Holland, his soccer career in Holland playing for Ajax, it's certainly a very offensive way to interpret that position. It fits in perfectly with the U.S. national team."
Fullback isn't the USMNT's only strength. You only have to turn on the Champions League to see players like Christian Pulisic, Gio Reyna, Weston McKennie and Tyler Adams starring at the highest level the game has to offer. 
But the rise of the American fullback has been particularly sweet given the struggles of years past. For years, the U.S. has been crying out for a Cherundolo replacement, and they'll have a few to spread around during a loaded 2021 with World Cup qualifiers, the Gold Cup, Nations League and the Olympics all on the schedule.
"Looking back on my own career, I didn't think I was a complete player until I was 31," Cherundolo said, "where I was physically still able to run with the best, but mentally and tactically I had kind of seen everything and I was mentally ready for everything. My best soccer was played when I was 31, so sometimes these things take time."
Robinson is 23. Cannon is 22. Dest is 20. Reynolds? Just 19. Time is very much on the USMNT's side.
After waiting nearly a decade to find an heir apparent, it appears there are now several ready to set a new standard in the decade to come.