Donald Trump impeached for historic second time over deadly riots at US Capitol | US News
President Donald Trump has been impeached for a historic second time after the House of Representatives secured enough votes to charge him.
A total of 10 Republicans voted against their party and Mr Trump, with the final result being 232 votes to impeach, and 197 against.
He is the first US president to be impeached twice, after he was previously charged over his calls with Ukrainian President Volodymyr Zelensky.
Mr Trump has been charged with inciting an insurrection following the deadly riots at the US Capitol on 6 January.
Mr Trump did little to condemn the riots as they took place, nor in the immediate aftermath, but in recent days has attempted to ease tensions.
In a recorded statement from the White House after the impeachment vote, Mr Trump said "there is never a justification for violence".
"If you do any of these things, you are not supporting our movement," he said, as he pledged that those involved in the riots would be "brought to justice".
He did not mention his impeachment during the five-minute clip, saying the country's focus "must be on advancing the interests of the whole nation".
The scenes at the Capitol left him "shocked and saddened", he said, describing the violence as a "calamity".
The 10 Republicans who voted for impeachment were: Anthony Gonzalez of Ohio, Peter Meijer of Michigan, Fred Upton of Michigan, Liz Cheney of Wyoming, John Katko of New York, Adam Kinzinger Illinois, Tom Rice of South Carolina, Jamie Herrera Beutler of Washington, Dan Newhouse of Washington and David Valadao of California.
But a Senate trial will not be imminent, with majority leader Mitch McConnell saying that is not enough time for a "fair or serious trial" to take place before Joe Biden is sworn in.
He said: "The House of Representatives has voted to impeach the President. The Senate process will
now begin at our first regular meeting [19 January] following receipt of the article from the House."
Mr McConnell added: "The President-elect himself stated last week that his inauguration on January 20 is the 'quickest' path for any change in the occupant of the presidency.
"In light of this reality, I believe it will best serve our nation if Congress and the executive branch spend the next seven days completely focused on facilitating a safe inauguration and an orderly transfer of power to the incoming Biden administration."
NEW: Senate Majority Leader McConnell statement:

"Given the rules, procedures, and Senate precedents that govern presidential impeachment trials, there is simply no chance that a fair or serious trial could conclude before President-elect Biden is sworn in next week." pic.twitter.com/pZ1t4Left6

— NBC News (@NBCNews) January 13, 2021
Mr Trump gave a speech ahead of the unrest last week to his supporters, who went on to storm the seat of Congress.
The Senate will now hold a trial to establish whether Mr Trump is guilty and if he should be removed from office – this will require a two-thirds majority.
They can also vote to ban Mr Trump from standing for election ever again – which only requires a simple majority (50% + 1).
The leader of Senate Democrats, Chuck Schumer, has said that he will pursue a vote to ban Donald Trump from running for office should the senate convict the president.
Since the riots, the president has been banned from most social media – including Twitter, Facebook and YouTube – and there has been little communication from the White House.
But he did release a Twitter-esque statement via the White House press secretary ahead of the impeachment debate, saying: "In light of reports of more demonstrations, I urge that there must be NO violence, NO lawbreaking and NO vandalism of any kind.
"That is now what I stand for, and it is not what America stands for. I call on ALL Americans to help ease tensions and calm tempers. Thank You."
Speaking on Tuesday, Mr Trump said: "If you read my speech [from before the riots], and many people have done it and I've seen it both in the papers and in the media, on television, it's been analysed and people thought that what I said was totally appropriate."
"Everybody to a tee thought it was totally appropriate."
COVID-19: UK to look 'very carefully' at vaccine dosing after concerns raised over level of protection | Politics News
The UK will need to look "very carefully" at the protection provided by the first dose of the Pfizer/BioNTech vaccine, the government's chief scientific adviser has told Sky News, amid concerns its effectiveness is significantly lower than had been found in trials.
Sir Patrick Vallance said the government would "just need to keep measuring the numbers" as the vaccine is rolled out across the UK.
Live COVID news from UK and around the world
Answering questions from Sky News viewers, Sir Patrick was asked about an analysis from Israel, where the Pfizer jab has been rolled out the fastest.
That study suggested the effectiveness of the vaccine after a single dose was as low as 33% – rather than the 89% that had initially been thought.
The 89% figure – pointing to high short-term protection – was used to help justify the UK's decision to delay giving a second vaccine dose to people for up to 12 weeks, as part of a push to get as many people as possible in the UK vaccinated with an initial first dose.
Sir Patrick said: "We need to look at this very carefully, we just need to keep measuring the numbers."
He admitted that "in practice" the protection provided by one dose of a Pfizer vaccine probably won't be as high as 89%, but he pushed back against the suggestion it could be as low as 33%.
"What we know from a clinical study is… if you take everything from day zero, the moment you get the vaccine, to day 28 then the overall figure is something like 50% protection," Sir Patrick said.
"But, of course, you don't expect to get any protection in the first 10 days, because it hasn't had a chance for the immune system to build up.
"And some people may have been infected before they had the vaccine.
"So, if you take from day 10 up towards day 21 and beyond, then it looks much more like the 89% figure that the Joint Committee on Vaccination and Immunisation said.
"That's the clinical trial data and we also know that when you get into real world practice, things are seldom quite as good as clinical trial.
"So I think the 89% or so is the figure you see post-10 days, so that's the basis of the recommendation.
"It probably won't be as high as that in practice, but I don't think it will be as low as the figures you've just given."
Sir Patrick said the UK would get more "real world" data from both Israel's and the UK's vaccination programme over the coming weeks to "get a better handle on exactly how effective this is in the real world, rather than in the conditions of a clinical trial".
But he stressed it was "quite important not to assume this protects in the first 10 days, because it doesn't".
Scientists in Israel studied preliminary data from 200,000 vaccinated people.
Professor Ran Balicer, who works for the largest health care provider in Israel and who is an adviser to the World Health Organisation, told Sky News there was "no difference" between infections of vaccinated and unvaccinated people until 14 days after a Pfizer jab.
But he added that, on day 14 after vaccination, "a drop of 33% in positivity was witnessed in the vaccinated group and not in the unvaccinated".
Prof Balicer said the data did not show an 89% reduction in positivity rates, but said further data and analysis would be provided after being peer-reviewed.
Israel is providing a second dose of the Pfizer vaccine at three weeks, which Prof Balicer said means it is "impossible" for them to analyse the impact of not providing a second dose for a longer period of time.
Donald Trump issues flurry of pardons as he leaves office | US News
Former White House adviser Steve Bannon and rapper Lil Wayne are among the people being pardoned or granted clemency by Donald Trump in the final hours of his presidency.
The outgoing president granted clemency to 143 people on Wednesday.
Wayne pleaded guilty last month to possessing a loaded, gold-plated handgun on a private flight in 2019. He faces a sentence of up to 10 years in prison at a hearing next week.
Biden inauguration: Watch and follow events on Sky News from 1pm, with the ceremony starting at 4pm
The president met the rapper during his election campaign last year, with the artist later praising some of Mr Trump's policies such as proposed justice reforms.
Controversial former White House adviser Bannon, who was fired by Mr Trump, has also been granted clemency.
"Bannon has been an important leader in the conservative movement and is known for his political acumen," the White House said in a statement.
He was charged last year with swindling Trump supporters over an effort to raise private funds to build the US-Mexico border wall, and pleaded not guilty.
Bannon was appointed chief executive of Mr Trump's successful presidential campaign in 2016, leaving his role at conservative website Breitbart News.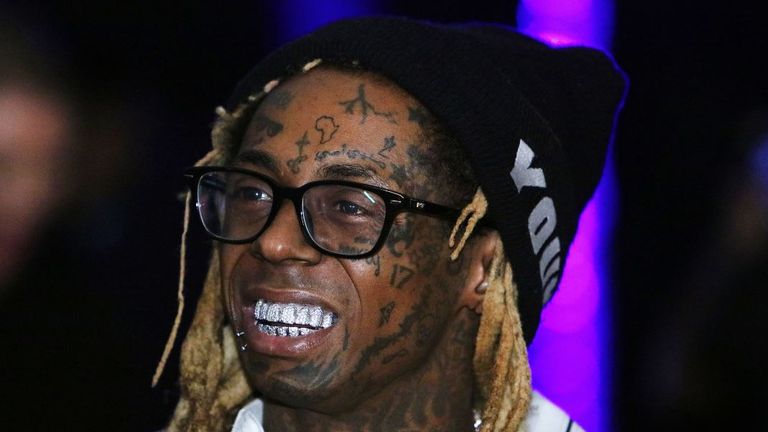 He became chief strategist for Mr Trump after his inauguration, but clashed with others in the White House and was pushed out in August 2017.
Bannon was recently banned from Twitter after he called for the beheading of top government doctor Anthony Fauci and FBI director Christopher Wray.
Others reportedly among the dozens of people being pardoned are Kodak Black – a rapper also sentenced over weapons charges, and former Detroit mayor Kwame Kilpatrick who is seven years into a 28-year sentence for corruption and racketeering.
Mr Trump has previously pardoned several of his closest confidantes such as Michael Flynn, the former national security adviser who lied to the FBI, and commuted the prison term for Roger Stone – who was convicted of lying to Congress during its probe into Russian interference in the 2016 election.
Super Bowl LV: First woman official chosen for showpiece American Football game | US News
A woman will officiate at next month's Super Bowl for the first time, the NFL has announced.
Sarah Thomas, 47, will be a down judge at the world's biggest annual sporting event.
"Her elite performance and commitment to excellence has earned her the right to officiate the Super Bowl.
"Congratulations to Sarah on this well-deserved honor," said NFL executive vice president Troy Vincent.
Ms Thomas became the league's first full-time female official in 2015, making her regular season debut in September that year.
She will join a male-dominated staff of officials for the big game in Tampa, Florida, on 7 February.
Home town side Tampa Bay Buccaneers are due to play Green Bay Packers for a place in the game, while their opponents will be either Buffalo Bills or defending champions Kansas City Chiefs.
NFL bosses have yet to reveal how many fans will be able to attend due to the coronavirus pandemic.
Reports have suggested it could be around 20%, with fans sitting in groups and having to wear masks.
The half-time show comes from Canadian singer The Weeknd.