Donald Trump impeached again – but what does it mean this time? | US News
Donald Trump has become the only US president to be impeached twice.
He was first impeached by the Democratic-led House of Representatives in December 2019 on charges of abuse of power and obstruction of Congress over his dealings with Ukraine about political rival Joe Biden.
The 45th president was acquitted by the Republican-led Senate last February and remained in power. So how will this time be different?
What is impeachment?
A misconception about impeachment is that it refers to the removal of a president from office.
In fact, it refers only to the House of Representatives, the lower chamber of Congress, bringing charges that a president engaged in a "high crime or misdemeanour".
A majority of the House's 435 members approved bringing charges, known as "articles of impeachment".
What "high crime and misdemeanour" is Mr Trump accused of?
House Democrats accused the 74-year-old president of inciting the "lawless action" that took place at the Capitol on 6 January.
10 Republicans joined Democrats in voting for the articles of impeachment, charging him with "incitement of insurrection".
What happens now the House has voted to impeach?
The process will move to the Senate, the upper chamber.
A two-thirds majority of the Senate is needed to convict him, meaning at least 17 Republicans in the current make-up of the 100-member chamber would have to vote for conviction.
House Speaker Nancy Pelosi has already named nine "impeachment managers", who would present the House's case for impeachment during a Senate trial.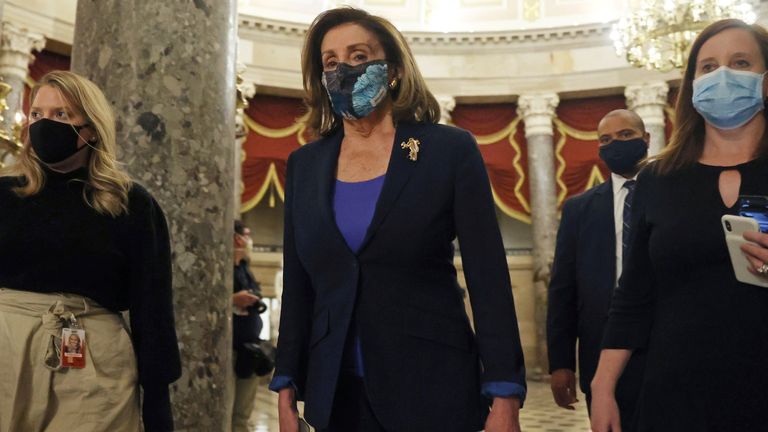 The top Senate Republican, Mitch McConnell, has said the earliest a trial could begin is 20 January – the same day as the inauguration of Mr Biden as the next president.
Mr McConnell said the chamber is in recess until then. To start earlier, all 100 Senators would need to vote in favour of doing so.
Senate Democratic Leader Chuck Schumer is exploring using emergency authority to reconvene the Senate before, but such a move would require Mr McConnell's approval.
Impeachment experts said the Senate is free to set its own rules, and could hold a trial in a single day if it wanted to.
How is it different to the first impeachment in 2019?
While Mr Trump's first impeachment was related to his connections with Ukraine, this time it involves a domestic attack on the Capitol in Washington DC.
He is accused of inciting thousands of his supporters to storm the seat of Congress, forcing lawmakers who were certifying Democratic President-elect Joe Biden's election victory into hiding.
The violent assault on a symbol of American democracy which left five people dead is the first time a president has been accused of inciting violence against another branch of government.
In December 2019, the House voted to impeach Mr Trump mainly on party lines, approving a first article, abuse of power, 230-197. The second article, obstruction of Congress, was approved 229-198.
That impeachment came 85 days after the announcement of the inquiry against Mr Trump.
In the Senate trial, the president was cleared of abuse of power by 52-48 votes. He was also cleared of obstruction by 53-47 votes.
How long could the Senate trial take as part of the latest proceedings?
It is not known.
From Mr Trump's impeachment on 19 December 2019, it took 48 days to reach his acquittal the following February.
This second impeachment might actually take longer because Mr Trump will not be in office when the trial is likely to start with Mr Biden needing some of the Senate schedule for votes on new legislation and Cabinet nominees after he becomes president.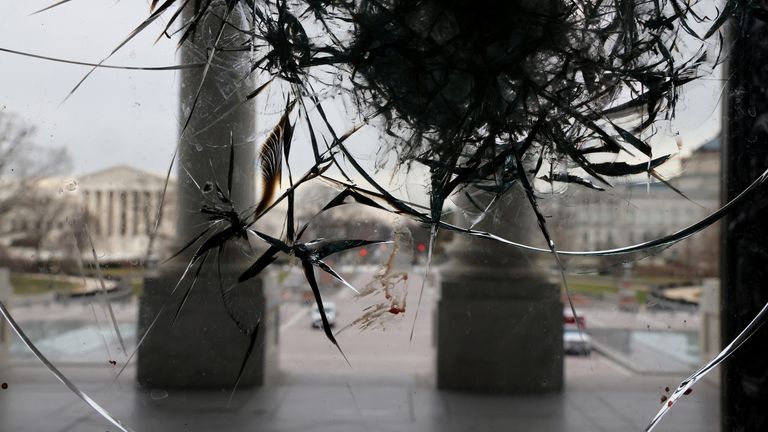 Why have an impeachment trial if Mr Trump is just days from leaving office?
Impeachment cannot only be used to remove Mr Trump from office – but also to disqualify him from running again in the future.
Two historical precedents, both involving federal judges, make clear that only a simple majority of the Senate is needed to disqualify the president from holding office again.
And some believe that even if the Senate does not convict the president, senators could hold a second, separate vote to prevent him from holding future office.
A simple majority of the 100 members would be needed to block any future bid by Mr Trump.
But other legal experts claim the Senate could only prevent Mr Trump from holding office if it first votes to convict him in the impeachment trial.
It means Democrats, who will take control of the Senate later this month, have a realistic chance of barring Mr Trump from running for president in 2024.
It comes as some sources in Washington DC continue to claim that Mr Trump is considering running for president in 2024.
Democrat representative Ilhan Omar says the process is important to set a precedent.
She said: "What we do today will matter for the rest of this nation's history."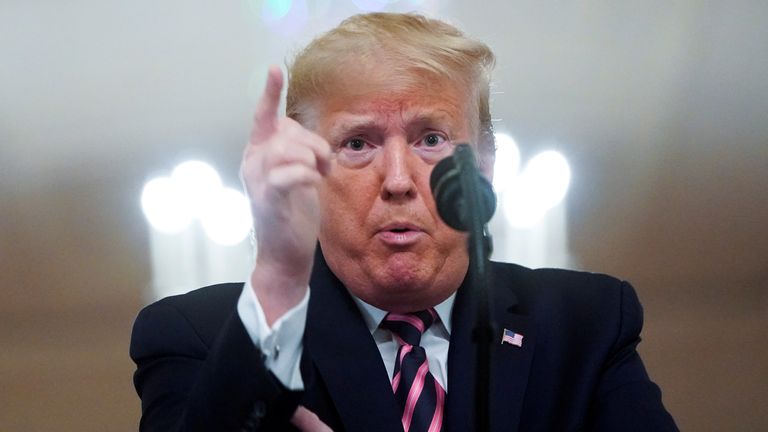 Will he keep his benefits?
When a president leaves office, they are entitled to a range of benefits at the expense of the taxpayer – including a pension thought to be about $200,000 a year, an annual $1m for travel expenses, and money for staff.
However, the 1958 Former Presidents Act states these perks are not available for anyone removed from office after being impeached.
So whether Mr Trump is convicted and removed by the Senate – even after he leaves – could have ramifications for him politically and financially.
Could he be prosecuted for his role in the US Capitol riots?
As impeachment is not a legal proceeding, there is no chance of double jeopardy – meaning Mr Trump could still be prosecuted for the same acts that saw him impeached.
Archie Lyndhurst: CBBC star died from brain haemorrhage, mother confirms | Ents & Arts News
Archie Lyndhurst, the son of Only Fools And Horses actor Nicholas Lyndhurst, died from a brain haemorrhage, his mother has confirmed.
The 19-year-old died in his sleep at his home in Fulham, west London, on 22 September.
Lucy Lyndhurst shared the results of her son's second post-mortem on Instagram, writing: "He died from an Intracerebral Haemorrhage caused by Acute Lymphoblastic Lymphoma/Leukaemia."
Calling the details of the report "harrowing", she said it was "not leukaemia as we know it" and that in medical terms, acute meant "rapid".
An intracerebral haemorrhage is caused by bleeding on the brain, causing a stroke.
She also explained that the doctor had found "numerous bleeds on the brain" and that "Archie wouldn't have been in any pain as it happened in his sleep".
As Archie had shown no signs of illness, and his death was due to natural causes, she said there was nothing that could have been done to prevent his death.
Early reports following his "unexplained" death said he had died following "a short illness".
His mother described the effect of Archie's death on the family as "catastrophic", calling him "an extraordinary magical human being", "an old soul" and "incredibly advanced for his years".
An only child, she said that she and Nicholas Lyndhurst were "grateful and privileged to have been chosen to be his parents".
Archie's father famously played Rodney Trotter, the hapless younger brother of Sir David Jason's Del Boy, in Only Fools and Horses.
Archie had been dating his So Awkward co-star Nethra Tilakumara, whom his mother called "the love of his life", and had celebrated her birthday with her just days before his death.
Lucy also shared a series of photos of Archie, showing him as a child, and later as a successful actor, as well as relaxing with his girlfriend.
Calling life "fragile, precious and sometimes incredibly cruel", his mother said "to lose a child is every parent's nightmare", adding that she "wouldn't wish this pain on anyone".
She signed off her post: "Our darling boy, we love you forever and ever and thank you every day, for every beautiful memory we have. We will celebrate you always. All our love. Mama and O.M."
Subscribe to the Backstage podcast on Apple Podcasts, Google Podcasts, Spotify, Spreaker
Archie's funeral took place in a "tiny chapel" in November, his mother confirmed in an earlier message.
Archie trained at the Sylvia Young theatre school, and was best known for playing Ollie Coulton in CBBC comedy So Awkward.
He had also appeared in hospital drama Casualty and in Jack Whitehall comedy Bad Education.
COVID-19: Town's rapid coronavirus testing centres close as snow sweeps across parts of England | UK News
All three rapid COVID testing centres in Luton have been shut because of snow in the area, the council has said, while other parts of England have also woken up to snowfall.
Confirming the decision on Twitter, the council said it would be closing the centres "for the safety of the public and our staff".
But social media users have complained of a lack of snow, with some branding the council's move "utterly embarrassing".
"Just been to the shop….more 'snow' in a snow globe!!!" wrote one Twitter user, while others said closing the testing sites was a "bizarre decision".
Luton had a rate of new COVID cases in the seven days to 11 January of 808.3, according to Public Health England data. That was down from 961.7 on the previous week.
It comes after the Met Office warned that parts of southeast England and East Anglia will continue to see further snow on Saturday, with between 2cm and 4cm falling over the coming hours.
An amber snow alert was put in place for the east of England until 2pm, with yellow snow warnings for the South East until 8pm.
A further yellow snow and ice warning has been issued in a band stretching from the Midlands to the top of Scotland until 6pm on Saturday.
The Met Office said there was a likelihood of "delays or cancellations to rail and air travel, possible travel delays on roads stranding some vehicles and passengers".
COVID-19: India begins vaccine roll-out and aims to administer 300 million jabs by August | World News
India has began its ambitious project of vaccinating its 1.3 billion citizens – as it aims to administer 300 million jabs by August.
Prime Minister Narendra Modi launched the voluntary vaccination programme at 3,006 locations across the country this morning.
About 300,000 health workers will be vaccinated today and the numbers will increase as more capacity is enhanced every week.
In the first phase, vaccines will be given to 30 million health and frontline workers for free.
In its second phase 270 million citizens over the age of 50 and those under 50 with other health problems will be vaccinated.
There is an air of relief and optimism at the Rajiv Gandhi Super Speciality hospital as the first beneficiaries line up for the jab.
There is also relief and celebration by health workers at the Lok Nayak Jai Prakash (LNJP) Hospital in Delhi.
Staff nurse Biji Tony, the first to be vaccinated there, told Sky News: "I am so relieved. It has been a very difficult year, working day and night.
"We've stayed away from family and loved ones. We are human as well. Now all this ends. We are not afraid anymore after we get the second dose."
Dr Suresh Kumar, the medical superintendent at the LNJP hospital, told Sky News: "Today is a historic day and like a festival, we are feeling as if we have won a super world cup.
"But it has come with a lot of struggle. We have lost doctors and staff to the virus. But now we are ready to win the COVID war."
The two vaccines, the Oxford-AstraZeneca's "Covishield" and Bharat Biotech's "Covaxin", were approved for emergency use by the Central Drugs and Standards Committee (CDSCO) on 3 January.
Millions of doses of Covishield, manufactured by the Serum Institute of India at its Pune plant, and Covaxin, produced by Bharat Biotech in Hyderabad, were transported under security to various cities across the nation.
The approval of the latter has raised concerns amongst scientists and epidemiologists as third phase trails are still ongoing and its efficacy has not yet been published.
Prime minister Modi said: "The DCGI (Drug Controller General of India) gave approval after they were satisfied with the data of the two vaccines. So stay away from rumours."
Professor KS Reddy, president of the Public Health Foundation Of India (PHFI) – a non- profit organisation and a watchdog of public health – said: "Ideally at the best of circumstances one should see the phase three trials completed and efficacy data fully evaluated and out in the public domain through scientific publications as well as other scrutiny.
"However in this pandemic situation it was felt that given the large number of persons in India that need to be immunised the potential escalation of the epidemic due to mutants. I think the policy makers have taken the decision, I too wish the trial could have been completed earlier.
"But as far as the safety is concerned it has been adequately proven for Covaxin. But anyone who has doubts of the vaccine need not take it even if it is offered, they can decline it."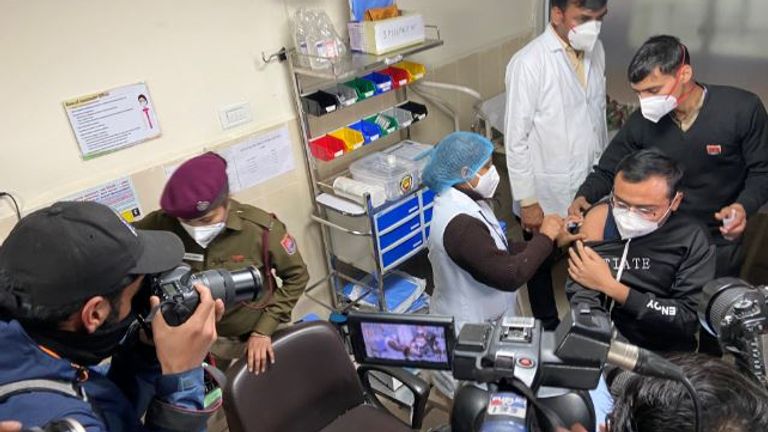 Indian Health Ministry spokesperson Rajesh Bhushan said: "There is no option for recipients to choose which vaccine they want to be inoculated with."
Preparations for these dry runs took place in more than 700 districts across the country with mock transportation and dummy injections by more than 150,000 health staff.
The country has 29,000 cold-chain points, 240 walk-in coolers, 70 walk-in freezers, 45,000 ice-lined refrigerators, 41,000 deep freezers and 300 solar refrigerators for storage.
Immunising a country that is almost 2,000 miles north to south and the same east to west with over a billion people will be a herculean task.
Reaching remote and rural areas where most of India lives and where the infrastructure is wanting will be a challenge.
Added to this is a second jab required to complete the cycle.
And then there are the many summer months where temperatures soar to 40C (104 F) or more in most parts of the country.
It has been a tragic winter for the Sharma household
Deviram Sharma, 65, died within four days of being admitted to a hospital with the virus.
His son Avneesh is donning a PPE suit to perform the last rites at Nigambodh Ghat – the largest Hindu crematorium.
Subscribe to the Daily podcast on Apple Podcasts, Google Podcasts, Spotify, Spreaker
Families have no time for mourning as farewells are hurried and from afar due to restrictions.
Traditional last rites are rushed under the overbearing shadow of the virus, the bereavement a mere formality.
Avneesh told Sky News: "It has jolted our family, it has shaken our roots, even I had to go on medication and am still feeling low myself.
"I hope and pray that this virus is removed through the use of vaccination and others don't have to suffer what our family has gone through."
With more than 10.5 million cases, India is the second worst affected country after the United States.
Almost 152,000 deaths have been reported so far and the need for a vaccine has never been as critical as now.