Donald Trump banned from YouTube over concerns of 'ongoing potential for violence' | US News
Donald Trump has been banned from uploading videos on YouTube "in light of concerns about the ongoing potential for violence", the platform said.
YouTube, which is owned by Google's parent company Alphabet, said it had removed new content from the president's channel late on Tuesday for violating its policies.
Mr Trump will be unable to upload anything "for a minimum of seven days", a spokesperson said.
This means he will not be able to post any YouTube videos to his 2.76 million subscribers before Joe Biden replaces him on 20 January.
The president uploaded eight new videos on Tuesday, including one which saw him telling reporters that "Big Tech had made a terrible mistake" by barring him.
1/ After review, and in light of concerns about the ongoing potential for violence, we removed new content uploaded to Donald J. Trump's channel for violating our policies. It now has its 1st strike & is temporarily prevented from uploading new content for a *minimum* of 7 days.

— YouTubeInsider (@YouTubeInsider) January 13, 2021
2/ Given the ongoing concerns about violence, we will also be indefinitely disabling comments on President Trump's channel, as we've done to other channels where there are safety concerns found in the comments section. https://t.co/1aBENHGU5z

— YouTubeInsider (@YouTubeInsider) January 13, 2021
The YouTube ban follows similar ones by Twitter, Facebook and Instagram, which have all suspended Mr Trump's accounts over fears he may incite further violence following the riots on Capitol Hill last Wednesday.
Google and Apple were also forced to remove alternative website Parler from their app stores this week over concerns the far-right friendly platform may have been used by the president to spread misinformation.
It also comes after US campaign group Stop Hate for Profit threatened to organise a boycott of 1,000 advertisers if YouTube failed to take his account offline.
"If YouTube does not agree with us and join the other platforms in banning Trump, we're going to go to the advertisers," organiser Jim Steyer said.
Mainstream broadcasters in the US also appear to be unwilling to give Mr Trump a platform, after many, including CNN and Fox News, failed to take his speech in Alamo, Texas on Tuesday.
They chose instead to stream the latest hearing in the investigation into the violence that swept Washington DC on 6 January.
More than 170 people are being investigated and 70 have been charged over the rioting and looting of Capitol buildings that took place as Electoral College votes were counted in Congress.
Mr Trump had told his supporters to march to the Capitol, repeating false claims that Mr Biden "stole" the November election.
Elon Musk's Tesla has reinvented the (steering) wheel | Science & Tech News
Tesla has reinvented the steering wheel for drivers of its new Model S and Model X electric vehicles, replacing them with what it believes to be an aesthetically pleasing yoke design.
Described as "the ultimate focus on driving", the stalkless steering yoke is the latest retro-futuristic gambit from Tesla since the somewhat bungled unveiling of the Cybertruck in 2019.
The preview images of the design for its flagship Model S saloon have prompted a mixed response. Some admired the bold decision while others expressed concerns about how it would affect their driving – and some quipped whether they would need to pay extra for the rest of the wheel.
The proverb "if it ain't broke, don't fix it" was never going to be engraved above the entrance to one of Tesla's factories.
It is now the most valuable car maker in the world, having broken most of the rules of how automotive companies should make money.
Tesla ships far fewer units that its major rivals, but this year also managed to report a profit of $721m (£528m) for 2020 compared with a loss of $862m (£632m) a year earlier.
The financial results cap a year in which Elon Musk – who owns 20% of all of the company's shares – overtook Bill Gates to become the world's second richest man, and briefly overtook Jeff Bezos to become the world's first richest, according to one report.
Additional preview images showed the Tesla featuring the game The Witcher III, suggesting the ability to play video games on the car's computers and screens – with a back seat screen also showing a game.
The company's stock has surged by 700% in the past 12 months, taking the company's value to more than $800bn (£586bn) and surpassing Toyota.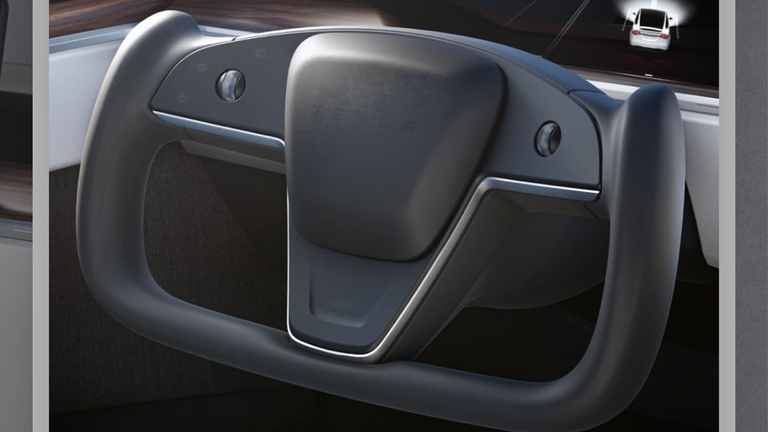 Tesla's bottom line for the year was boosted by $1.58bn (£1.16bn) worth of environmental regulatory credits, which it is able to sell to other less environmentally-friendly car makers – and without these it would have remained in the red.
Still, its delivery of more than 180,000 vehicles during the fourth quarter was a record, though it narrowly missed a target to ship 500,000 for the year as a whole.
Total revenues for the year rose 28% to $31.5bn (£23bn).
COVID-19: Pandemic to cause 'exponential' growth in heart disease | Science & Tech News
The COVID-19 pandemic will cause "exponential" growth in heart disease over the next few years, researchers have claimed.
It is known that COVID-19 can cause heart damage, but the pandemic also means that patients are delaying care for heart attacks and strokes, according to a report published by the American Heart Association.
These issues are compounded by the cardiovascular health risks that are "exacerbated by the lifestyle behaviours that have been prevalent throughout the pandemic", said Dr Salid Virani,
It follows the American College of Cardiology warning cases can cause heart injuries in young children.
Myocardial injuries have been reported in a number of adult patients since the earliest days of the coronavirus pandemic, but there have been assumptions that most children will be asymptomatic of infection.
Studies have found that up to 28% of adult patients hospitalised with COVID-19 have also developed myocardial injuries, although most of these adults had pre-existing cardiovascular disease.
A study from the University of Edinburgh found abnormal changes to the way the heart was pumping in 55% of patients with the virus who were examined with an echocardiogram, with one in seven showing severe dysfunction.
"COVID-19 has taken a huge toll on human life worldwide and is on track to become one of the top three to five causes of death in 2020," said Dr Virani.
"But its influence will directly and indirectly impact rates of cardiovascular disease prevalence and deaths for years to come," he added.
He issued the warning as the chair of the writing committee for the American Heart Association's 2021 Statistical Update, and as an associate professor in cardiology and cardiovascular research sections at Baylor College of Medicine in Houston, Texas.
"The extraordinary circumstances of dealing with COVID-19 have changed the way we live, including adopting unhealthy behaviours that are known to increase the risk of heart disease and stroke," Dr Virani said.
"Unhealthy eating habits, increased consumption of alcohol, lack of physical activity and the mental toll of quarantine isolation and even fear of contracting the virus all can adversely impact a person's risk for cardiovascular health."
He added that the full ramifications of these trends "will likely be felt for many years to come".
LSD breakthrough could enable treatment for autism and social anxiety, research finds | Science & Tech News
Researchers have discovered the mechanism that contributes to the hallucinogenic drug LSD increasing social interactions, potentially unlocking new therapeutic applications.
Lysergic Acid Diethylamide (LSD) became a popular psychedelic drug during the 1960s and is again gaining in popularity, with some young professionals claiming to take micro-doses to enhance their creativity.
Despite rigorous analysis and experimentation, including in the CIA's illegal MKUltra project during the 1950s, scientists have not been able to determine the mechanism of how LSD acts upon the brain – until now.
Researchers from McGill University in Canada have discovered that LSD activates the serotonin 5-HT2A receptors and AMPHA receptors in the brain, both of which combine to promote social interaction.
In their study, published in the journal PNAS, the scientists administered a low dose of LSD to mice over a period of seven days and discovered it resulted in an observable increase in their sociability.
Although the behaviour in mice is not directly equivalent with that in humans, with the researchers noting that it was largely analogous to empathy and social behaviour, the main outcome was identifying the underlying mechanism for the behavioural effect.
"The fact that LSD binds the 5-HT2A receptor was previously known," said Professor Nahum Sonenberg of McGill's department of biochemistry, co-author of the report.
"The novelty of this research is to have identified that the prosocial effects of LSD activate the 5-HT2 receptors, which in-turn activate the excitatory synapses of the AMPA receptor as well as the protein complex mTORC1."
These brain pathways have been demonstrated to be dysregulated in mental disorders with social deficits, such as autism spectrum disorder, according to Prof Sonenberg's previous research.
The next step for the researchers is to test LSD on mutant mice which display behavioural deficits similar to those in human pathologies, including autism spectrum disorders and social anxiety disorders.
The hope, according to McGill University, "is to eventually explore whether micro-doses of LSD or some novel derivates might have a similar effect in humans and whether it could also be a viable and safe therapeutic option".
"Social interaction is a fundamental characteristic of human behaviour," added co-lead author Dr Gabriella Gobbi, professor in the Department of Psychiatry at McGill and psychiatrist at the McGill University Health Centre.
"These hallucinogenic compounds, which, at low doses, are able to increase sociability may help to better understand the pharmacology and neurobiology of social behaviour and, ultimately, to develop and discover novel and safer drugs for mental disorders."